MLB.com Columnist
Phil Rogers
Stearns' deals pay off even as GM stacks talent
Not a lot was known about David Stearns when he was hired to run the Brewers a little less than two years ago. He was 30 and his youth stood out as much as anything, not unlike Theo Epstein when the Red Sox gave him a chance in 2002.
Stearns is proving to be a shrewd decision maker too, even if he's allowed two Trade Deadlines to pass without making his Nomar Garciaparra trade -- a headline-grabbing blockbuster that is the talk of the industry.
The relative lack of attention is just fine with Stearns and his boss, Brewers chairman Mark Attanasio.
They know that Stearns' trades in a 366-day span have improved the franchise immensely, especially the job he did handling his most delicate deal, the one sending popular catcher Jonathan Lucroy to Texas last July.
The Rangers paid heavily to acquire the two-time All-Star and reliever Jeremy Jeffress, sending the Brewers outfielder Lewis Brinson (now ranked Milwaukee's No. 1 prospect by MLB Pipeline), right-hander Luis Ortiz (now the Brewers' No. 3 prospect) and infielder-outfielder Ryan Cordell.
The more time you spend connecting the dots, the better the deal looks.
On Monday, Stearns reacquired the 29-year-old Jeffress from the Rangers for South African right-hander Tayler Scott, signed out of independent ball after the Cubs released him. Stearns dealt Cordell to the White Sox last week for right-hander Anthony Swarzak who, like Jeffress, adds depth to the bullpen.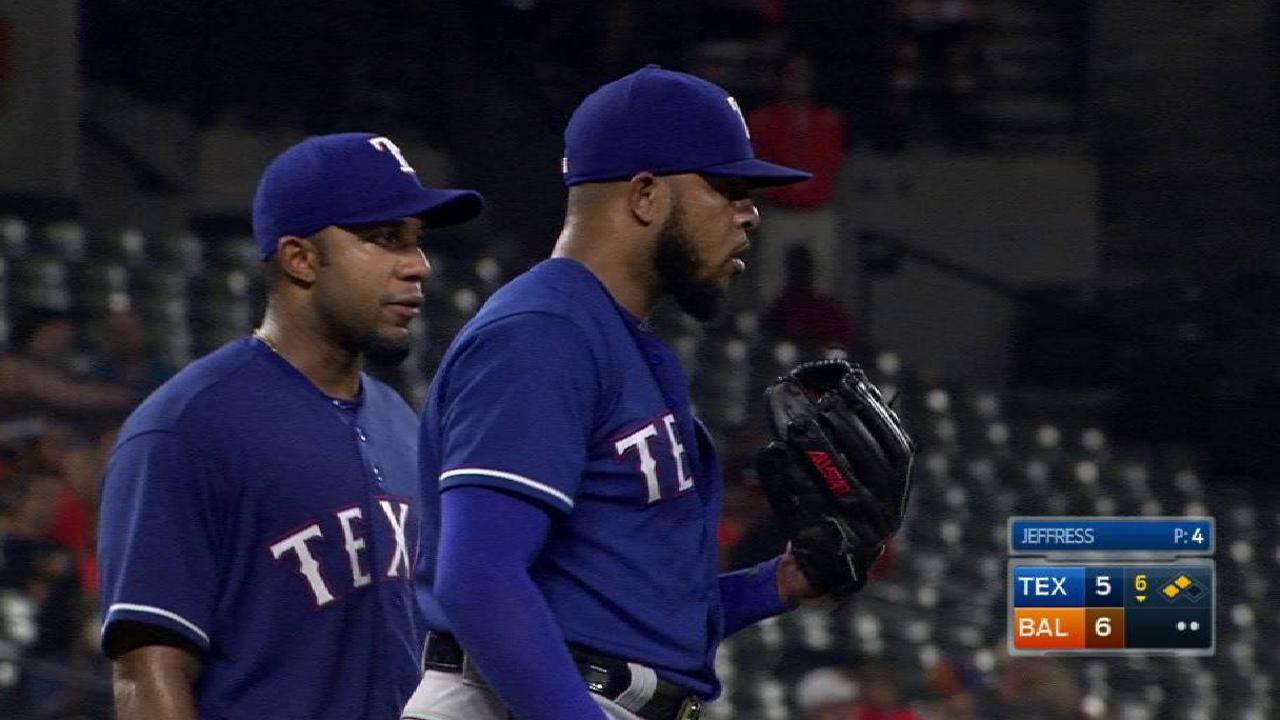 And on Sunday, the Rangers dealt Lucroy to the Rockies for a player to be named.
So to recap: Texas is left with a reliever signed out of indy ball and a player to be named for three highly regarded prospects, and the Brewers have installed Brinson as their center fielder, traded Cordell for Swarzak to give this year's surprising contender a boost and have Ortiz starting in Double-A with a 2018 Major League arrival quite possible.
Pretty slick maneuvering, although Stearns would have preferred Lucroy and Jeffress help the Rangers more in their time there.
"The guys on the other side of the phone are working just as hard as you are,'' Stearns said Monday. "Obviously, we all have an obligation to our own team, our own organization, to do whatever we can to better our organization. But the best outcomes are the deals that work out for both sides, where you can look back, whether it's a year later or five years later, and say, 'That transaction benefited both organizations.'"
Stearns has made two other highly impactful trades, including the Tyler Thornburg-Travis Shaw deal with the Red Sox that, along with the signing of Eric Thames, helped the Brewers build a 5 1/2-game lead in the National League Central at the All-Star break.
Getting a third baseman worthy of All-Star consideration for a setup man would be a good deal by itself. But the Brewers also came out of that deal at the Winter Meetings with middle infielder Mauricio Dubon and power right-hander Josh Pennington, who rank among Milwaukee's top prospects.
Going back further, one of Stearns' first trades sent first baseman Jason Rogers to Pittsburgh for center fielder Keon Broxton and right-hander Trey Supak, another ranked prospect.
While some Milwaukee fans wanted Stearns to go the blockbuster route with Sonny Gray on Monday, he's building his organization exactly the way Attanasio envisioned he would.
Stearns was an assistant to Astros GM Jeff Luhnow at the time, but he had a wealth of experience, including jobs with the Pirates and Mets, Major League Baseball and the Arizona Fall League after picking up a political science degree from Harvard. His goal is to build a team that can contend for the postseason every season, not chase the Cubs or the Wild Card spot this season.
Stearns, assistant GM Matt Arnold and their staff met in early July to settle on a strategy for deals before the Trade Deadline. The Brewers were in first place, but they knew the Cubs wouldn't remain below .500 for long so it wasn't a shock to fall out of the top spot on July 23, and there was no thought of countering Epstein's acquisition of Jose Quintana by doing what it took to land Gray or another brand name.
"We're emotional just like everyone else,'' Stearns said on MLB Network Radio. "But if we let our emotions impact what we do in our jobs, it generally doesn't work out that well.''
Spoken like a guy sitting behind a big pile of chips.
Phil Rogers is a columnist for MLB.com. This story was not subject to the approval of Major League Baseball or its clubs.