Giants to still explore options after Deadline
'We were asking for some pretty good guys,' Evans says of trade talks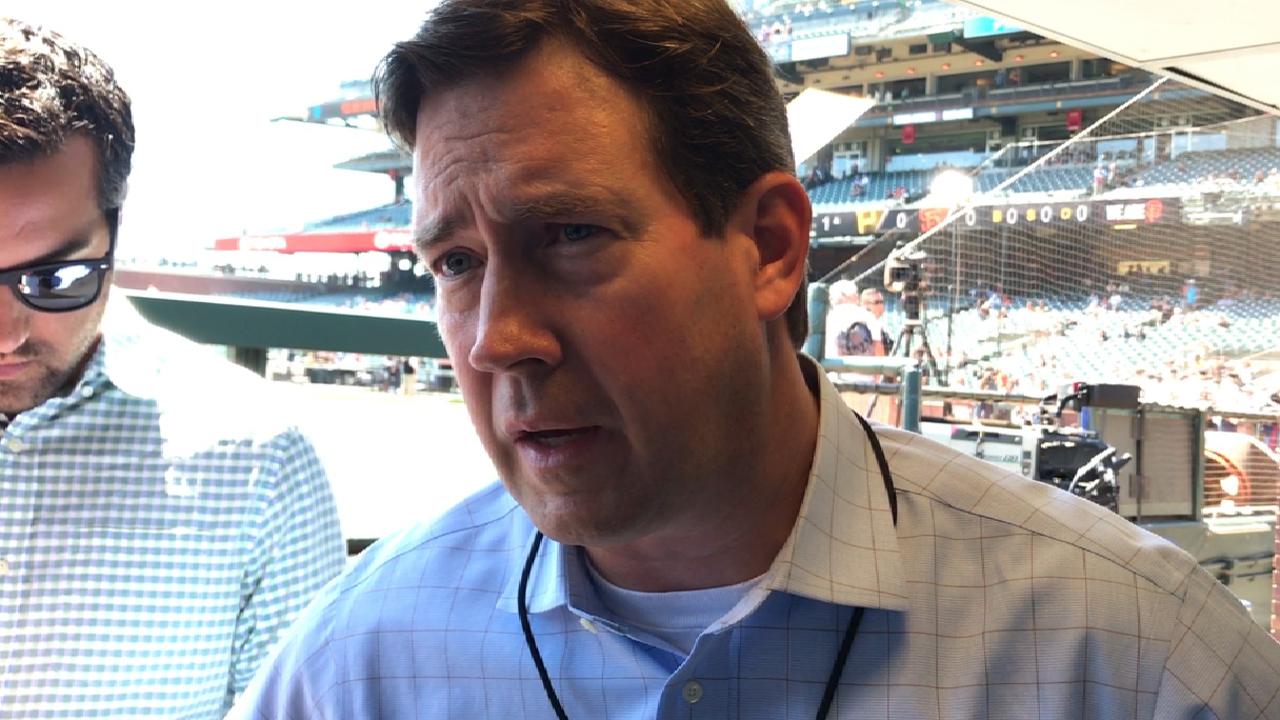 OAKLAND -- The roster reclamation project that the Giants know they must undertake remained on hold as baseball's non-waiver Trade Deadline passed Monday.
Giants general manager Bobby Evans said that he and his associates worked hard to forge a deal that would upgrade the roster. But they couldn't find a fit resembling the one they engineered last Wednesday with the Red Sox, who obtained infielder Eduardo Nunez for two pitching prospects.
Evans insisted that the Giants, who entered Monday with a National League-worst 40-66 record, aimed high.
"We were asking for some pretty good guys," Evans said. "We understand that we have to make changes to this roster to get to some place where you're more competitive. ... How much we can accomplish between now and the beginning of 2018 remains to be seen."
Evans said that, in return, rival teams inquired about the availability of the Giants' "core guys." Evans wouldn't name this group, but Giants players most frequently appearing in trade rumors included second baseman Joe Panik and right-handers Jeff Samardzija and Hunter Strickland.
Samardzija, for one, welcomed staying put with the Giants.
"There's definitely relief," Samardzija said. "When you want to be somewhere and you enjoy being there, the last you want to happen is to have to move."
Still, Evans vowed to pursue alternatives.
"The road map for us is going to continue to reveal options," he said. "It remains to be seen what your options are. ... It has to make sense for you short- and long-term."
That means good sense fiscally. And the Giants, who have been hit with the Collective Bargaining Tax for exceeding payroll limits for three consecutive years, must avoid making significant player moves until an acquisition's salary is set. According to MLB.com research, of the 32 players traded since July 24, 21 were "rentals" who will be eligible for free agency after this season and the others were either eligible for salary arbitration or likely to receive "Super 2" status -- the relatively small pool of players who qualify for arbitraton while possessing between two and three years of big league service time.
"It's a bit early for clubs to know what their budget is for next year," Evans said.
However, he didn't use that as an excuse for inactivity.
"You have to acknowledge the struggles that we've had and how to address the struggles," Evans said.
Chris Haft has covered the Giants since 2005, and for MLB.com since 2007. Follow him on Twitter at @sfgiantsbeat and listen to his podcast. This story was not subject to the approval of Major League Baseball or its clubs.