Mariners optimistic for Haniger's recovery
Rookie struck by pitch in face, could return in 2-3 weeks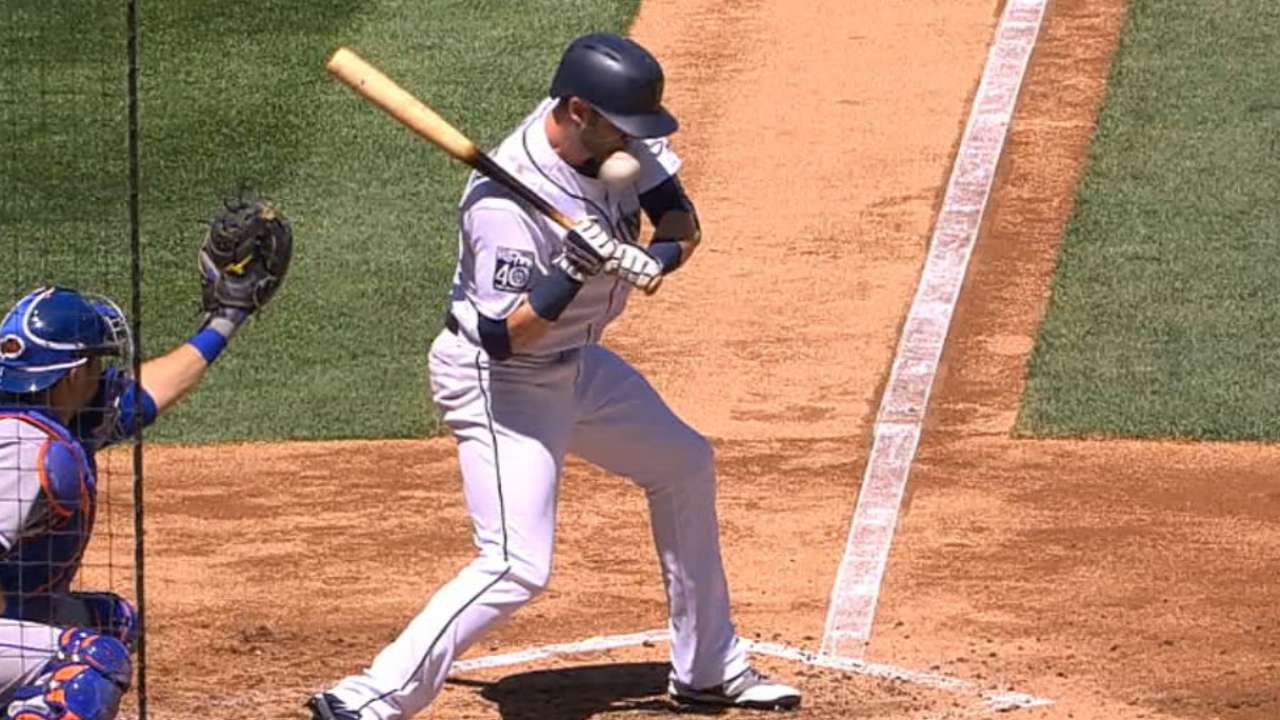 ARLINGTON -- Mariners right fielder Mitch Haniger, who took a 95-mph fastball from Mets ace Jacob deGrom off the face on Saturday, could return within two weeks, general manager Jerry Dipoto said Monday.
Dipoto said Haniger has a mild concussion, a small nasal fracture and "some pretty severe swelling" in his lacerated upper lip, but acknowledged things are better than initially feared.
"There's some optimism he'll be back in 10-14 days. This is not a long-term issue," Dipoto said. "The blow, the traumatic event will take some time to work through, and that swelling coming down will be critical.
"But the medical view is there was nothing so dramatic that it would take longer than 10-14 days to get back on field," he said. "But we're also going to be compassionate to what he just went through and bring him back at the appropriate time. So whether that's 10 days or three weeks, I can't tell you. But I can tell you we dodged a bullet and, more importantly, Mitch dodged a bullet."
Haniger was placed on the 10-day disabled list on Sunday, with Leonys Martin recalled from Triple-A Tacoma to take his place.
Worth noting
• Veteran right-hander Hisashi Iwakuma didn't make the road trip with the Mariners as he remained back in Seattle to continue rehabbing his sore right shoulder. Iwakuma has been playing catch, but there is no timetable on when he'll be able to start throwing off the mound. Iwakuma has been sidelined since May 3.
• The Mariners do expect to see Drew Smyly in Arlington, as the lefty has been staying at his home in the Dallas area since undergoing Tommy John surgery last month and will check in with the club during the Rangers series.
Greg Johns has covered the Mariners since 1997, and for MLB.com since 2011. Follow him on Twitter @GregJohnsMLB. This story was not subject to the approval of Major League Baseball or its clubs.