A's get Minors arm from D-backs for Rosales
Pinder (hamstring) comes off DL, to fill utility role
OAKLAND -- In addition sending to Sonny Gray to the Yankees, the A's also traded utilityman Adam Rosales on Monday to Arizona before the non-waiver Trade Deadline expired.
Oakland received Minor League right-hander Jeferson Mejia in the deal for Rosales, whose departure was perfectly timed with the return of Chad Pinder. The rookie, sidelined by a left hamstring strain since June 24, was activated from the disabled list ahead of Monday night's series opener against the Giants.
• A's pocket 3 top prospects from Yanks for Gray
Mejia, 22, was pitching with short-season Class A Hillsboro. He is 13-14 with a 4.67 ERA in 79 games, including 23 starts, in five Minor League seasons.
Rosales was a candidate to be designated for assignment upon Pinder's return, before the D-backs came calling following a series of events that left them desperate for a middle infielder: First, starting shortstop Chris Owings sustained a fractured finger in Sunday's game that required surgery; then, backup shortstop Ketel Marte learned Sunday night that his mother had passed away in the Dominican Republic, leading the D-backs to place him on the bereavement list.
"There was a need for Arizona, so based on the move we were going to make and the need that they had, it came together very, very quickly," A's executive vice president of baseball operations Billy Beane said.
The 34-year-old Rosales, who was on his third tour in Oakland, was batting .234 with four home runs and 27 RBIs in 71 games, having drawn just 19 starts in the club's last 56 contests.
Pinder, who connected for nine home runs in just 47 games before hitting the DL, assumes the same versatile role held by Rosales -- though A's manager Bob Melvin noted the rookie will likely see more playing time.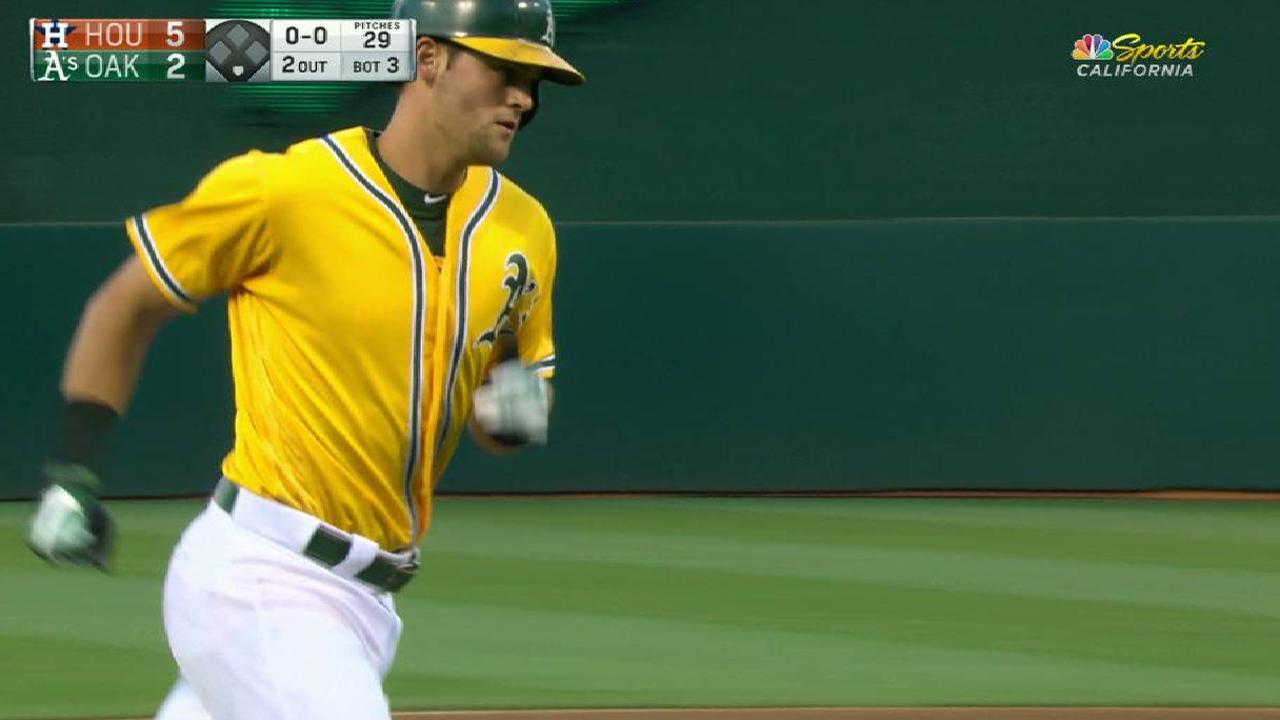 "And who knows where he ends up," Melvin said. "Right now, he's a guy that can play everywhere. This is a guy that's pretty productive. That's his role now, but I'm sure he would love to settle into one spot and be an everyday guy. Who knows where that ends up, but it's nice to have a guy like Rosy, who can play everywhere, so that's his role as of right now.
"Ideally, a guy would like to play every day in one spot, but there are guys like Ben Zobrist that play different positions and do it on an everyday basis, and I wouldn't put that past him."
Pinder is considered an integral piece of a youthful core that also includes Matt Chapman, Ryon Healy and Bruce Maxwell, who will eventually be joined by middle infielder and top prospect Franklin Barreto. Though it was assumed that Barreto would be back with the A's on a permanent basis once veteran Jed Lowrie was dealt, a trade involving Lowrie was never consummated, meaning Barreto may not be seen in Oakland again until rosters expand in September.
Graveman set to return Thursday
Right-hander Kendall Graveman is expected to come off the disabled list Thursday for an Interleague start against the host Giants at AT&T Park.
It will be just his ninth start of the season and first since May 19. Graveman went on the DL with a shoulder strain for a second time this season on May 29, and the A's have been without their Opening Day starter ever since.
Most recently, right-hander Chris Smith has been drawing starts for an A's rotation in flux. Melvin hinted Monday that Smith could remain on the roster in a relief role upon Graveman's return.
"We'll see," Melvin said. "My guess is he'll be with us, and if that means in a relief role going forward, we'll see. I haven't talked to him about it yet, so I don't want to tell you for sure what that's going to be, but he has pitched well enough to keep himself at the big league level."
Jane Lee has covered the A's for MLB.com since 2010. This story was not subject to the approval of Major League Baseball or its clubs.