Fisher's role expands after Aoki trade
• Astros acquire veteran lefty Liriano from Jays
Fisher, who has reached base in 10 of his first 11 big league games, was recalled on Tuesday from Triple-A Fresno -- where he was hitting .318 in 84 games. His current ride with the Astros is his second stint in the Majors.
Fisher clubbed a solo home run and finished 3-for-5 with two RBIs as the Astros' leadoff man in Monday's 14-7 win against the Rays.
"Fisher is here. I don't see him going anywhere," Luhnow said. "When we look at our outfield depth, Fisher's proven that he's ready to be here and stay here. I think that now that'll happen."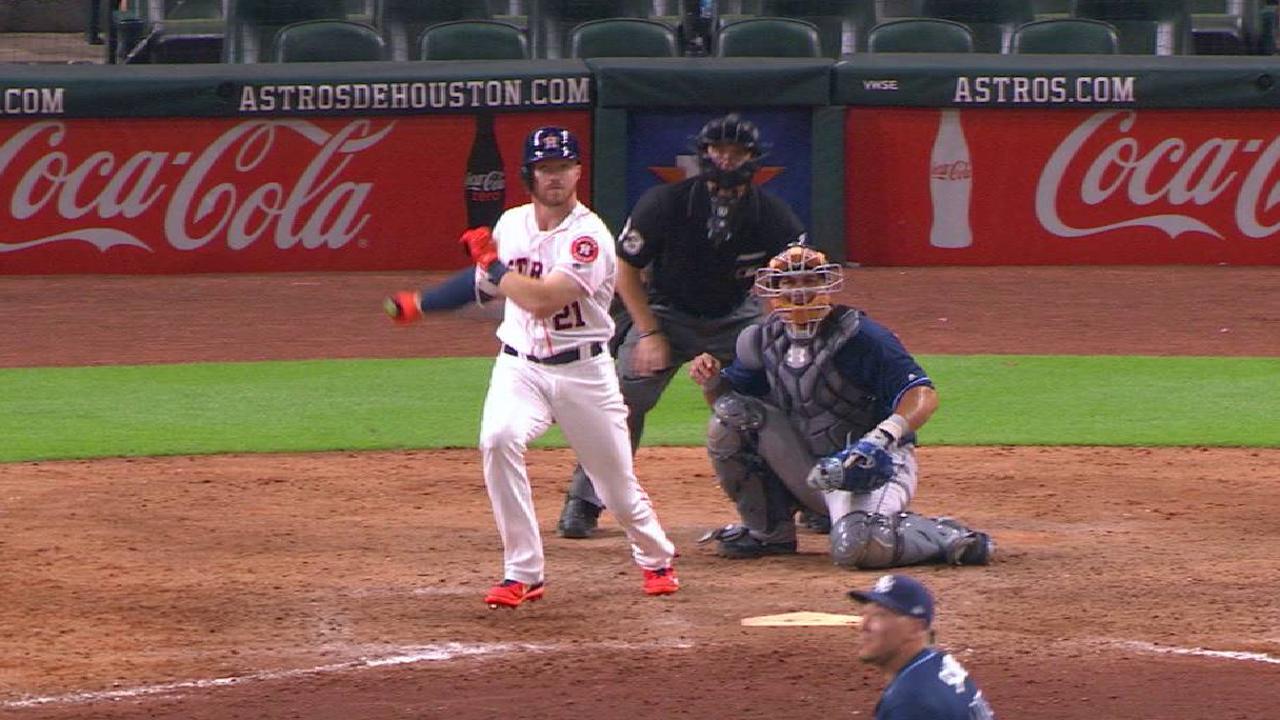 With center fielder and power-hitting leadoff man George Springer on the disabled list, Fisher's potentially explosive left-handed bat can provide offensive support throughout the lineup.
Beyond the Astros' batting order, Fisher's versatility allows him to play multiple outfield positions.
As for his bat, Fisher became the ninth player in Astros history to reach safely in each of his first six games -- including a home run in his debut on June 14 against the Rangers. With 10 games under his belt prior to Monday, Fisher is batting .278 in his 36 at-bats this season.
"I'm a big Derek Fisher fan," manager A.J. Hinch said. "I think he's a good player. I think he needs to gain experience and face pitchers for the first time and become a part of our everyday culture."
Said Fisher, "I'm grateful for the opportunities that I've been given up to this point. Yeah, I think it's something where I'll continue to play as hard as I can and help this team win games."
Aoki's departure leaves Fisher the opportunity to be a part of what's sure to be an eventful September and, perhaps, October as a featured member of the American League's winningest club.
Fisher's home run on Monday was his third in fewer than 50 at-bats this season, surpassing Aoki's two home runs in more than 200 at-bats and 70-plus games.
"I don't know many, many days Fish has been in the big leagues that he hasn't been an everyday guy," Hinch said. "I'm not sure it changes my approach with him."
Christian Boutwell is a reporter for MLB.com based in Houston. This story was not subject to the approval of Major League Baseball or its clubs.