Ausmus makes it official: Greene is closer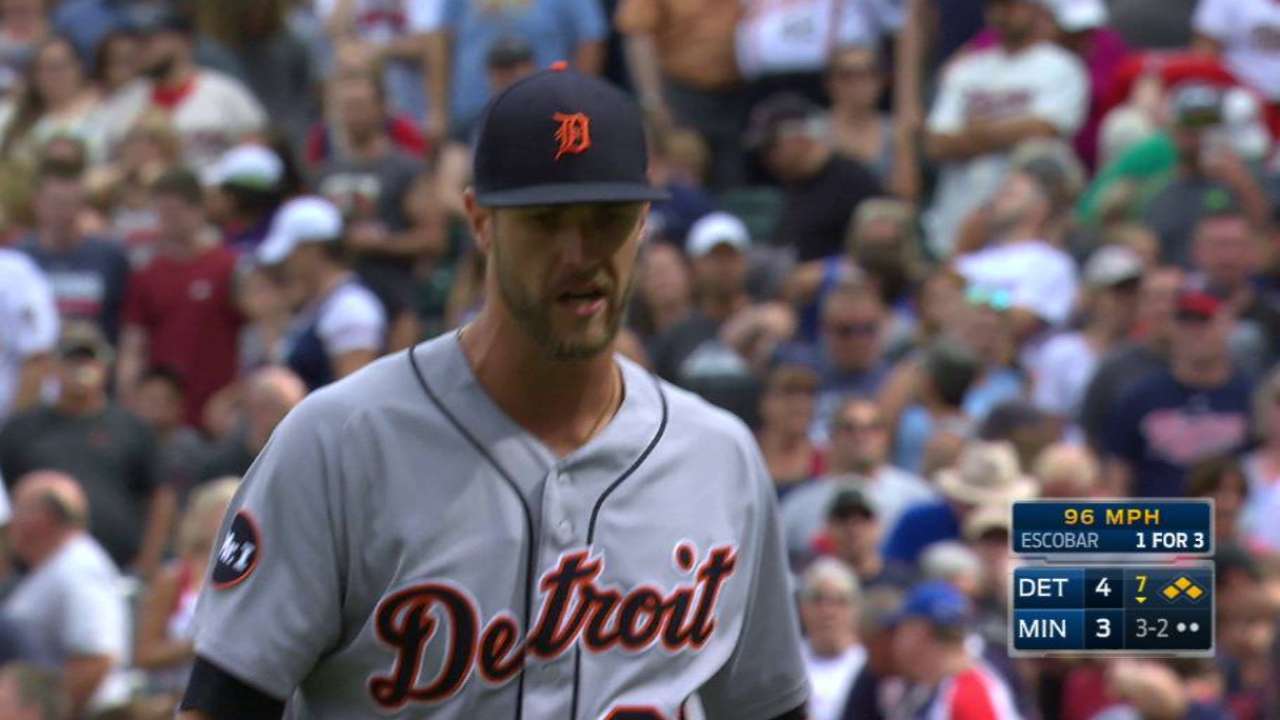 NEW YORK -- Justin Wilson spent the final evening of his Tigers tenure having dinner with Shane Greene, the one-time Detroit closer talking with his successor. The deal that sent Wilson to the Cubs hadn't been finalized yet, but both expected that Wilson would be a former Tiger by the time the series at Yankee Stadium began on Monday evening.
"He knows the business, and he knows the game," Greene said on Monday. "He knew there was a good chance he wasn't going to be here after today, and I think he's really happy about where he's going."
Likewise, although manager Brad Ausmus had avoided talking about who would close if and when Wilson departed, most assumed Greene would get the first shot at the ninth inning. They weren't surprised when Ausmus made it official on Monday.
"He basically said, 'Hey, liked you in the eighth, so we're gonna use you in the ninth,'" Greene said. "Short and sweet."
Ausmus said as much when he discussed it with reporters on Monday afternoon.
"I think he's the obvious answer," Ausmus said. "I think of the guys we have here, he's pitched the best."
The group of relievers includes two hard-throwing hurlers who have been labeled closers of the future. But Joe Jimenez, called up on Monday from Triple-A Toledo to fill Wilson's roster spot, has little Major League experience, and Ausmus would prefer to pick and choose his spots. Bruce Rondon was the future Tigers closer from 2013 until Jimenez's quick rise up the system last year, but his turbulent tenure -- including last week's hit-by-pitch and bench-clearing incident with Kansas City's Mike Moustakas -- has helped shift the thought process.
That paved the way for Greene, who will try to make the same transition Wilson did over this year in moving from setup man to closer. The 28-year-old right-hander entered Monday with just 31 hits allowed over 46 innings, with 25 walks and 50 strikeouts. His 3.71 Fielding Independent Pitching tempers his 2.74 ERA, but his uncanny ability to strand baserunners since moving to a relief role full-time last season shows some grace under pressure and situational awareness.
"I'm not going to change so much my mentality," Greene said. "You're going out there and you're trying to get everybody out, but it's the hardest three outs to get in baseball. Pitch selections and things of that nature might change a little bit, but I've never done it before. It's going to be a little bit of trial and error, and I'll kind of learn along the way."
The path starts at Yankee Stadium, where his Major League career began three years ago. His role as a starter that summer included a gem of an outing to win a pitchers' duel over the Tigers and Rick Porcello. Detroit went after Greene the next winter, acquiring him in the three-way trade that sent Robbie Ray to Arizona and Didi Gregorius to the Bronx.
In some ways he still feeds off his starting days.
"I always wanted to show up at the park on my start day and [have] my teammates think we're going to win," he said. "And if I was a reliever, when I ran out the door out in the outfield, [I hoped] that my teammates knew whatever the situation, and now that's going to be closing, that now the game's over. That's my goal."
Jason Beck has covered the Tigers for MLB.com since 2002. Read Beck's Blog, follow him on Twitter @beckjason and Facebook. This story was not subject to the approval of Major League Baseball or its clubs.