Looking ahead to the 2018 Hall of Fame ballot
Chipper, Thome, Vizquel, Andruw, Rolen highlight slate of newcomers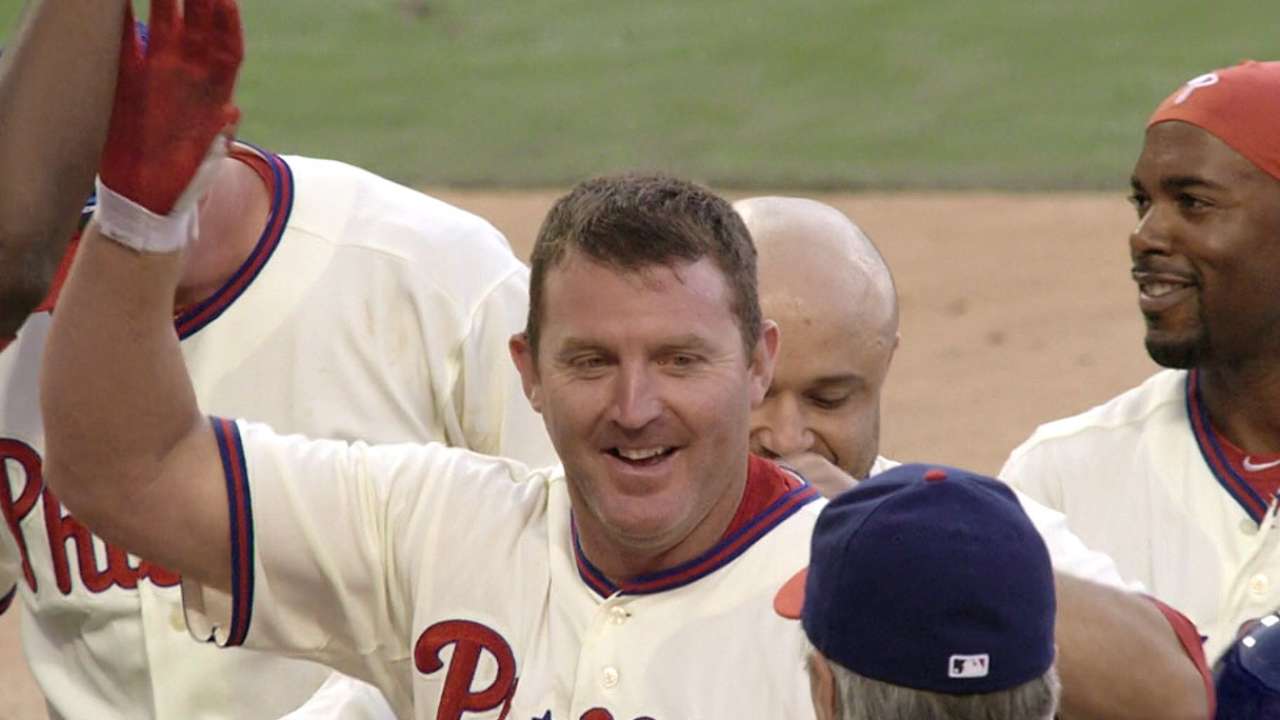 Jeff Bagwell, Ivan Rodriguez and Tim Raines became the latest players recognized among baseball's all-time greats Sunday at the Hall of Fame induction ceremony. With the 2017 class now officially enshrined in Cooperstown, it's time to look ahead to the players who could join them in 2018.
Next year's ballot will feature a host of returnees hoping to find their way onto 75 percent of Baseball Writers' Association of America ballots, as well as a number of first-timers with considerable star power. Among the newcomers are Chipper Jones, Jim Thome, Omar Vizquel, Andruw Jones, Scott Rolen, Johnny Damon, Johan Santana and Jamie Moyer.
Atlanta icon Chipper Jones is a near-lock to be voted in as a first-ballot Hall of Famer. The third baseman spent his entire 19-year Major League career with the Braves, posting a .303/.401/.529 career slash line with 468 home runs. An eight-time All-Star and the 1999 National League Most Valuable Player Award winner, he won a World Series in 1995. The Braves retired his No. 10 jersey in 2013.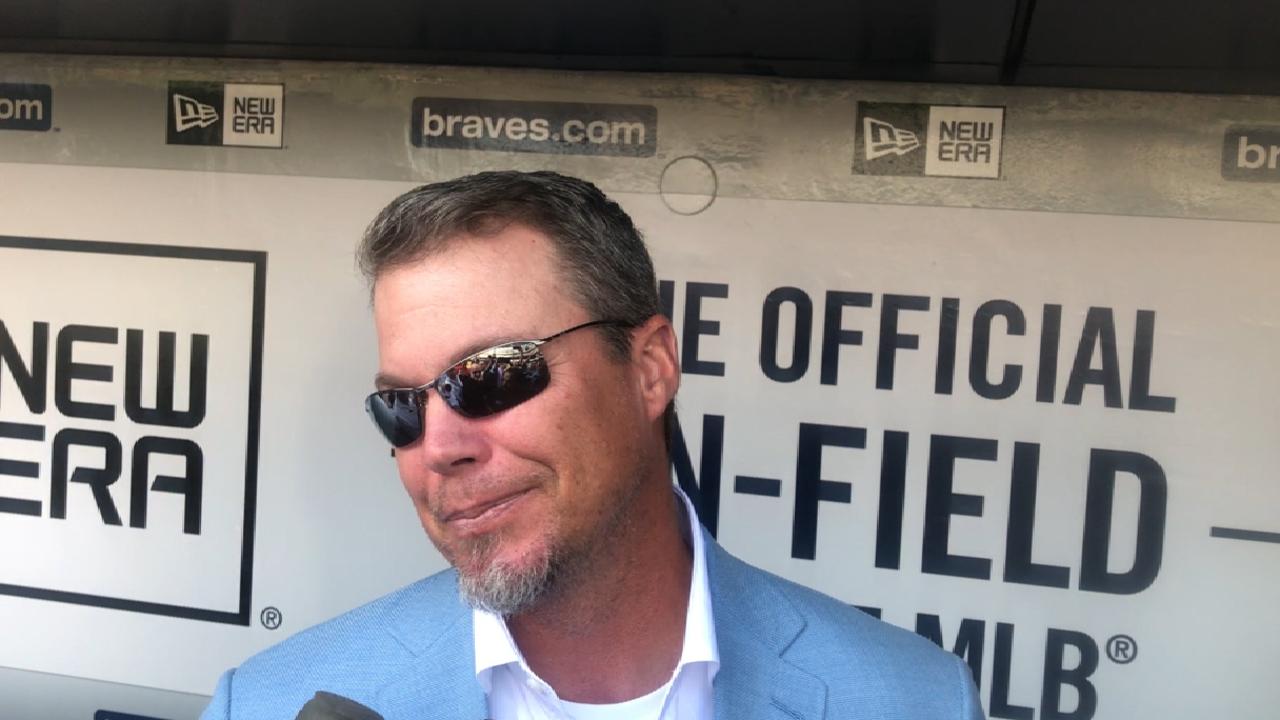 Thome, a five-time All-Star, enjoyed a 22-year run in the big leagues with the Indians (1991-2002, '11), Phillies (2003-05, '12), White Sox (2006-09), Dodgers ('09), Twins (2010-11) and Orioles ('12). With 612 career homers, Thome is one of nine Major Leaguers in the 600-homer club. Though he's far from the first-ballot certainty Chipper is, Thome stands a chance of meeting the 75-percent threshold.
Rolen, a World Series champion with the Cardinals in 2006, and Vizquel, an 11-time Gold Glove Award-winning shortstop, could also see a notable share of votes, but both may face an uphill battle for reaching Cooperstown in 2018 on a crowded ballot. They'll be up against stiff competition from returning Hall of Fame-eligible players, including Trevor Hoffman, Vladimir Guerrero and Edgar Martinez.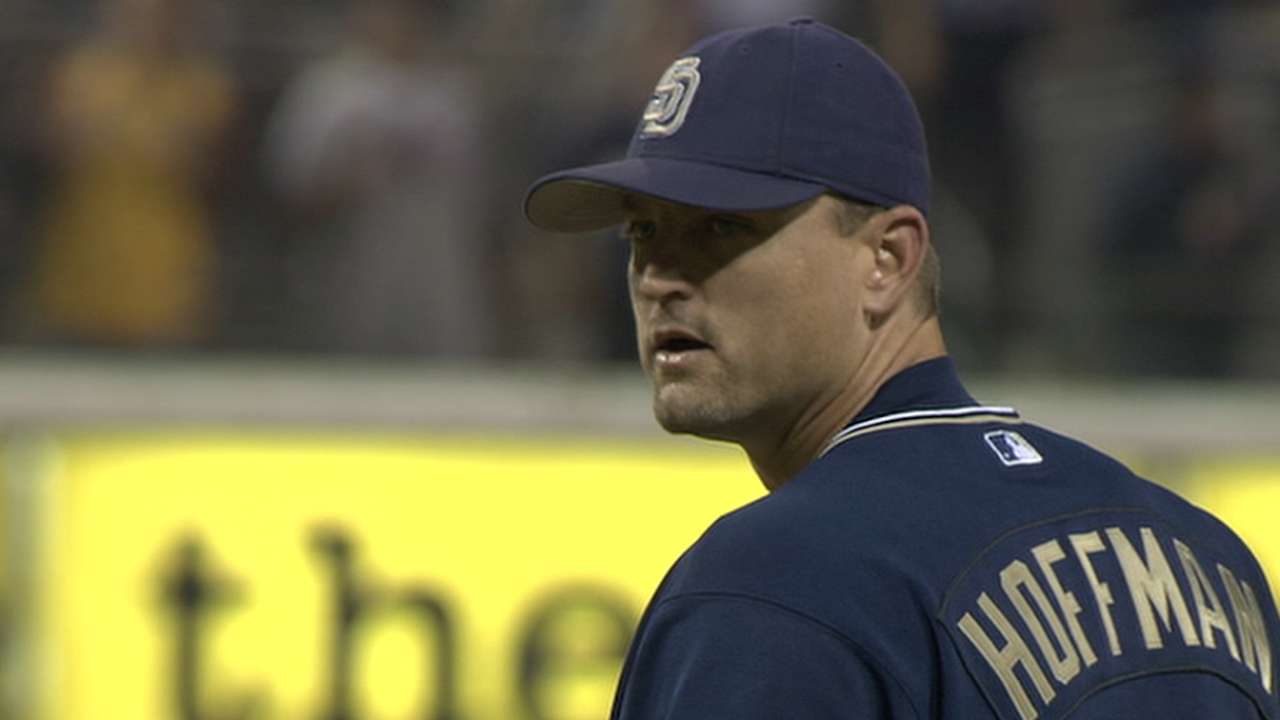 Hoffman (74 percent) and Guerrero (71.7) were near misses on the 2017 ballot, but both are likely to be part of the 2018 class. Hoffman, a seven-time All-Star reliever, fell five votes shy of joining Bagwell, Raines and Rodriguez in this year's class. Guerrero, the 2004 American League MVP Award winner, was 15 votes short.
Behind them was Martinez (58.6), who's in his ninth year of eligibility. If he doesn't make it in 2018, he'll have just one more opportunity in '19.
Roger Clemens (54.1) and Barry Bonds (53.8) -- two players whose reputations have been tarnished by PED allegations -- have seen their ballot shares steadily rise in recent years. Former Orioles and Yankees right-hander Mike Mussina (51.8) also cracked 50 percent on last year's ballot.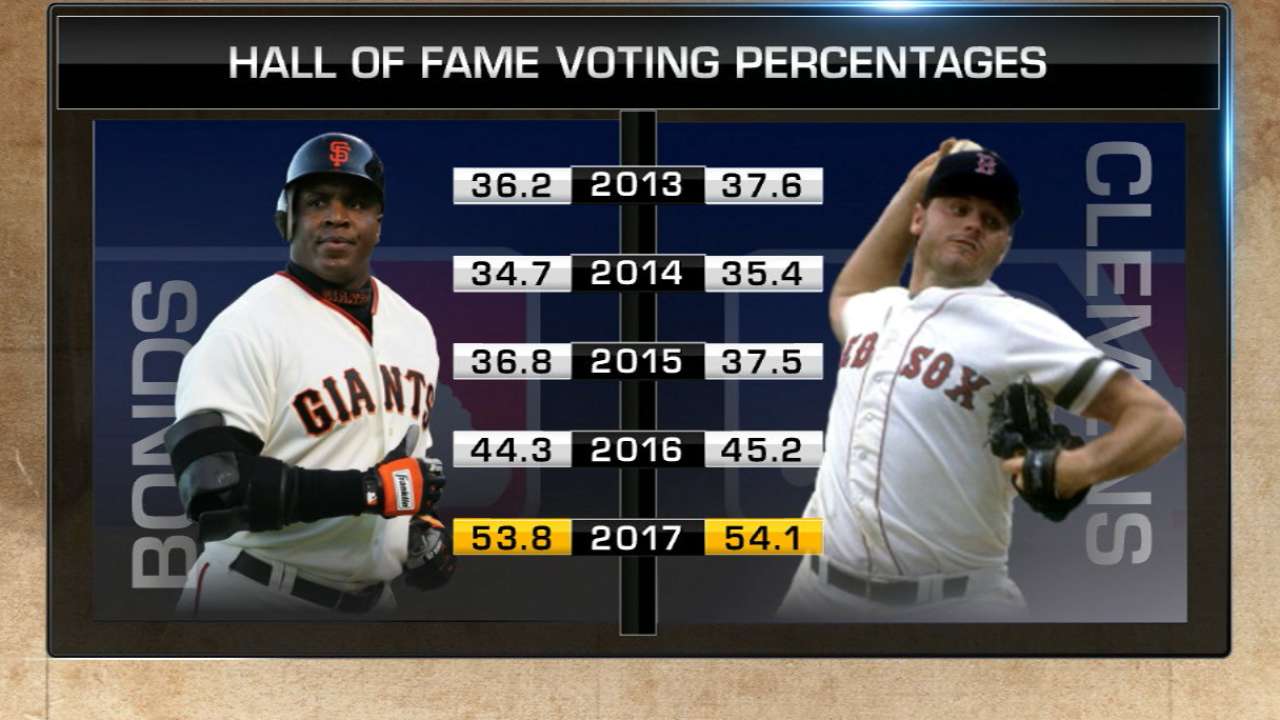 Rounding out the group of returning names are Curt Schilling (sixth year of eligibility), Manny Ramirez (second), Larry Walker (eighth), Fred McGriff (ninth), Jeff Kent (fifth), Gary Sheffield (fourth), Billy Wagner (third) and Sammy Sosa (sixth). In order to remain on the ballot, unelected players must receive at least 5 percent of the vote.
Also eligible are first-timers who played at least 10 years in the Majors and whose last MLB appearance was in 2012: Carlos Zambrano, Chris Carpenter, Livan Hernandez, Orlando Hudson, Kevin Millwood, Kerry Wood, Carlos Lee, Ben Sheets, Jack Wilson, Aubrey Huff, Hideki Matsui, Adam Kennedy, Jeff Suppan, Carl Pavano, Francisco Cordero, Miguel Batista, Jason Isringhausen, Brian Fuentes, Brad Lidge, Scott Podsednik and Guillermo Mota.
Chad Thornburg is a reporter for MLB.com based in Los Angeles. This story was not subject to the approval of Major League Baseball or its clubs.