#MLBFightsALS fundraising campaign unveiled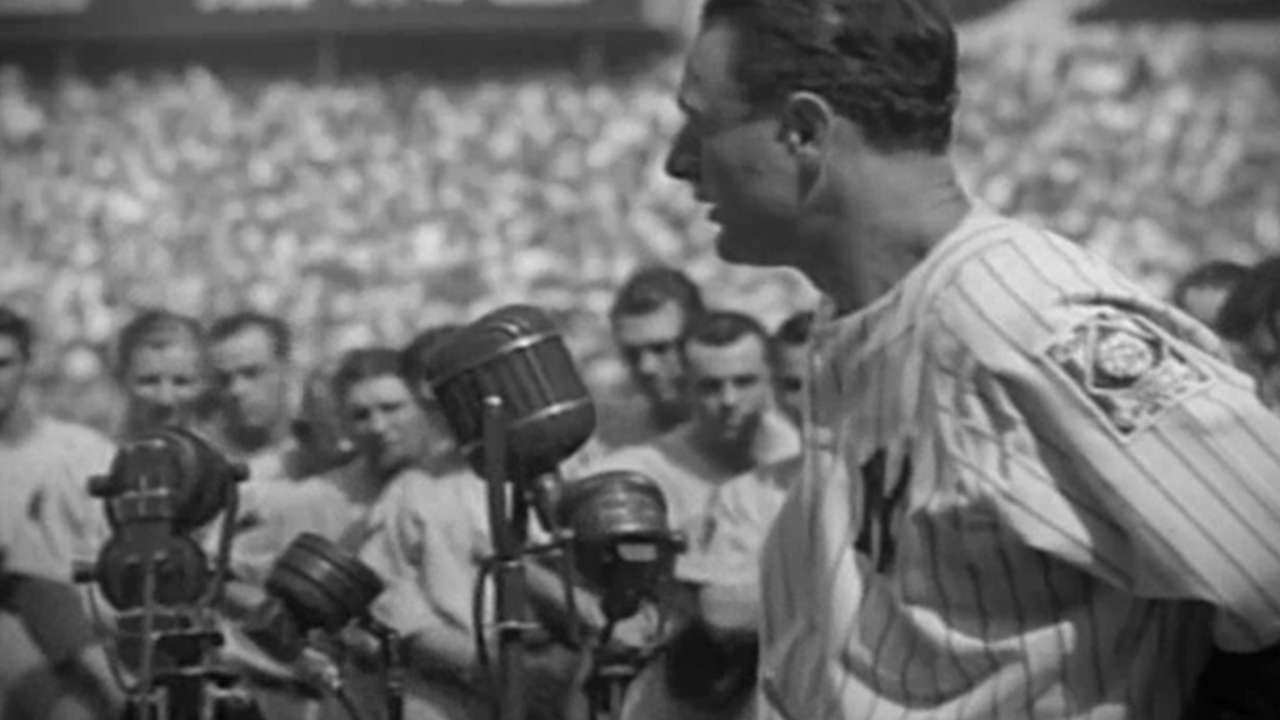 Ninety years ago, Lou Gehrig was on his way to an MVP season with 47 homers, 173 RBIs and a career-best 1.240 OPS for the Yankees team generally considered the best in baseball history. The "Iron Horse" was in the early stage of a streak of 2,130 consecutive games played, a record thought to be unbreakable until Cal Ripken Jr. came along one day.
Only amyotrophic lateral sclerosis (ALS) could stop Gehrig, and here, amidst another Hall of Fame Induction Weekend when many thousands will view his plaque in Cooperstown, his legacy is being remembered again both for such remarkable physical abilities and for the loss of them.
Major League Baseball announced on Thursday that it is supporting The ALS Association's new ALS Home Health Initiative by launching the "MLB Fights ALS" campaign, a league-wide fundraising effort that will begin on Tuesday and run through Aug. 5.
The campaign will be promoted in ballparks and by MLB's media assets, including MLB.com, the club websites and MLB Network, as well as YouCaring.com. Beginning with an initial $50,000 contribution from MLB, the effort will seek to generate additional funds for the Home Health Initiative's mission of providing in-home care to individuals and families affected by what forever became known as Lou Gehrig's Disease.
"Because of Lou Gehrig, baseball has long had a connection to the fight against ALS," Commissioner Rob Manfred said. "In his memory, we are proud to assist ALS patients and families in carrying the enormous financial burden of living with the disease that bears his name. We encourage our fans to join us in helping ALS patients receive the best care possible."
The ALS Home Health Initiative and the MLB Fights ALS campaign (#MLBFightsALS) were inspired by Pete Frates, a standout Boston College baseball player diagnosed with ALS in 2012 and the driving force behind the ALS Ice Bucket Challenge. The campaign, which has an initial goal to raise $1 million, is in honor of Frates, fellow members of the baseball family, and fans who are battling the disease.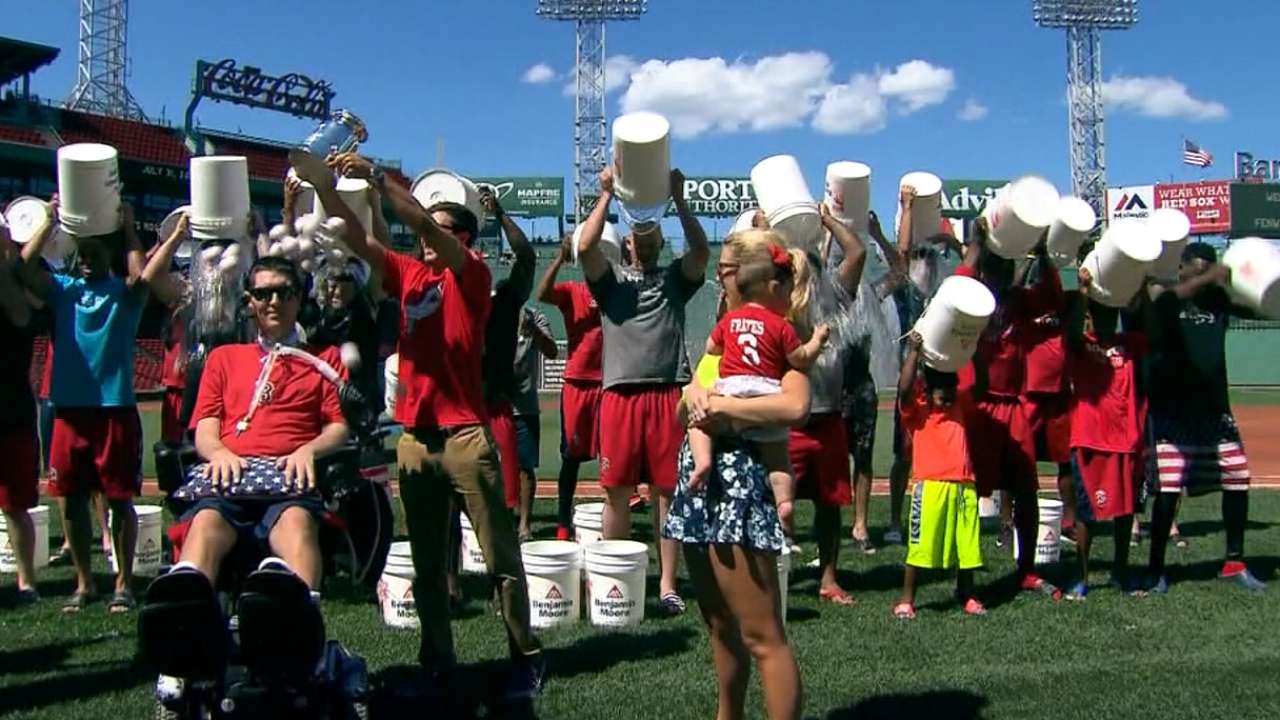 Fans who donate $50 or more between Tuesday and 11:59 p.m. ET on Aug. 5 will be entered into a sweepstakes to win two tickets to a 2017 World Series game.
Since 2014, August has become a signature month for increasing ALS awareness and fundraising devoted to finding a cure. A wave of fundraising spurred by the ALS Ice Bucket Challenge in 2014 -- totaling more than $100 million -- led to new discoveries that have advanced the search for treatments and a cure. Now the ALS Association is addressing the issue of the high costs of home health care for people like Frates who are living with ALS.
After walking away from baseball because of his ALS and giving his famous "Luckiest Man" speech in 1939, Gehrig was inducted into the Hall of Fame through a special election. He then spent the last two years of his life in his home, and died at the age of 37 in 1941.
ALS is a progressive neurodegenerative disease that affects neurons in the brain and the spinal cord. Eventually, people with ALS lose the ability to initiate and control muscle movement, which often leads to total paralysis and death within two to five years of diagnosis.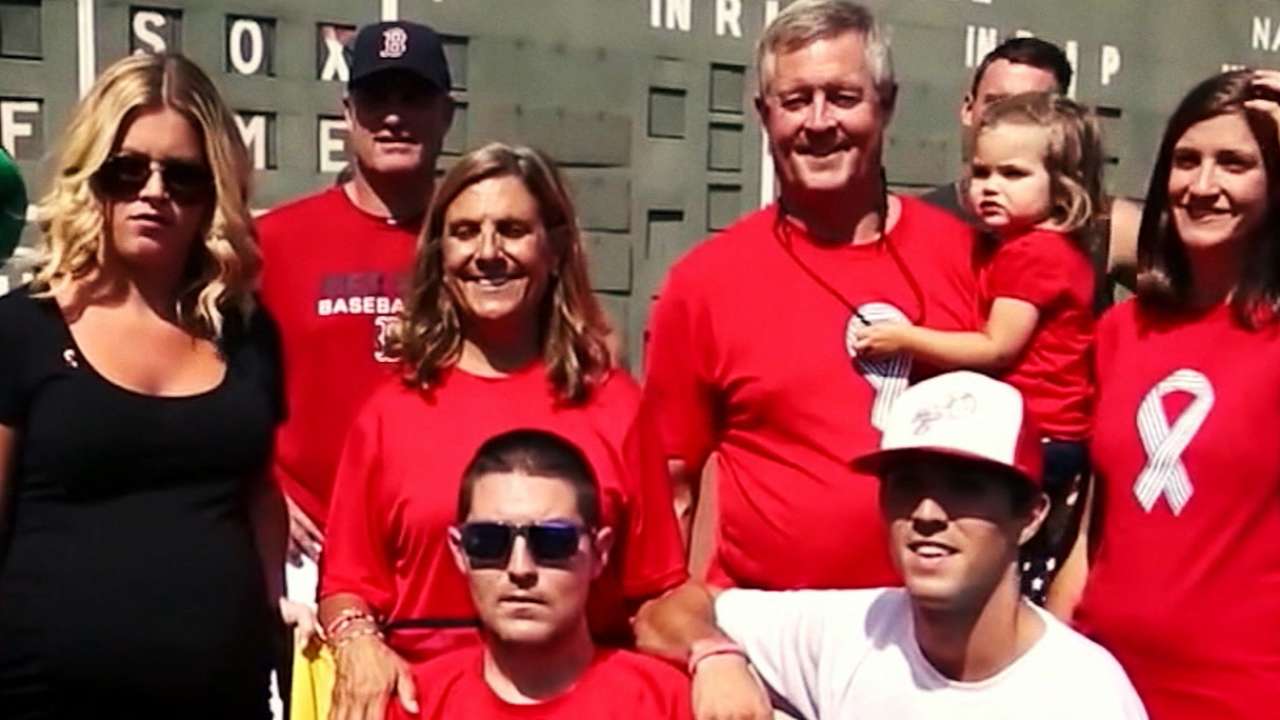 The ALS Home Health Initiative will augment caregiver support through financial grants, which may cover skilled nursing and/or custodial care to enable a person living with ALS to continue to reside in their home while having their care needs met. Frates' family has been public about the high costs of Pete's care, which they say is at least $90,000 a month.
His fight is MLB's fight.
"I think that's the greatest satisfaction Pete's getting, is that he knows his efforts and how he has handled his challenge will make it better for ALS patients that are going to follow him," Nancy Frates, Pete's mother, said last fall.
This effort marks MLB's first endeavor of its kind with YouCaring.com, the leader in free online fundraising for personal and medical causes and a Certified B Corporation, which was recently named MLB's preferred crowdfunding platform. Fans can support MLB Fights ALS by visiting MLB.com/ForPetesSake.
Mark Newman is enterprise editor of MLB.com and a baseball writer since 1990. Follow him @Marathoner and read and join other baseball fans on his MLB.com/blogs hub. This story was not subject to the approval of Major League Baseball or its clubs.