Arizona Fall League announces 2017 assignments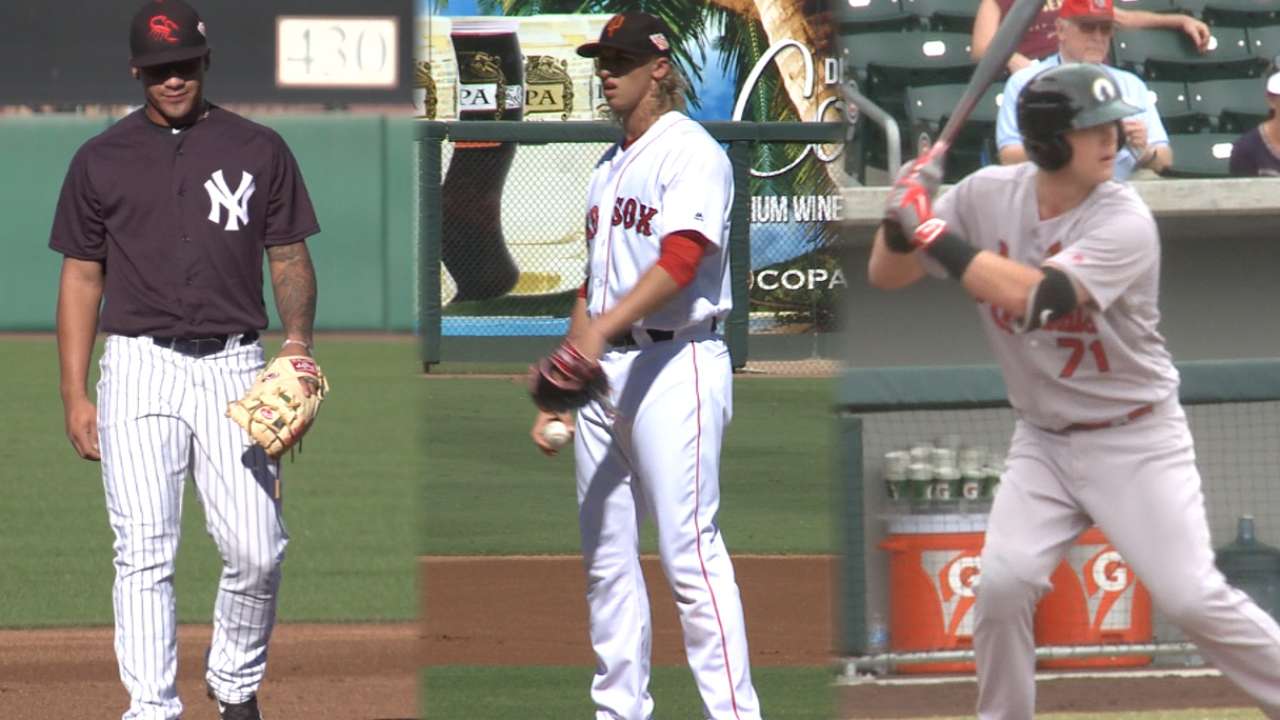 The Arizona Fall League announced its organization and staff assignments on Wednesday for the 2017 season, which begins Tuesday, Oct. 10.
The six-team league split into two divisions was founded in 1992 and is owned and operated by Major League Baseball. It features many of the best young players and prospects from all 30 Major League organizations.
The Mesa Solar Sox, Salt River Rafters and Scottsdale Scorpions make up the East Division, while the Glendale Desert Dogs, Peoria Javelinas and Surprise Saguaros form the West Divison.
The Astros' Omar Lopez is slated to manage Mesa, while the D-backs' J.R. House manages Salt River and the Yankees' Jay Bell manages Scottsdale. In the West, The Phillies' Shawn Williams will manage Glendale, the Braves' Luis Salazar will manage Peoria and the Rangers' Spike Owen will manage Surprise.
The league also announced the 12th annual Fall Stars Game is scheduled for Saturday, Nov. 4, at Salt River Fields, and the championship game is to be played Saturday, Nov. 18 at Scottsdale Stadium.
• Complete Arizona Fall League coverage
The league schedule will be revealed Tuesday, Aug. 1.
The 2017 Arizona Fall League team assignments include:
EAST DIVISION
Mesa Solar Sox
Chicago Cubs
Detroit Tigers
Houston Astros
Oakland Athletics
Washington Nationals
Salt River Rafters
Arizona Diamondbacks
Baltimore Orioles
Colorado Rockies
Miami Marlins
Milwaukee Brewers
Scottsdale Scorpions
Cincinnati Reds
Los Angeles Angels
New York Mets
New York Yankees
San Francisco Giants
WEST DIVISION
Glendale Desert Dogs
Chicago White Sox
Cleveland Indians
Los Angeles Dodgers
Philadelphia Phillies
Pittsburgh Pirates
Peoria Javelinas
Atlanta Braves
Boston Red Sox
San Diego Padres
Seattle Mariners
Toronto Blue Jays
Surprise Saguaros
Kansas City Royals
Minnesota Twins
St. Louis Cardinals
Tampa Bay Rays
Texas Rangers
Oliver Macklin is a reporter for MLB.com based in Washington, D.C. Follow him on Twitter at @OMacklinMLB. This story was not subject to the approval of Major League Baseball or its clubs.