MLB Buzz: Trade talk, deals and rumors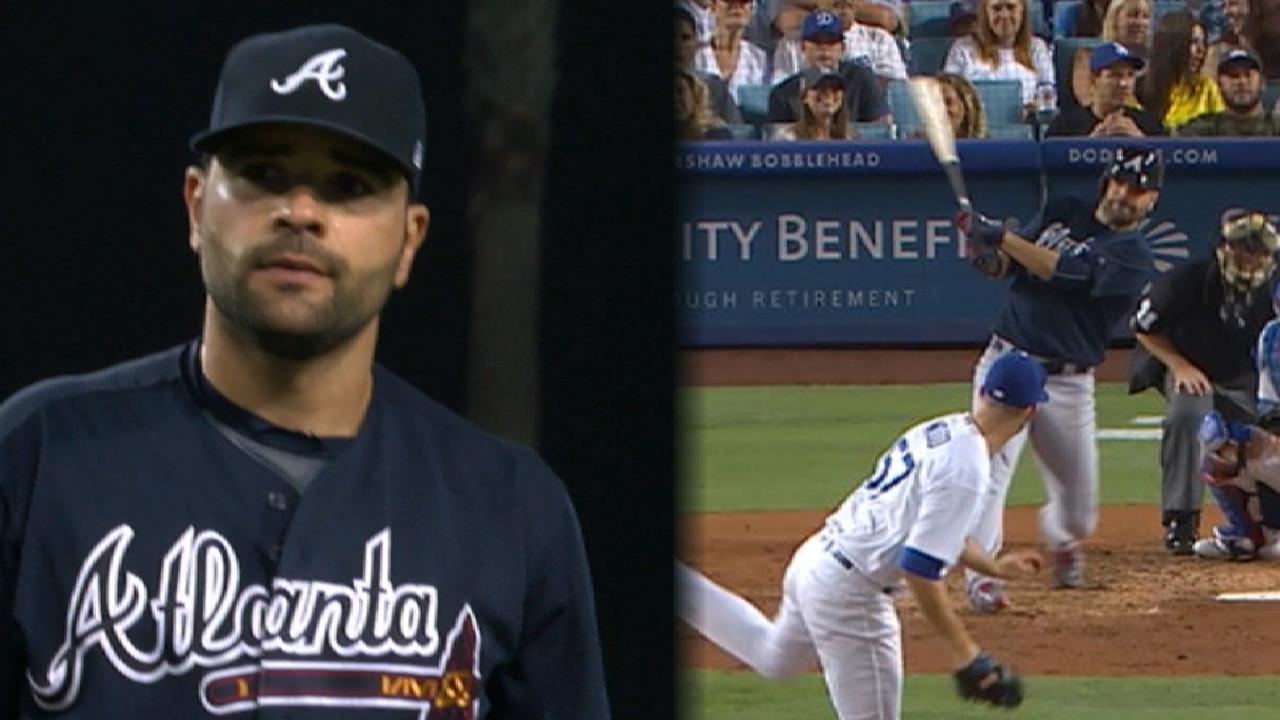 As the July 31 non-waiver Trade Deadline nears, we'll keep you up to date with the latest news, buzz, rumors and more.
Interest in Garcia gains steam
After the Braves' deal to send left-hander Jaime Garcia to the Twins hit a snag Friday morning, Atlanta took a calculated risk by starting the southpaw against the lefty-mashing Dodgers later that night.
Garcia rewarded the Braves for their faith, throwing seven strong innings in a win over Los Angeles, hitting a grand slam to top off the solid pitching performance.
The Braves had already been in touch with about a half-dozen teams as of Friday afternoon, but Garcia's outing seems to have piqued interest, as a source told MLB.com's Mark Feinsand Saturday that no fewer than eight teams were now in the mix for Garcia, with some of them showing stronger interest than before.
Rangers keeping open mind
The Rangers are not ready to commit to being buyers or sellers with the non-waiver Trade Deadline approaching, according to MLB.com's Connor Mount.
But general manager Jon Daniels, speaking before Saturday's game against the Rays, appears open-minded to a strategy that would put the Rangers in the "sellers" category. That could include a willingness to trade pitcher Yu Darvish, who can be a free agent after this season.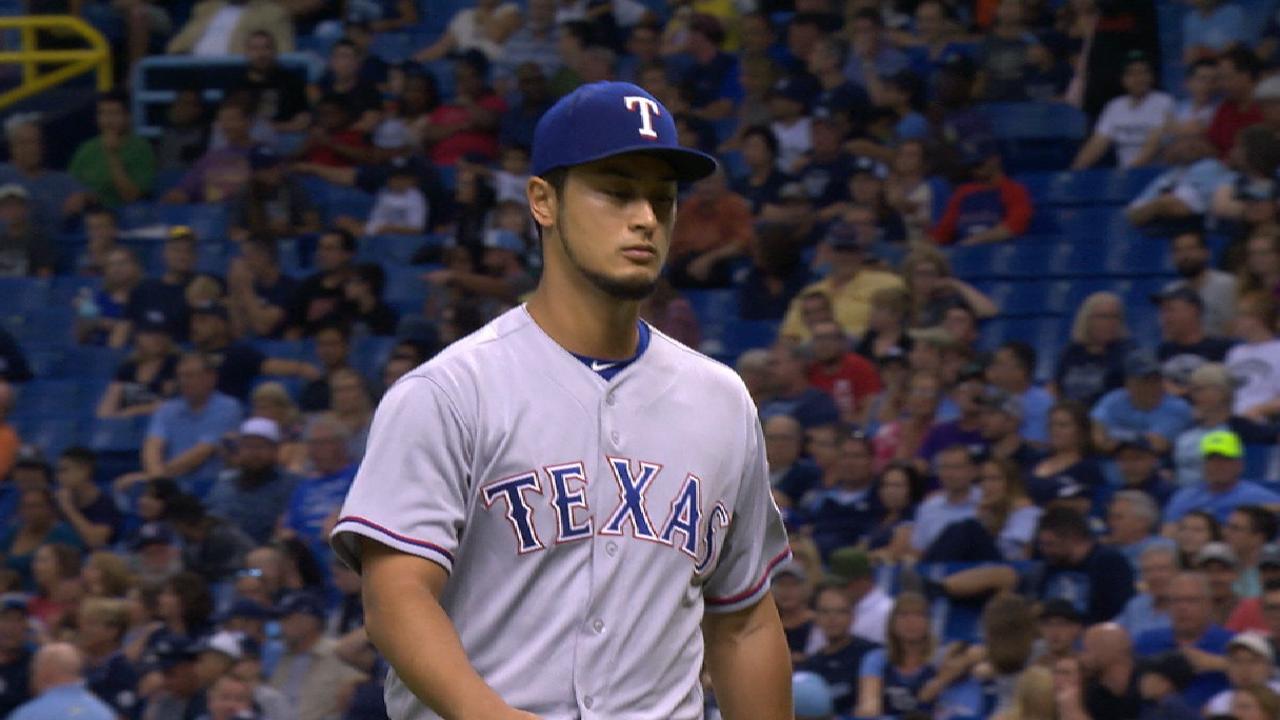 "We haven't ruled anything out at this point," Daniels said. "Our priority is to win this year. That would be the top of the list, but we're also going to be pragmatic and really consider our options."
The Rangers, chasing a Wild Card spot, have already made it clear to other teams they are willing to discuss catcher Jonathan Lucroy and first baseman Mike Napoli. Darvish could also end up on that list.
"I look at the competition for the Wild Card and it's going to be tough," Daniels said. "There's a lot of teams in the mix, but I think we stack up well. The flip side is we've got the reality of where we we're at in the standings with a number of teams."
Phillies checking in on Rays farm system
The Phillies are doing "heavy scouting" of the Rays' farm system, a source told MLB.com's Mark Feinsand.
Feinsand reported that Tampa Bay is interested in acquiring Phillies closer Pat Neshek.
The Rays have been "scouring" the market for relief pitching over the past several days, per Feinsand, and the club has been linked to Neshek since the All-Star break.
Neshek would give Tampa Bay an excellent setup man to pair with closer Alex Colome. Neshek, a National League All-Star this season, is 3-2 with a 1.14 ERA and 43 strikeouts over 39 1/3 innings.
Brewers asking about Kinsler?
The Brewers have "expressed interest" in trading for Tigers second baseman Ian Kinsler, according to ESPN's Buster Olney.
Milwaukee is in the thick of the postseason hunt, but has struggled since the All-Star break. The club is looking for an upgrade at second base and Kinsler could fit the bill.
The 35-year-old can become a free agent after the 2017 season, but he also has an affordable $12 million club option for 2018. Kinsler is batting .244 with nine home runs and 26 RBIs in 78 games for the Tigers this year.
Jonathan Villar has had a tough season, batting .223 with eight homers and 30 RBIs at second base for Milwaukee while Eric Sogard has been injured since early in the month.
Several clubs looking at Marlins' Ramos
At least six teams are showing "good interest" in Marlins closer AJ Ramos, MLB Network insider Jon Heyman reported.
Heyman listed the D-backs, Rockies, Rays, Red Sox, Brewers and Cubs among the many potential suitors for the Miami right-hander.
Ramos, 30, was a National League All-Star in 2016 en route to racking up 40 saves in 43 chances with 73 strikeouts in 64 innings and a 2.81 ERA.
This season, Ramos has converted 18 of 20 save opportunities and has a 3.96 ERA and 45 strikeouts across 36 1/3 innings.
Mets ready to move Reed, Cabrera?
Trade rumors continue to circulate about two of the Mets' main candidates to be moved before the July 31 Deadline, closer Addison Reed and infielder Asdrubal Cabrera.
According to a report from Newsday's Marc Carig, half a dozen teams have asked about Reed, including the Brewers. The National League Central leaders could pair Reed with Corey Knebel at the back of their bullpen. Also, ESPN's Buster Olney reported that the Dodgers are exploring a deal to bring Reed to Los Angeles.
ESPN's Jerry Crasnick previously reported that Reed has been drawing the most interest among the Mets' trade chips and is the likeliest to be traded.
Meanwhile, the veteran Cabrera seems to also have some suitors, including the Mariners, according to MLB Network insider Joel Sherman. Cabrera, who has already been moved from shortstop to second base this season -- after which he asked for a trade from the Mets -- is now taking ground balls at third base as well. That could help him increase his flexibility for the trade market.
However, the Red Sox, who are in need of a third baseman and recently missed out on Todd Frazier, have not showed interest in Cabrera, according to the New York Daily News' Kristie Ackert. According to Ackert's report, teams' interest in Cabrera has been fairly light.
The New York Post's Mike Puma reported that scouts from the Indians, Royals and Cubs were also in attendance for the Mets' series finale against the Cardinals on Thursday. Players like Cabrera, Reed or Lucas Duda could be potential targets for those clubs.
Yankees open to trade for first baseman
The Yankees' acquisition of Todd Frazier earlier this week appeared to solve their season-long problem at first base, as Frazier took over at third base, moving Chase Headley across the diamond to platoon with rookie Garrett Cooper at first.
But a source told MLB.com's Mark Feinsand on Thursday that while the Yankees are content to go with Headley and Cooper for the rest of the season, the club remains open to a trade for a first baseman if the right deal presents itself.
Oakland's Yonder Alonso and Lucas Duda of the Mets have been the two names most commonly attached to the Yankees, who have been the only contender with a clear-cut need at first base.
Alonso could be included in a bigger trade if the Yankees make a move for right-handler Sonny Gray, the top starting pitcher available on the market. Thursday, MLB Network Insider Jon Heyman reported that the Athletics had "named their price" to the Yankees for Gray, while MLB Network's Ken Rosenthal reported that Oakland was scouting the Yankees' Double-A team Thursday.
Sources told Feinsand earlier in the week that Oakland would like to take a shot at signing Alonso to an extension before trading him, though the first baseman is unlikely to sign a new deal this close to free agency.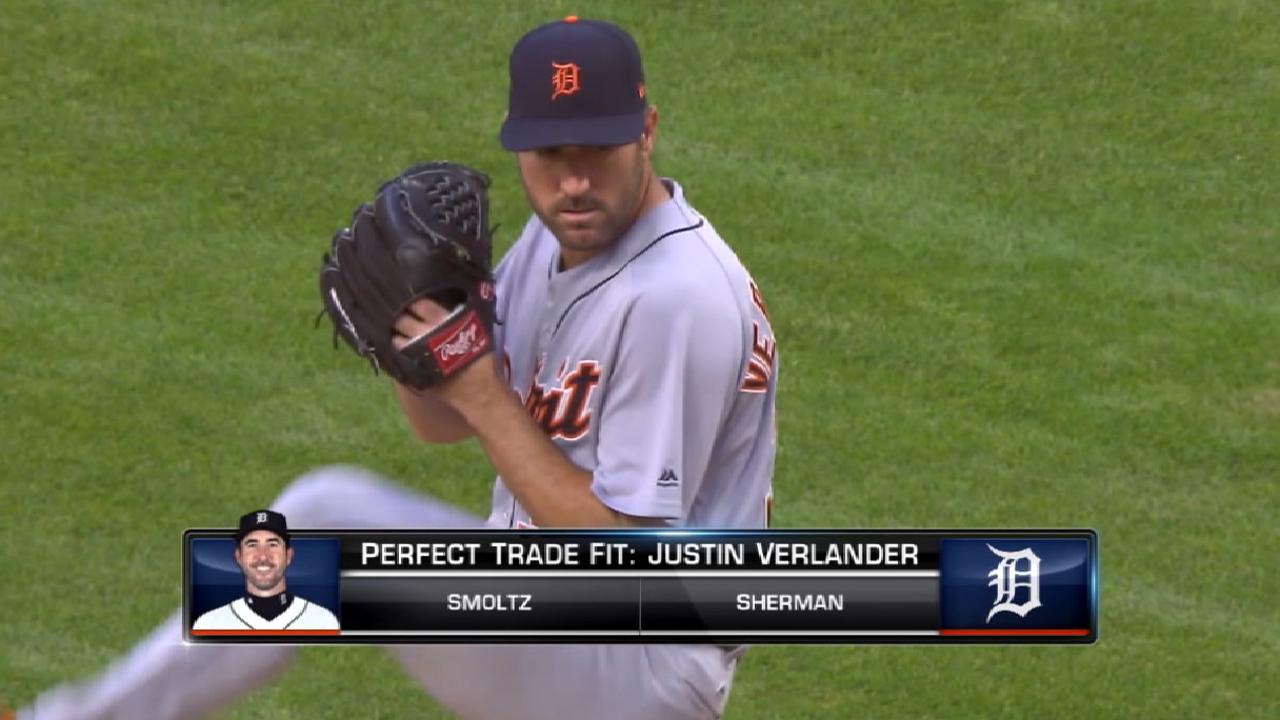 Available relievers remain
The relief-pitching market has headlined the pre-Trade Deadline period, with David Phelps joining Sean Doolittle, Ryan Madson, David Robertson and Tommy Kahnle as relievers already moved with 11 days still to go before July 31. Phelps was traded by Miami to Seattle on Thursday in exchange for four Minor League players.
One of the biggest names left on the relief market is San Diego's Brad Hand, who was selected to his first All-Star Game earlier this month. A source told MLB.com's Mark Feinsand that several teams are in the mix for the left-hander, though the Padres "are not close" to a deal with anybody. The source added that a Hand trade could take some time, possibly going down to the Deadline wire.
Among the other relievers reportedly available include Philadelphia's Pat Neshek, Miami's A.J. Ramos, Baltimore's Zach Britton and Brad Brach, Detroit's Justin Wilson and Addison Reed of the Mets.
The Brewers are looking to add at the Trade Deadline, and apparently, add big. Milwaukee is interested in acquiring Tigers ace Justin Verlander, according to the Detroit Free Press.
Brewers in the hunt for Verlander?
While a starter of Justin Verlander's pedigree could help any team, the Brewers would particularly benefit from a veteran at the top of the rotation as their grip on the top of the NL Central continues to loosen. Milwaukee's division lead has slipped to one game over the Cubs and three over the Pirates after losing its fifth straight game on Thursday. They've struggled, in particular, since Chase Anderson landed on the disabled list late last month with an oblique injury.
Anderson could be sidelined into August, leaving Jimmy Nelson to anchor a rotation that also includes Zach Davies, Matt Garza, Junior Guerra and Brent Suter.
Acquiring Verlander, who placed second in last year's AL Cy Young Award voting, would take a haul, but the Brewers have one of the top-rated farm systems in baseball. Verlander is owed $56 million of the next two seasons and has a $22 million vesting option for 2020 as part of a 10-year, $219.5 million contact he signed in 2009.
A recent string of strong starts has prettied the picture a bit for Verlander, who followed his sensational 2016 season with an inconsistent 2017. The righty is 5-7 with a 4.54 ERA in 20 starts, and is tied for the AL lead in walks.
Gray is Astros' focus for starter
The Astros have the best record in American League, but that doesn't mean Houston isn't looking to improve. The Astros continue to target starting pitching as the July 31 Trade Deadline approaches in an attempt to load up for October.
A's starter Sonny Gray is the Astros' top target, according to MLB.com's Jon Paul Morosi. The right-hander pitched well again on Wednesday, limiting the Rays to two runs in 6 1/3 innings in a 7-2 Oakland win. Gray has won three of his past four starts and owns a 3.66 ERA in 15 starts overall.
Morosi also reports that the Astros are working hard to add talent in the bullpen. You can never have enough pitching come October, and several of the Astros' top arms have missed time to the disabled list this season.
Eyes on Wilson
One of the relievers garnering heavy interest is Tigers closer Justin Wilson, whom the Astros are in on, according to MLB.com's Jon Paul Morosi. The Brewers, Red Sox, Dodgers and Nationals also continue to show interest in the lefty, who is having a career year for Detroit.
Wilson owns one of the best fastballs in baseball and has 10 saves this season, to go along with a 2.75 ERA and 50 strikeouts in 38 appearances. Wilson blew the save in Wednesday's 4-3 loss in Kansas City, but is 10 for 12 in save chances overall. A versatile reliever, Wilson could slide into a seventh- or eighth-inning relief role if acquired by a contender.
The Nationals have made it clear they won't move any of their three top prospects, Victor Robles, Erick Fedde or Juan Soto, for Wilson, according to MLB Network Insider Ken Rosenthal. Robles, Fredde and Soto are the organization's Nos. 1-3 prospects as ranked by MLBPipeline.com. However, Washington continues to look for bullpen help even after acquiring Sean Doolittle and Ryan Madson from Oakland earlier this week.
Nunez emerges as Red Sox option
When word spread that Pablo Sandoval was preparing to sign a Minor League deal with the Giants, it sounded like a case of a team doing an old friend a favor.
But San Francisco might have an opening for Panda sooner than he thought.
A source told MLB.com's Mark Feinsand that infielder Eduardo Nunez has emerged as the top third-base trade option for the Red Sox, who are looking to upgrade at the hot corner. Boston released Sandoval on Wednesday, bringing an official end to his disappointing three-year tenure with the Sox, who signed him to a five-year, $95 million contract after the 2014 season.
Nunez, who can play multiple infield positions, is slated to become a free agent at the end of the season.