MLB Buzz: Trade talk, deals and rumors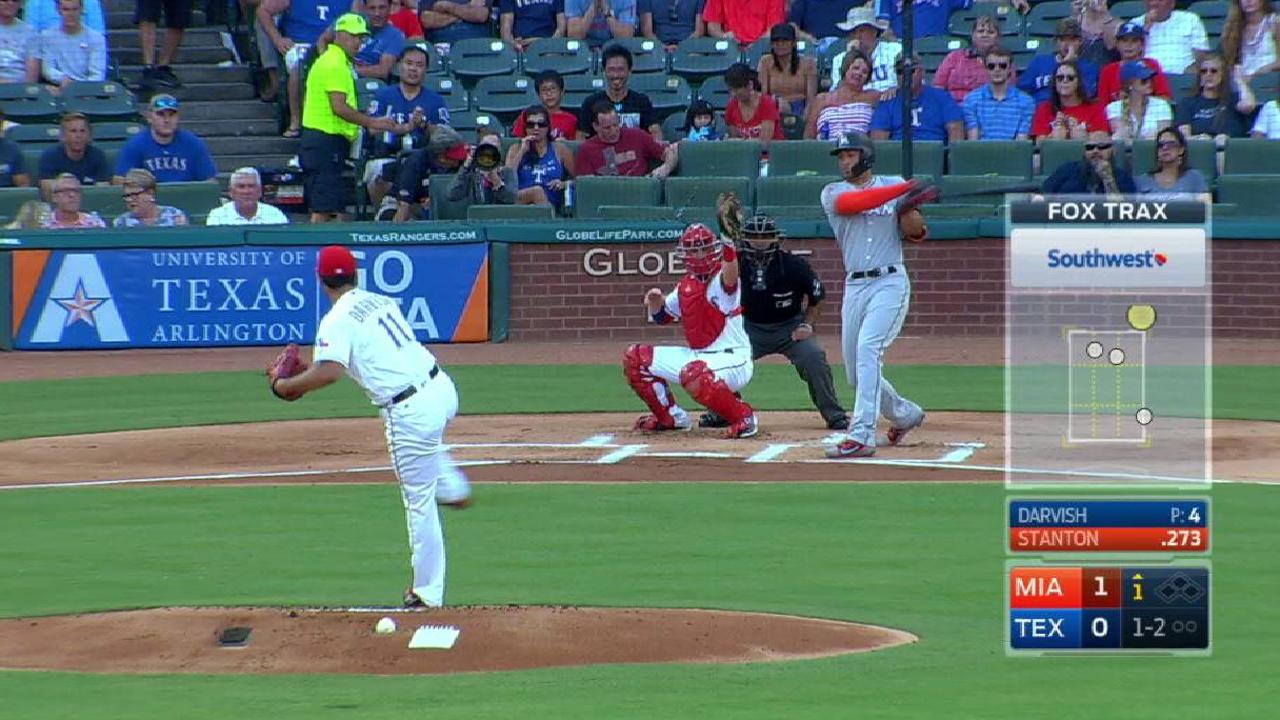 As Monday's non-waiver Trade Deadline approaches, we'll keep you up to date with the latest news, buzz, rumors and more.
Darvish being dealt appears likely
MLB Network insider Ken Rosenthal reports that the Rangers are "confident" they will get a quality return for right-hander Yu Darvish and that the club is actively exchanging names they would want in return with other clubs. A source confirmed to MLB.com that Texas indeed plans to trade its ace by Monday.
It was reported earlier in the week that Darvish may stay put in Texas past the non-waiver Trade Deadline, unless they were overwhelmed with an offer. Darvish also has a no-trade clause that according to Rosenthal allows him to block trades to 10 teams: the Orioles, Red Sox, Cubs, Indians, Rockies, White Sox, Tigers, Athletics, Pirates and Blue Jays.
Frazier, Torres sticking points in Gray talks
While the Yankees are still believed to be the frontrunners to land A's right-hander Sonny Gray, discussions between New York and Oakland aren't believed to be anywhere close to a deal yet, according to MLB Network insider Jon Heyman. The A's have asked the Yankees for packages including either one of New York's top two prospects -- Clint Frazier and Gleyber Torres -- which the Yankees have suggested are off-limits to this point.
With Gray being the most attractive pitcher left on the trade market to potential contenders, Oakland has kept its asking price as steep as possible in the days leading up to the July 31 non-waiver Trade Deadline. In addition to asking the Yankees for either Frazier (the No. 27 overall prospect, according to MLB Pipeline) or Torres (No. 3 overall), the A's have likely hinted at Brewers top prospect Lewis Brinson (No. 15 overall) and Braves top prospect Ronald Acuna (No. 8 overall), per Heyman, who adds that Milwaukee has backed off from Gray discussions and Atlanta has "fallen behind."
Oakland is also looking to add a center fielder it can build around, and Heyman reports that the A's have also asked the Yankees about prospect Estevan Florial (New York's No. 5 prospect, No. 90 overall), too.
Gray, just 27 years old, has gone 6-5 with a 3.43 ERA and a stellar 3.25 FIP for the A's this season after an injury-plagued 2016. Unlike Rangers ace Yu Darvish -- another much-discussed trade possibility who will be a free agent this winter -- Gray is much more attractive to teams looking for a solid starter for the future. The righty is making $3.57 million this year and is arbitration-eligible through the 2019 campaign.
Royals, Blue Jays working Lirano trade
The Blue Jays and Royals are making progress on a trade that would send left-hander Francisco Liriano to Kansas City, sources confirmed to MLB.com's Jon Paul Morosi.
While the Royals have progressed furthest, sources have told Morosi that other teams remain involved in talks for Liriano.
The Royals already picked up three pitchers from the Padres earlier this week in starter Trevor Cahill and relievers Brandon Maurer and Ryan Buchter, but they clearly aren't finished trying to bolster their pitching staff.
Liriano currently holds a 5.99 ERA and 4.92 FIP in 17 starts for Toronto this season, uninspiring numbers from the standpoint of teams looking for help in the playoffs or a division race. However, the southpaw was strong down the stretch for the Blue Jays after they acquired him last year, despite posting similarly uninspiring numbers for the Pirates earlier that season.
It's also worth noting that Liriano pitched out of the bullpen for the Blue Jays during last year's playoffs, a role for which he could be destined again this year.
Another obstacle might be Liriano's $13.7 million salary this season, which the Jays would likely have to absorb if they want a significant return. Liriano can be a free agent after this season, making him a pure rental for whomever acquires him.
Rangers shopping Jeffress around
Jeremy Jeffress could be on the move again at the Trade Deadline. Other clubs have told Jerry Crasnick of ESPN that the Rangers are shopping Jeffress around for a possible trade, which would give him a change of scenery after a disappointing 2017 season so far.
Jeffress landed with the Rangers along with Jonathan Lucroy from the Brewers at the Deadline last season after posting 27 saves in 28 opportunities as Milwaukee's closer, with a 2.22 ERA and a 3.17 FIP in 44 2/3 innings.
Jeffress was similarly solid down the stretch for Texas last season, registering a 2.70 ERA in 13 1/3 innings and throwing a scoreless inning against the Blue Jays in the American League Division Series.
2017 has been a different story for Jeffress, who went through his first round of arbitration last offseason and is under team control until after the 2019 season. His 5.21 ERA in 38 innings has caused him to fall out of the Rangers' late-innings relief corps. Jeffress also hit the disabled list in late June with a small tear in his lat, but he returned less than two weeks later.
As a reliever with a recent track record of success and multiple years of team control left, Jeffress could represent a good buy-low opportunity for teams willing to give him a chance.
Astros eyeing Tigers' Wilson
It's no secret that the first-place Astros are looking for bullpen help and ESPN's Jerry Crasnick reported that Houston may be the "most focused team" aiming to acquire the services of Detroit closer Justin Wilson.
According to Crasnick, it seems Wilson has leapfrogged Orioles closer Zach Britton as the Astros' top trade target in their pursuit of a left-handed reliever.
Houston's bullpen ranks 18th in the Majors with a 4.23 ERA and Wilson could give the team a devastating late-inning option from the left side. The 29-year-old reliever is 3-4 with a 2.75 ERA and 55 strikeouts in 39 1/3 innings this season. He also has 12 saves.
It's unclear whether the Orioles would even part with Britton, but his six earned runs allowed in nine innings (6.00 ERA) since returning from a forearm injury might be a factor in Houston's reduced interest.
Both hurlers are under team control through the 2018 season.
Mariners showing interest in Gray
Count the Mariners as another interested party in A's right-hander Sonny Gray. MLB Network insider Jon Paul Morosi reports that Seattle is among multiple teams who continue to show interest in arguably the biggest name still available before Monday's non-waiver Trade Deadline.
Seattle already made one major foray into this year's Deadline frenzy (amid all of general manager Jerry Dipoto's smaller deals this year) by acquiring reliever David Phelps from the Marlins for four Minor Leaguers on July 20. But after winning two of three from the Red Sox, the Mariners find themselves only 3 1/2 games back of the American League's second Wild Card spot. With both James Paxton and Felix Hernandez pitching well at the top of the rotation, and the lineup as healthy as it's been all season, Seattle could try to add Gray to make a run at its first postseason appearance since 2001.
The Mariners and A's have been more active trade partners than many division rivals, making four direct trades with each other in the past eight years. Their last major deal came in November 2016 when Oakland sent first baseman Danny Valencia to the Pacific Northwest in exchange for pitcher Paul Blackburn.
Gray went six innings in what may have been his final start for Oakland on Tuesday, giving up four runs that were all unearned on account of his own error. The five-year veteran, who has gone 6-5 with a 3.43 ERA and 3.42 FIP on the season, is making $3.57 million this year and is arbitration-eligible through the 2019 campaign.
Twins selling more than we think?
It was only three days ago that the Twins traded for left-hander Jaime Garcia, sending a prospect to the Braves for the pitcher and catcher Anthony Recker.

Yet one day after MLB.com's Jon Paul Morosi reported that Minnesota will consider moving both Garcia and right-hander Ervin Santana if they continue to struggle, it appears that might not be all the Twins do.

A source told MLB.com's Mark Feinsand that while the Twins have been fielding calls on the two starting pitchers, they have also received interest in closer Brandon Kintzler and second baseman Brian Dozier.

Garcia and Kintzler will be free agents at the end of the season, so dealing them makes sense if the Twins don't believe they can earn a postseson berth. Dozier is signed for $9 million in 2018, while Santana is owed $13.5 million next season and has a $14 million club option for 2019 that becomes guaranteed if he throws 400 innings in 2017-18 (including 200 in '18) and passes a physical after next season. With a little more than two months remaining in this season, Santana has thrown 136 1/3 innings, putting him on pace for more than 200.

After blowing a 5-0 lead and suffering a walk-off loss to the Dodgers Wednesday night, the Twins have lost four straight games to fall to 49-51. They enter Friday's series-opener in Oakland trailing first-place Cleveland by 5.5 games in the American League Central and currently sit four games behind the red-hot Royals for the second AL Wild Card spot.
Red Sox not seeking another bat on trade market
Boston's acquisition of Eduardo Nunez gave the Red Sox the infield bat they coveted, adding a versatile player capable of playing multiple positions including third base.
A source with knowledge of the team's thinking told MLB.com's Mark Feinsand that Nunez could be the only bat the Red Sox add before Monday's non-waiver Trade Deadline, as Boston's front office is counting on its star players to bounce back with a strong final two months.
"They need their existing players to collectively hit to their potential and their offense won't look as bad as it does now," the source said. "With [Xander] Bogaerts, [Mitch] Moreland, [Andrew] Benintendi and [Mookie] Betts not producing at all lately, the hope is that everyone comes out of their funks at the same time and they make teams pay the price over the next few weeks."
Since the All-Star break, only Dustin Pedroia (.909 OPS) and Hanley Ramirez (.779 OPS) have been productive for the Red Sox. The OPS numbers of their other regulars -- Betts (.695), Benintendi (.500), Jackie Bradley Jr. (.521) Bogaerts (.382) and Moreland (.280) have been below expectations.
As for further moves, the source said the Red Sox are now focused on adding an arm to the bullpen to help get the ball to closer Craig Kimbrel.
Hand hanging around?
With only days to go before the non-waiver trade deadline, it now looks like the Padres won't trade reliever Brad Hand, despite high demand for the southpaw slider specialist.
At least that's what team chairman Ron Fowler appeared to suggest during a radio appearance on The Mighty 1090 in San Diego.
"Other things being equal right now, I don't see us moving him, because we value him more than what's being offered and we think he could be part of the team for the foreseeable future," said Fowler, who also called the situation "very fluid."
Rumors have been swirling around Hand all month, with a bevy of contenders looking to improve their bullpen depth and Hand coming off his first All-Star selection. "Half the league or more" has inquired about Hand, according to MLB.com's AJ Cassavell.
Hand is 2-4 with a 2.12 ERA and 66 strikeouts in 51 innings this season. He hasn't allowed a run since June 10, a span of 16 consecutive outings.
St. Louis selling?
Cardinals general manager John Mozeliak is on record saying the team is "open for business," and that means few players are untouchable despite the fact that St. Louis remains very much in the National League Central race.
MLB.com's Jon Paul Morosi reported that means the team is willing to listen to offers for its young outfielders, specifically Tommy Pham and Randal Grichuk.
Mozeliak has been very clear that he plans to improve a team, that, in his opinion, has underperformed. So it makes sense that the Cardinals would trade from a position of depth, and right now they have about eight players at the Major League level (including two on the disabled list) with the potential to play the corner outfield spots.
Still, it is unclear how much of a market there is for Pham and Grichuk, two talented but flawed players without much in the way of track records at the big league level. Grichuk homered in four straight games earlier this week, but that was after a demotion to Class A to rediscover a swing that he'd lost over the season's first half. Pham has blossomed at age 29, hitting .307/.393/.530 in 71 games, but he'd previously been passed over repeatedly for promotions over what was then a 12-year Minor League career.
D-backs surveying pitching market
The D-backs are "monitoring" starters and relievers who might be available, according to MLB Network Insider Ken Rosenthal.
According to Rosenthal, No. 1 prospect Anthony Banda's strong debut against the Nationals has the club believing it should be fine with the current depth in its rotation.
However, Rosenthal reports that many top team officials have mentioned how the surplus of relievers available might have the D-backs searching for a bargain as the Trade Deadline nears, if they do decide to make a move.
Braves among clubs with close eye on Gray
Don't expect the Braves to rest on their haunches after dealing starter Jaime Garcia to Minnesota on Monday. In advance of the July 31 non-waiver Trade Deadline, Atlanta has remained involved in discussions for A's ace Sonny Gray, a source has told MLB.com's Jon Paul Morosi, who added that Oakland has expressed interest in Triple-A Gwinnett outfielder Ronald Acuna, the top prospect in the game's deepest farm system.
Lending credence to the possibility of such a deal is a report on Monday by MLB.com's Mark Bowman that Atlanta's newfound financial flexibility after the Garcia trade could make the club a player to acquire a controllable front-line starter. The Twins will assume all of the approximately $4.7 million owed to Garcia this year, allowing the Braves to remain active in the trade market. Gray is making $3.57 million this year and is arbitration-eligible through the 2019 season. Other options could include 2017 All-Stars Ervin Santana of the Twins and Jason Vargas of the Royals, along with the Pirates' Ivan Nova and Giants' Jeff Samardzija.