Martinez honors Fernandez in All-Star Game
Cardinals starter racks up 4 strikeouts in 2 scoreless innings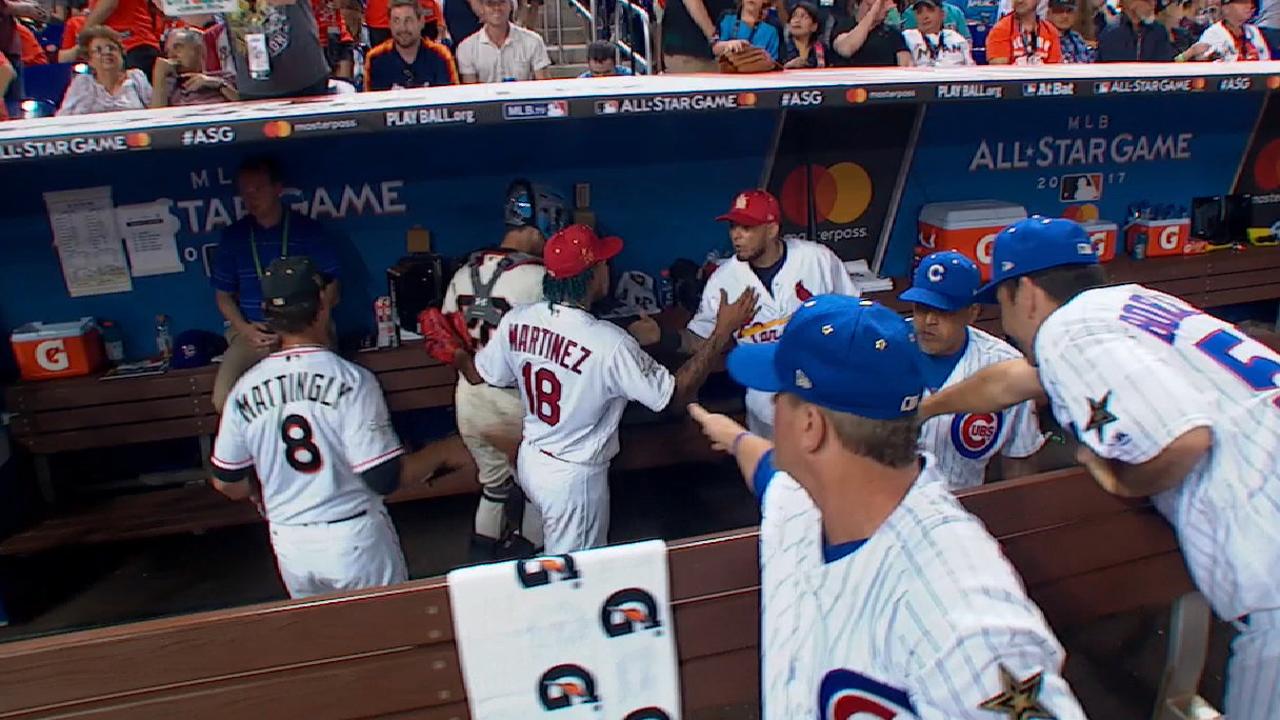 MIAMI -- Carlos Martinez represented more than just the Cardinals on Tuesday, when he pitched two scoreless innings in the National League's 2-1 loss to the American League in 10 innings. He also took the mound in the All-Star Game presented by Mastercard excited to represent Miami's Latin community and, in particular, all those who had traveled from the Dominican Republic to watch him pitch.
And then there were those who weren't able to be in attendance. As he does before every one of his starts, Martinez scribbled Oscar Taveras' initials into the mound dirt. He added a "16" alongside them on the Marlins Park mound. For this appearance was also to honor Jose Fernandez, the Marlins ace who died in a boating accident last September.
"I feel like he's next to me," said Martinez, whose locker in the NL clubhouse was next to the one that had belonged to Fernandez and is now enclosed behind glass. "I'm always up there representing Oscar. And now that I am in Miami, I get a chance to stand up and represent Fernandez. We're all Latin players."
Martinez did all of them proud, shining on a night that began with a pregame ceremony that honored some of the best Latin-born players in Major League history.
In an outing he described as "the biggest experience of my life," Martinez faced eight players from the American League's starting lineup after entering in the third inning and didn't allow any to advance into scoring position. With strikeouts of Jose Altuve, George Springer, Carlos Correa and Corey Dickerson, Martinez became the second pitcher to strike out four in an All-Star Game since 2000, matching Zack Greinke in 2015. The only other Cardinals player to do so was Dizzy Dean in 1934.
"I think in the first inning, maybe with the first pitch, there were a little bit of nerves," Martinez said. "But once I settled in, I really felt like myself and really took control of the game. I really tried to display my strength with my fastball."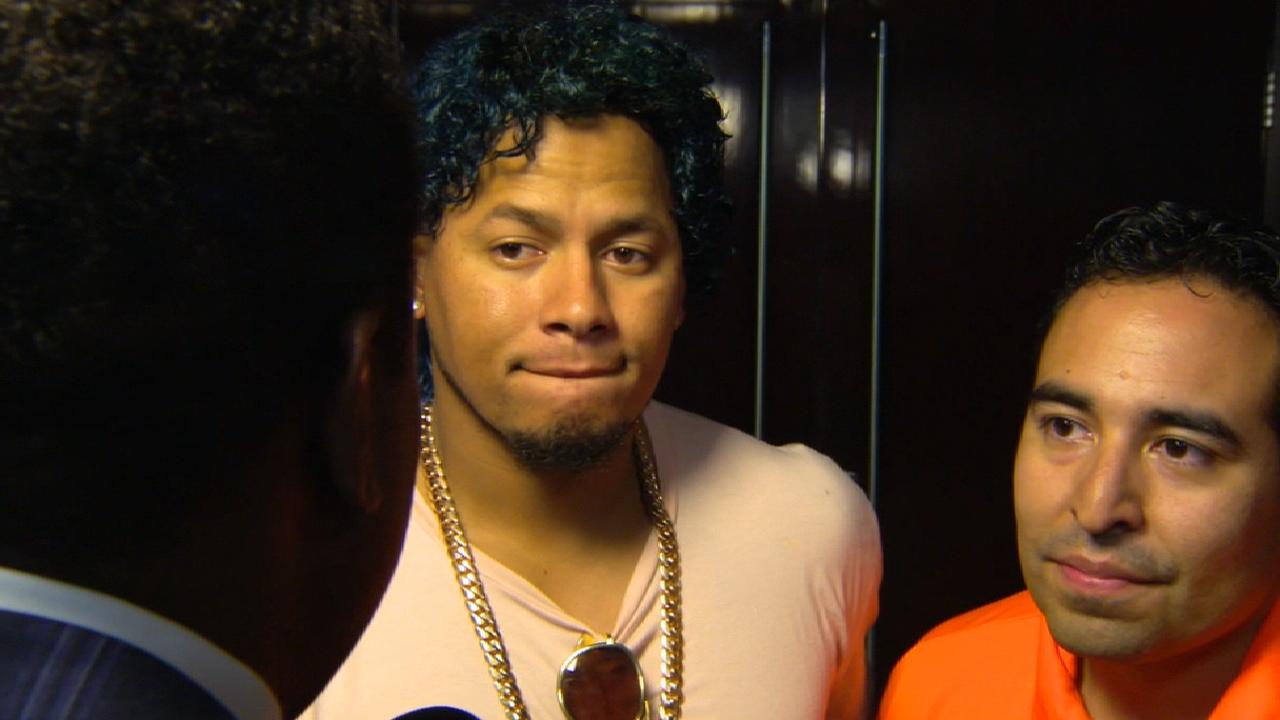 "Carlos, like always, was electric," added teammate Yadier Molina. "It was fun to watch."
Hitters saw Martinez's fastball touch 100 mph on the radar gun seven times, and, according to Statcast™, the right-hander's velocity topped out at 100.7 mph. Two of those triple-digit readings came against T-Mobile Home Run Derby champ Aaron Judge, who eventually grounded out.
"When he saw me, he gave me a little smile because we had talked about it the night before, about what it would be like if we faced each other," Martinez said. "So it was a beautiful experience."
Martinez worked around a two-out single in the third inning and a two-out walk in the fourth while becoming the only NL pitcher to throw multiple innings Tuesday. Though this was Martinez's second All-Star selection, it marked the first time he had appeared in the game.
He embraced all that led up to it, too. With his hair dyed teal to match the All-Star Game color motif, Martinez, alongside his two young sons, marveled at the power showcased during Monday's Home Run Derby and drove the streets of Miami in Tuesday's All-Star parade.
"I thank God for the opportunity to be here," Martinez said before departing. "I had a great time. I really enjoyed it."
Jenifer Langosch has covered the Cardinals for MLB.com since 2012, and previously covered the Pirates from 2007-11. Follow her on Twitter, and Facebook. This story was not subject to the approval of Major League Baseball or its clubs.