Bour's 22 Round 1 HRs not enough vs. Judge
Marlins slugger thrills home crowd, entertains with doughnut, but falls to eventual champ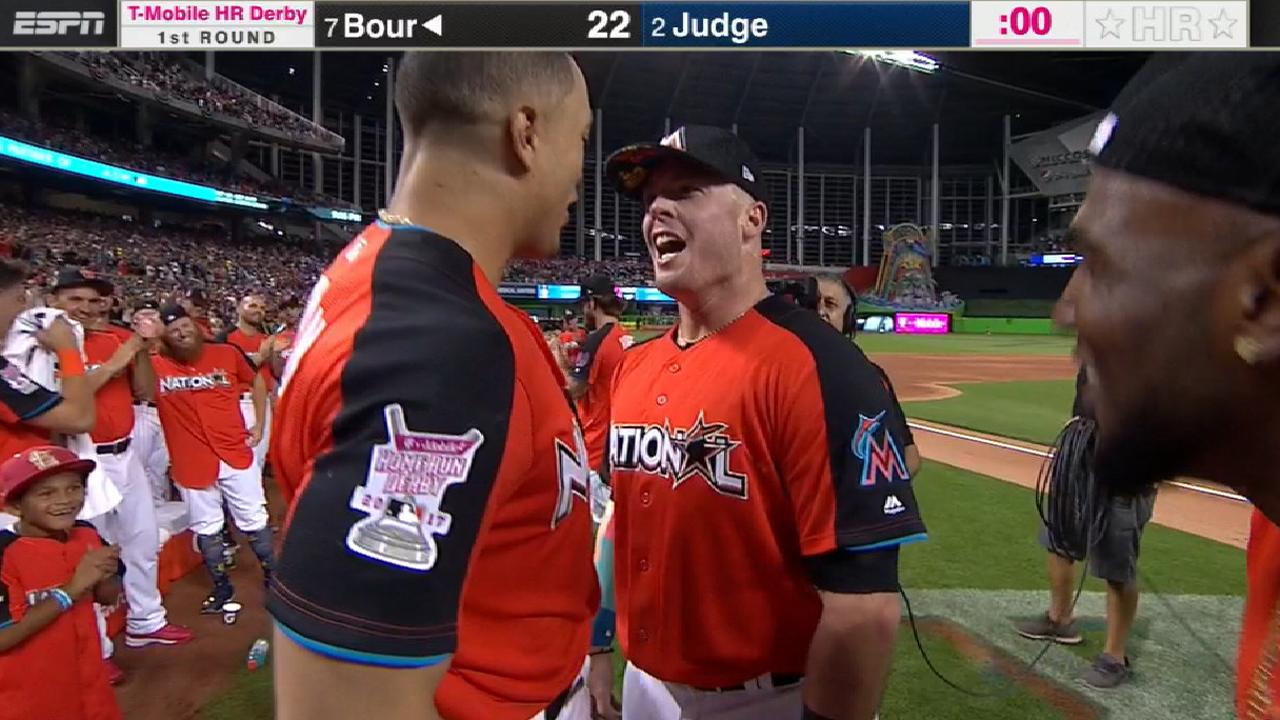 MIAMI -- Justin Bour had the crowd behind him, but he was no match for the might of Aaron Judge.
Bour smacked 22 first-round homers, the fifth most in a single round in history, in front of thousands of energized Marlins fans, but he exited Monday's T-Mobile Home Run Derby early after the Yankees' rookie and eventual winner launched 23.
"J.B., 22 home runs, unbelievable effort," Marlins president of baseball operations Michael Hill said. "Ignited the crowd, it was great to see. This is his home crowd. I think everyone wanted to see him do well. I think he did a tremendous job."
Bour's impressive round was enough to give an awaiting Judge a scare.
"I was already nervous going into it. I think everybody was a little nervous," Judge said. "Once Justin put on that show like that, I just had to go to work."
With Marlins outfield and baserunning coach Lorenzo Bundy pitching to him, Bour repeatedly swatted balls into the right-field upper deck at Marlins Park. Upon finishing the round, teammate Marcell Ozuna chest-bumped with him in celebration.
"I like it. I like Justin Bour. He was excited. He was jumping around," Ozuna said. "Aaron Judge is just amazing."
Bour's fun began before the celebrating, though. After launching 12 dingers, Bour called a timeout with one minute, 24 seconds left in the four-minute round (plus 30 second of bonus time). His teammate and recently ousted Derby participant, Giancarlo Stanton, fed him a doughnut. Ten home runs followed the sugary treat and sent fans all over the park into a frenzy.
• Bour's Derby performance was not only impressive, it included doughnuts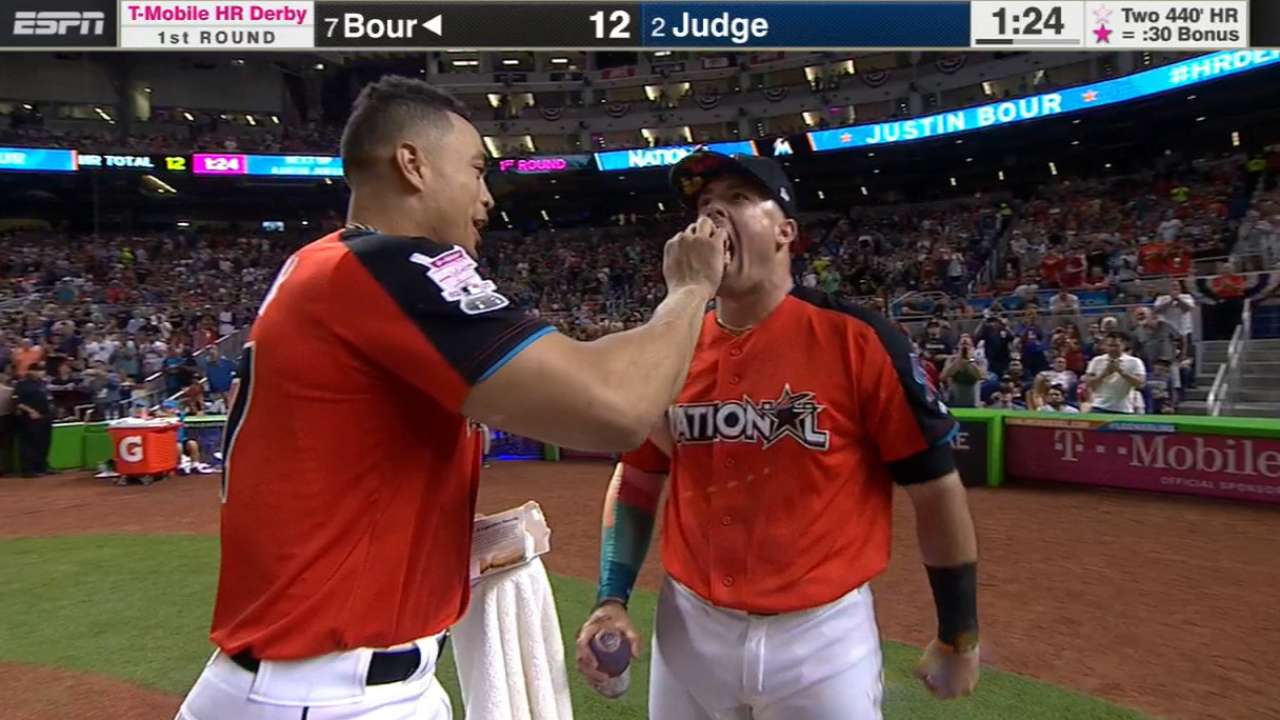 "That's who he is," Bundy said. "What you saw out there, that's what we see every day."
And that Krispy Kreme donut was fire too.

— Justin Bour (@bour41) July 11, 2017
Bour, who has hit 20 homers (his career high is 23) this season for the Marlins, finished with an average exit velocity of 107.1 mph and an average projected distance of 422 feet, according to Statcast™.
Bundy played a large role in Bour's thrilling round. The two deviated from their normal batting-practice routine by having Bundy throw slower than usual.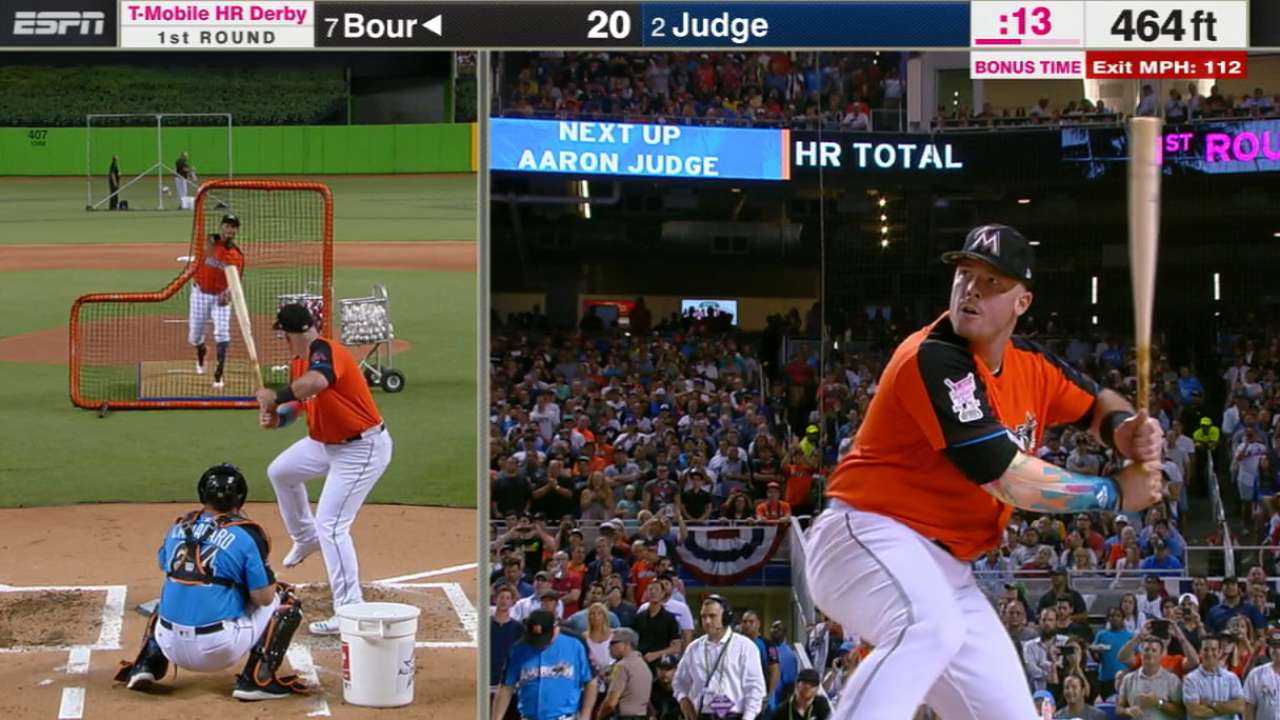 That plan initially worked well until they ran into a behemoth in Judge.
"When you throw up 22, you feel like you have a chance," Bundy said. "But then, you know, to Aaron's credit he brought it home. He's really impressive."
Patrick Pinak is a reporter for MLB.com based in Miami. This story was not subject to the approval of Major League Baseball or its clubs.