MLB.com Columnist
Mike Petriello
Statcast takeaways from the Futures Game
Kopech shows elite spin as well as 100+ mph velocity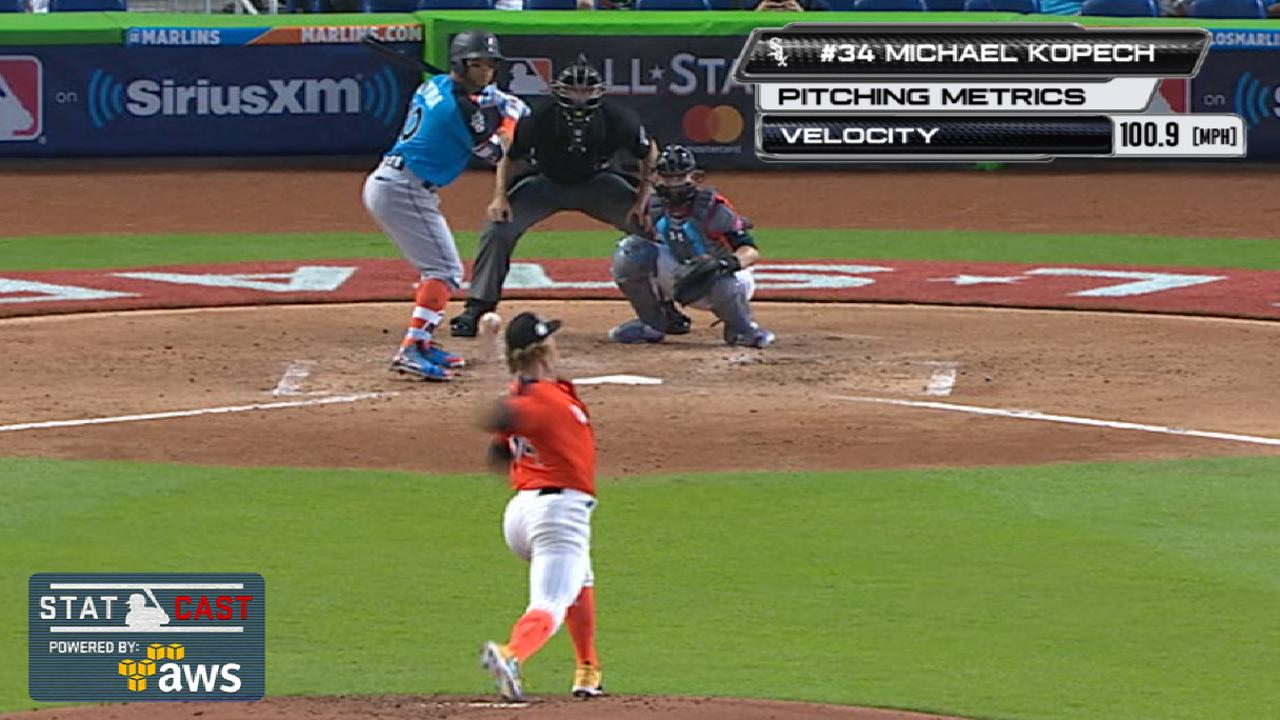 The SiriusXM All-Star Futures Game is one of the underrated jewels of All-Star weekend, as it not only gives fans the opportunity to see the next generation of stars in person and on television, it gets these players in front of the Statcast™ radars and cameras -- in many cases, for the first time.
Remember, many of these guys aren't that far from the Majors. Last year, we saw Jeff Hoffman, Alex Bregman and Clint Frazier. The year before, it was Aaron Judge, Trea Turner and Aaron Nola. A year from now, we'll be saying that we can't believe we saw Scott Kingery (Phillies), Alex Verdugo (Dodgers) and Thyago Vieira (Mariners) in this showcase. Tomorrow's stars are here today.
If you didn't get a chance to see the game, a 7-6 victory for Team USA, you missed some skills. Here are a few of our favorites from players on whom we're just beginning to collect data.
Acuna is the star of the show
All due respect to Rays prospect Brent Honeywell, who struck out four in two innings, and Marlins prospect Brian Anderson, who singled and doubled, it was Atlanta prospect Ronald Acuna who left us as impressed as anyone on the field. That's despite the fact that he went 0-4, because remember, this is a showcase of talent more than it is about winning or losing.
Entering the day hitting .325/.374/.507 since being promoted to Double-A, Acuna cracked the hardest-batted ball of the game, 112.3 mph with a 13-degree launch angle, in the seventh inning off of Royals prospect Foster Griffin. That combination falls for a hit 78 percent of the time, and it was actually the only Barrel of the day -- a ball that qualifies as the near-perfect combination of exit velocity and launch angle. Unfortunately for Acuna, center fielder Corey Ray (Brewers) was positioned perfectly, preventing the hit.
Not only was it the hardest hit of the game, it was harder than any Brave has had all season.That's not all. Acuna had the three hardest outfield throws of the game, hitting 92.9 mph, 95.2 mph, and 96.7 mph. Forget the 0-for-4; suddenly, it's easy to see why MLBPipeline calls him a five-tool talent, and reminds us that "evaluators get downright giddy when discussing Acuna."
Kopech brought the heat, as expected
After reports of him hitting 105 mph during a Minor League appearance last summer, there was probably no pitcher we were more excited to see than Michael Kopech, a prize of last winter's Chris Sale trade. No, he didn't hit 105, but he did touch 100 mph five times, including a game-high 100.9 mph heater to strike out White Sox teammate Yoan Moncada.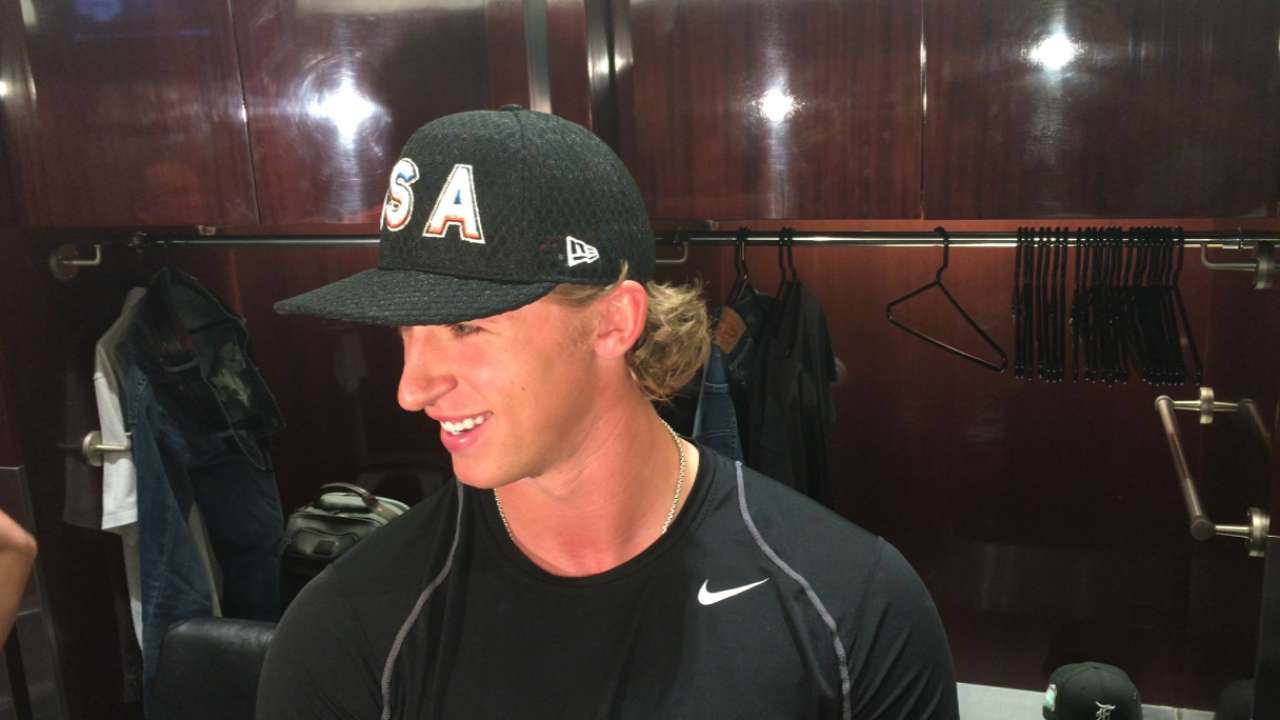 Even in a world of increasing velocity, 0.04 percent of fastballs have touched 101 mph in the Majors this year, giving you some reference as to how elite that heat is. Kopech brought spin as well, averaging 2,668 RPM on his fastballs. If you're wondering if that's good, it is. It would be the second-hightest of 560 pitchers who have thrown 50 fastballs, behind Carl Edwards Jr. High fastball spin, which can cause the "rising effect," correlates well with swinging strikes. So does velocity. The Red Sox certainly didn't get Sale cheaply.
By the way, Kopech wasn't alone in the velocity department. With most pitchers throwing an inning or less, they were free to air it out, and Vieira (100.7 mph, 100.1 mph) and Orioles prospect Tanner Scott (100.5 mph) hit triple digits, as well.
Fisher can flat-out fly
Derek Fisher was impressive in a short Major League look last month, hitting two homers in five games for Houston, and he's hitting a massive .306/.370/.575 at Triple-A. But he's also got wheels, having stolen 23 bases in both 2015 and 2016, and he showed them on Nick Senzel's first-inning single.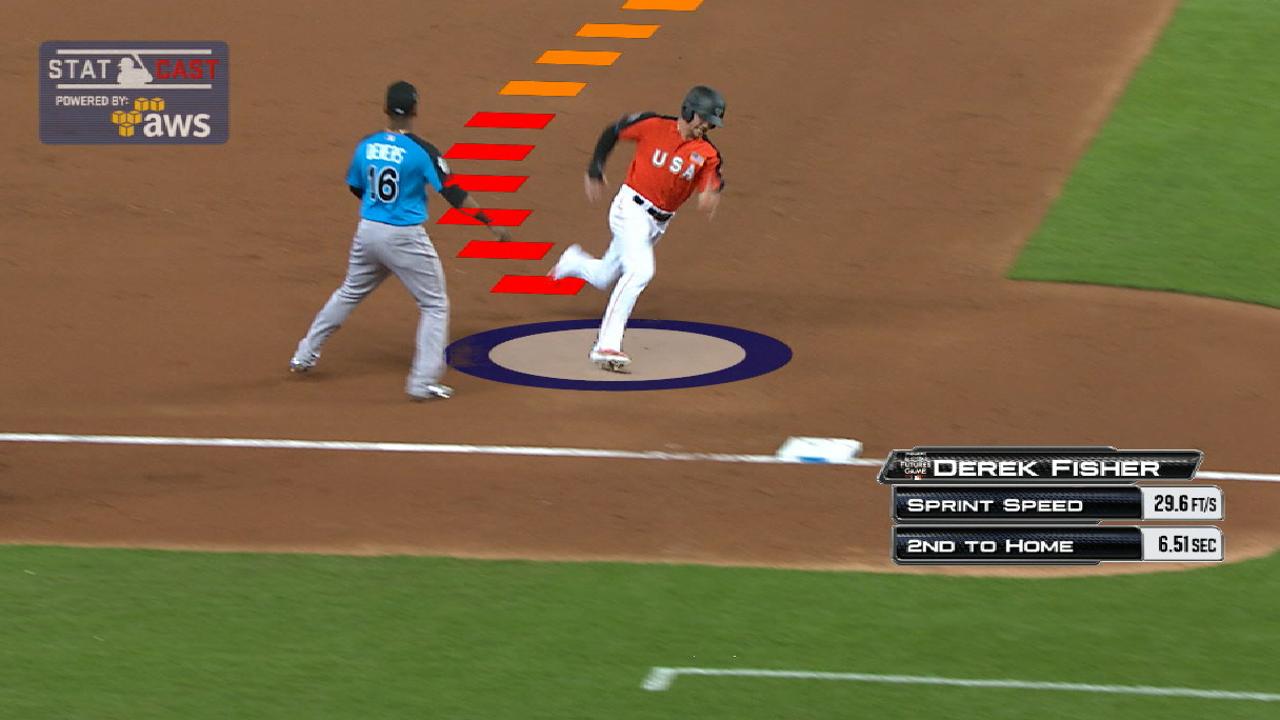 Coming around from second base to score the first run of the game, Fisher was tracked with a 29.6 feet/second Sprint Speed, which is borderline elite. Sprint Speed, defined as "feet per second in a player's fastest one-second window," does a very good job of displaying a player's maximum foot speed. We have 27 feet/second as the Major League average, with the slowest runners hitting around 23 feet/second, and the the truly elite, like Byron Buxton and Billy Hamilton, averaging around 30 feet/second at their top speed.
Fisher's 29.6 feet/second is just one run, not the average of many, so take it with a grain of salt. But it's clear you can't fake speed like that, and 29.6 feet/second would be a top-five mark on our leaderboards. Between the legs and the bat, the Astros have yet another top prospect just about ready to help. That's just what the American League's best team needs, right?
Mike Petriello is an analyst for MLB.com and the host of the Statcast podcast. He has previously written for ESPN Insider and FanGraphs. This story was not subject to the approval of Major League Baseball or its clubs.