Renewed focus helping Cards' Flaherty excel
St. Louis' No. 5 prospect reworked workouts, approach entering breakout year
MIAMI -- The start to Jack Flaherty's breakout season came back in Los Angeles, where he went back to what was familiar to find what would take him further.
He reunited with his high school athletic trainer, who put the Cardinals' fifth-ranked prospect on a program that left Flaherty feeling "more natural and fluid" by the time Spring Training rolled around. When he hit different checkpoints in his throwing program, he did so alongside former high school teammates and fellow first-round picks Lucas Giolito and Max Fried. They fed off each other and learned from one another.
The work, and the intent behind it, paid off precisely as Flaherty had hoped.
"For me, I wanted to start well and get off on the right track," he said on Sunday, before throwing an inning in the SiriusXM All-Star Futures Game. "Everything just felt more natural this year coming in."
The results showed, and Flaherty's standout first half earned him an invitation to Miami, where he was the Cardinals' lone Futures Game representative. He pitched the sixth inning in the U.S. Team's 7-6 win, allowing two runs on two hits. Flaherty closed his inning by getting a swing-and-miss on his curveball, one of the secondary pitches he's still working to develop.
"Today in the bullpen, I just felt like I had really good feel for it," Flaherty said. "It's a pitch that some days is better than others, and today it felt good, so I threw a lot more."
While it wasn't the clean inning Flaherty desired, the appearance offered Flaherty the chance to showcase his growing profile in a nationally-televised game against elite talent.
Flaherty has accelerated his methodical climb in the Cardinals' system this year. After participating in Major League Spring Training for the first time, Flaherty opened the season in Double-A, where he went 7-2 with a 1.42 ERA in 10 starts. That earned Flaherty a promotion to Triple-A Memphis, where he is 1-1 with a 4.11 ERA after six appearances.
The baseline of Flaherty's success is the same thing that drew the Cardinals to him three years ago, when they lured him away from his University of North Carolina commitment with a $2 million bonus: He throws strikes. Flaherty, who has a 4.41 strikeout-to-walk ratio this year, threw 14 of his 17 pitches for strikes on Sunday.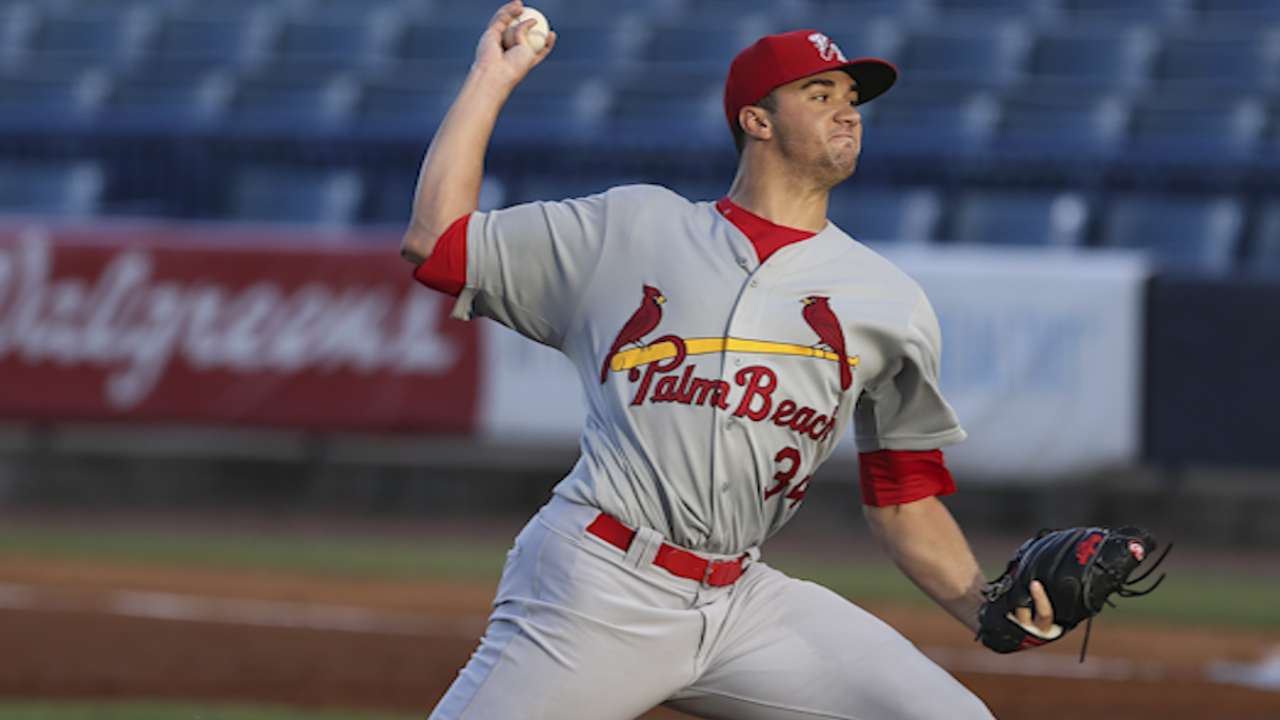 "Here's a young man who has the confidence and ability to throw his fastball for strikes, and that was a separator from the day he walked in here," said Gary LaRocque, the Cardinals' director of player development. "It's fun to watch that progression knowing that he had some things right away behind him that he didn't have to worry about."
Flaherty felt as if he got away from his strike-throwing ways too often last year while going 5-9 with a 3.56 ERA with Class A Advanced Palm Beach. And in some ways, that's what led him back home with a new plan and purpose.
The changed workouts resulted in a changed body composition, which Flaherty has found puts himself in better position to repeat his delivery.
"Whether that was me or my body not moving a certain way, I've been able to correct those mistakes," Flaherty said. "Instead of fighting it and trying to make changes every time, I am able to go out and pitch. I feel really comfortable with everything."
Jenifer Langosch has covered the Cardinals for MLB.com since 2012, and previously covered the Pirates from 2007-11. Follow her on Twitter, and Facebook. This story was not subject to the approval of Major League Baseball or its clubs.