Marlins honor military with new-look airport lounge
Samson, Conine, Floyd help dedicate facility, remember overseas trips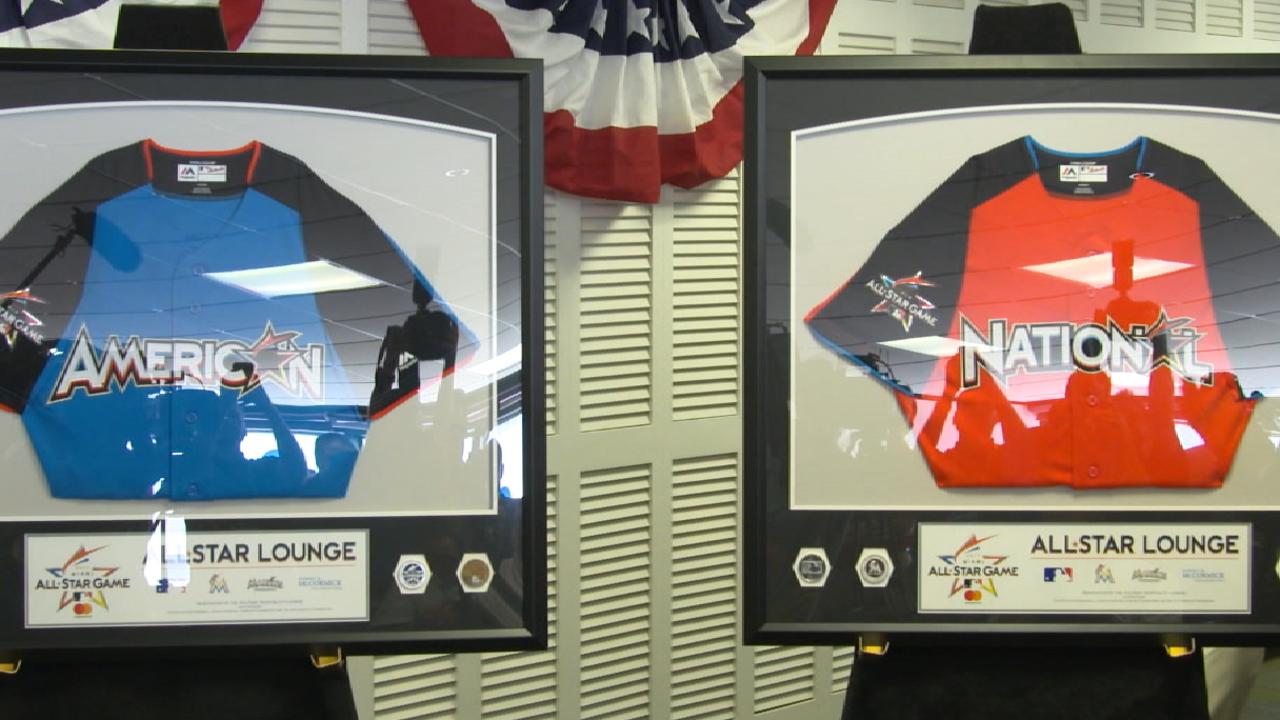 MIAMI -- Major League Baseball and the Marlins shifted their All-Star Legacy focus to the U.S. military Saturday afternoon. Former Marlins players Jeff Conine and Cliff Floyd were among the dignitaries who helped dedicate the newly renovated All-Star Military Hospitality Lounge at Miami International Airport.
Conine and Floyd, the hosts of Tuesday night's 88th MLB All-Star Game presented by Mastercard at Marlins Park, have a proud tradition of overseas trips with the Marlins' Visit Our Troops initiative. In 2011, Conine and a large contingent of Marlins personnel visited Landstuhl Regional Medical Center in Frankfurt, Germany, the largest military hospital outside of the continental United States.
"I don't think it's just Major League Baseball, I think it's everyone that should be supporting the military," Conine said. "When you think of America and you think of sports, you think of baseball -- that's our national pastime. And when you think of America, you think of the military, and what they have done over history to protect our freedom, and we are able to do what we do right now.
"We've been on these trips together and have visited the troops in the field, and see what they do, and how they protect us. We got way more out of it than they did," Conine continued. "They were so appreciative that we would take the time over there to go see them, and express our appreciation face to face. I'm telling you, we got way more out of it than they did."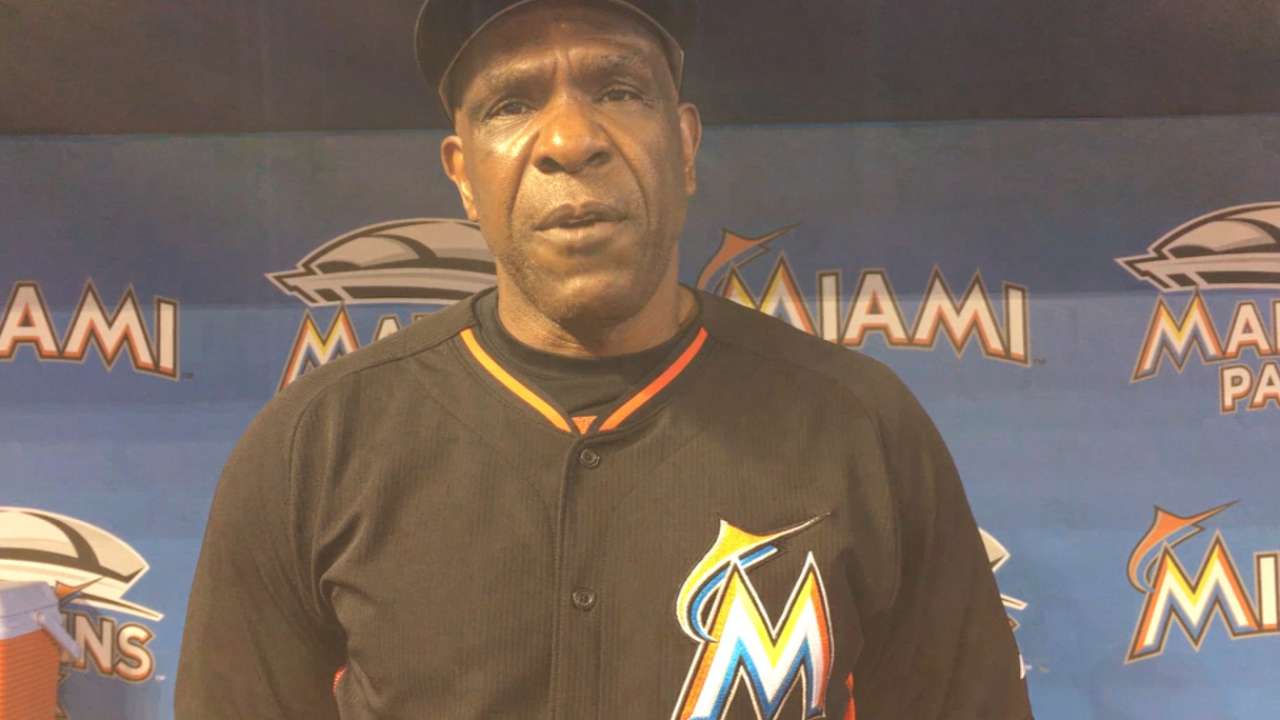 Marlins president David Samson, who toured the airport facility, recalled the specifics of that 2011 visit to Landstuhl, when the group sat in the hospital room of an Army member who had recently stepped on a land mine.
It is "ingrained in my head how he looked," Samson said. "He had shrapnel wounds all over his face, arms and body. He was bandaged, and Andre Dawson, Jeff Conine, John Buck, Logan Morrison and me, we walked into the room … and I just remember there were tubes everywhere, and he had this look about him, as though, 'You're here?' He hadn't known we were coming.
"He recognized Andre first. Then we all introduced ourselves, and we just talked baseball. Talking about anything except the pain he was in. We asked him if he wanted to talk about what happened, and he said he would, and he explained exactly what happened. I just remember we walked out of that meeting in the hospital, and we all looked each other and said, 'I can't believe we get to play baseball, work in baseball, entertain people. While there is such sacrifice going on.' What do we do?
"People, I think, lose perspective. These military trips give perspective."
Floyd, a 2001 All-Star outfielder and member of the Marlins' 1997 World Series title team, and currently an analyst for MLB Network and FOX Sports Florida, also evoked memories of the Marlins Visit Our Troops trip.
"Going back on the trip, when we visited the troops, the smile on their faces, just to be around them," Floyd said. "What the Marlins did, the smiles that we saw for a few hours, we came back from that trip, and we were just awed by every moment."
For U.S. military troops who travel through Miami, the renovated All-Star Military Hospitality Lounge will provide services for active and former members of the armed forces and their families. Renovations include a more efficiently designed space as well as new furniture, artwork, flooring and graphics. MLB and the Marlins unveiled framed National League and American League jerseys that will hang on the wall and commemorate the occasion.
In addition to Conine and Floyd, dignitaries participating in the ceremony included Claude Delorme, the Marlins' executive vice president of operations and events; Brendan Cunningham, the Marlins' senior vice president of corporate partnerships; Tony Petitti, MLB chief operating officer; José "Pepe" Diaz, a Miami-Dade county commissioner; Emilio González, director and CEO of Miami-Dade Aviation Department; Vietnam veteran Angel Rodriguez, a board of director member of the All-Star Military Hospitality Lounge, and Billy The Marlin.
"The Marlins had the opportunity to pick which projects were most important to them, and we were really honored to provide support for this particular project," Petitti said. "Given the longstanding history of support that Major League Baseball, our clubs and our players have demonstrated to the military over a long period of time, to have the opportunity to bring something back to this community that will show military service members that Major League Baseball and the Marlins recognize and appreciate and admire all the great work that they do, to give them a facility that they deserve, given the sacrifice that they make on behalf of all of us."
On Tuesday at 7:30 p.m. ET, tune in to the 2017 All-Star Game presented by Mastercard live on FOX, and during the game visit MLB.com to submit your choice for the Ted Williams Most Valuable Player Award presented by Chevrolet via the 2017 MLB All-Star Game MVP Vote. The 88th All-Star Game, in Miami, will be televised nationally by FOX, in Canada by Rogers Sportsnet and RDS, and worldwide by partners in more than 160 countries via MLB International's independent feed. ESPN Radio and ESPN Radio Deportes will provide national radio coverage of the All-Star Game. MLB.com, MLB Network and SiriusXM will also provide comprehensive All-Star Week coverage. For more information, please visit allstargame.com.
Mark Newman is enterprise editor of MLB.com and a baseball writer since 1990. Follow him @Marathoner and read and join other baseball fans on his MLB.com/blogs hub. This story was not subject to the approval of Major League Baseball or its clubs.