Dawson helps christen All-Star Legacy park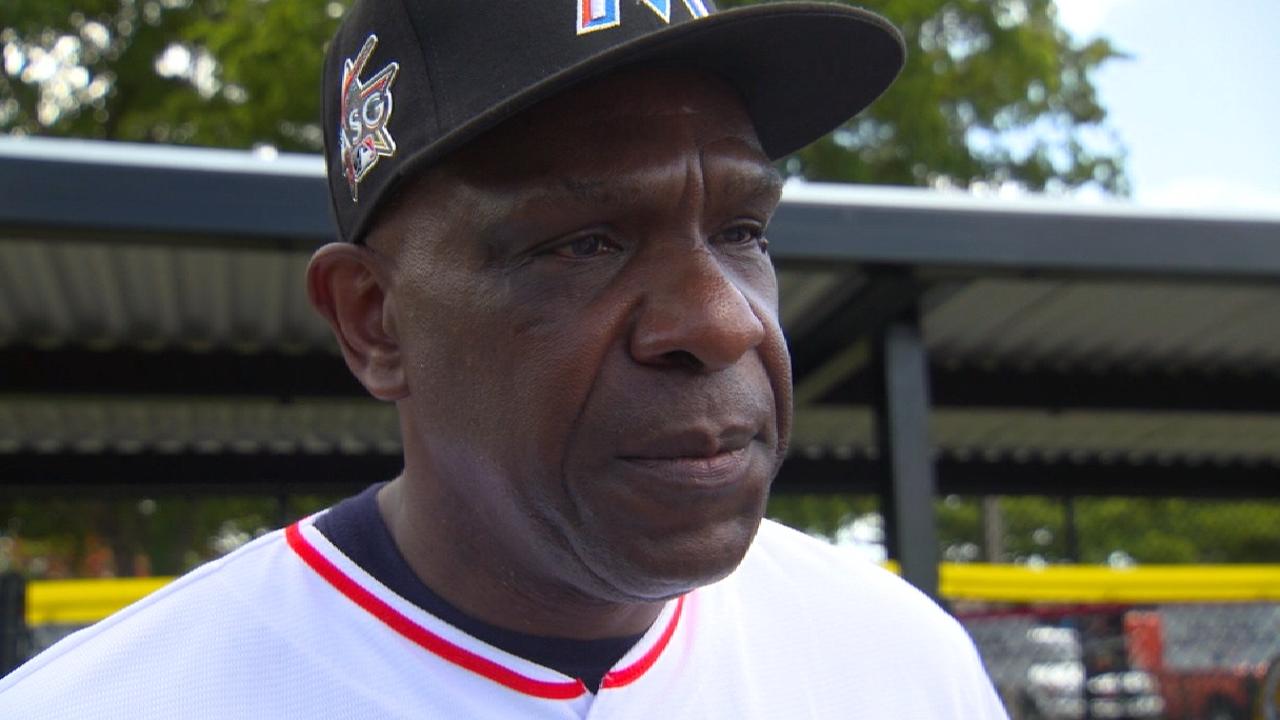 MIAMI -- Andre Dawson is one of two Hall of Famers who grew up in Miami, along with Steve Carlton, and on Saturday morning he watched as boys from the Marlins' RBI team split into two squads and played each other in the first baseball game at the newly renovated Charles Hadley Park field, which he had just helped dedicate in an All-Star Week ceremony in the heart of the Liberty City neighborhood of Miami.
Dawson saw himself in them -- a half-century ago as a Little Leaguer they first called "Hawk."
"I want to commend Major League Baseball, the Miami Marlins, Cal Ripken Sr. Foundation, and all those who played a pivotal part in making these incredible kids' dream come true," Dawson told the audience filled with dignitaries and families and young ballplayers.
"A facility such as this, it puts the mindset of the kids in a positive frame so that they have something they can enjoy coming out to, not only to play, but just to enjoy the environment and the facilities. This particular field should give you hope, it should give you a vision, and it should create dreams. And as you aspire from level to level, you can look back and say, 'Hey, this is where it all began.' Hopefully at some point it can make an impact on your life.
"This is coming from a skinny kid that grew up and had a dream of only wanting to play baseball. Take that for whatever it's worth and just remember, this is an environment that's fun-filled. There are going to be times when you wake up at night, knowing you have a game the next day, and you're going to have your uniform laid out even if you don't sleep in it. Let this be a stepping-stone for something that can be really, really rewarding later on. When the opportunity presents itself in this facility that's provided for you, there are no more excuses."
That's how you break in a new baseball facility for kids.
MLB and the Marlins continued their unveiling of 2017 All-Star Legacy projects with the dedication ceremony. Upgrades to Charles Hadley Park consisted of a complete renovation of a baseball field, including replacing all fencing and the backstop with new vinyl-coated fencing, drainage improvements, installing new dugouts and re-grading the outfield turf. Additional improvements included reconditioning the infield clay, new concrete sidewalks and providing concrete slabs under the dugouts and bleachers.
Dawson, the eight-time All-Star and Marlins special assistant to the president, was joined beside the podium by Jack McKeon, manager of the Marlins' 2003 world champions and now their special assistant to the owner, as well as two-time All-Star and former Marlin infielder Placido Polanco. Other dignitaries who participated in the ceremony included Michael Hill, the Marlins' president of baseball operations; Melanie LeGrande, MLB's vice president of social responsibility; Miami Mayor Tomás Regalado; Keon Hardemon, chairman of the Miami City Commission; and Billy The Marlin.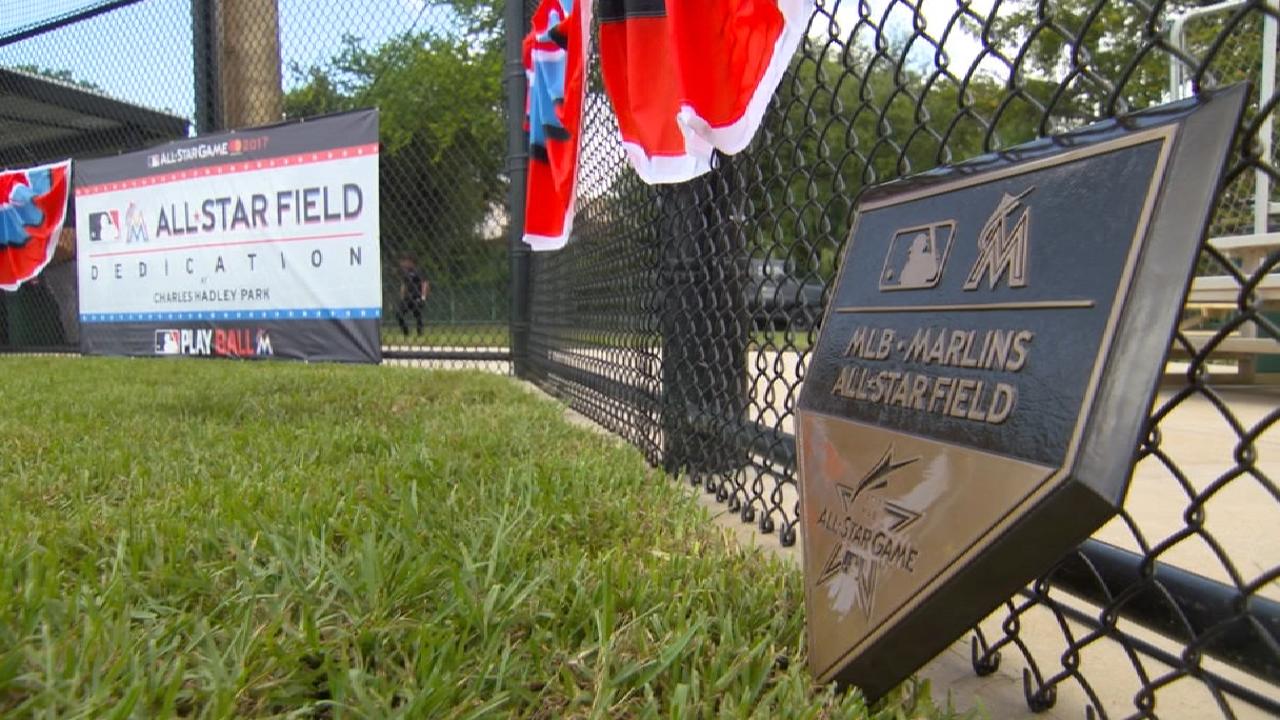 "I've been in baseball for a number of years and have worked for a number of Major League organizations," McKeon said. "When it comes down to community activities, the Marlins stand out. I've never been with a club that has been this dedicated to helping the community. I can remember when we first came back to Miami and built a stadium here, thanks to the city and county officials and Major League Baseball, how our captain, [Marlins president] David Samson said, 'We appreciate what they have done for us. Now it's our chance to give something back to the community.'
"Maybe our team is not playing as well as we'd like to see it play now, but when it comes down to community relations and giving back, the Marlins are world champions."
McKeon recalled a favorite memory of his Marlins days as well:
"The memory that comes most to mind is when [Josh] Beckett fielded that ground ball down the first-base line from [Jorge] Posada and tagged him out for the final out, and we became world champions. All I could do was remember Ray Kroc, when I was with the San Diego Padres, always saying, 'Dreams do come true.' And I looked up to the skies since he had passed on, and said, 'Ray, you were right -- dreams do come true.'"
This was another dream come true. A day before the ceremony, a large contingent of community leaders and residents came out to spruce up the facility, a paintbrush battalion. Mayor Regalado and other Commission members were there as well, to thank all those on hand.
"We had a tremendous group, about 140 people that came out, including Liberty City Optimists, you could see them painting the new benches, painting the picnic tables, painting the parking lot," LeGrande said. "This community is so special. There was so much love we received yesterday, even from members of the community that just walked past -- 'What's going on? How can I help?' Everyone wanted to pitch in and get their hands dirty."
Hardemon, who grew up around this park, delivered an unforgettable speech, using the analogy of "my mother's house" -- where one can find pride in fixing problems that you may remember taking for granted as a kid. Regalado called it a historic park, citing Liberty City's ability to move forward and not be defined by past socio-economic problems there.
"Sometimes people say, 'Well, Liberty City always falls behind.' That's not the case," Regalado said. "Under the leadership of Commissioner Hardemon, we've been able to have one of the most magnificent parks, and the gym, and the center, and the facilities, and now we have the icing on the cake, this diamond. ... This is a legacy that Major League Baseball, the Marlins and the people of Miami are leaving for the children in Miami and Liberty City."
On Tuesday at 7:30 p.m. ET, tune in to the 2017 All-Star Game presented by Mastercard live on FOX, and during the game visit MLB.com to submit your choice for the Ted Williams Most Valuable Player Award presented by Chevrolet via the 2017 MLB All-Star Game MVP Vote. The 88th All-Star Game, in Miami, will be televised nationally by FOX, in Canada by Rogers Sportsnet and RDS, and worldwide by partners in more than 160 countries via MLB International's independent feed. ESPN Radio and ESPN Radio Deportes will provide national radio coverage of the All-Star Game. MLB.com, MLB Network and SiriusXM will also provide comprehensive All-Star Week coverage. For more information, please visit allstargame.com.
Mark Newman is enterprise editor of MLB.com and a baseball writer since 1990. Follow him @Marathoner and read and join other baseball fans on his MLB.com/blogs hub. This story was not subject to the approval of Major League Baseball or its clubs.