Juarez, Tyson win Junior Home Run Derby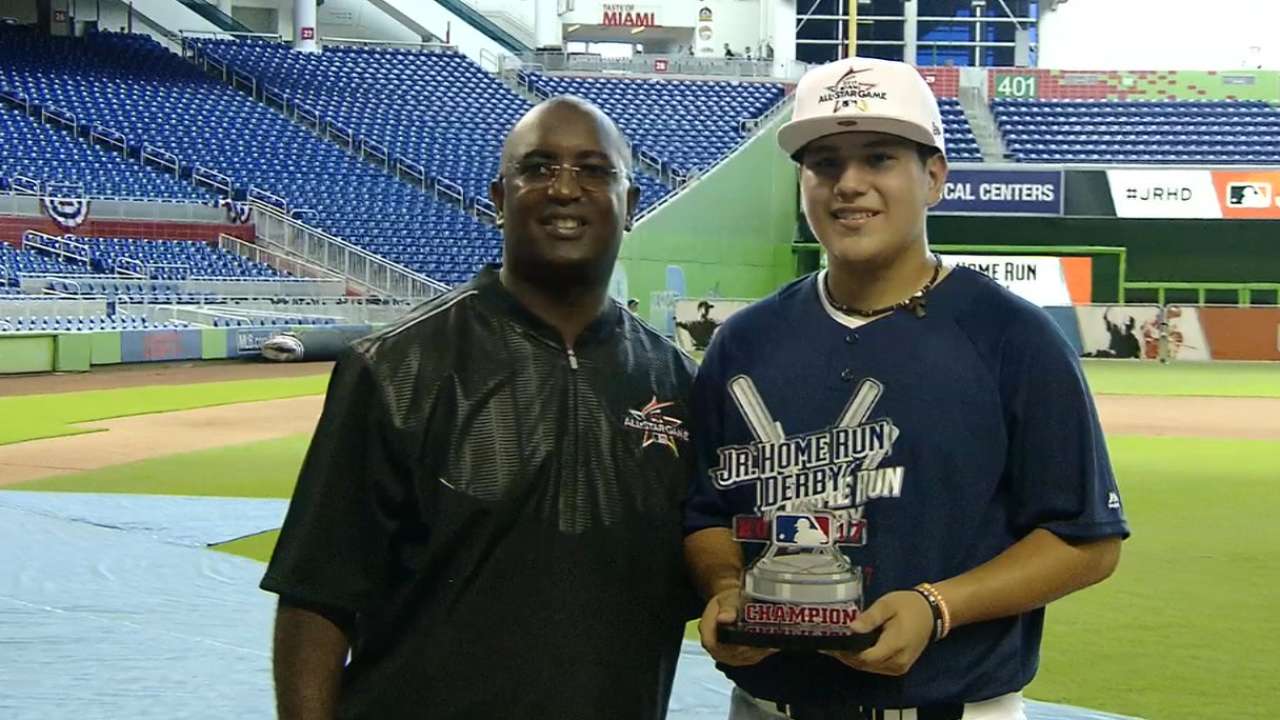 MIAMI -- More than 130 home run balls took flight off the bats of 16 youngsters as part of the second annual T-Mobile Junior Home Run Derby at Marlins Park on Saturday. Eight participants in both a 14u and 12u division took part in the long-ball challenge.
The two winning sluggers -- 14u champion Brandon Juarez and 12u champion Hunter Tyson -- will be recognized at the T-Mobile Home Run Derby on Monday night (ESPN, 8 p.m. ET).
• Play Derby Bracket Challenge for shot at World Series tix
Each hitter received three warmup pitches and 20 swings to launch as many homers as possible over a fence set up about 225 feet from home plate. The Top 2 from each division then advanced to their respective finals with the same format.
Juarez -- who blasted 29 total homers, including 15 in the final round to best Josh Redding of Lubbock, Texas -- said he was nervous at first. That quickly changed for the Evansville, Ind., native, who had never been on a plane before flying into Miami.
"I was a bit nervous, just a bit shaky," Juarez said. "But that all came out after I hit 10."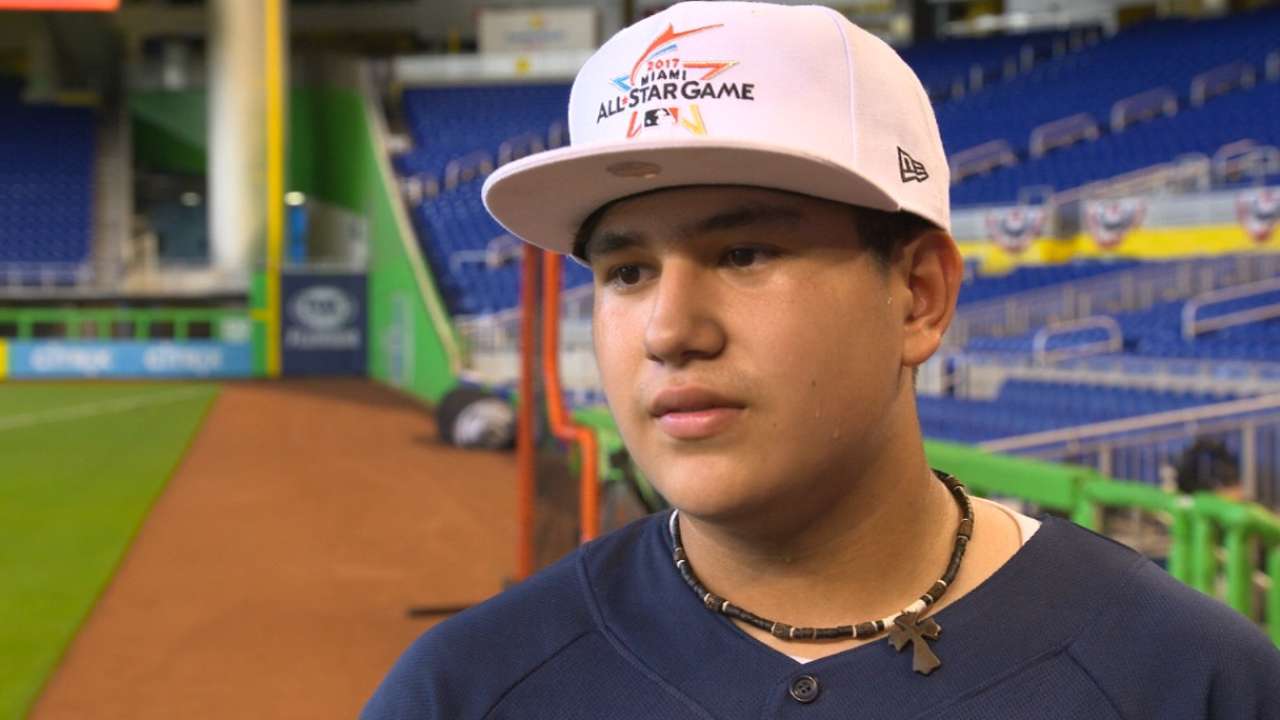 • Play the Home Run Derby game
While Juarez is a Cardinals fan and has modeled his game after Albert Pujols, he said he's most excited to meet Giancarlo Stanton and Aaron Judge. He even offered a word of advice to the two: "Just hit the ball hard."
On the 12u side, Tyson ripped 18 total homers and defeated Luziano Casados of Albuquerque, N.M., 9-4, in the final round. The slugger from Ocilla, Ga., said he'd been training twice a day for the past 2 1/2 weeks.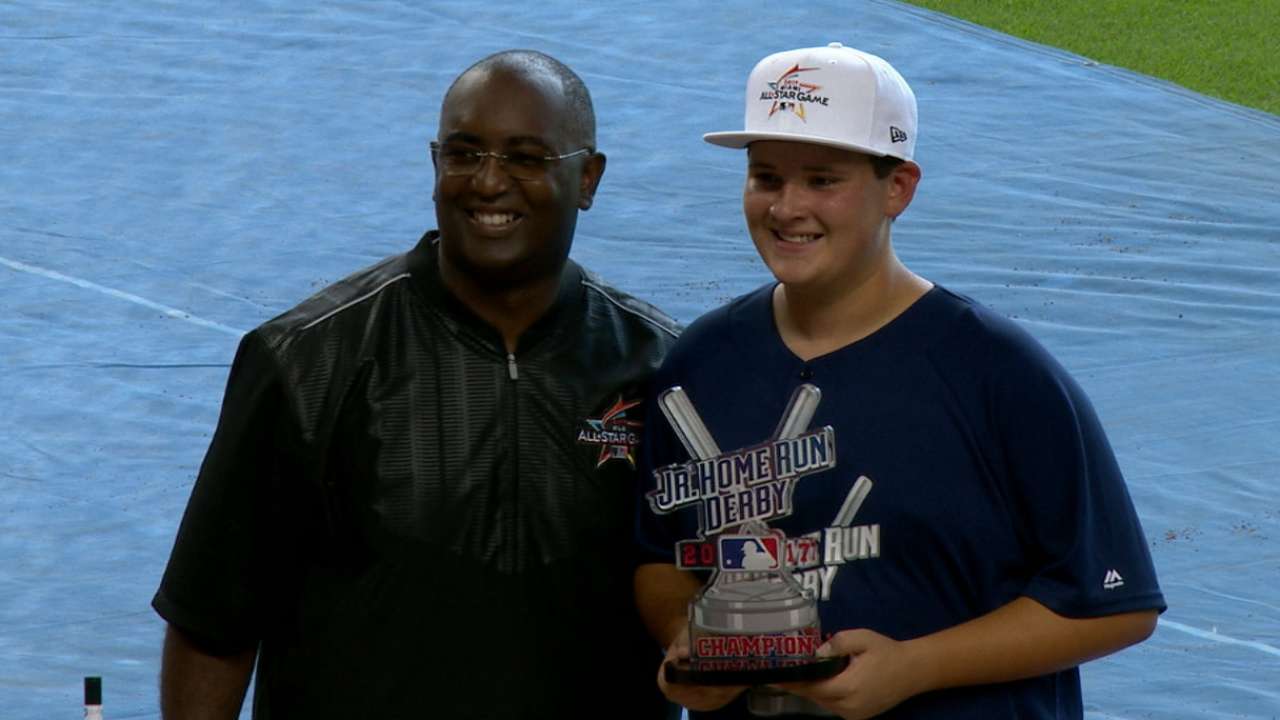 "It's all paid off," Tyson said. "Getting up early and then staying up late to hit. It's all paid off at the end."
Tyson said he's most looking forward to meeting Mike Trout. But since he's a Braves fan, he also said he wouldn't mind meeting Ender Inciarte. Tyson is unsure of where he will put his newest hardware.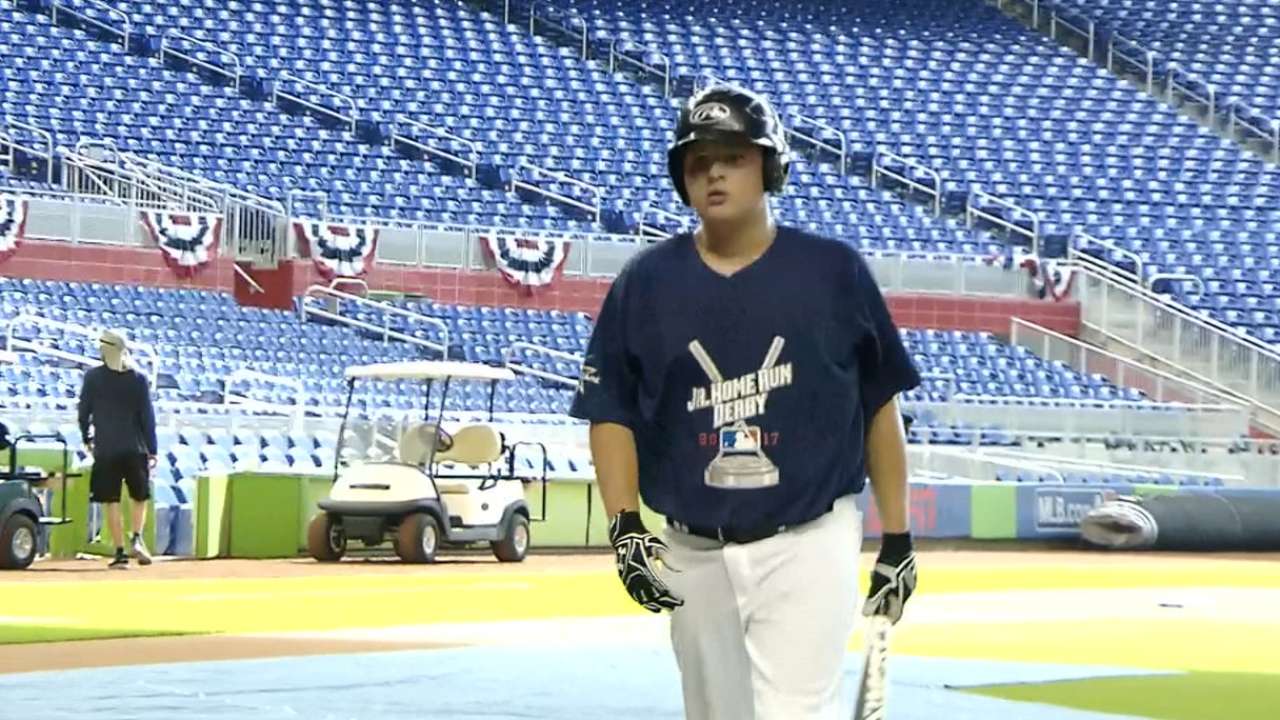 "I have no idea," Tyson said. "I've got all my trophies and home run balls, so I don't know where I'm gonna put it. I'll find a space, though."
• Derby FAQ: Format, rules, more
The path for each of the participants was a long and arduous one. Each of them had to win one of more than 1,500 local competitions held around the country before winning their respective regional event held in eight different cities.
But Tyson said the all the traveling and training was well worth it.
"It's a really good experience and a once-in-a-lifetime opportunity," said Tyson. "And I'm really glad [I participated]. I mean, I won."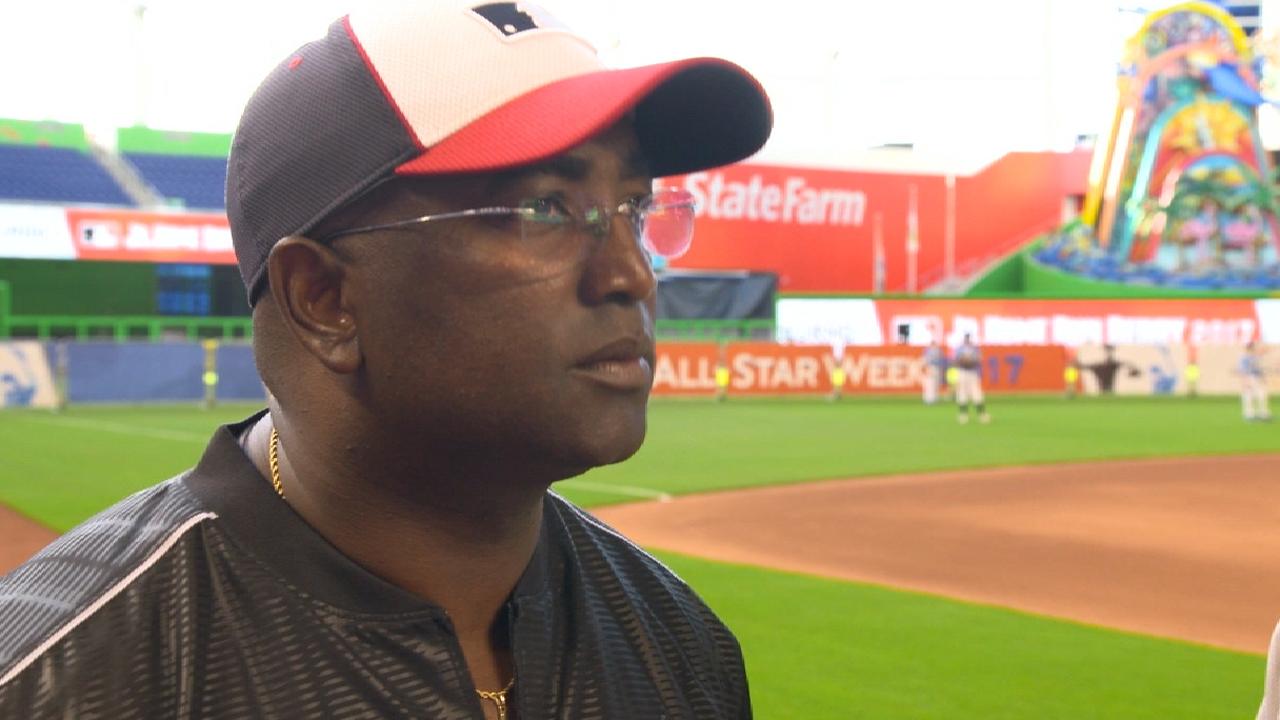 On Tuesday at 7:30 p.m. ET, tune in to the 2017 All-Star Game presented by Mastercard live on FOX, and during the game visit MLB.com to submit your choice for the Ted Williams Most Valuable Player Award presented by Chevrolet via the 2017 MLB All-Star Game MVP Vote. The 88th All-Star Game, in Miami, will be televised nationally by FOX, in Canada by Rogers Sportsnet and RDS, and worldwide by partners in more than 160 countries via MLB International's independent feed. ESPN Radio and ESPN Radio Deportes will provide national radio coverage of the All-Star Game. MLB.com, MLB Network and SiriusXM will also provide comprehensive All-Star Week coverage. For more information, please visit allstargame.com.
Patrick Pinak is a reporter for MLB.com based in Miami. This story was not subject to the approval of Major League Baseball or its clubs.