Bryant hopes big game helps spark Cubs
3rd baseman looks to 'pass it on' after 2-HR, 4-hit showing
CHICAGO -- If Kris Bryant had to choose between hitting for the cycle or hitting two home runs in a game, which would he pick?
"Two home runs any day," said Bryant, who did just that on Friday in the Cubs' 6-1 victory over the Pirates.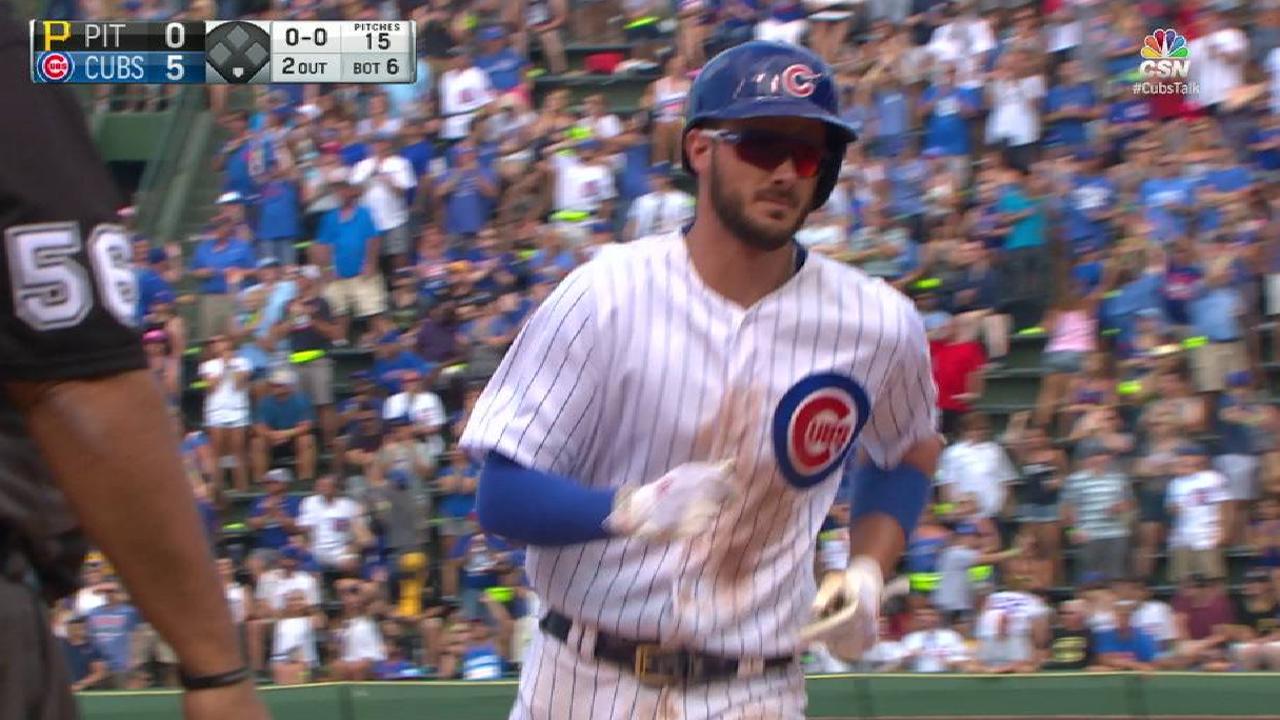 Bryant singled in the first, struck out in the second, then hit an RBI triple in the fourth, a solo homer in the sixth and a two-run shot in the eighth. He has 18 home runs for the season.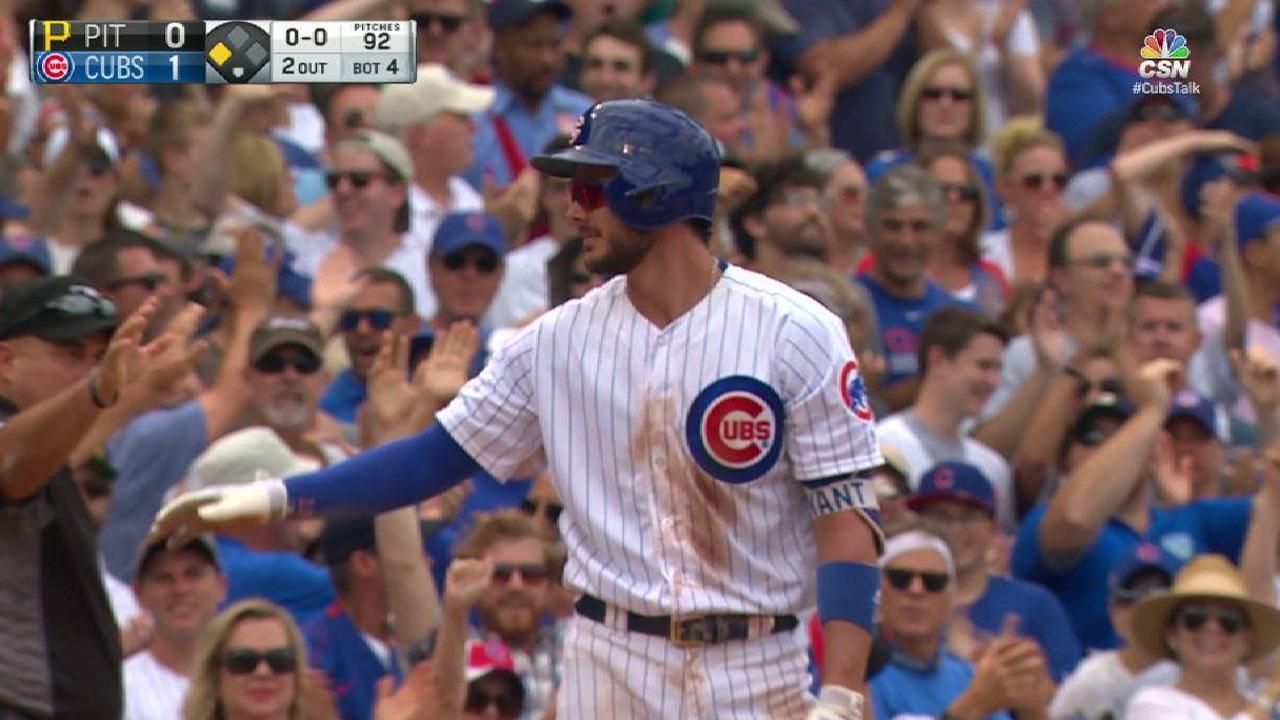 "I didn't even know until I got in the dugout and they told me," Bryant said about being a double away from the cycle. "I could've just missed third [on the second homer] and missed home -- is that a double?"
No, but nice try. With Bryant's four-hit, four-RBI game and Anthony Rizzo's two-run homer, the Cubs (43-43) are back at .500 for the 20th time this season.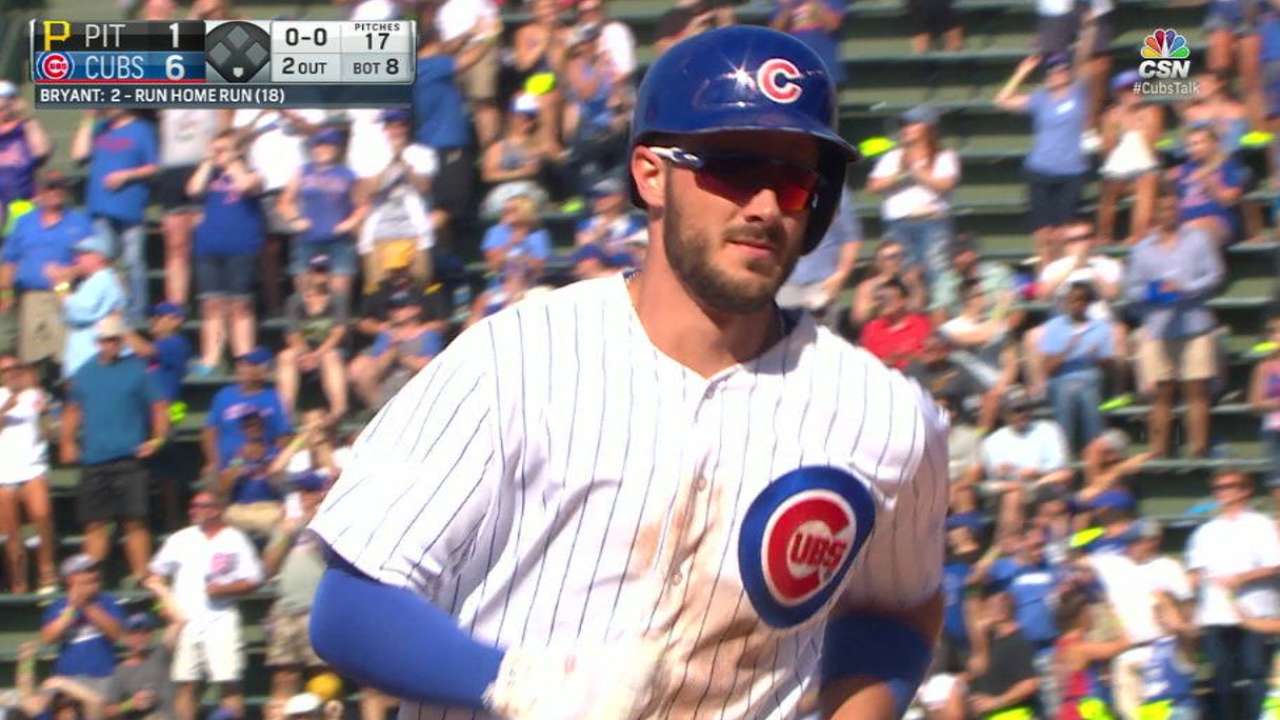 "I've kind of been waiting for one of those games," Bryant said. "I've felt pretty good about my approach and where I'm at and taking my walks, but you need a game like that to get you back on track -- and hopefully get the team back on track, too."
Cubs manager Joe Maddon was certainly happy with the outcome. He delivered his midseason pep talk to the team on Thursday, and the Cubs responded with an 11-2 loss to the Brewers.
"Soemtimes it takes over 24 hours to stick," Maddon said.
• Maddon: Cubs 'still in good shape,' can rebound
While Bryant and Rizzo carried the load on Friday, Maddon says the Cubs have plenty of other "big guys" in the lineup who can contribute, such as Addison Russell, Jason Heyward and Kyle Schwarber.
Bryant and Rizzo -- a.k.a. "Bryzzo" -- don't see themselves as the only offensive sources on the team.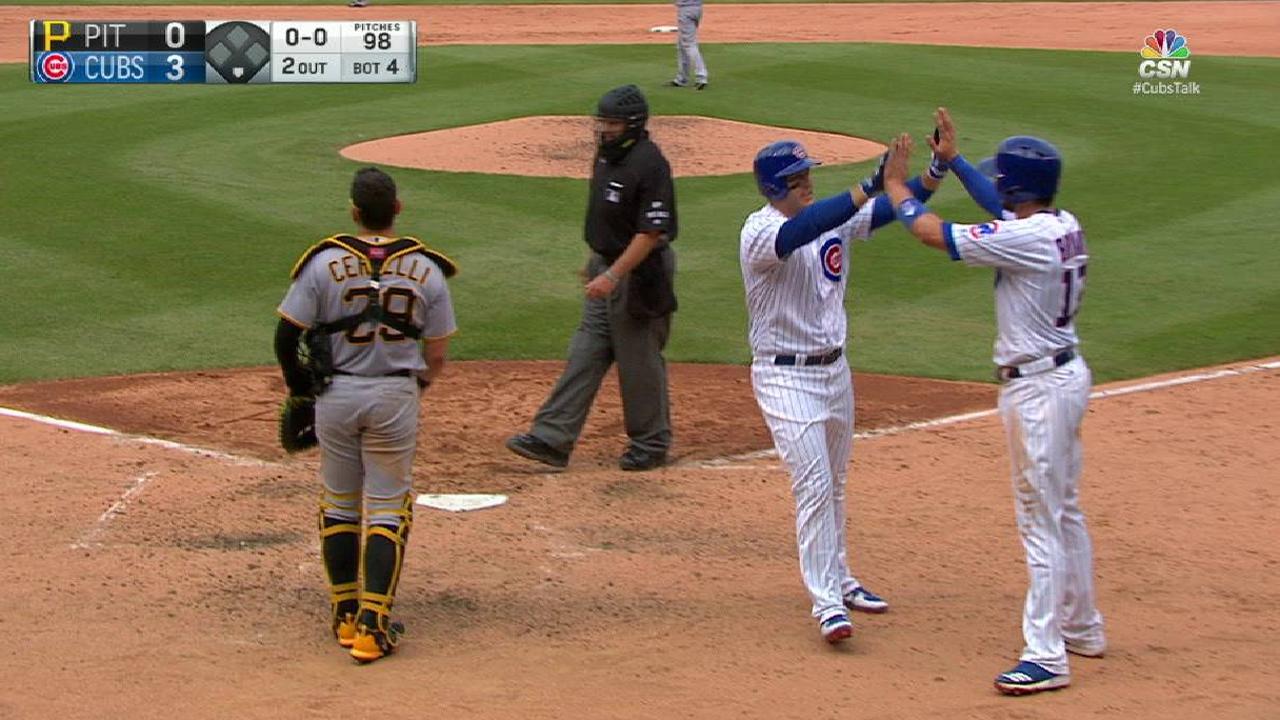 "We haven't talked about it because I don't think that's our personalities," Bryant said. "I feel we don't need to do that because we have so much talent here. It's just a matter of getting guys clicking at the right time. I think that's the biggest thing for us -- two or three guys go on hot streaks and kind of carry the team for a handful of games and pass it on to someone else."
"We want to win," Rizzo said. "It's just passing it on to the next guy. To see Kris hit two homers today is nice. It's just a matter of time before he gets scorching hot."
Bryant's first half isn't quite the same as last year. In 2016, he had 25 homers and 65 RBIs by the All-Star break; this year, he has 18 home runs and 38 RBIs.
"That's something I've had to remind myself, is I'm a two hitter," Bryant said, "and sometimes you don't get those opportunities, so don't try too hard when you do get those opportunities."
Even though the All-Star break is coming, Bryant may be heating up at just the right time.
"With K.B. today, that ball came off hot," Maddon said.
Carrie Muskat has covered the Cubs since 1987, and for MLB.com since 2001. She writes a blog, Muskat Ramblings. You can follow her on Twitter @CarrieMuskat and listen to her podcast. This story was not subject to the approval of Major League Baseball or its clubs.