Marlins, MLB partner for children's eye initiative
New mobile optometric unit offers free exams, glasses
MIAMI -- Derrek Lee was an All-Star for the National League in 2005 and '07, and in the top of the fourth inning of his first one at Detroit, he led off with a double to left against American League starter Johan Santana. Jim Edmonds, batting after Lee, walked.
"I remember when I came back in after that inning, Jim Edmonds said, 'You got on top of that. You should have hit a home run,'" Lee recalls with a laugh.
In between his two Midsummer Classics, though, life was no laughing matter.
Lee's daughter, Jada, was 3 years old in September 2006 when the family was told she would go blind. On Friday morning, he and Alex Gonzalez, teammates on the Marlins' 2003 World Series champions, were among dignitaries attending an All-Star Legacy ceremony at Marlins Park as Major League Baseball and the Marlins dedicated a newly purchased, All-Star-branded Mobile Eye Unit for Miami's Lighthouse for the Blind and Visually Impaired.
This new mobile optometric unit replaces an outdated, 14-year-old vehicle that has been in constant need of repair. The new unit will allow the Miami Lighthouse for the Blind and Visually Impaired to expand their important services of free dilated eye exams and glasses for eligible school children. It obviously had special significance for Lee.
"It's always good to do your part in the community and to give back, but this kind of hits home for me. I have a daughter who had a visual impairment, so it was nice that they asked," he said.
"When she was 3, she lost some sight in her right eye. She was actually misdiagnosed with LCA" -- Leber Congenital Amaurosis (LCA), a family of congenital retinal dystrophies that results in severe vision loss at an early age -- "and they told us she was going to go blind. She didn't. But she still does not see in her right eye. They don't know."
In 2007, Lee was the subject of various major news stories by ESPN, USA Today and others detailing that belief that it was LCA, to the extent that he sought to bring awareness to the disease and had fundraising support from Cubs teammates like Ryan Dempster.
Jada Lee is 14 now, and the good news is it was never actually LCA. But bringing attention to the eyesight of youth was important then and is important today, and her father's interest in kids like his see better continues through involvement such as this All-Star event on Friday.
"It was no fun, but it was organizations like this that we leaned on, and they helped out and kind of walked us through things," Lee said. With a relief, he added: "She turned out to be OK."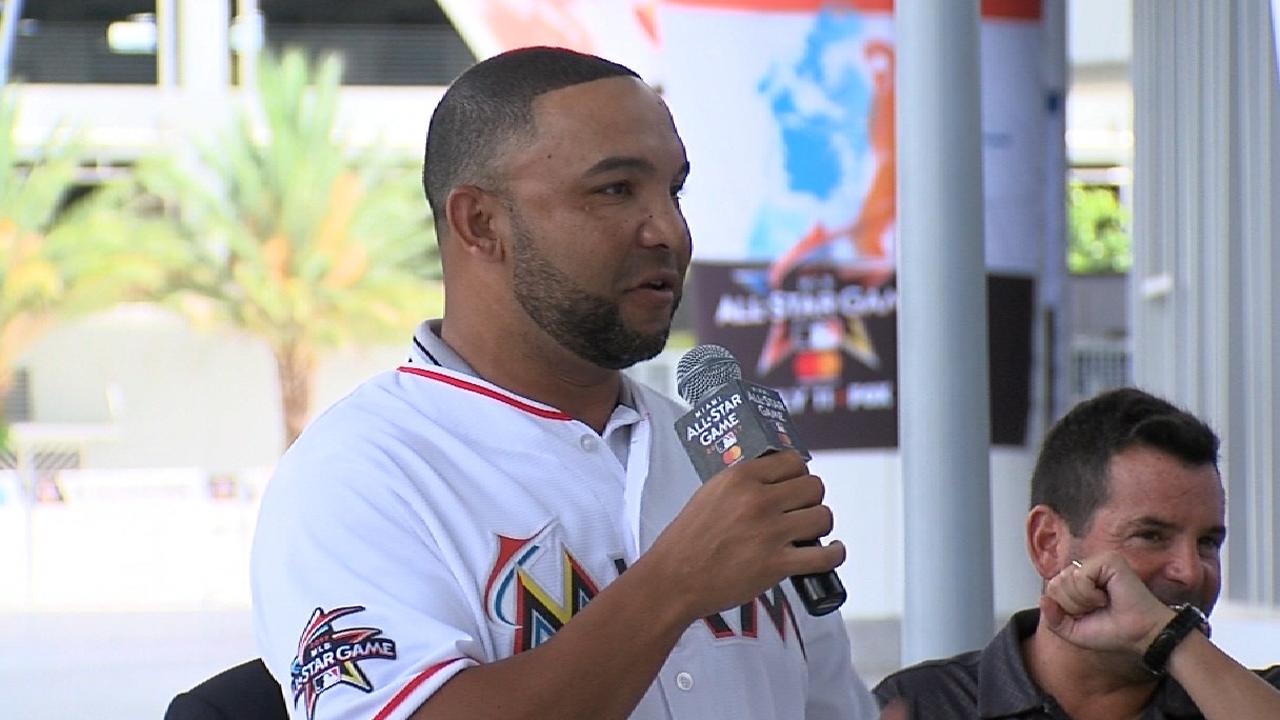 Miami Lighthouse now serves nearly 15,000 people each year and reaches an additional 3,300 through community education and outreach programs. Its mobile unit was positioned in the west plaza of the ballpark, and it will be driven all over Florida to help kids.
In addition to Lee and Gonzalez, dignitaries at the event included Marlins team president David Samson; MLB COO Tony Petitti; Virginia Jacko, CEO of Lighthouse for the Blind; Kyle Sielaff, host of Marlins On Deck; and Billy the Marlin.
"We're extremely proud of the opportunity to support the Miami Lighthouse for the Blind, and we're proud of the work that gets done around the All-Star Game," Petitti said. "In the 20 years of doing these projects, the impact we make in the communities long after the game is equally important to us. We spend a lot of time deciding what projects to support and what organizations to get behind, and we could not have chosen a better organization than Miami Lighthouse to support, with the work they do especially with young people, which is a huge priority for Major League Baseball and Commissioner Manfred."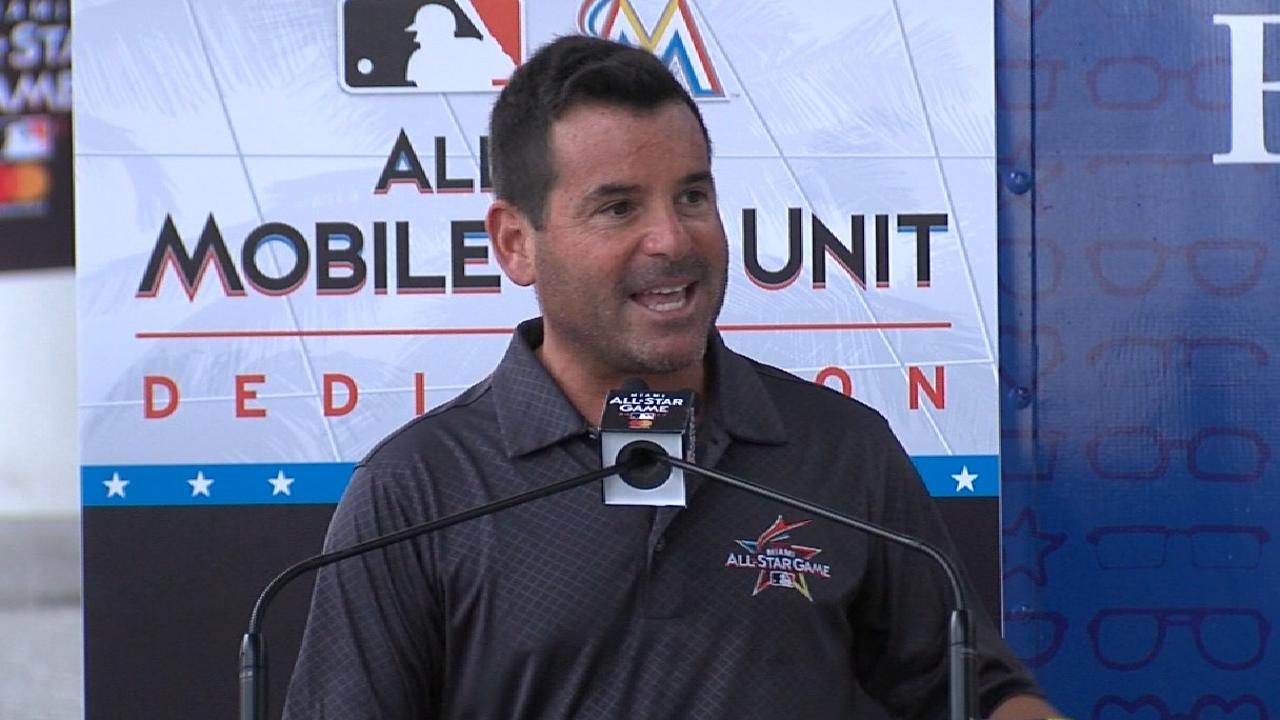 They were joined by two boys who each have received eye exams and prescription glasses, and one of them, 9-year-old Shamar Sample-Dorce of Miami, reported that his glasses already have made a big difference. It will go down as one of the best speeches of All-Star Week.
"Good morning, my name is Shamar ... I received a free eye exam and glasses, and because of it my grades are so much better. Thank you, Miami Marlins, Miami Lighthouse and Major League Baseball. Does anybody have any questions?"
Nope.
"There's nothing to add to what Shamar said," Samson said, "because that is what it means to have baseball in the community, and it's what it means to give back ... His grades got better because he was afforded the opportunity to get glasses, to improve something that was easy to improve -- as long as people are paying attention."
Jacko began her speech by paraphrasing Yogi Berra: "You don't have to swing hard to hit a home run. You have to have good timing ... and good timing requires good vision ... How fitting that Major League Baseball, with the tremendous importance of good vision for its players, and the Marlins and the Marlins Foundation, selected the Miami Lighthouse [program] for needy children whose parents cannot afford a dilated eye exam."
MLB and the Miami Marlins have donated approximately $5 million through MLB Charities and the Marlins Foundation toward several All-Star Legacy and Legacy Plus improvement projects as well as to support national charitable initiatives. A portion of the funds will be raised from Gatorade All-Star Workout Day on Monday.
On Tuesday at 7:30 p.m. ET, tune in to the 2017 All-Star Game presented by Mastercard live on FOX, and during the game visit MLB.com to submit your choice for the Ted Williams Most Valuable Player Award presented by Chevrolet via the 2017 MLB All-Star Game MVP Vote. The 88th All-Star Game, in Miami, will be televised nationally by FOX, in Canada by Rogers Sportsnet and RDS, and worldwide by partners in more than 160 countries via MLB International's independent feed. ESPN Radio and ESPN Radio Deportes will provide national radio coverage of the All-Star Game. MLB.com, MLB Network and SiriusXM will also provide comprehensive All-Star Week coverage. For more information, please visit allstargame.com.
Mark Newman is enterprise editor of MLB.com and a baseball writer since 1990. Follow him @Marathoner and read and join other baseball fans on his MLB.com/blogs hub. This story was not subject to the approval of Major League Baseball or its clubs.