MLB, Marlins help out local Boys & Girls Clubs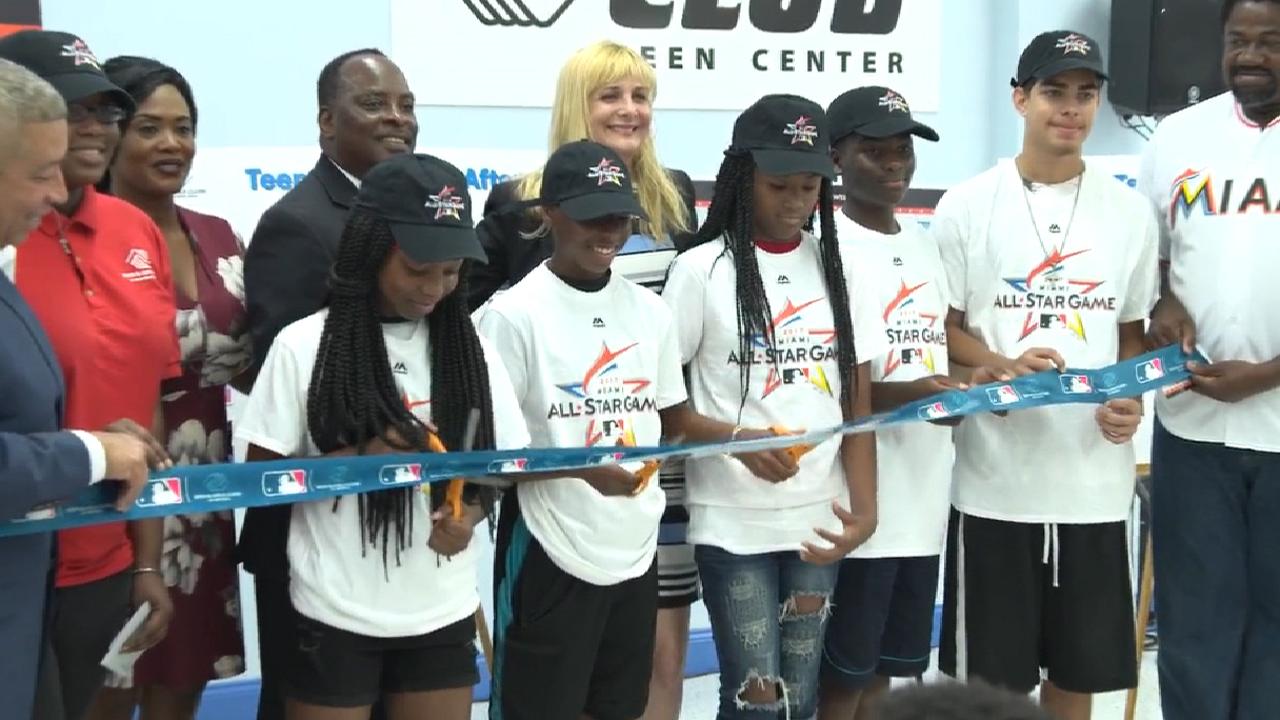 BELLE GLADE, Fla. -- All-Star Week officially got underway at the high edge of the Everglades and amidst miles and miles of rustling sugar cane. "HER SOIL IS HER FORTUNE," reads the motto on Belle Glade's large sign greeting visitors, a reminder of how this town rose out of swampland a century ago.
On Thursday morning, this town's emphasis on nurturing growth and good fortune took on a much different meaning. Major League Baseball and the Marlins -- including Antonio Alfonseca, a rookie reliever for their first World Series championship team 20 seasons ago -- launched their full slate of All-Star Week community activities with the dedication of refurbishments made to the Glades Teen Center of the Boys & Girls Clubs of Palm Beach County.
Refurbishments to the facility include upgraded lighting, a complete overhaul and upgrade of furniture, renovations to the kitchen and game rooms and upgrades to the technology center.
"This is nice for the kids. I'd do it every time," Alfonseca said of his appearance on behalf of his first MLB team. "I never had anything like this [in the Dominican Republic]. It's better for them to have this facility. They won't be in the street. ... This is a place that keeps them safe."
Dignitaries also included Tom Brasuell, MLB vice president of community affairs; Ryan Bertschman, Marlins vice president, sales and service; Frank Sanchez, national vice president of Boys & Girls Clubs of America; Jaene Miranda, president & CEO, Boys & Girls Clubs of Palm Beach County; and emcee Kelly Saco, Marlins Vision host and FOX Sports Florida reporter.
This was an apt convergence of two noteworthy 20-year baseball anniversaries. For one, there is a focus here on the Marlins' 1997 title team, with so many of its players joining in the All-Star Week festivities. Alfonseca pitched the eighth inning and got an out in the ninth during that classic 1997 World Series Game 7, holding the Indians scoreless and allowing the Marlins to force extra innings and eventually win on Edgar Renteria's walk-off single.
"To be a closer in a game, the focus always has to be on the game," Alfonseca told the kids. "If you're scared, you can't pitch. If you're scared, you can't beat anybody. You've got to be yourself."
The other 20-year anniversary of note involves the MLB All-Star Legacy initiative, which began in Cleveland in '97 with the renovation of playgrounds involving Hall of Famer Larry Doby. Since then, MLB and host All-Star clubs have donated more than $80 million in All-Star charitable contributions.
This current All-Star Week Legacy Plus project is part of a $2 million commitment by MLB to renovate parts of one Boys & Girls Club in each MLB Club market between 2016 and 2020. The projects in this larger effort will primarily focus on teen centers and playing fields connected to the Boys & Girls Clubs. This is the 21st year of Boys & Girls Clubs of America serving as the official charity of Major League Baseball.
MLB and the Marlins have donated approximately $5 million through MLB Charities and the Marlins Foundation toward several All-Star Legacy and Legacy Plus improvement projects, as well as to support national charitable initiatives. A portion of the funds will be raised from Gatorade All-Star Workout Day on Monday.
Brasuell and Sanchez were each presented with a framed photo of Glades Teen Center members holding up signs that spelled out "THANK YOU."
"We're here to set our kids on a path for a bright future, and my hope is that you all think that this space is beautiful," Miranda told the kids. "You can come here and aspire to be better and greater than you ever imagined."
She said 97 percent of their teens that were planning to graduate this year did graduate. That includes Je'Cynthia Nonar, who is headed to Howard University this fall to study business management. One of the highlights of this ceremony was the presentation by Miranda of a $5,000 scholarship from Boys & Girls Clubs of Palm Beach County to Nonar, applied toward her enrollment at Howard -- for her "personal strength in overcoming obstacles."
Nonar first joined the Glades Teen Center as a 5-year-old, and she spoke to the assembled youth and others about how much this place has meant to her -- and what the renovation will mean.
"The Glades Teen Center has been my home for six of the 13 years that I have been a member of the Boys & Girls Clubs of Palm Beach County," Nonar said. "So this is my home. Throughout my six years here, as a graduate, I can look and see the evolution of the club and its members and the kids who are here, and I am proud. This is just one small step on a great journey."
The 13 Boys & Girls Clubs throughout Palm Beach County serve more than 8,000 children ages 6-18.
On Tuesday at 7:30 p.m. ET, tune in to the 2017 All-Star Game presented by Mastercard live on FOX, and during the game visit MLB.com to submit your choice for the Ted Williams Most Valuable Player Award presented by Chevrolet via the 2017 MLB All-Star Game MVP Vote. The 88th All-Star Game in Miami will be televised nationally by FOX, in Canada by Rogers Sportsnet and RDS and worldwide by partners in more than 160 countries via MLB International's independent feed. ESPN Radio and ESPN Radio Deportes will provide national radio coverage of the All-Star Game. MLB.com, MLB Network and SiriusXM will also provide comprehensive All-Star Week coverage. For more information, please visit allstargame.com.
Mark Newman is enterprise editor of MLB.com and a baseball writer since 1990. Follow him @Marathoner and read and join other baseball fans on his MLB.com/blogs hub. This story was not subject to the approval of Major League Baseball or its clubs.