Stanton shows why he's Derby's No. 1 seed
Marlins slugger homers twice in victory over Cardinals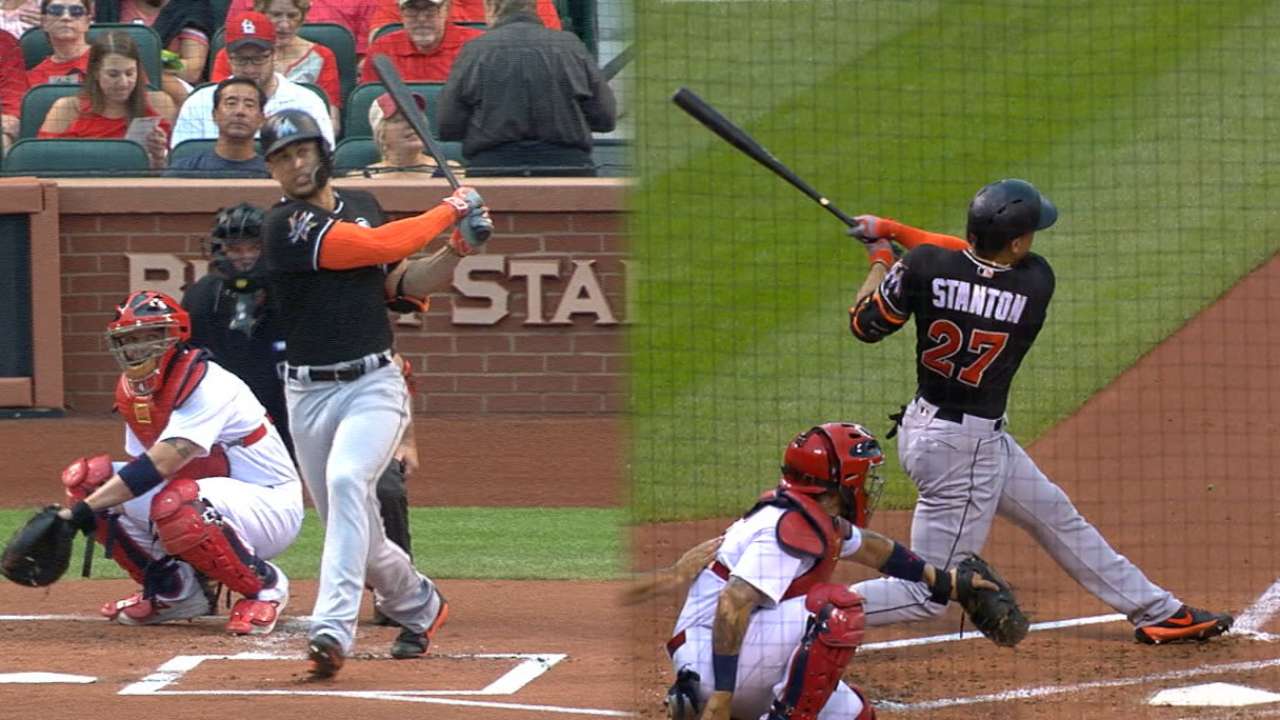 ST. LOUIS -- The bracket for Monday's T-Mobile Home Run Derby was announced on Wednesday, and it didn't take long for Giancarlo Stanton to show why he's the No. 1 seed.
Stanton homered in his first two at-bats against Mike Leake, helping to power the Marlins' 9-6 win over the Cardinals at Busch Stadium. It was the four-time All-Star's fourth multihomer game of the season and the 22nd of his career.
The Marlins belted four homers, and it was the second time this season Stanton, Marcell Ozuna and Justin Bour homered in the same game. Ozuna will start for the National League in the All-Star Game presented by Mastercard, with Stanton coming off the bench on Tuesday at Marlins Park.
Bour and Stanton will compete in the Home Run Derby on Monday. They'll both face a Yankee slugger in the first round. Stanton will take on No. 8 seed Gary Sanchez, while No. 7 seed Bour has the tough task of battling rookie phenom Aaron Judge, the No. 2 seed. Stanton will be trying to defend his Derby crown. In 2016 at San Diego's Petco Park, he set an event record with 61 homers.
• Stanton looms large in downtown Miami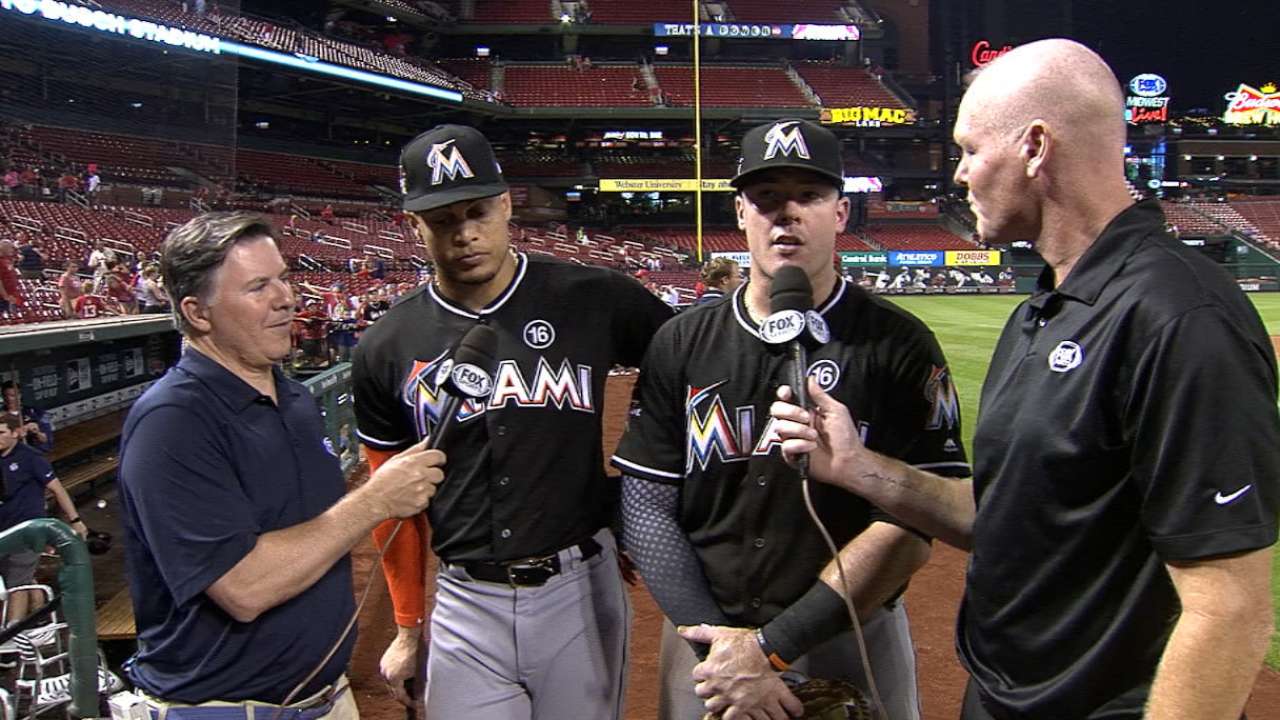 The Marlins have an imposing trio, with Stanton and Ozuna at 23 homers and Bour at 19. The three have a friendly competition going.
"One of us will hit one, and then the other two will be like, 'We've got to catch up.' So then we'll hit one," Stanton said.
They did some of that back and forth on Wednesday.
Stanton tied Ozuna at 22 homers when he connected on a line drive that was projected by Statcast™ to have traveled 407 feet to left field. The exit velocity was 114.1 mph, and the launch angle was just 16 degrees. The apex of the ball was 48 feet and it took just 3.9 seconds to leave the park. There have been only five home runs in the Majors this season with a launch angle lower than 16, and they were all 15.
"He can do that," Ozuna said. "Most of the time, when he gets the barrel on it, it's gone. Like me, I try to do the same thing, but it's a double."
The 114.1 mph exit velocity tied for Stanton's second hardest-hit homer this year.
"I mean, I didn't quite get it in enough," Leake said. "Stanton, he's got that wide stance right now where he's keeping things pretty calm, so left on the plate enough for him."
Stanton then passed Ozuna with homer No. 23 in the second inning, a three-run homer that Statcast™ projected at 415 feet with an exit velocity of 105 mph and a launch angle of 22 degrees.
Ozuna's leadoff shot in the third knotted things up between the sluggers. Bour hit his 19th in the ninth inning.
"We have fun when we win," Bour said. "If we're hitting homers and losing, it's no fun. We're doing what we can to win some ballgames."
Joe Frisaro has covered the Marlins for MLB.com since 2002. Follow him on Twitter @JoeFrisaro and listen to his podcast. This story was not subject to the approval of Major League Baseball or its clubs.