Attanasio won't force Stearns to go for it in '17
Brewers owner says no pressure is on GM to divert from long-term plan
MILWAUKEE -- Yes, Brewers owner Mark Attanasio has upped his expectations for a team that entered the year in rebuilding mode, but now finds itself heading into July atop the National League Central.
No, that does not mean Attanasio intends to force general manager David Stearns to scrap the big-picture plan.
"Look, I'll admit my expectations are higher. How could they not be?" Attanasio said before the Brewers' 3-2 win over the Marlins on Friday night at Miller Park. "This team plays with energy. Guys pick each other up. If we have a couple of bad games, we seem to finish out strong, to bounce back. The team seems to be quite resilient.
"So, sure, my expectations are greater, but … that's not going to affect how we address the team."
The Brewers would not be the first team to emerge from a large-scale rebuild earlier than expected, or to benefit from playing in a down division. But Stearns, so far, has been measured in his comments about how he will approach the July 31 non-waiver Trade Deadline.
"We're having those types of discussions right now," Stearns said. "A month is still a long time in the baseball calendar, so we will continue to learn about our team over the next month, we will continue to learn about our division. Other teams will be doing the same thing."
Said Attanasio: "If David wants to come to me and say, 'I want to blow up the big plan,' you know, his batting average is so high now, we're going to listen to anything he recommends. But just from ownership to him, there has been no pressure to divert from the plan this season.
"I've said that at a meeting with David and [manager] Craig [Counsell] a week ago or so, and I was very clear with them that, 'There will be no pressure from me to divert from your plan.' Now if they want to divert, that's different."
Stearns was relatively aggressive on the acquisition front during the first three months of the season without breaking the bank or raiding the farm. For the bullpen, Stearns signed Jared Hughes on the final day of Spring Training after Hughes was released by the Pirates, and the club picked up Oliver Drake in a minor trade with the Orioles. He tried utility man Nick Franklin off waivers from the Rays, though that didn't work out. Franklin was traded to the Angels on Friday for a player to be named later or cash.
A more promising waiver claim is catcher Stephen Vogt, the two-time A's All-Star who homered twice in his home debut Friday, accounting for all of the Brewers' runs.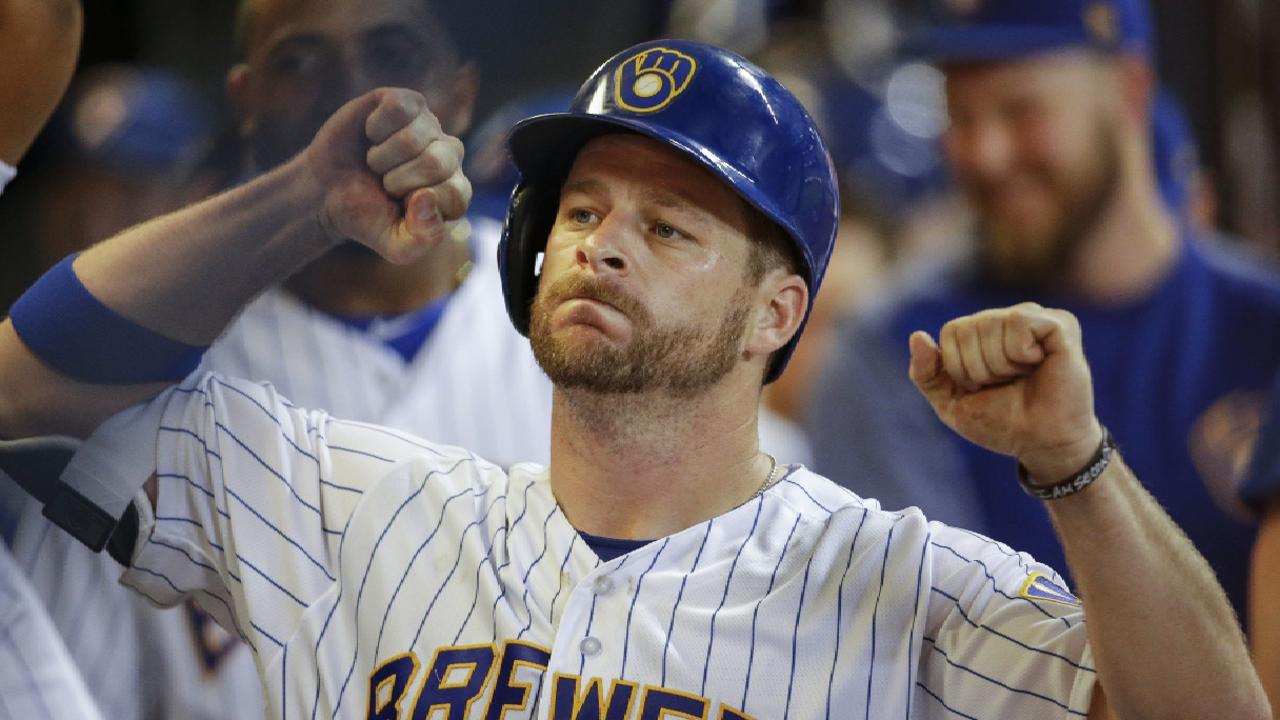 "I'm so happy to be here, to be in first place, to play on a winning team, to have a chance to win every night and be pushing towards a playoff run," Vogt said. "To contribute in your first [home] game is awesome. Obviously I would have never conjured that up."
"One of the things I challenge David and Craig with is whether we do anything different now that we're in first place," Attanasio said. "From Craig's standpoint, and this is what it's always been, he said he's out there every game, trying to win that game."
And Stearns?
"David is always, especially for a younger person, agnostic in his decision making," Attanasio said. "He's as agnostic as anyone who has ever worked with me, including on Wall Street, where he just wants to objectively assess the facts, and as things change you reassess. That's very hard to do but very healthy, because he's saying, 'Let's assess every day where we are, what the opportunities are.'"
In other words, this will require some patience.
"As someone said to me, the only thing that's certain in baseball is uncertainty. We just have to come in and be smart every day," Attanasio said. "I think we're going to assess things at the time we have to assess them. It's premature right now."
Adam McCalvy has covered the Brewers for MLB.com since 2001. Follow him on Twitter @AdamMcCalvy, like him on Facebook and listen to his podcast. This story was not subject to the approval of Major League Baseball or its clubs.