Most exciting prospects playing in Futures Game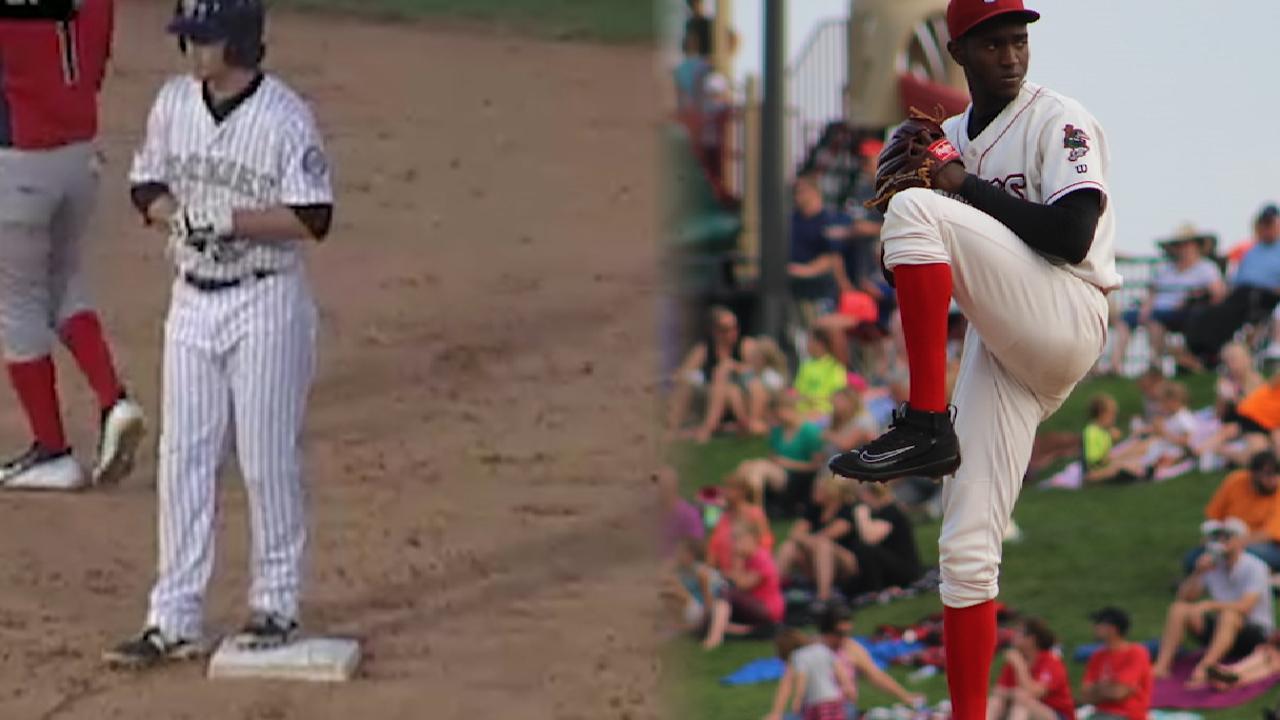 This week on the MLBPipeline Podcast, host Tim McMaster and resident prospect gurus Jim Callis and Jonathan Mayo talk about who they are excited to see in the SiriusXM All-Star Futures Game. The following is a transcript of a segment from this week's episode of the Pipeline Podcast.
Tim McMaster: "Jonathan, I'm going to start with you, and let's start with the U.S. roster and the pitchers. Who is a pitcher from that grouping who you really want to see? Usually with the Futures Game, I know, there are a lot of hard throwers involved."
Jonathan Mayo: "And that's the same although there are some really good just pitchers. I'm going to let Jim talk about Michael Kopech and I'm going to actually pick Jack Flaherty. I think the reason why I'm picking him is because I'm here at the USA Baseball complex and the first time I saw him I think was as a sophomore in high school at the first National High School Invitational when he was here with Harvard-Westlake, the team that had Max Fried and Lucas Giolito, and he stepped up big. He intrigued me then and he's kind of hardly been the same guy, just a guy who really, really knows how to pitch. He's in Triple-A now and pitching extremely well and I think he's just about ready for a call-up so I'm glad he was able to go this year. He's not going to come in and light up radar guns or be exciting, but he's just a guy who has a really good feel for pitching and a guy that I've known since I guess he was 16 years old so it's sort of fun to see him in this kind of setting now."
McMaster: "Jim, don't feel like you have to talk about Michael Kopech, but go ahead."
Jim Callis: "And I'm not going to."
McMaster: "All right."
Mayo: "What?"
Callis: "Well what's exciting to me about the Futures Game is seeing guys that we haven't run into before and I saw, for whatever reason, just when I was in the [Arizona] Fall League last year it seemed like almost every time Kopech pitched when I was in town, I was assigned to his game. So I actually got to see Kopech pitch, I think counting the Fall Stars Game, I might have seen him pitch four or five times in the fall. So I'm going to go with Triston McKenzie of the Indians, who really intrigues me. I mean, we're talking about, he might be about the skinniest pitcher in the Minor Leagues. He's listed at 6'5", 165. I think he's put on a little weight. But I mean this guy has just put up dominant numbers everywhere he's been, he's jumped to high Class-A this year at age 19. He's got 99 strikeouts in 77 innings. Opponents are hitting .189 off of him. I think this guy is going to move really, really fast. He's got three pitches that are at least solid and can be plus, he throws a ton of strikes, and I've never run into Triston McKenzie. So I'm really looking forward to seeing him. He'd be the pitcher I'd be most excited about seeing on the U.S. roster."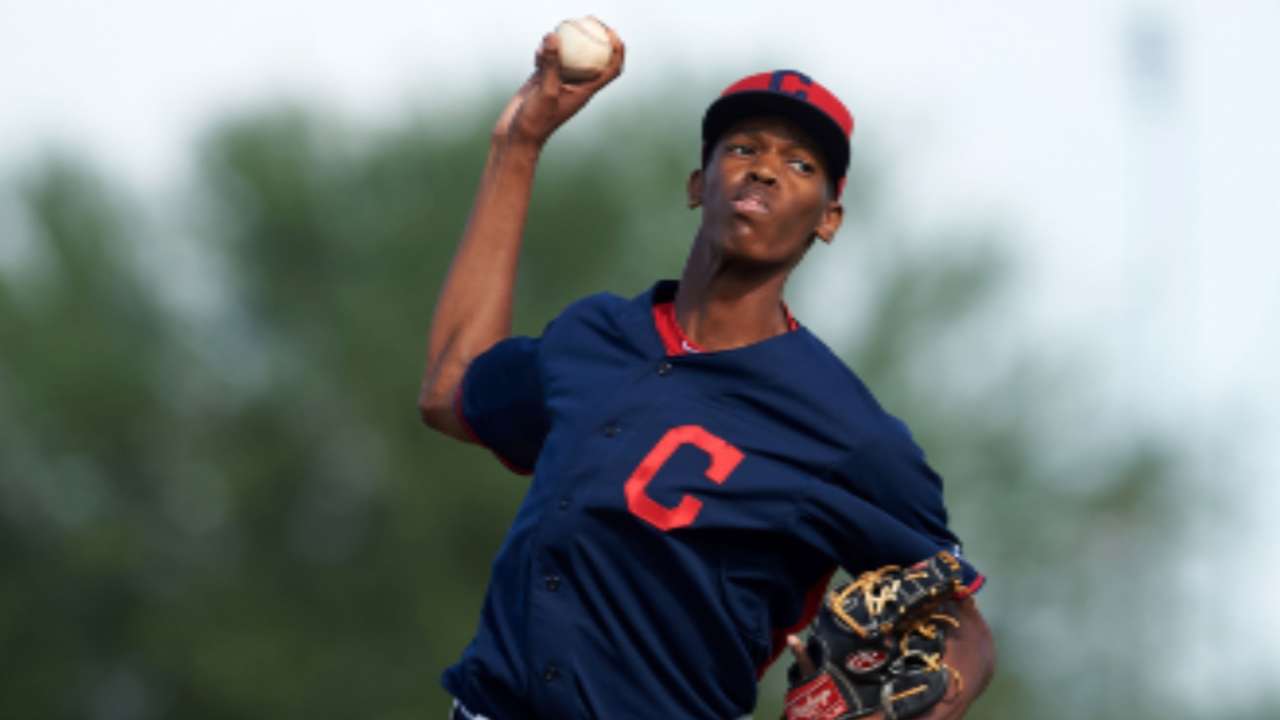 McMaster: "6'5", 165, you probably don't want to run into him. You've got to be careful with that frame."
Callis: "Wait, are you calling me fat, Tim? Are you saying that? I don't know what's going on there."
McMaster: "I'm saying he's a little thin. Projectable, that's what we like to say. Projectable."
Mayo: "You're solid. You're solid is what he's saying."
McMaster: "Jonathan, how about a position player on the U.S. roster?"
Mayo: "Oh, so many to choose from. You know, I'm going to stick with my theme of seeing guys who I've seen in high school. So I'll go with Brendan Rodgers, who I haven't seen since high school. I did a bunch of stories on him his Draft year. I spent a lot of time with he and his family so I'm excited he's going to be a part of it. About as big of a no-brainer, I thought, just given the year he's having. He was just absolutely ridiculous in the California League, he hit .400 with 12 homers at the time of his promotion. He's only played about a week's worth of games in the Eastern League. It's going to be different. He still needs to work on his plate discipline a little bit. But he's done everything that people hoped he would when we had him at the top of our Draft list and he ended up going No. 3 overall to the Rockies.
Callis: "I think I'll go with Kyle Tucker. I saw him at the Under Armour Game in Chicago three years ago. Obviously a lot has happened for him since then, he was the No. 5 overall pick in the Draft in 2015. I'm looking forward to seeing him. You can pick a lot of guys on that U.S. roster, but Tucker fascinates me. He's one of the best pure hitters in the Minor Leagues. This year he started to add some power. He's not a flyer but he manages to steal bases, too. He's already made it to Double-A, barely turned 20. I don't think we'll see him in the big leagues this year, but at the rate he's going, I think we'll see him in the big leagues sometime next year. So I'm glad we get to see him. I'm glad the fans get to see him in the Futures Game, because I suspect he won't be available for the Futures Game next year."
McMaster: "In recent years, we've seen the U.S. squad kind of dominate. Some of that has been the World pitching being, obviously, power arms, but sometimes not as polished yet. Let's switch over to the World roster. Jim, you go first and give us a pitcher."
Callis: "You just kind of described the guy I'm probably most excited to see. The international pitching looks a little stronger than usual. I don't know why that would necessarily be, but I do think that's the case. The guy, even though he's not having a great year, I'm excited about seeing Yadier Alvarez of the Dodgers. He's in high Class A this year, he has an ERA around 5.00, even though the California League is a tough place to pitch. A strikeout per inning. The arm is so quick. There is a reason he signed for $16 million and cost the Dodgers $32 million when you factor in the overage tax penalties. He's mid-90s, he can hit triple digits. We always see these guys pitching in one-inning stints in the Futures Game, so we'll probably see him light it up. His slider can be a wipeout pitch. His curveball can be plus. He has feel for his changeup at times. I'm really, really excited about seeing Yadier Alvarez on the mound."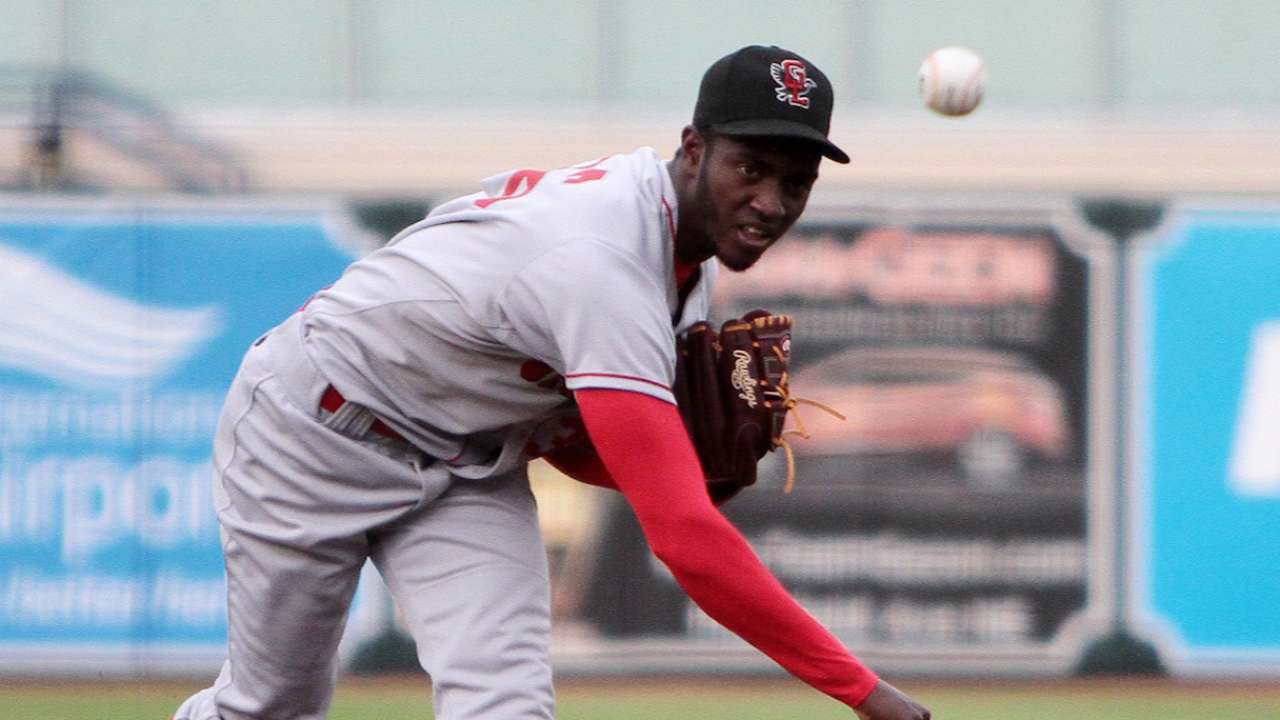 McMaster: "Jonathan, you go ahead."
Mayo: "I'm trying to figure out which Canadian pitcher I have. Cal Quantrill and [Mike] Soroka are both on the team. I'll take Soroka. He's a real interesting guy because he's always had this really advanced feel for pitching, which you don't expect from a Canadian high schooler. He had an absolutely fantastic first full season in the South Atlantic League a year ago and was really durable. He's steady. They double-jumped him and a bunch of other pitchers up to Double-A, and a lot of ways he's been better -- .212 batting average against, his WHIP is below 1.00. He has a 2.18 ERA. It continues to get the job done. He's not a huge strikeout guy but he misses more than enough bats. And he's 19. He doesn't turn 20 for a little while, until early August. For him to be doing what he's doing after double-jumping has been incredibly impressive. I'm looking forward to seeing how he handles the big stage of the Futures Game."
McMaster: "Jim, how about a World Team hitter?"
Callis: "There's a lot. There are 3-4 guys I've never seen in person who I'm really excited about. You guys were expecting me to go Kopech but I didn't. I know I will not shock anyone by throwing out the name Vladimir Guerrero Jr. I'm really excited he's in the game. Who would have thought that?"
"He's in low Class A. I think he's one of only a few players in Low Class A selected for the game. This guy, I guess the question for me is, is he a better hitter or a slugger? Because he's both. You're talking about a guy who is 18 years old in the Midwest League, which is the hardest place to hit in the Minors. He's hitting .309. He has more walks than strikeouts. He has five home runs, but doesn't jump out at you, but he has 19 doubles in 64 games. I've seen a number of guys over the years hit a bunch of doubles, and it becomes a bunch of homers once they graduate from the Midwest League. I've made all kinds of bold proclamations and statements about how excited I am about this guy. I really wouldn't be shocked if Vladimir Guerrero Jr. is the No. 1 prospect in baseball if he keeps hitting like this. He's unbelievable. It's like his dad -- and I'm not saying he's a Hall of Famer like his dad is going to be -- but everyone makes the obvious comp to his dad for the ability to barrel the ball. He's like his dad with more plate discipline, which is kind of scary."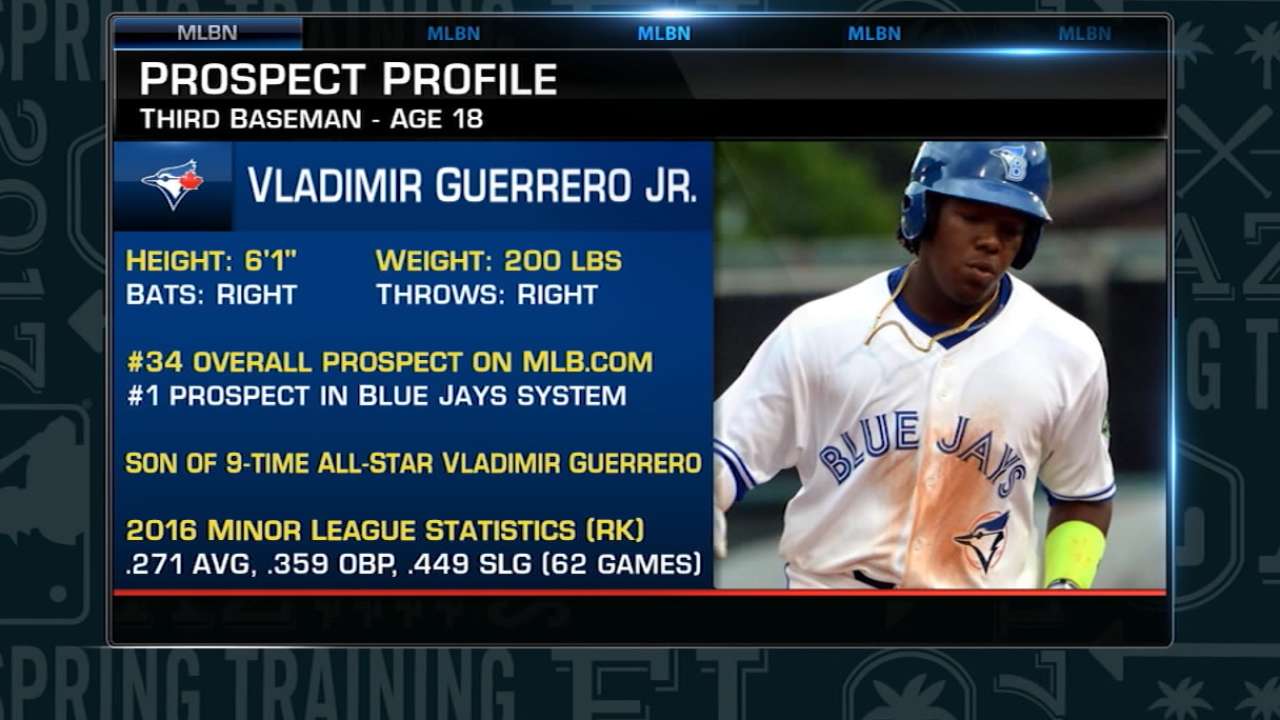 McMaster: "Jonathan, go ahead."
Mayo: "He's more like his dad later in his career, because Vlad kind of figured that out after hitting everything in sight. There are several toolsy outfielders to choose from, so I'll go with Victor Robles, who could be our No. 1 prospect in due time. He's No. 5 overall right now. He's in the Carolina League, Class A Advanced level, and continues to show all of the tools. He is hitting for a decent average, he is getting on base at a decent clip. He has a good amount of extra-base pop. I don't know if he's going to be like a huge, huge home run guy, but he does have 19 doubles. He has six triples, so that's a testament to how fast he is. And seven homers. He's also stolen 13 bases. He continues to move up the ladder and adjust and do extremely well. He's the kind of guy, he's such a dynamic player on both sides of the ball, I think he can excite a lot of fans at the Futures Game."
McMaster: "Plenty of great players to look forward to seeing. All part of All-Star Sunday, a week from Sunday, is the Futures Games in Miami. All a part of All-Star Weekend."