Dodgers sign 21 Draft picks, 6 of top 10
MLBPipeline.com reports deal with 4th-rounder as well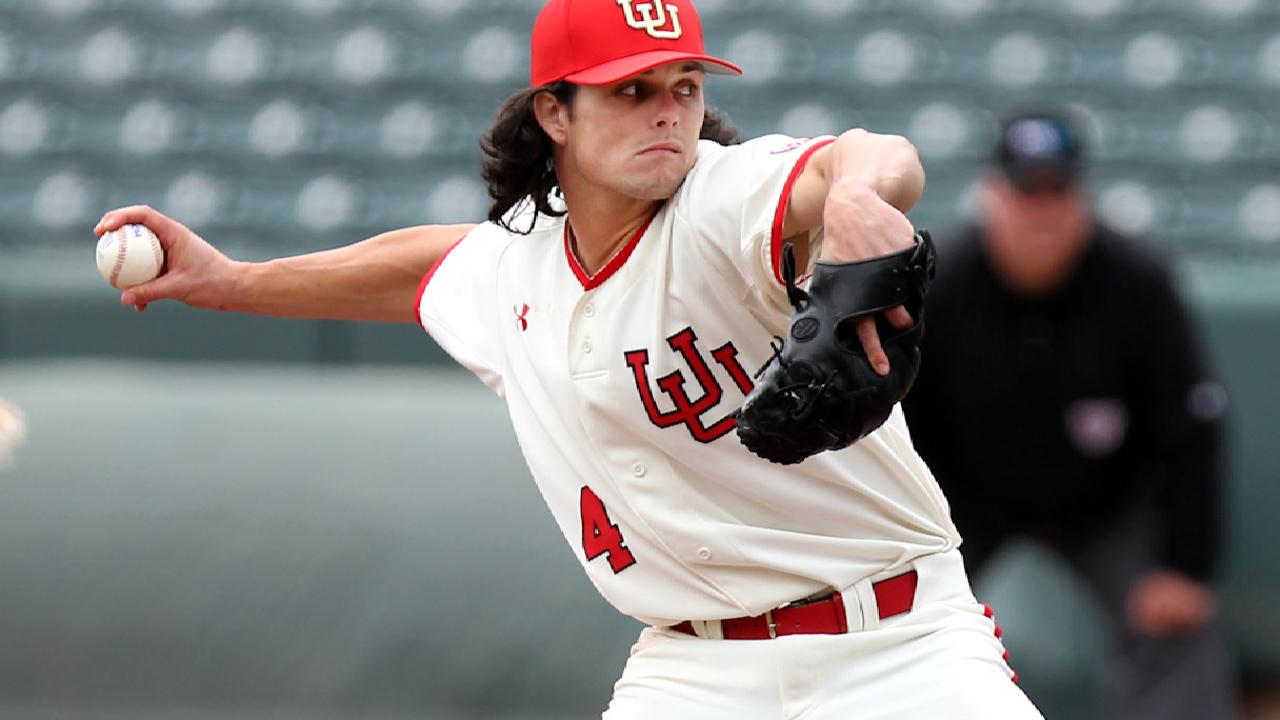 LOS ANGELES -- The Dodgers announced on Tuesday that they have signed 21 of their 40 picks in the 2017 MLB Draft, including picks from rounds 5-10.
Additionally, MLBPipeline.com's Jim Callis reported that the Dodgers also signed fourth-round pick James Marinan, a right-handed pitcher from Vista Park Community High School in Florida. Callis reported that Marian signed for $825,000, which is above the slot value of $401,000 for the No. 130 overall pick.
The club has not confirmed the report and did not release financial terms for its 21 official signees.
Still unsigned are the Dodgers' top three pick: first-round outfielder Jeren Kendall from Vanderbilt, right-handed pitcher Morgan Cooper from the University of Texas and catcher Connor Wong from the University of Houston. Teams have until July 15 to sign their Draft picks.
Here are Dodgers beat reporter Ken Gurnick's Draft day capsules for Marinan and the signees from rounds 5-10:
Round 4 (130th overall): RHP James Marinan
The 18-year-old Marinan, at 6-foot-5, 220 pounds, has the build of a front-line starter. If Callis' report is correct, he'll be bypassing a commitment to the University of Miami.
According to MLBPipeline.com, which listed him as the No. 65 Draft prospect, Marinan's velocity spiked as much as any player in the Draft this season.
Marinan hit .311 with right-handed power as a slick-fielding first baseman, but his velocity had scouts consider him primarily as a pitcher.
Round 5 (160th overall): RHP Riley Ottesen, University of Utah
The 22-year-old Ottesen is a smallish (6-foot, 185 pounds) but hard-throwing (97 mph) righty, so some scouts view him as a reliever.
He went on a Mormon mission to Japan for two years after high school before resuming his amateur career last year. Ottesen went 5-4 with a 4.93 ERA and one save this season.
Round 6 (190th overall): Wills Montgomerie, RHP, University of Connecticut
The 6-foot-3, 205-pounder went 6-3 with a 3.73 ERA and 116 strikeouts, but also had 40 walks, in 89 1/3 innings pitched for UConn.
Montgomerie hit the radar with a solid performance in the Cape Cod League. He throws hard with the build of a starter, but his secondary pitches need work.
Round 7 (220th overall): Zachery Pop, RHP, University of Kentucky
The Canadian relies on a hard sinking fastball and was a reliever this year after starting in previous seasons and in the Cape Cod League. He went 1-1 with a 3.48 ERA in 22 relief appearances this year, but he was not the closer. He was sidelined in May by a forearm flexor strain.
The 6-foot-4, 225-pounder was drafted by Toronto in the 23rd round in 2014, when he was Canada's top high school pitching prospect, but he chose college. He pitched for the Canada junior national team and was coached by former Major Leaguer Chris Reitsma.
Round 8 (250th overall): Rylan Bannon, 3B, Xavier University
The 5-foot-10, 180-pounder was named the Big East Conference Player of the Year in 2017.
He doesn't have the typical build for an infield corner and played second base in high school. But while batting .339 this year, he had a .633 slugging percentage with enough speed for 17 stolen bases.
Round 9 (280th overall): Connor Strain, RHP, University of Evansville
Strain is 6-foot-1 and 180 pounds. He had a 0.68 ERA in 2016 but suffered a forearm tendon injury and opted for a platelet-rich plasma injection instead of Tommy John surgery.
He rebounded as a senior in 2017 to make 14 starts, threw 68 2/3 innings and went 2-5 with a 2.62 ERA on a team that went 18-39. He throws a heavy sinker.
Round 10 (310th overall): Zach Reks, OF, University of Kentucky
The second player the Dodgers took from the Wildcats, Reks began his collegiate career hitting .210 at the Air Force Academy and was told he wasn't progressing well. He transferred to Kentucky but was told he was too small for the program and went to work at a nearby auto plant while attending classes.
Two years later, he had a tryout, and as a walk-on wound up in the middle of the batting order. At 6-foot-2 and 195 pounds, the left-handed batter hit .352 with a .932 OPS this year.
The rest of the signees were as follows:
RHP Marshall Kasowski (400th overall), West Texas A&M
2B Marcus Chiu (460th overall), Marin Community College
RHP Zach Willeman (550th overall), Kent State University
LHP Justin Hoyt (670th overall), Jacksonville State University
SS Connor Heady (700th overall), University of Kentucky
SS Preston Grand Pre (730th overall), UC Berkeley
LHP Devin Hemmerich (790th overall), Norfolk State
LHP Justin Lewis (850th overall), Cornell University
OF Chris Roller (910th overall), McLennan Community College
OF Tyler Adkison (970th overall), San Diego State University
RHP Brett de Geus (1,000th overall), Cabrillo College
RHP Dan Jagiello (1,030th overall), LIU Post
RHP Colby Nealy (1,060th overall), Washington State University
RHP Riley Richert (1,090th overall), Howard College
RHP Corey Merrill (1,120th overall), Tulane University
Joshua Thornton is a reporter for MLB.com based in Los Angeles. Ken Gurnick contributed to this report. This story was not subject to the approval of Major League Baseball or its clubs.