MLB.com Columnist
Alyson Footer
Hot stretch puts Rockies atop Power Rankings
Astros drop two spots, Nationals move up to No. 2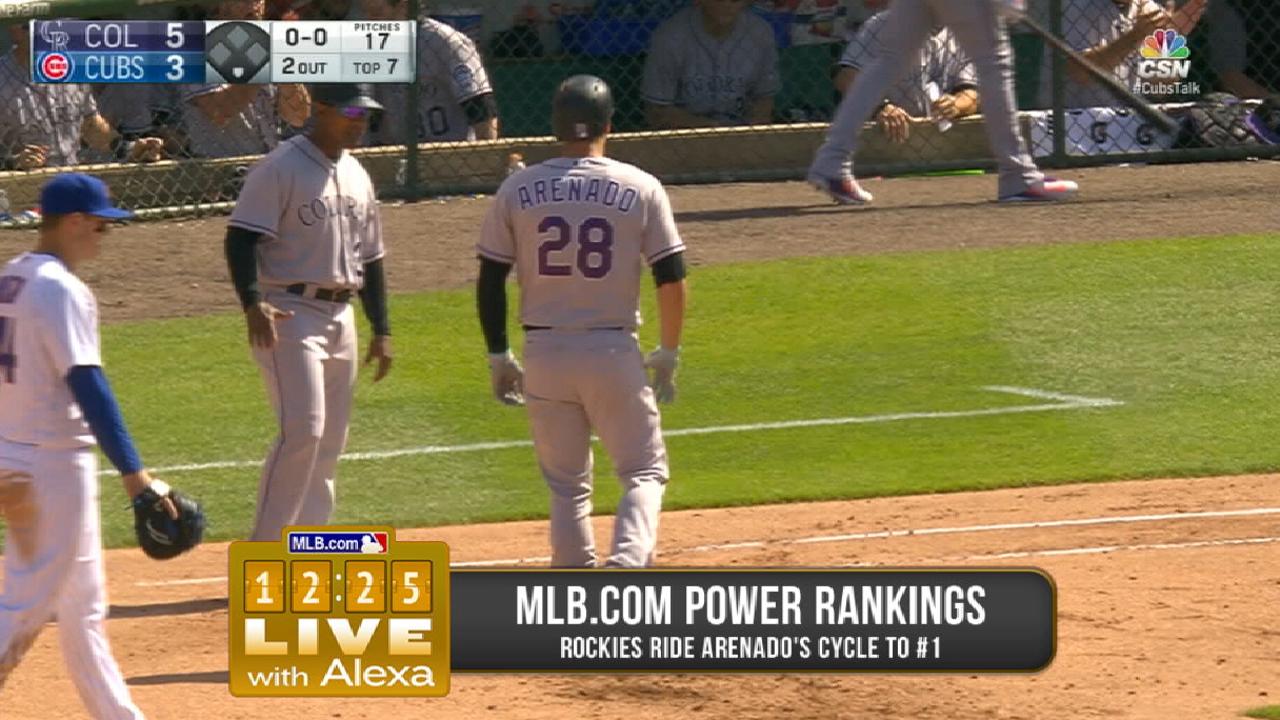 Is the NL West a reincarnation of the NL Central of two years ago?
That was the year that the Cardinals won the division with 100 victories, followed by the Pirates (98), and the Cubs (97). There was a lot of tsk-tsking inside the industry -- wasn't it a shame that one of these elite teams that dominated throughout a 162-game grind was going to go home after just one playoff game?
Fast forward two years. The Rockies, Dodgers and D-backs are barreling through their schedules at a plus-.600 clip. Through Sunday, the Rockies were on pace for 104 wins, while the D-backs and Dodgers were on pace for 102.
We're almost at the halfway point of the season, and there is no doubt which division race is shaping up to be the most fun to watch. The NL West has always been intriguing, given the rich rivalry between the Dodgers and Giants and their penchant for contending every year. With the Giants staying put at the bottom of the standings and the D-backs and Rockies proving time and again they're for real, there's little doubt which division will be the most interesting down the stretch.
Biggest jump: The Rangers jumped four spots from No. 17 to 13, thanks to a nine-game stretch during which they won seven times. And they did it against elite teams, sweeping the Nationals before taking two of three from the Astros in Houston. They ended with a series win over the Mariners, which evened their season record to 34-34 through Sunday.
Biggest drop: The Mariners dropped four spots from No. 16 to 20, but more significantly, the Yankees fell three spots, from three to six. The Bombers haven't had many tough stretches this season, but their four-game sweep at the hands of the last-place A's can be described as nothing short of brutal. Three of those losses were by a single run, and they won only one game on their seven-game West coast swing.
Power Rankings Top 5:
1. Rockies (2 last week)
We are now far enough into the season to chuck any notions that emerging teams and new contenders are something of a fluke. The Rockies, from day one, have been a very, very good team. Through their 13-4 run in June, they went 5-1 in consecutive series with last year's World Series teams, and, most recently, they swept the Giants in a four-game set at home. The pitching has been fantastic on the road and good enough at home to help the Rockies dominate opponents, as evidenced by their 21-13 Coors Field record.
2. Nationals (4)
Let's take a break from reminding each other about the Nationals' well-documented bullpen issues and focus on why they're the second-best team in baseball, according to our Power Rankings. The Nationals fell just shy of matching their best 70-game start in franchise history, a milestone they would have reached with a win in Miami on Monday (they lost, 8-7). Trea Turner has enjoyed a nice hot streak, batting .311 (33-for-106) with 15 stolen bases and 16 runs scored in his past 23 games.
3. Astros (1)
The Astros are without four of their starting pitchers, so this so-so stretch they're currently in is hardly shocking. At first glance, June seemingly has hit Houston with a sledgehammer. In truth, however, they're an acceptable 8-8 this month, heading into their late game in Oakland Monday. If you're a glass half-empty type, then perhaps Houston's eight losses in 12 games since their 11-game winning streak has you doubting. Either way, the Astros were playing at a 117-win pace for most of the two months of the season, and that's a bit unrealistic over the long haul. Their gigantic lead in their division, and their upcoming 10-game stretch against sub-.500 teams (all within their division) should be enough to get the Astros back on track.
4. Dodgers (5)
As encouraging as it's been to see the Rockies and D-backs establish themselves as forces in the NL West, the Dodgers have depth and experience on their side as the season creeps toward its second half. They also have the lowest ERA in the National League at 3.39, ahead of, yes, the D-backs (3.43) and Rockies (4.11). Clayton Kershaw was tops of all NL starters with a 2.23 ERA heading into his start Monday; in the bullpen, Kenley Jansen is a perfect 15-for-15 in save opportunities to accompany a 0.91 ERA, and Pedro Baez has a 1.47 ERA over 30 2/3 innings.
5. Red Sox (7)
Entering their opener in Kansas City on Monday, the Red Sox were on a roll, winning seven of their past 10 games, including taking two of three over the first-place Astros. Boston's bullpen can take a lot of credit for this run. Relievers have allowed four runs in 37 1/3 innings for a 0.96 over 10 games through Sunday, and the Sox have the second-best overall bullpen ERA (2.80) in the big leagues, behind only Cleveland (2.56). Joe Kelly hasn't allowed a run in his past 16 2/3 innings, while closer Craig Kimbrel has allowed three earned runs in 31 2/3 innings this season.
The rest of the Top 20:
6. Yankees (3 last week)
7. D-backs (6)
8. Indians (10)
9. Brewers (8)
10. Cubs (11)
11. Twins (9)
12. Rays (12)
13. Rangers (17)
14. Orioles (13)
15. Blue Jays (14)
16. Tigers (15)
17. Pirates (NR)
18. Angels (20)
19. Royals (NR)
20. Mariners (16)
Alyson Footer is a national correspondent for MLB.com. Follow her on Twitter @alysonfooter. This story was not subject to the approval of Major League Baseball or its clubs.