Elite talent keeps flowing in Day 2 of Draft
Teams shift from prepsters to collegians as plenty of prospects come off board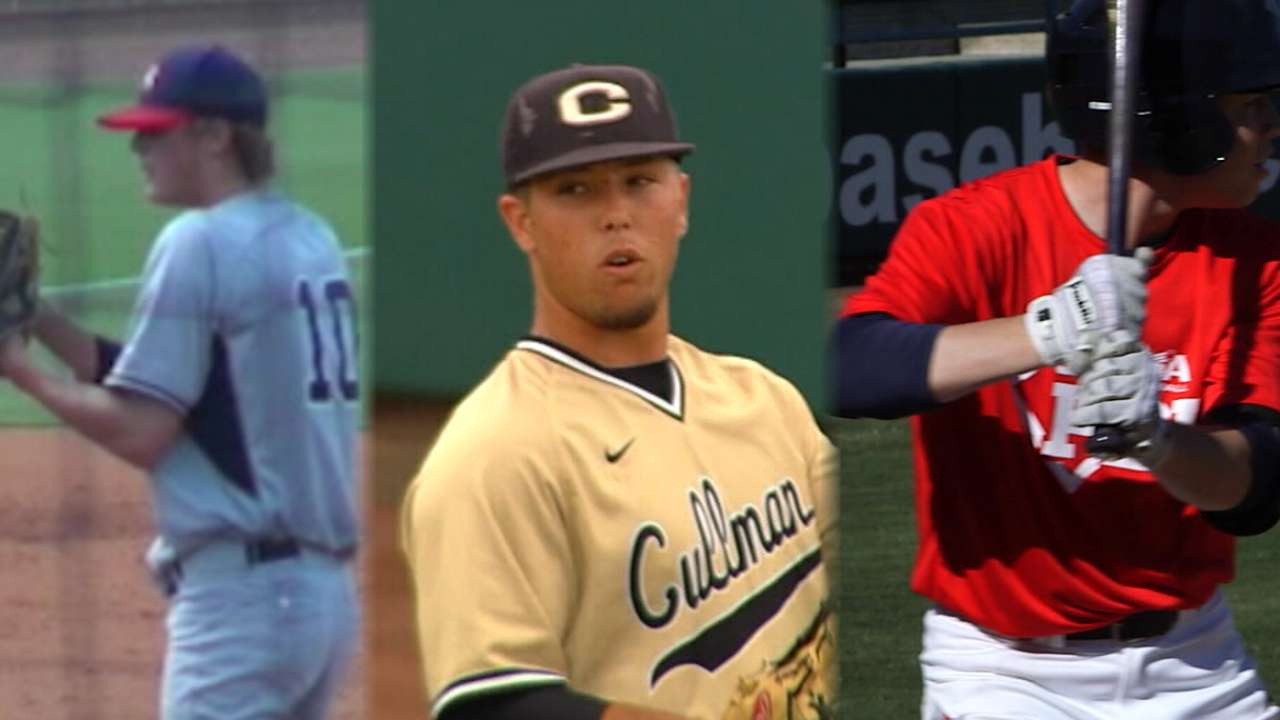 Every baseball-playing kid dreams about getting that Draft call, and each year, over a thousand of those calls are made. Tuesday became that day 240 prospects had been dreaming about, as teams continued the process of restocking their farm systems during Day 2 of the 2017 MLB Draft.
Rounds 3-10 of the Draft were held after Monday's exciting Day 1, when the Twins started the fun by selecting Southern California high school shortstop Royce Lewis with the No. 1 overall pick. The first two rounds and two Competitive Balance Rounds were then completed from MLB Network studios.
After two-way talent defined the first day of the Draft, Day 2 was a big one for several highly regarded prospects who got first-round buzz but didn't hear their names called on Day 1. Those types of players didn't have to wait long. The highest-ranked available player on MLBPipeline.com's Top 200 Draft Prospects list went off the board first when the Twins selected right-hander Blayne Enlow from St. Amant High School in Louisiana.
Three of the four highest-ranked players went off the board within the first six picks: Enlow, Alabama prep lefty Jacob Heatherly (Reds, No. 77 overall) and California high school shortstop Nick Allen (A's, No. 81 overall).
Legacy selections and college catchers were some of the other main attractions on Day 2. Twenty-one of the first 30 players selected Tuesday came from the college ranks, and five of the first 30 were catchers. Ten catchers were selected over the first three rounds overall.
Notable legacy selections included Kacy Clemens, son of Roger Clemens, drafted in the eighth round by Toronto, and Millville (N.J.) High School infielder Buddy Kennedy, who is the grandson of former Brewers great Don Money and friend of Millville's most famous resident, Mike Trout.
The Twins, whose $14,156,800 bonus pool is the largest in the Draft, used their Day 2 picks on a two high school pitchers, a high school shortstop, two college pitchers and two college positions players. Of those, Enlow may be the most intriguing, as he excelled for the U.S. National 18-and-under team at the Pan American Championships.
The Draft concludes Wednesday with Rounds 11-40, beginning at noon ET. MLB.com will continue its exclusive live coverage with a pick-by-pick stream and commentary from Draft experts Jonathan Mayo and Jim Callis of MLBPipeline.com. It also will provide Draft Tracker, a live interactive application that includes a searchable database of nearly 1,500 draft-eligible players with statistics, scouting reports, photos and video highlights. On Twitter, the official Draft Twitter account, @MLBDraft, will provide up-to-the-moment updates and commentary while @MLBDraftTracker will tweet all picks as they are made.
Here are 12 of the most interesting players taken on Day 2:
Round 3 (No. 79 overall), Rays -- UTL Taylor Walls, Florida State University
The Seminoles' shortstop has a chance to face fellow Rays draftee Drew Rasmussen, a right-hander out of Oregon State, in the upcoming College World Series. Walls and Rasmussen, whom the Rays selected 31st overall on Monday, are set to be teammates. More >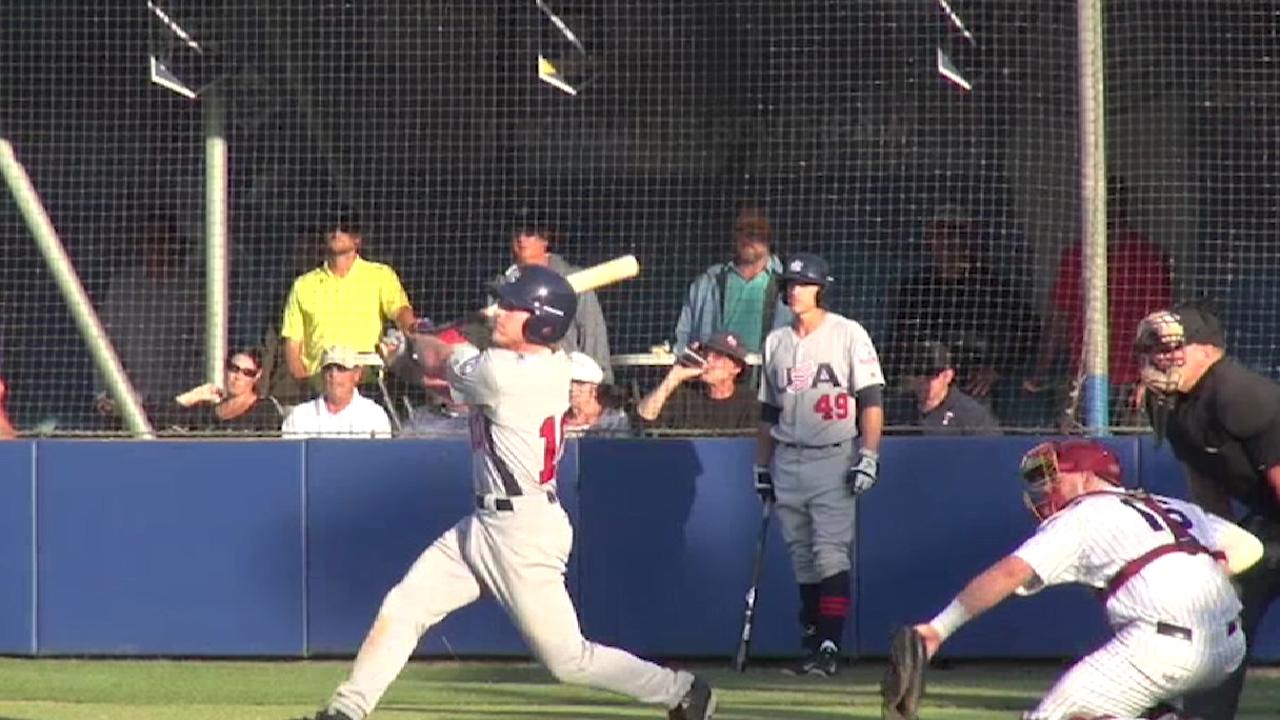 Round 3 (No. 90 overall), Royals -- LHP Daniel Tillo, Iowa Western CC
Tillo was named Iowa Mr. Basketball as a senior in high school but chose baseball and took a scholarship to pitch at Kentucky. He didn't see much time as a freshman, and then his coach resigned, so he returned to Iowa to rebuild his stock. He did, showing a low-90s fastball and projectable slider. Kansas City drafted Tillo on his 21st birthday Tuesday. Not a bad gift. More >
Round 3 (No. 92), Yankees -- RHP Trevor Stephan, University of Arkansas
Stephan didn't pitch until he arrived at Arkansas, then excelled in the ultra-tough Southeastern Conference. The 6-5, 225-pound righty was the Razorbacks' top starter this season, posting a 2.67 ERA and striking out 120 in 16 outings. Now he finds himself in a funny spot, being drafted by the Yankees a year after turning down the Red Sox, who selected him in the 18th round in 2016. More >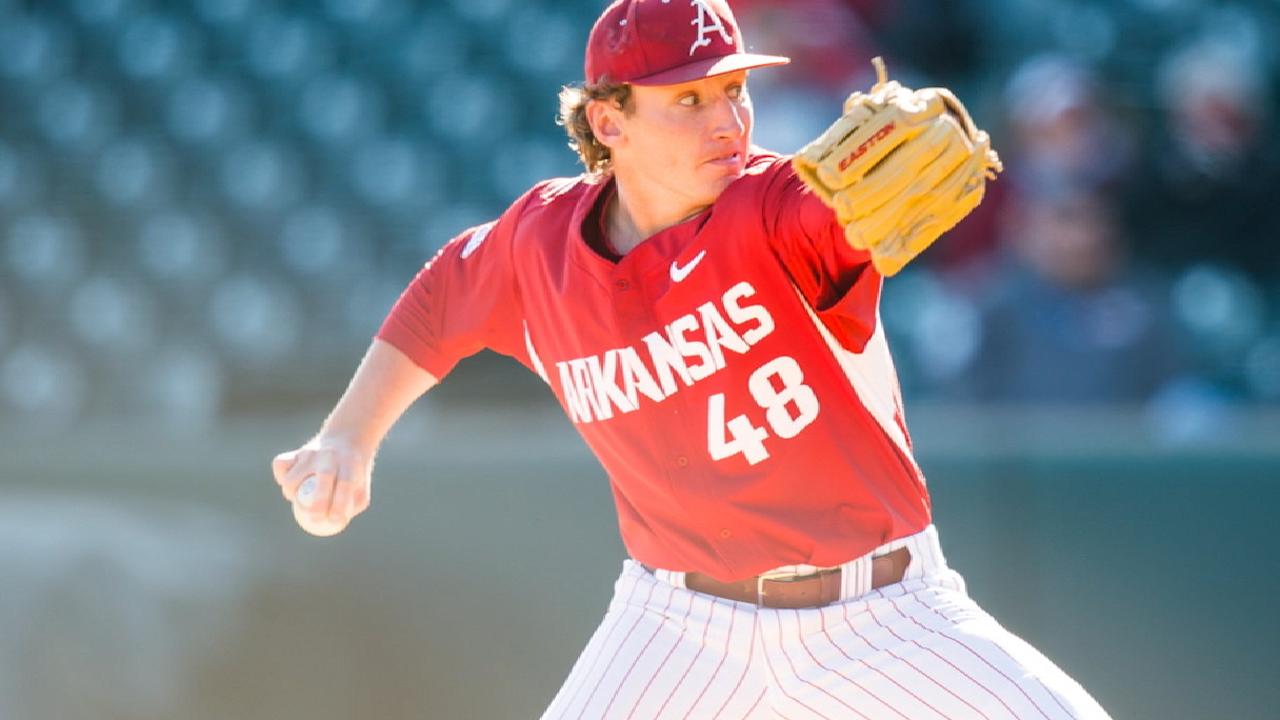 Round 3 (No. 97) and Round 5 (No. 157), Mets -- RF Quinn Brodey and OF Matt Winaker, Stanford
Brodey and Winaker made up two-thirds of Stanford's outfield this year, so it was probably a thrill for each to get drafted. But by the same team? What are the chances? Brodey, who hit .314 this season, and Winaker, who batted .308, could be teammates once again in the Mets' system. More >
Round 4 (No. 107), Reds -- SS Cash Case, The First Academy (Orlando)
Case, a Notre Dame commit, attended the MLB Prospect Development Pipeline premier event in Bradenton, Fla., in January, where he showed athleticism and the ability to hit from both sides of the plate. Case's accomplishments off the field may be more impressive than what he has done on it. He plays the guitar, piano and saxophone, and recently became fluent in Mandarin Chinese after studying the language for four years. More >
Round 4 (No. 124), Cardinals -- SS Kramer Robertson, LSU
Part of LSU's dynamic double-play combination, Robertson helped lead the Tigers to the College World Series again this season. He's also the son of Baylor women's basketball head coach Kim Mulkey. Robertson and Cole Freeman, his double-play partner, were drafted nine picks apart Tuesday. More >
Round 5 (No. 138), Padres -- 3B Jonny Homza, South Anchorage HS
Not many high school players come out of Alaska, which makes the right-handed-hitting infielder the Padres took in the fifth round all the more intriguing. Homza is the first Alaskan high school player selected since 2014, and the highest taken since '00. Only one high school player from Alaska has ever made the Majors: former pitcher Chad Bentz. More >
Round 5 (No. 142), D-backs -- 3B Buddy Kennedy, Millville HS
Round 6 (No. 173), Phillies -- SS Dalton Guthrie, University of Florida
Round 8 (No. 249), Blue Jays -- 1B Kacy Clemens, University of Texas
Every year has legacy picks, and this Draft was no different. Kennedy is the grandson of former MLB infielder Money and hometown friends with Trout. Guthrie's father, Mark, enjoyed a long career in the big leagues. As did Clemens' father, Roger. Maybe you've heard of him?
Round 5 (No. 149), Marlins -- RHP Ryan Lillie, University California-Riverside
Lillie is a converted catcher who tried pitching at the recommendation of Troy Percival, his head coach at the University of California-Riverside. A hard-throwing righty, Lillie began as a reliever but transitioned to the rotation this season, as a junior. Because he's still new to pitching, Lillie's secondary offerings are still raw, but he's considered to have major upside to go along with a mid-90s fastball. More >
Round 10 (No. 290), Braves -- RHP Jacob Belinda, Lock Haven University
The Braves announced Belinda in honor of longtime area scout Gene Kerns, who passed away on Wednesday. Kerns scouted Belinda last year and put him on Atlanta's radar before being diagnosed with cancer. More >
Joe Trezza is a reporter for MLB.com based in New York. Follow him on Twitter at @joetrezz. This story was not subject to the approval of Major League Baseball or its clubs.