MLB.com Columnist
Jonathan Mayo
Chosen ones: Lewis No. 1, prep stars abound
Greene, Gore, McKay fill out top 4; plenty of top players available on Day 2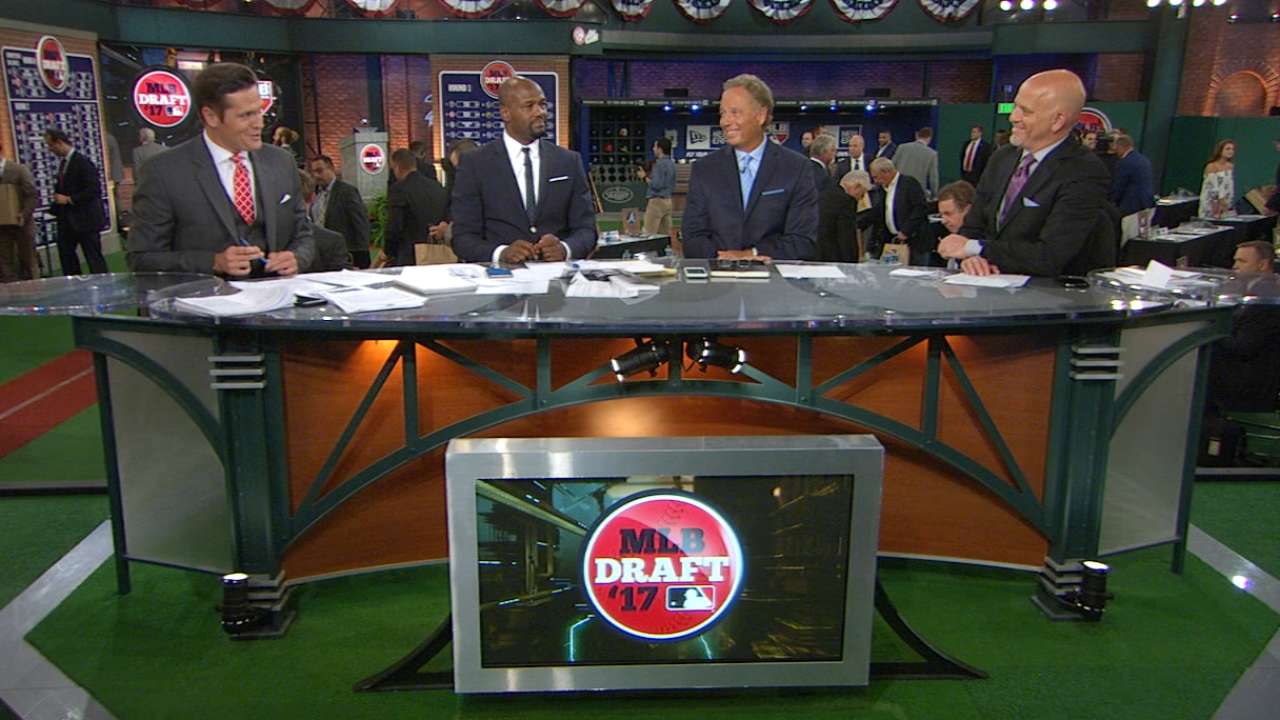 The top of the 2017 Draft was filled with upside, as the top three picks were all high schoolers for the first time since 1990, when Chipper Jones, Tony Clark and Mike Lieberthal went 1-2-3. The Twins nabbed toolsy shortstop/outfielder Royce Lewis with the No. 1 overall pick, making a last-minute decision to take him over Louisville two-way standout Brendan McKay.
"We see him as an impact player on both sides of the ball," said Twins vice president of player personnel Mike Radcliff. "He also has a unique ability to impact the clubhouse and the locker room and the community. He's got that 'it factor' that a No. 1 pick needs."
• Draft: Pick-by-pick, first-round analysis
Lewis has the best package of tools in the class, combining an elite hit tool with blazing speed that allows him to dominate on the bases and at shortstop, or perhaps center field, which is where he might end up in the Majors. That kind of broad range of skills was par for the course on Day 1 of the Draft.
Right-hander Hunter Greene, the No. 1 player on our Top 200 Draft prospects list, went No. 2 to the Reds. Greene, who has hit 102 mph with his fastball, would have also been a first-round pick as an infielder, and McKay, who ended up going No. 4 to the Rays, are going to get the chance to hit and pitch at the very outsets of their careers. McKay believes such an experiment could "go a long way."
"I think it can add a whole new level to baseball of having two guys in one that can do both and add a lot of potential to your team in many ways," said McKay, who just helped Louisville clinch a berth in the College World Series and won his third straight John Olerud Award, given annually to the best two-way player in the NCAA.
Sandwiched between Greene and McKay was the Padres' selection of North Carolina high school left-hander MacKenzie Gore, who boasts a distinct high leg kick delivery and some felt was the top arm in the class.
The prep-heavy start to the Draft did not kick off a particular trend for Day 1 of this year's Draft, however, as only a total of 12 high school players were taken in the top 30 picks in the first round.
The pendulum did swing the other way in the second round, with 19 of the 30 picks coming from the high school ranks. Add in the five prepsters in the two Competitive Balance Rounds and that means 36 of the 75 picks on Monday night were high school players.
That means there is plenty of high-upside prep talent still on the board for Day 2 of the Draft today. Live pick-by-pick coverage of Rounds 3-10 can be found on MLB.com, starting with a half-hour preview show at 12:30 p.m. ET. Here are the top 10 players -- including eight prep players -- left from the Top 200 Draft prospects list:
29. Blayne Enlow, RHP, St. Amant (La.) HS
30. Nick Allen, SS, Parker (Calif.) HS
39. Tanner Burns, RHP, Decatur (Ala.) HS
45. Jacob Heatherly, LHP, Cullman (Ala.) HS
48. Evan Skoug, C, TCU
52. Alex Scherff, RHP, Colleyville Heritage (Texas) HS
53. Tristan Beck, RHP, Stanford
54. Garrett Mitchell, OF, Orange Lutheran (Calif.) HS
55. Daniel Cabrera, LHP, Parkview Baptist (La.) HS
56. Jacob Pearson, OF, West Monroe (La.) HS
Whether any of this high school talent gets taken on Day 2 remains to be seen. A year ago, five of the top 10 players available after Day 1 were high schoolers. All five were drafted, with Cole Stobbe, Thomas Jones and Nonie Williams signing with the Phillies, Marlins and Angels, respectively. All three were taken in the third round, so pay close attention to the opening round today. The two other prepsters, Drew Mendoza and Jared Horn, went on Day 3, but went on to begin their college careers.
Overall, if any of the remaining players are selected today, look for them to start their pro careers. In 2016, all but two players taken in the top 10 rounds signed, a trend that should continue. Teams carefully plot out their Draft bonus pools, so it's become less likely for them to miss on a pick through the top 10 rounds. If a player taken at any point in the top 10 rounds doesn't sign, the team loses the value assigned to the pick from its total bonus pool, which could hamper the ability to sign other picks.
The top two players certainly should be of interest. Both right-hander Blayne Enlow and shortstop Nick Allen were players some thought could land in the back end of the first round, with Allen in particular showing up at the bottom of many late mock drafts. Enlow is committed to LSU and Allen has a Southern Cal commitment, and it should be an interesting storyline to see if that comes into play. If they don't go on today, there's a very good chance that pair will head on to school.
All this talk about high school players doesn't mean there aren't intriguing college guys to be had on Day 2. TCU's Evan Skoug shook off a terrible start to his 2017 season and ended up putting up impressive numbers. A team could give him a chance to start. Stanford's Tristan Beck has been one of this Draft's biggest wild cards. Had he been healthy, he would've been a sure-fire first-round pick, but the Draft-eligible sophomore didn't throw a pitch this season because of a back issue. There was a rumor going around that Beck had a deal with someone, and that was why he wasn't throwing bullpens for any scouts. If he goes in Rounds 3-10, it's possible those rumors were true.
Jonathan Mayo is a reporter for MLBPipeline.com. Follow him on Twitter @JonathanMayo and Facebook, and listen to him on the weekly Pipeline Podcast. This story was not subject to the approval of Major League Baseball or its clubs.