Judge, Altuve, Sano take AL All-Star voting leads
Brantley moves ahead of Betts for third spot in outfield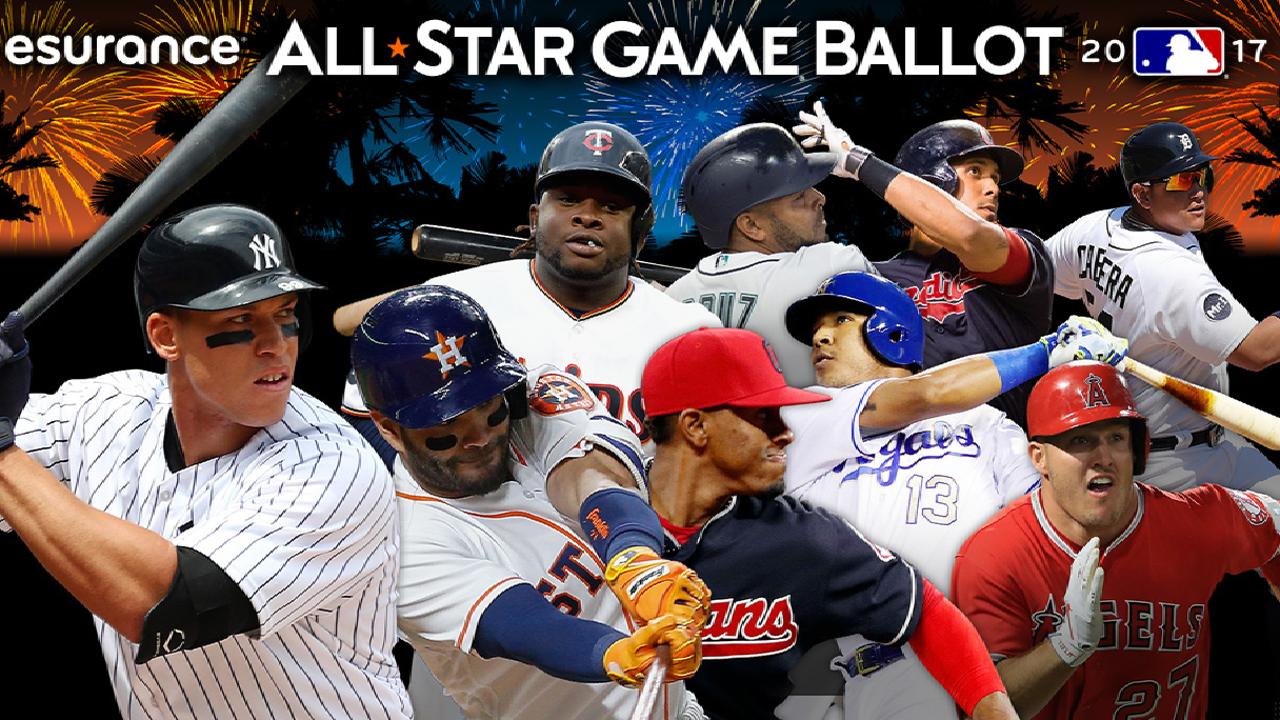 The second Esurance MLB All-Star Game Ballot update for the American League is in, and it's readily apparent that fans are rising for the Judge.
The young and charismatic Yankees slugger Aaron Judge is off to a torrid start, blasting home runs and hits all over Major League stadiums as his team enjoys a first-place run in the AL East. And Judge is connecting at the virtual ballot boxes as well, taking the overall league lead in votes from injured Angels outfielder Mike Trout.
• Vote for #ASGWorthy players on the Esurance MLB All-Star Game Ballot
Judge's move into first place is just one change in the weekly totals. There are quite a few more as the tabulation continues for the 88th All-Star Game presented by MasterCard, to be played on Tuesday, July 11, at Marlins Park in Miami.
• National League All-Star voting leaders
Here are the latest AL results (statistics through Monday's games):
CATCHER
1. Salvador Perez, Royals: 692,867 votes
2. Welington Castillo, Orioles: 543,146
3. Brian McCann, Astros: 512,077
4. Gary Sanchez, Yankees: 461,152
5. Yan Gomes, Indians: 381,178
The top five stayed the same for AL catchers. Perez is a perennial Gold Glove contender and had 11 home runs and 31 RBIs entering Tuesday's action. Castillo is hitting .317/.339/.467, and McCann continues to flourish in Houston with seven homers and a .358 on-base percentage.
Sanchez, who made a late bid for AL Rookie of the Year honors last year, has rebounded well from an early-season injury and has six homers in 108 at-bats, with two long balls in the past week. Gomes has four homers for Cleveland.
FIRST BASE
1. Miguel Cabrera, Tigers: 475,826
2. Yonder Alonso, A's: 433,570
3. Carlos Santana, Indians: 420,336
4. Eric Hosmer, Royals: 399,545
5. Yuli Gurriel, Astros: 336,117
Cabrera has raised his OPS to .811 in the past week, but he's still off to a slow start and is in the top spot because fans know he'll heat up soon. Alonso continues his astounding breakout year, hitting .303 with 16 homers, 34 RBIs and a 1.075 OPS.
Santana added four RBIs to his total in the past week and now has 34, Hosmer is hitting .308 with an .804 OPS, and Gurriel has done his part for the scalding Astros with six homers and 25 RBIs.
SECOND BASE
1. Jose Altuve, Astros: 998,107
2. Starlin Castro, Yankees: 778,699
3. Jason Kipnis, Indians: 402,228
4. Robinson Cano, Mariners: 248,739
5. Dustin Pedroia, Red Sox: 213,804
The big jump of the week was executed by Altuve, who flipped with Castro to take the lead at second base, in part because he has caught fire -- just like his team. Altuve is hitting .326 with a .913 OPS, enough to pull ahead of Castro's formidable early-season numbers of nine homers, 31 RBIs and an .841 OPS.
Kipnis continues to find his stride, with seven homers and 22 RBIs after missing time with a leg injury, and Cano leads all AL second basemen with 34 RBIs. Pedroia pulled ahead of Baltimore's Jonathan Schoop for the fifth spot.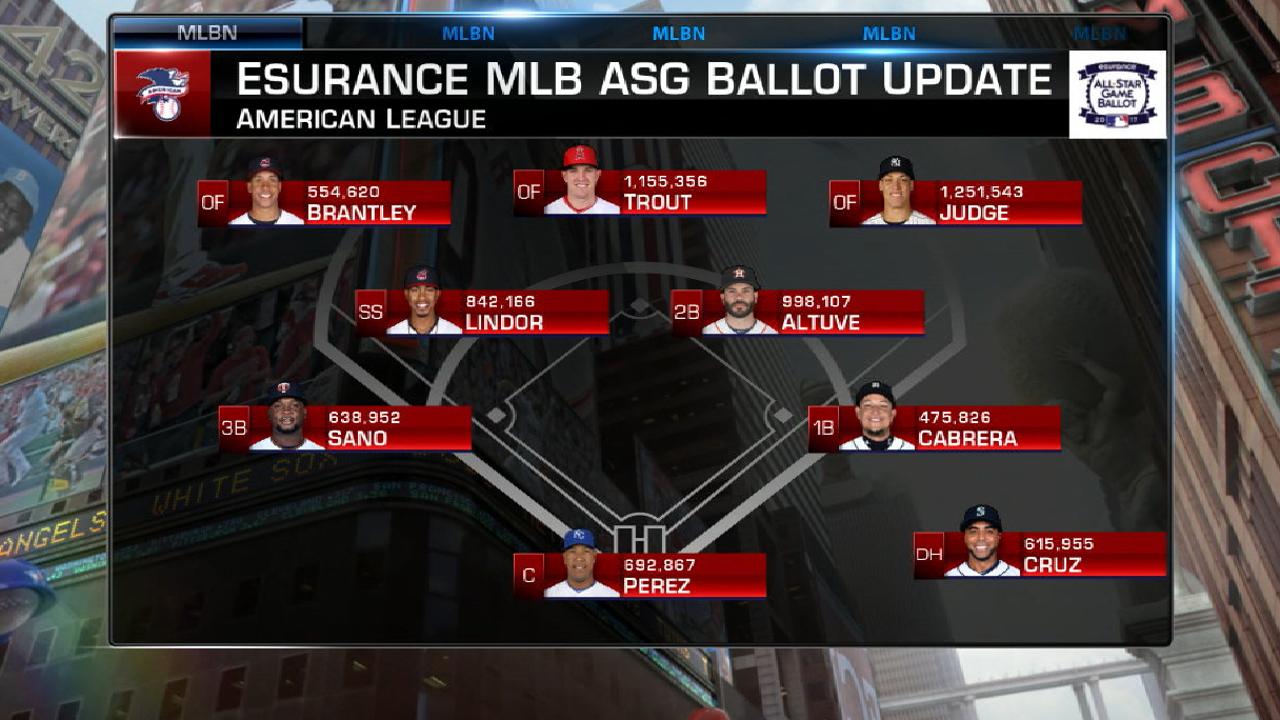 THIRD BASE
1. Miguel Sano, Twins: 638,952
2. Jose Ramirez, Indians: 541,040
3. Manny Machado, Orioles: 520,116
4. Josh Donaldson, Blue Jays: 332,287
5. Alex Bregman, Astros: 305,348
Sano jumps into the top spot from third place a week ago in a very fluid position when it comes to voting. The gregarious Twins slugger is simply crushing the ball, with 14 homers, 43 RBIs and a 1.016 OPS, and it's enabled him to take a sizable lead over the new second-place holder, Ramirez, who also vaulted past last week's leader, Machado.
Donaldson is healthy and hitting homers again after a lengthy DL stint, and Bregman has ridden the Astros wave into the top 5, supplanting Chase Headley of the Yankees.
SHORTSTOP
1. Francisco Lindor, Indians: 842,166
2. Carlos Correa, Astros: 662,124
3. Didi Gregorius, Yankees: 397,326
4. Xander Bogaerts, Red Sox: 389,541
5. Jean Segura, Mariners: 250,665
Lindor maintains his healthy lead over fellow Correa, in part because Lindor is leading all AL shortstops with 12 homers. Correa has 11, however, and is building a stealth MVP candidacy with a .920 OPS and a position-leading 39 RBIs.
Gregorius and Bogaerts flipped spots from last week, while Segura's bid has taken a hit with a disabled-list stint because of a right high ankle sprain.
DESIGNATED HITTER
1. Nelson Cruz, Mariners: 615,955
2. Matt Holliday, Yankees: 460,355
3. Edwin Encarnacion, Indians: 447,275
4. Corey Dickerson, Rays: 446,121
5. Evan Gattis, Astros: 326,584
Cruz is heating up with the weather, taking a .943 OPS, 14 homers and 45 RBIs into Tuesday's action and holding on to his large lead at DH. Holliday had a big week, with three homers and seven RBIs, and has pulled ahead of Encarnacion in the voting.
Dickerson continues to emerge as an all-around hitter for Tampa Bay, and Gattis has pulled ahead of Albert Pujols, who reached the career 600-homer mark during the week, for the fifth spot.
OUTFIELD
1. Aaron Judge, Yankees: 1,251,543
2. Mike Trout, Angels: 1,155,356
3. Michael Brantley, Indians: 554,620
4. Mookie Betts, Red Sox: 519,146
5. Avisail Garcia, White Sox: 479,349
6. Andrew Benintendi, Red Sox: 416,461
7. George Springer, Astros: 413,115
8. Carlos Beltran, Astros: 370,951
9. Brett Gardner, Yankees: 364,493
10. Lonnie Chisenhall, Indians: 348,816
11. Jose Bautista, Blue Jays: 330,904
12. Adam Jones: Orioles: 327,983
13. Abraham Almonte, Indians: 302,402
14. Josh Reddick, Astros: 289,942
15. Jacoby Ellsbury, Yankees: 269,974
Judge has 18 homers, 41 RBIs and a 1.110 OPS, so eclipsing a DL'd Trout seems perfectly appropriate. Trout's 1.203 OPS, 16 homers, 36 RBIs and 10 stolen bases prior to going on the shelf with a left thumb ligament tear and subsequent surgery show that he's still worthy of a vote, as always.
Brantley's consistency continues to be rewarded, with the Indians star flipping spots with Betts to gain third place, and Garcia and Benintendi also switched slots from last week, with the White Sox slugger moving into fifth.
Fans may cast votes for starters at MLB.com and all 30 club sites -- on computers, tablets and smartphones -- exclusively online using the 2017 Esurance MLB All-Star Game Ballot until Thursday, June 29, at 11:59 p.m. ET. On smartphones and tablets, fans can also access the ballot via the MLB.com At Bat and MLB.com Ballpark mobile apps. Vote up to five times in any 24-hour period for a maximum of 35 ballots cast.
Following the announcement of the 2017 All-Star starters, reserves and pitchers, fans should return to MLB.com and cast their 2017 Esurance MLB All-Star Game Final Vote for the final player on each league's All-Star roster. Then on Tuesday, July 11, while watching the 2017 All-Star Game presented by MasterCard live on FOX, fans may visit MLB.com to submit their choices for the Ted Williams Most Valuable Player Award presented by Chevrolet with the 2017 MLB All-Star Game MVP Vote.
The 88th Midsummer Classic, at Marlins Park in Miami, will be televised nationally by FOX Sports; in Canada by Rogers Sportsnet and RDS; and worldwide by partners in more than 160 countries. ESPN Radio and ESPN Radio Deportes will provide exclusive national radio coverage, while MLB Network, MLB.com and SiriusXM will have comprehensive All-Star Week coverage. For more information about MLB All-Star Week and to purchase tickets, please visit AllStarGame.com and follow @AllStarGame on social media.
Doug Miller is a reporter for MLB.com. Follow him on Twitter @DougMillerMLB. This story was not subject to the approval of Major League Baseball or its clubs.