Lester tested, foils strategy with rare pickoff
On Pham's big lead, Cubs lefty records first such out at first base since Sept. 20, 2015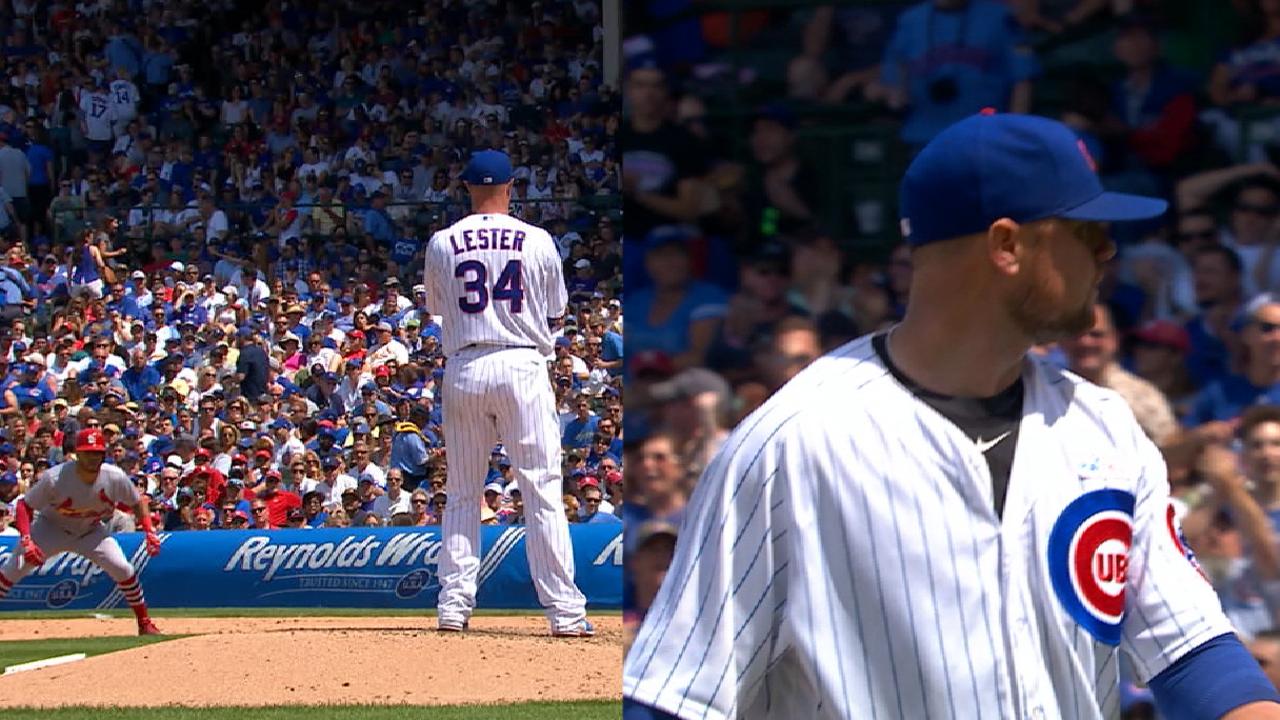 CHICAGO -- The Cardinals' Tommy Pham knew Jon Lester didn't have a great reputation as far as throwing out baserunners, so he decided to test the Cubs left-hander. It didn't work.
With two outs in the Cardinals' fifth during the Cubs' 5-3 victory at Wrigley Field on Saturday, Lester walked Pham. The Cardinals outfielder then extended his lead at first base, testing the pitcher. Lester fired to first baseman Anthony Rizzo, who easily tagged Pham out.
"Anthony was really goading him along there to try to do it, and he did it," Cubs manager Joe Maddon said. "It was pretty solid moving forward."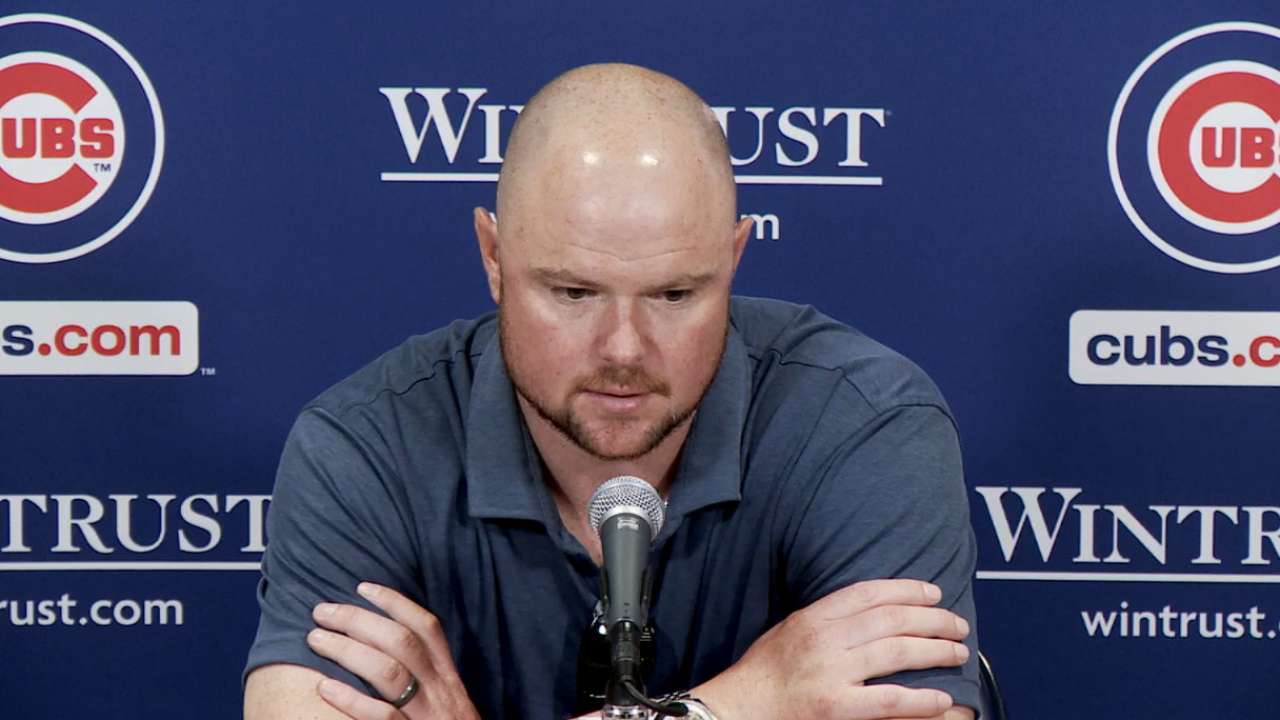 It's the first time Lester has picked off a runner at first since Sept. 20, 2015, and the 27th time in his career. The pickoff in September 2015 was of the Cardinals' Jhonny Peralta.
"Get a big lead, and this is the first time you know he's ever made a successful pick in who knows how long," Pham said. "It worked for him today. The approach was to get off about 20 feet, and I was going to go. I was looking to get at least two bags today. It didn't work."
Did Pham think Lester would throw?
"Nope," Pham said. "You just go off what he's done in the past. If I'm vice versa, if I'm hitting the ball good away, they're not going to keep throwing me balls away. I don't know. He did something different today. It worked for him."
Lester didn't see anyone being goaded or dancing, or at least if he did, he didn't want to talk about it.
"I didn't see anything," Lester said. "I just threw the ball over there."
"It's a mind thing, man," Maddon said. "If you believe you can do it, you can do it. It's that simple. I know the other teams will definitely jot that down. It's something to be reckoned with. However, we've done a nice job controlling the running game with him all year. It's not been an issue. There's been a lot made of it ... but he's done a great job. He's probably our quickest guy to the plate. To this point, it's worked in our favor."
It's helped to have Lester matched up with Willson Contreras, who has seven catcher pickoffs since 2016, most in the Majors. Asked if he was surprised the Cardinals tested him, Lester shrugged.
"You've got to talk to other teams about it," he said. "It's something I haven't shied away from since Day 1. I thought it was a little weird to have your three- or four- or five-hole hitter bunting in the first inning, but whatever."
It was Pham who bunted in the first after Lester walked leadoff man Dexter Fowler, and he was safe on the bunt single.
"If anything, I felt like I probably could've got another step," Pham said of his effort in the fifth. "You know, he just picked. He normally doesn't pick. That's it."
Worth noting
Addison Russell did not start on Saturday, but Maddon said it wasn't that the shortstop was getting a day off. Russell and Javier Baez have been sharing shortstop as they both try to get on track offensively.
Baez hit a solo homer in the third inning.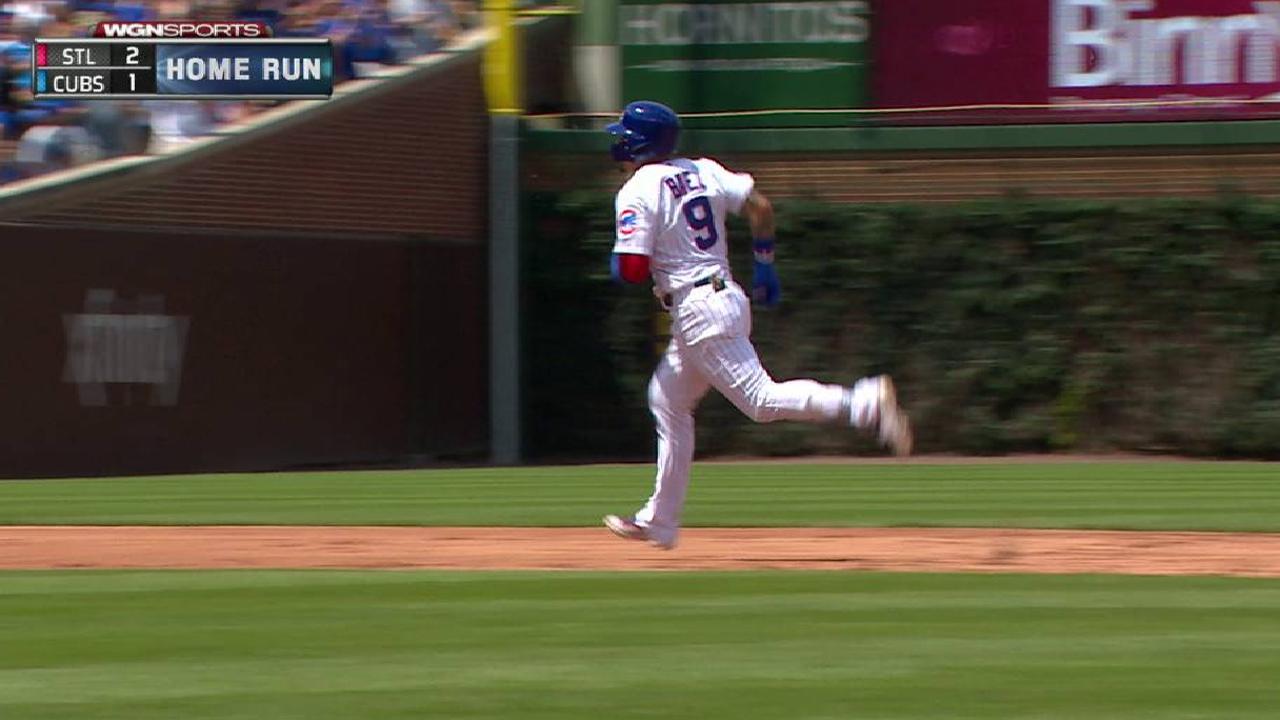 "I call it the 'maybe mode,'" Maddon said of what he sees from Russell, who was batting .213. "For me the 'maybe mode' is when you're trying to decide what to do as the ball's coming in. It's got to be your pitch to hit, every pitch that's thrown, until you decide to turn it down."
Maddon said he didn't want Russell getting too many at-bats when he's struggling at the plate.
"The fact that Javy is as good as he is permits us to do that with these two guys so they don't bury themselves and don't get overwhelmed," Maddon said. "It's a unique opportunity we have to have two shortstops who are so young."
Carrie Muskat has covered the Cubs since 1987, and for MLB.com since 2001. She writes a blog, Muskat Ramblings. You can follow her on Twitter @CarrieMuskat and listen to her podcast. This story was not subject to the approval of Major League Baseball or its clubs.