Batboy foils Flores on pop fly; Collins tossed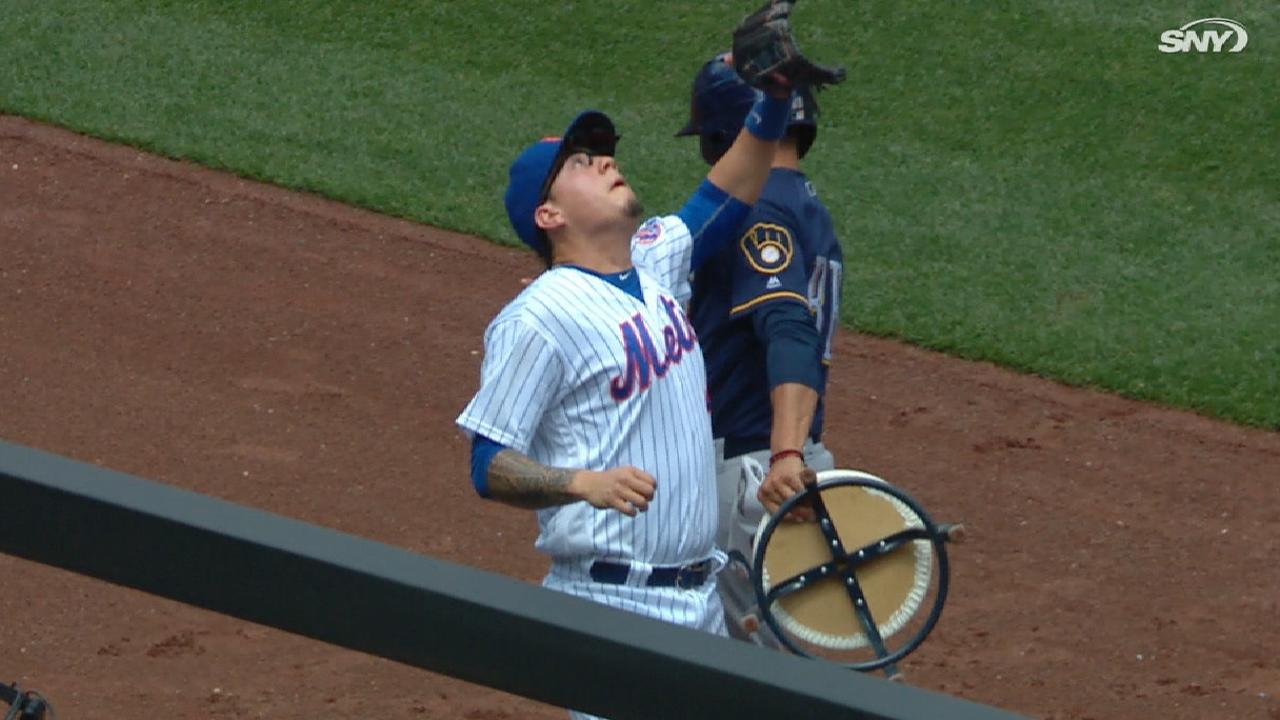 NEW YORK -- Until the jolt came, Wilmer Flores had no idea a batboy was near him. Flores did not hear the footsteps. He could not see the boy, a stool in his hand, trying to jackknife out of harm's way.
Only after the batboy collided with him did Flores grow incensed, glove flopping off his left hand as he raised both palms to the sky. The play did not come back to haunt the Mets, who escaped the fourth inning Thursday with no further damage. But it did result in manager Terry Collins' ejection in a 2-1 loss to the Brewers at Citi Field.
"You don't see that very often, for sure," Brewers manager Craig Counsell said.
With the bases loaded and one out in the fourth inning, Eric Sogard lifted a popup down the third-base line, near the Brewers' dugout. As Flores drifted over to catch it, a batboy -- employed by the Mets, though he wore a Brewers' jersey due to his assignment in the visiting dugout -- made contact with Flores' hand and body. Flores threw his arms up as the ball clunked to the dirt beside him.
• Flores, batboy got all tangled up, some wackiness ensued
Initially, umpires ruled Sogard out via interference. But after a brief conference, the crew invoked Major League Baseball Rule 3.15, which states that an interference call is only relevant if the contact is intentional -- in other words, if the batboy "kicks the ball or picks it up or pushes it."
"It's like hitting an umpire to me," Counsell said. "The kid's trying to get out of the way. Flores was not, by any means, sitting underneath the ball. It's a tough call and it's an unfortunate one, but it didn't affect the game."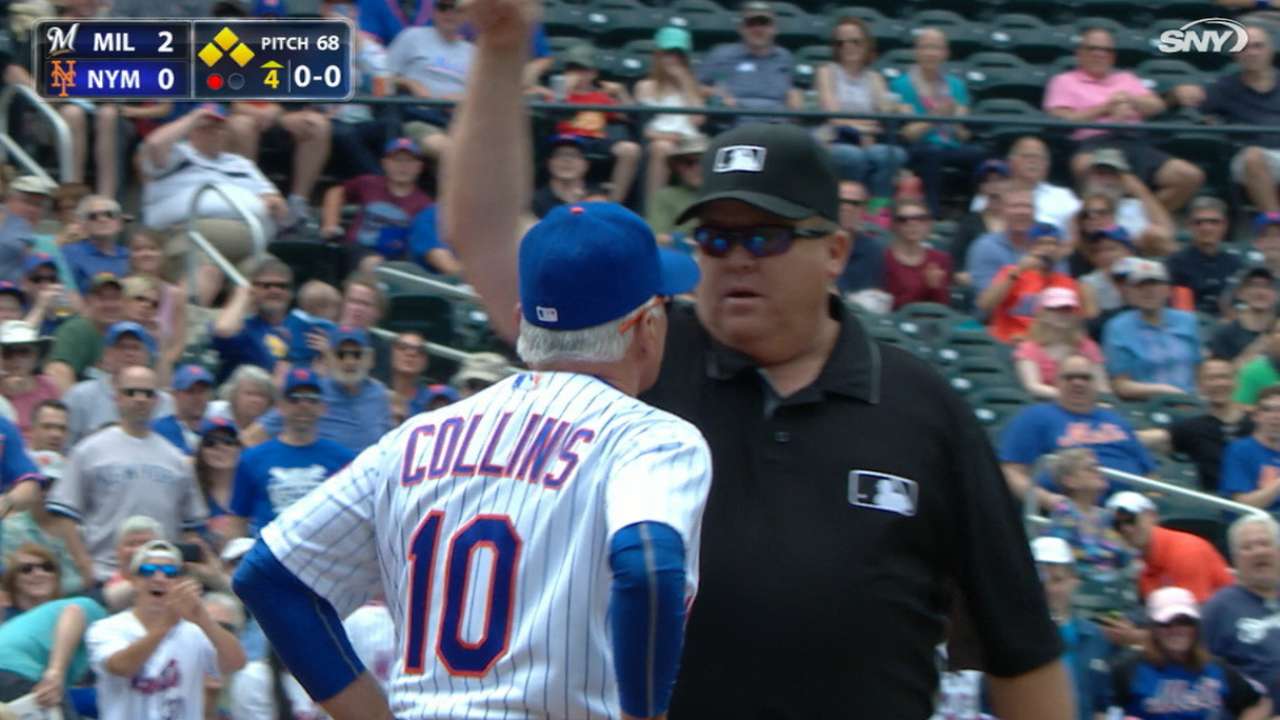 As soon as umpires reversed the call, Collins raced out of the dugout, arguing animatedly for several moments until crew chief Fieldin Culbreth ejected him. Collins also engaged Culbreth in an animated argument Wednesday night, when the umpire ruled that he took too long to initiate a video replay review.
"Fieldin did the right thing getting [the crew] together," Collins said. "My issue is it's a routine catch. It would be one thing if it's a difficult play. That was my argument."
The ruling, at least, did not cost the Mets, as Sogard eventually hit into an inning-ending double play.
"Ball don't lie," Flores said.
In retrospect, it was a humorous aside to a game that featured another strong outing from Zack Wheeler, but the top four batters in New York's lineup went 0-for-15 vs. Chase Anderson and the Brewers' bullpen. Mets players are typically friendly with bat and ballboys, whose duties extend beyond the field of play. Flores said he knows the batboy he collided with personally, and planned to joke with him about the incident to ease his mind.
"You can't get mad at him," Flores said. "He was trying to get out of the way. But he went the wrong way."
Anthony DiComo has covered the Mets for MLB.com since 2008. Follow him on Twitter @AnthonyDiComo and Facebook, and listen to his podcast. This story was not subject to the approval of Major League Baseball or its clubs.