Inbox: Could Schwarber use a break?
Beat reporter Carrie Muskat answers Cubs fans' questions
CHICAGO -- Kyle Schwarber, catchers, tunnels and Bryzzo are among the topics in this week's Cubs Inbox.
Is there a sense that Schwarber's issues are matters of swing mechanics, timing or both? He looks like his knees could use a break, too. Any chance of a 10-day disabled list move based on his knee?
-- Ray L., Gloucester, Mass.
Schwarber is not going on the disabled list (he's had enough of that after last year) to fix his swing. His left knee is fine. Schwarber's swing has looked better, as evidenced by his home run Tuesday night against the Padres. The problem has been more pitch selection than mechanics. Patience, folks.
• Submit a question to the Cubs Inbox
Is there a stat with the team record for Miguel Montero vs. Willson Contreras behind the plate this year? I love Contreras, but he simply isn't as experienced as Montero (or David Ross, for that matter).
-- James T., Los Angeles
It's unfair to blame a catcher for the team's record, because there are so many other variables involved. Cubs pitchers have done nothing but praise Contreras, especially Jon Lester. Contreras ranks fifth in the National League in catcher's ERA (4.00), and pitchers have a combined 4.44 ERA with Montero behind the plate. Since you asked, the Cubs are 15-19 when Contreras catches and 10-8 when Montero starts.
Last year, Ross had a 2.39 catcher's ERA, but remember, he mainly caught Lester. Montero was 3.16; Contreras 4.07.
I notice that after an at-bat at Wrigley Field, particularly a home run, the player will go down the dugout steps into the tunnel. Why? What's down there?
-- Michael U., Winston-Salem, N.C.
When players disappear, they can express themselves about whatever happened in the game without having the television cameras watching. Plus, there is a video setup so they can immediately watch what just happened.
Last year, Theo Epstein talked about the intangible ingredients when building a winning team. Talent isn't enough, players need something bigger than themselves for which to play. Also, the culture of the clubhouse plays a big role. While the 2017 Cubs have the talent, is it fair to say they're struggling to find the bigger picture? Has the loss of Ross in the locker room had an effect? Is it a combination?
-- Kelly S., Chicago
The Cubs do miss Ross, who will be in Chicago this weekend as part of his ESPN gig. The problem lately has been a lack of clutch hitting and players trying to do too much at the plate. Cubs players know how much fun it was to win the World Series last year, and they want to do so again. They have a goal.
How many teams have repeated as champions in baseball?
-- Peter S., Cary, Ill.
Here's a list of teams that have repeated as World Series champions:
1998-2000 Yankees (three World Series)
1992-93 Blue Jays
1977-78 Yankees
1975-76 Reds
1972-74 Athletics (three World Series)
1961-62 Yankees
1949-53 Yankees (five World Series)
1936-39 Yankees (four World Series)
1929-30 Philadelphia Athletics
1927-28 Yankees
1921-22 New York Giants
1915-16 Boston Red Sox
1910-11 Philadelphia Athletics
1907-08 Cubs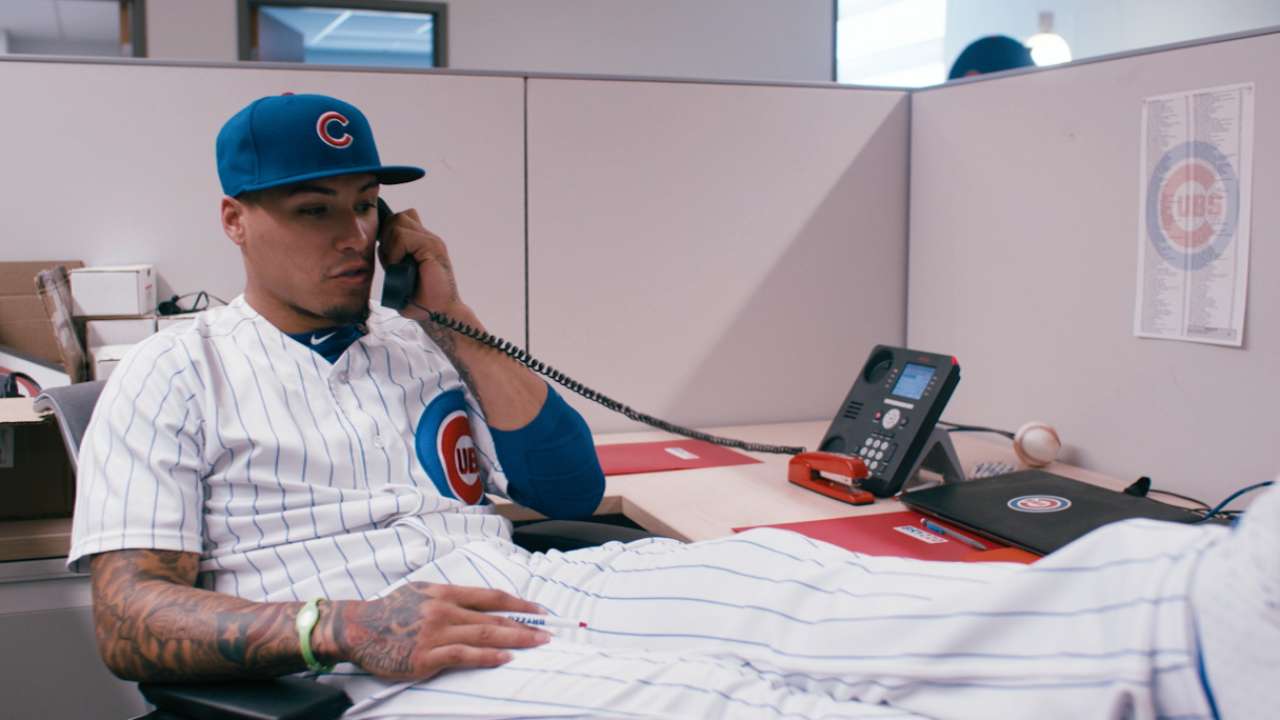 Where were the "Bryzzo" commercials filmed? Will there be more down the line and maybe even bloopers?
-- John N., Las Vegas
The commercials were filmed in the offices of the Cubs' Spring Training complex in Mesa, Ariz., and they've already shown a couple more featuring the intern, Ross, Ben Zobrist, Addison Russell and Javier Baez, who were part of the expansion. Yes, there were a few bloopers.
Carrie Muskat has covered the Cubs since 1987, and for MLB.com since 2001. She writes a blog, Muskat Ramblings. You can follow her on Twitter @CarrieMuskat and listen to her podcast. This story was not subject to the approval of Major League Baseball or its clubs.