Inbox: Will Gordon, KC get on track in '17?
Beat reporter Jeffrey Flanagan answers fans' questions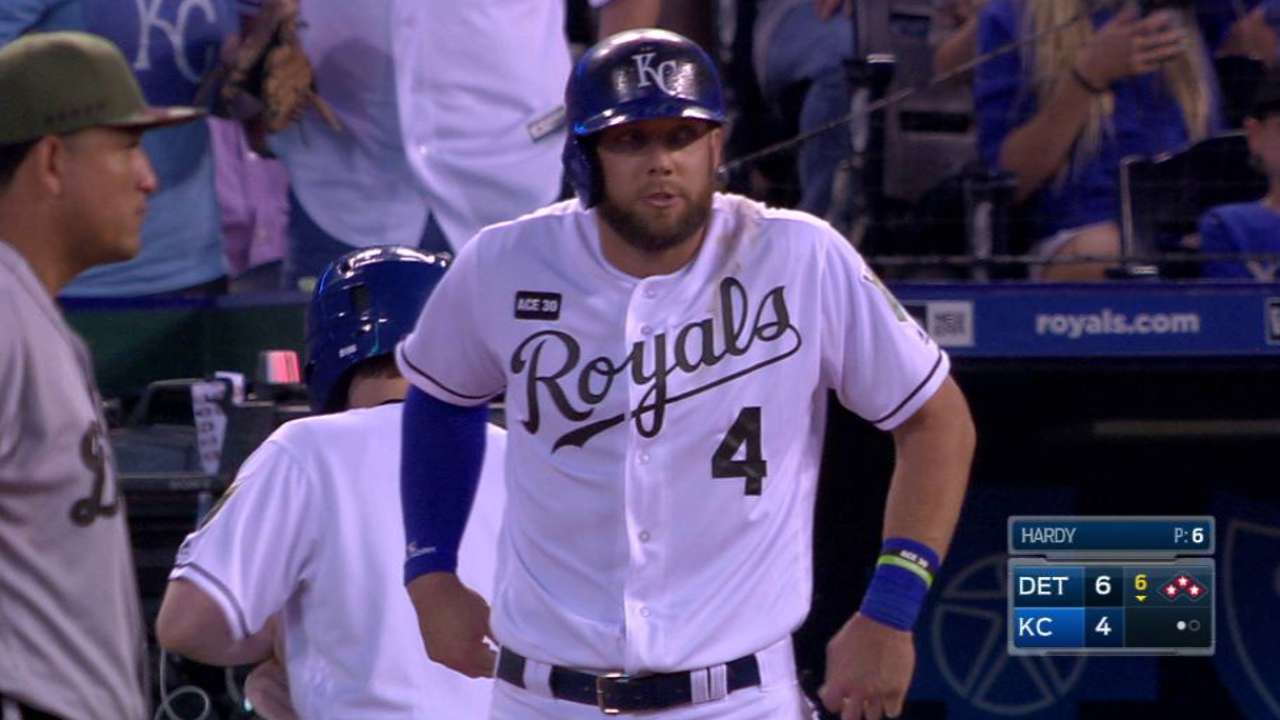 KANSAS CITY -- The Royals seemingly are stuck in the mud, eight games below .500 and unable to garner any momentum.
But you, Royals fans, are on top of your game. You fired off the best questions (and not everyone beat the drum about fire sales) we've had for an Inbox in years. So let's get started:
How do you explain the rapid decline of this team? To me it just been startling

— haranahan (@mh4655) May 31, 2017
• Submit a question to the Royals Inbox
It has been startling. Kansas City's offense has been dreadful, the bullpen has had its hiccups, and the starting rotation over the past two weeks has been wildly inconsistent. Yet they are 5 1/2 games out of first place in the American League Central. Every time you think the Royals might make one of their classic runs, they throw in a clunker. They had a chance to sweep the Indians on the road with their best pitcher on the mound on Sunday, but they got routed. Kansas City had a chance to take the series with Detroit and had a 3-0 lead with Ian Kennedy on the mound on Wednesday, but lost. The theme of the season so far.
Do you have any hope for Hammel, Kennedy, Gordon?

— Donald Summerside (@donsummer) June 1, 2017
Actually, I thought the life on Kennedy's four-seam fastball returned on Wednesday night, so I think he's close to being himself again. Jason Hammel made an adjustment with his setup that worked in New York, and worked for four innings on Monday, so I think he's close. The Alex Gordon situation is the most puzzling on the team right now. Manager Ned Yost and general manager Dayton Moore haven't told me this yet, but they have to be close to thinking Gordon is a platoon player now. Gordon is a four-time Gold Glove Award winner, and defense matters to Moore and Yost, so that's what is keeping him in the lineup. But it's painful to watch Gordon at the plate right now.
If we're going to do a complete rebuild, does it make sense to listen to offers for Salvy and Duffy, too?

— Mario Molina (@ModeratelySuper) June 1, 2017
This won't be a complete rebuild. Not a chance. And I'm not sure why fans on Twitter are so anxious to blow up this team and start over -- the guess here is that some fans don't remember the agony of 28 years of hopelessness before the Royals turned it around in 2013. They are not going to trade Danny Duffy or Salvador Perez.
Can everyone go one day NOT talking trade and focus on positive team attributes?

— Teri Adams (@teriadams80) June 1, 2017
Most of the fire sale noise on Twitter is just snark. If Kansas City is 10 or 15 games out in late July, sure, Moore will deal some of his pending free agents. But for attendance reasons, new television contract reasons (the current FOX deal expires after 2019), clubhouse atmosphere reasons, Moore isn't interested in gutting the team and living through 100-loss seasons.
How long will it take for everyone to begin correctly pronouncing Bonifacio?

— Justin Bro (@justinmarkbro) June 1, 2017
I asked Jorge Bonifacio the other day and he said his brother, Emilio, doesn't even pronounce it right: It's Boney-facio.
I don't see steady innings for Soler unless Cain is traded and A1 moves to CF, what's the plan to get him in the lineup w/out removing Boni?

— Melvin Lomax (@GOAT029) June 1, 2017
Great question. Not sure I see the logic in having Jorge Soler ride the bench here. He has options. He has been replaced as the starting right fielder (although Yost won't admit it) and he didn't even start against a left-hander on Wednesday. The Royals would be better off, and so would Soler, if he got regular at-bats at Triple-A and someone like Terrance Gore was on the roster now as a late-inning weapon on the bases.
What's one sleeper in the farm system that nobody's talking about that you feel will make a real impact at the major league level one day?

— Jack Hanson (@JackHansonRN) May 31, 2017
First baseman Samir Duenez, who is at Double-A Northwest Arkansas. He's only 20, but I was really impressed with him at Spring Training. Duenez has a sweet swing, has power and plays an above-average first base. Remember that name.
Jeffrey Flanagan has covered the Royals since 1991, and for MLB.com since 2015. Follow him on Twitter @FlannyMLB. This story was not subject to the approval of Major League Baseball or its clubs.