Arrieta focused on big picture after rough trip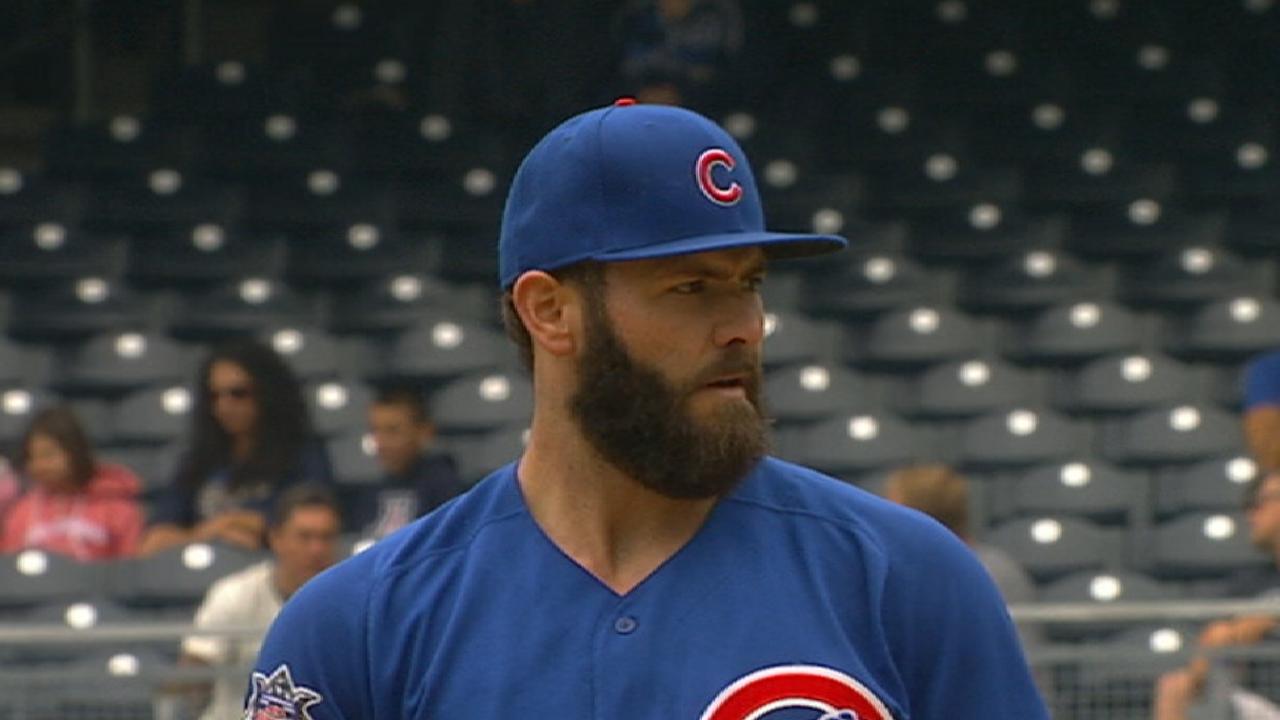 SAN DIEGO -- The Cubs may have lost six in a row, but they aren't panicking -- especially Jake Arrieta, who is quick to point out that the National League Central is still a tight race.
Arrieta, who opened the West Coast trip last Friday with a loss to the Dodgers, ended the junket on Wednesday with a no-decision as Koji Uehara served up the go-ahead run in the eighth in the Padres' 2-1 win to complete the sweep. The Cubs have lost six in a row for the first time under manager Joe Maddon.
"With what we accomplished last year, the expectations are really high and they should be," said Arrieta, who gave up one run on five hits over six innings. "We'll take it. We'll deal with the criticism and continue to move forward and do everything we can to continue to show up every day and prepare and be ready to play good defense and swing the bats and throw the ball well.
"I think it's been magnified because we haven't been doing anything collectively well," Arrieta said. "We've talked as a team and we understand what we're capable of. It's just not happening for us at the moment. Obviously, it was a difficult road trip for us."
The Cubs totaled nine runs in the six games against the Dodgers and Padres, and went 3-for-40 with runners in scoring position. The third instance occurred in the second inning Wednesday on Javier Baez's RBI infield single.
Arrieta's curveball was sharp, and he struck out seven over six innings, but he also has served up 11 homers, one more than he did all of 2015 when he won the NL Cy Young Award. There have been no team meetings, just constant conversation, Arrieta said.
"We kind of talk about the general flow of what's happening amongst the team and how to handle it," Arrieta said. "We continue to try to pick guys up, pat guys on the back and try to get them to understand -- especially the young guys -- that if you continue to grind and go through your routine and do everything necessary, the chances are with the talent we have, it'll play out in our favor. Right now it's not, and that's what we're dealing with."
Through 52 games last year, the Cubs were 22 games over .500 (37-15). They're 25-27 after Wednesday's loss.
"If you panic, if you worry, we still have to show up and play a game every day," Arrieta said. "There's no time to panic. If that happens, especially at this point in the season, when we're two, 2 1/2 games out of first place, it's going to work against us. We have to just maintain a positive vibe in here the best we can and continue to move forward, even if we lose several games in a row. I know it's a cliche thing to say, but sometimes that just happens in this game."
Maddon knows.
"There's no magic potion," Maddon said. "We just have to keep going out there and playing, believe in our guys -- which I do, 100 percent. These are good young players. They've shown it in the past. They'll show it to you again."
Carrie Muskat has covered the Cubs since 1987, and for MLB.com since 2001. She writes a blog, Muskat Ramblings. You can follow her on Twitter @CarrieMuskat and listen to her podcast. This story was not subject to the approval of Major League Baseball or its clubs.