Marathon man: Mercer's bat clutch for Bucs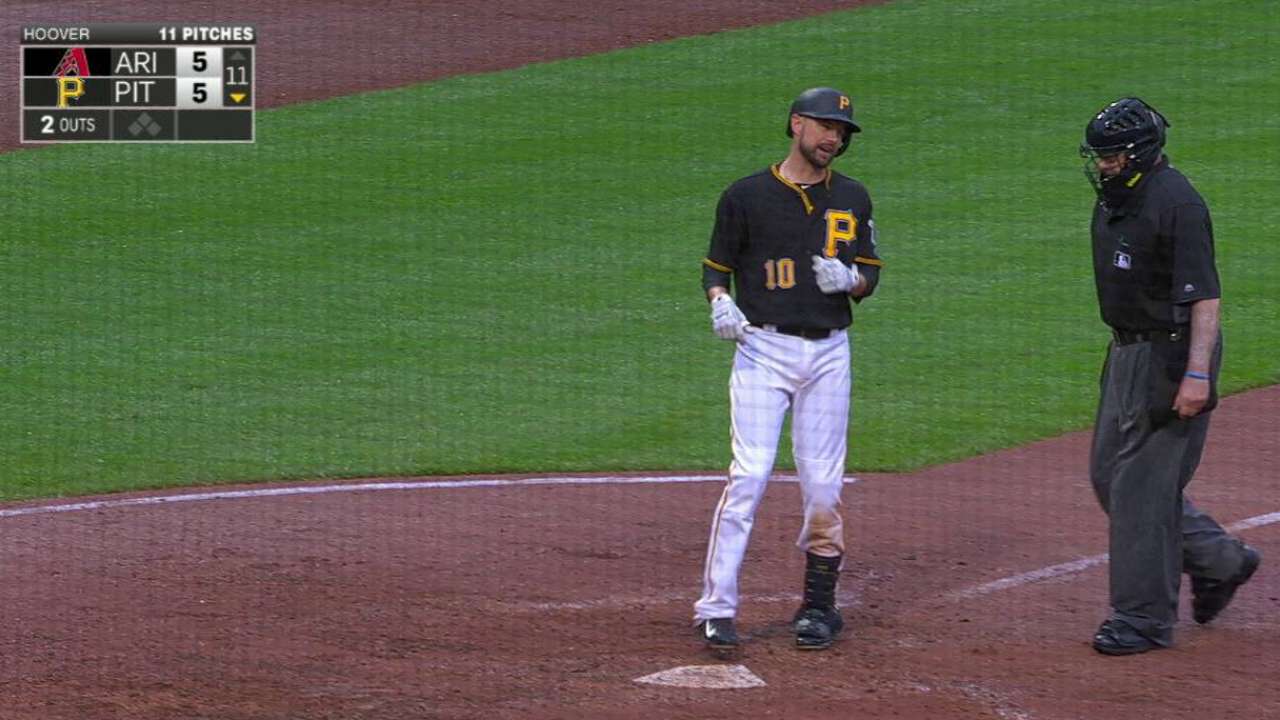 PITTSBURGH -- If Chris Owings hadn't made an outstanding play up the middle in the ninth inning, Jordy Mercer might have ended Wednesday's series finale against the D-backs in regulation. If Mercer hadn't overcome the elements and ripped a ball into PNC Park's mostly empty outfield seats in the 11th, they might not have played quite so long into the evening.
Mercer was in the middle of the comebacks, but the Pirates fell short in a 6-5, 14-inning loss. The game itself took 4 hours, 40 minutes, not including a rain delay of 1 hour, 33 minutes following Mercer's tying homer.
The Pirates used 23 players -- only starters Trevor Williams and Ivan Nova didn't take the field -- and watched a sunny afternoon give way to dark skies, torrential rain, a rainbow and, finally, enough sun to finish the game.
The Bucs took their fourth loss of a six-game homestand, dropping series to the Mets and D-backs before boarding a flight for New York.
"We were never ahead. I thought we battled and scratched and kept clawing," manager Clint Hurdle said. "To battle back, for Mercer to swing the bat the way he did in the rain with two outs to tie a ballgame up, there's plays all over the place. Those guys, they like to play."
Trailing by a run in the ninth against closer Fernando Rodney, Mercer came to the plate with the bases loaded and none out -- hitting a hard grounder up the middle. D-backs second baseman Chris Owings made a sliding stop, beat Ngoepe to the bag and quickly fired to Goldschmidt at first for a double play.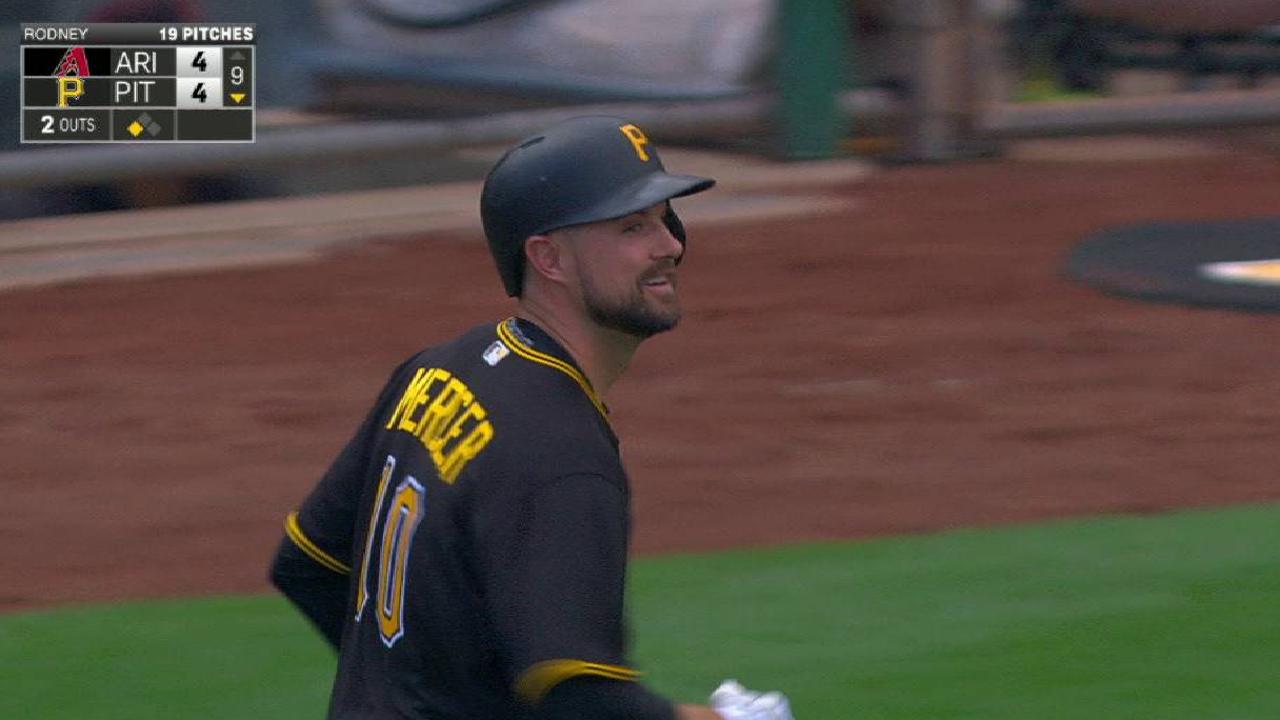 The tying run scored, but Josh Bell struck out to strand the potential winning run at third.
"You just try to get the run in -- not that way, but at least I got something in," Mercer said. "We got the game tied and carried on. He just made a great play."
Again trailing by one run in the 11th, Mercer came up with two out and none on. Rain was pouring at that point, turning the infield dirt into mud and driving most fans from their seats. With both teams set to travel on Wednesday night, they would do everything possible to finish the game. Mercer stepped into the box, rain dripping down from his helmet, and lined a 92.2-mph fastball from reliever J.J. Hoover a projected 415 feet to left-center field, according to Statcast™.
"Just crazy," Mercer said. "You hit it, it's over the wall, you're running around the bases in the mud. [Coach Joey Cora is] laughing at third base. It's a mess. It was cool to tie it up, though."
The D-backs pulled ahead in the 14th, and there would be no final comeback by Mercer and the Pirates. But Mercer's 2-for-6 day continued his steady turnaround at the plate.
When the Pirates left Chase Field on May 14, Mercer was batting .203/.310/.276 on the year. He felt he was in a good place, just unlucky, and that feeling was backed up by his low average on balls in play.
In 15 games since then, Mercer has hit .357 with three homers and more walks (seven) than strikeouts. What's the difference?
"I haven't changed anything," Mercer said. "It's part of baseball. That's the beauty of this game.
"I knew I was in a good spot. I was seeing the ball well, taking my walks, barreling a lot of stuff up and wasn't getting anything to show for it. You know it's about to change. You just stick with it and continue to play."
Adam Berry has covered the Pirates for MLB.com since 2015. Follow him on Twitter and Facebook, read his blog and listen to his podcast. This story was not subject to the approval of Major League Baseball or its clubs.