First update for NL All-Star voting unveiled
Harper leads all candidates as host of close races develop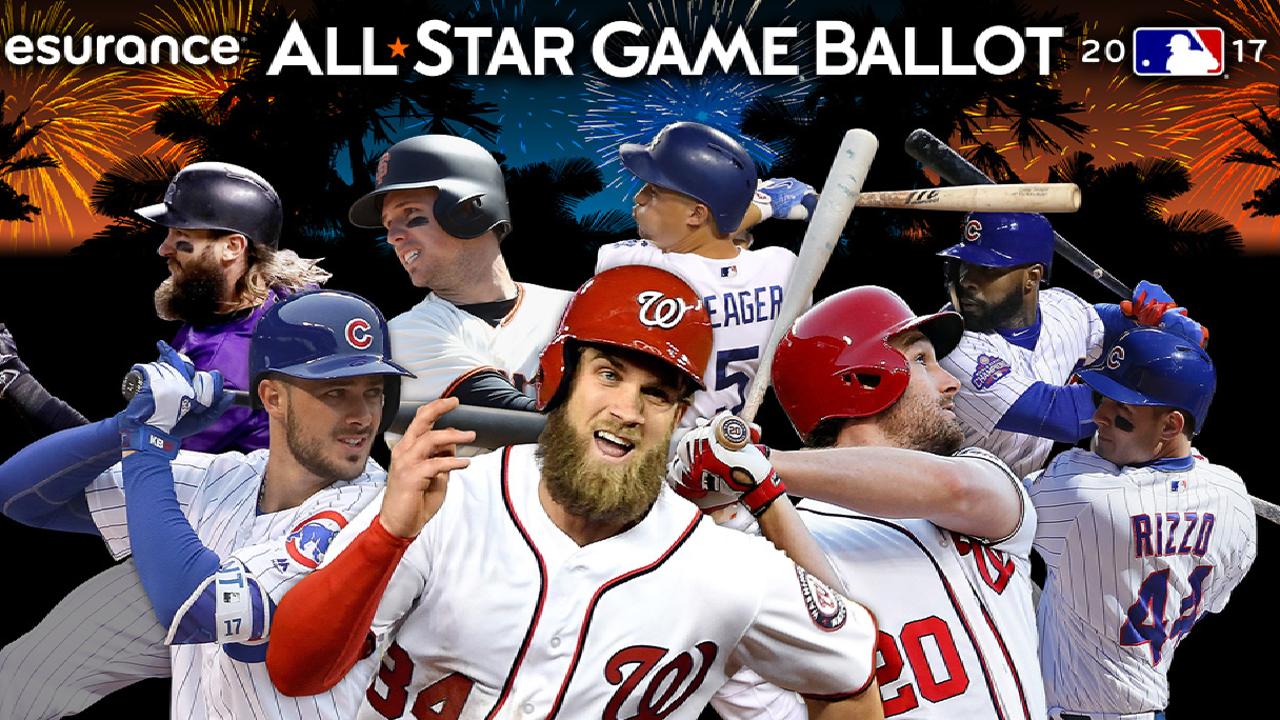 For the first time this year, the fans have spoken.
With Memorial Day weekend in the rearview mirror, it's time to talk about summer, and, to be more specific when it comes to naming the best players in Major League Baseball for the first half of the 2017 season, midsummer. The 88th All-Star Game presented by MasterCard is set for July 11, and it will be played at Marlins Park in Miami for the first time.
On Tuesday morning, the first update from the fan voting in the Esurance MLB All-Star Game Ballot arrived, and participants can see their work in the form of the National League leaders. The first American League voting update will be released on Wednesday.
• VOTE NOW for #ASGWorthy players
It's not surprising to see dynamic Nationals outfielder Bryce Harper as the overall voting leader for the NL, but there are a few surprises along the way in the initial update. Here are the results:
CATCHER
1. Buster Posey, Giants: 559,428 votes
2. Willson Contreras, Cubs: 355,289
3. Yadier Molina, Cardinals: 303,857
4. Matt Wieters, Nationals: 177,957
5. Yasmani Grandal, Dodgers: 127,844
Posey, a three-time World Series champion and one-time NL Most Valuable Player Award winner, is always a popular choice, as is perennial Gold Glover Molina, who also happens to own a couple of World Series rings of his own. But Posey has also up a .963 OPS (entering play on Tuesday) with seven home runs.
Contreras has fared well as the Cubs' everyday backstop, and he's the co-leader, along with Grandal, in RBIs among NL catchers with 23. Wieters has been solid in his first foray in the NL, swatting four homers and driving in 17 for the Nationals.
FIRST BASE
1. Anthony Rizzo, Cubs: 452,620
2. Ryan Zimmerman, Nationals: 359,055
3. Freddie Freeman, Braves: 286,389
4. Paul Goldschmidt, D-backs: 205,828
5. Eric Thames, Brewers: 170,244
Rizzo is off to a slow start in batting average (.235), but he's got 12 homers and 30 RBIs, an OPS of .835, and the defending World Series-champion Cubs have a fan base that continues to flock to the online ballots and support their favorite players. Meanwhile, Zimmerman's incredible rebound year (1.120 OPS, 14 homers, 40 RBIs) has deservingly resounded loudly with fans.
The only thing that can stop Freeman, apparently, is the May 18 left wrist fracture that will have him sidelined for up to two months. Freeman had posted a .341/.461/.748 slash line with 14 homers and 25 RBIs at the time of his injury. Goldschmidt is getting his usual love for his usual consistency (11 homers, .998 OPS) and Thames' unexpected April heroics have resonated in lots of votes.
SECOND BASE
1. Daniel Murphy, Nationals: 669,643
2. Javier Baez, Cubs: 474,119
3. Brandon Phillips, Braves: 126,404
4. Kolten Wong, Cardinals: 118,416
5. DJ LeMahieu, Rockies: 113,889
Murphy's offensive dominance at the position continues. After an MVP-caliber 2016, he keeps raking, as evidenced by nine homers, 35 RBIs and a .929 OPS. Baez has eight homers and provides highlight-reel defense, as much of America learned last October, and Phillips seems to be enjoying his new team in Atlanta. He's hitting .301.
Wong is chipping in to the Cardinals' attack with a .378 on-base percentage and .792 OPS, and LeMahieu, last year's NL batting title champ and a Gold Glove winner, has a .354 OBP to help pace the first-place Rockies' attack.
THIRD BASE
1. Kris Bryant, Cubs: 632,900
2. Nolan Arenado, Rockies: 392,051
3. Justin Turner, Dodgers: 220,029
4. Jedd Gyorko, Cardinals: 182,950
5. Anthony Rendon, Nationals: 137,767
Bryant, the reigning NL MVP Award winner, has Cubs Nation firmly behind him, and he has a .930 OPS, 11 homers and 23 RBIs. Arenado is a Gold Glover at the hot corner with a .913 OPS, 12 homers and 34 RBIs.
A recent right hamstring injury has derailed the consistent Turner, who was batting .379 when he got hurt. Gyorko (.927 OPS, eight homers) has been brilliant for St. Louis, and Rendon (.910 OPS, nine homers, 32 RBIs) is off to a great start.
SHORTSTOP
1. Corey Seager, Dodgers: 399,347
2. Addison Russell, Cubs: 379,640
3. Zack Cozart, Reds: 264,516
4. Chris Owings, D-backs: 219,287
5. Trea Turner, Nationals: 180,184
Seager finished third in the NL MVP Award voting in 2016, and he's done nothing to slow down this year. He is second among NL shortstops with seven homers, has driven in 24 runs and has an OPS of .856.
Russell's 19 RBIs have been a bright spot for the Cubs, and Cozart's blistering start to 2017 (.344/.422/.569, five homers, 25 RBIs) has him squarely on the All-Star radar. Owings (.841 OPS, six homers, 27 RBIs) is in the midst of a breakout offensive season, and Turner has five homers and 23 RBIs and hasn't even gotten hot yet.
OUTFIELD
1. Bryce Harper, Nationals: 900,079
2. Charlie Blackmon, Rockies: 520,479
3. Jason Heyward, Cubs: 344,166
4. Ben Zobrist, Cubs: 327,231
5. Kyle Schwarber, Cubs: 305,449
6. Matt Kemp, Braves: 284,420
7. Marcell Ozuna, Marlins: 255,945
8. Giancarlo Stanton, Marlins: 232,329
9. Yoenis Cespedes, Mets: 229,401
10. Jay Bruce, Mets: 180,970
11. Dexter Fowler, Cardinals: 180,888
12. Ryan Braun, Brewers: 143,587
13. Jayson Werth, Nationals: 127,511
14. Yasiel Puig, Dodgers: 125,149
15. Carlos Gonzalez, Rockies: 117,944
Harper is healthy and hammering the ball once again. The charismatic Nationals star has posted a .331/.443/.663 slash line with 15 homers and 41 RBIs, putting him right at the top of the NL MVP Award conversation. Blackmon continues to prove his versatility and value to a tough Rockies team, slashing .329/.364/.625 with 13 homers and a league-leading 46 RBIs.
Heyward has rebounded offensively, with five homers and 21 RBIs while providing his usual Gold Glove defense. Zobrist (.816 OPS, six homers) and the popular Schwarber (seven homers) round out the top five.
Fans may cast votes for starters at MLB.com and all 30 club sites -- on computers, tablets and smartphones -- exclusively online using the 2017 Esurance MLB All-Star Game Ballot until Thursday, June 29, at 11:59 p.m. ET. On smartphones and tablets, fans can also access the ballot via the MLB.com At Bat and MLB.com Ballpark mobile apps. Vote up to five times in any 24-hour period for a maximum of 35 ballots cast.
Following the announcement of the 2017 All-Star starters, reserves and pitchers, fans should return to MLB.com and cast their 2017 Esurance MLB All-Star Game Final Vote for the final player on each league's All-Star roster. Then on Tuesday, July 11, while watching the 2017 All-Star Game presented by MasterCard live on FOX, fans may visit MLB.com to submit their choices for the Ted Williams Most Valuable Player Award presented by Chevrolet with the 2017 MLB All-Star Game MVP Vote.
The 88th Midsummer Classic, at Marlins Park in Miami, will be televised nationally by FOX Sports; in Canada by Rogers Sportsnet and RDS; and worldwide by partners in more than 160 countries. ESPN Radio and ESPN Radio Deportes will provide exclusive national radio coverage, while MLB Network, MLB.com and SiriusXM will have comprehensive All-Star Week coverage. For more information about MLB All-Star Week and to purchase tickets, please visit AllStarGame.com and follow @AllStarGame on social media.
Doug Miller is a reporter for MLB.com. Follow him on Twitter @DougMillerMLB. This story was not subject to the approval of Major League Baseball or its clubs.