McCann looking to prevent future hand issues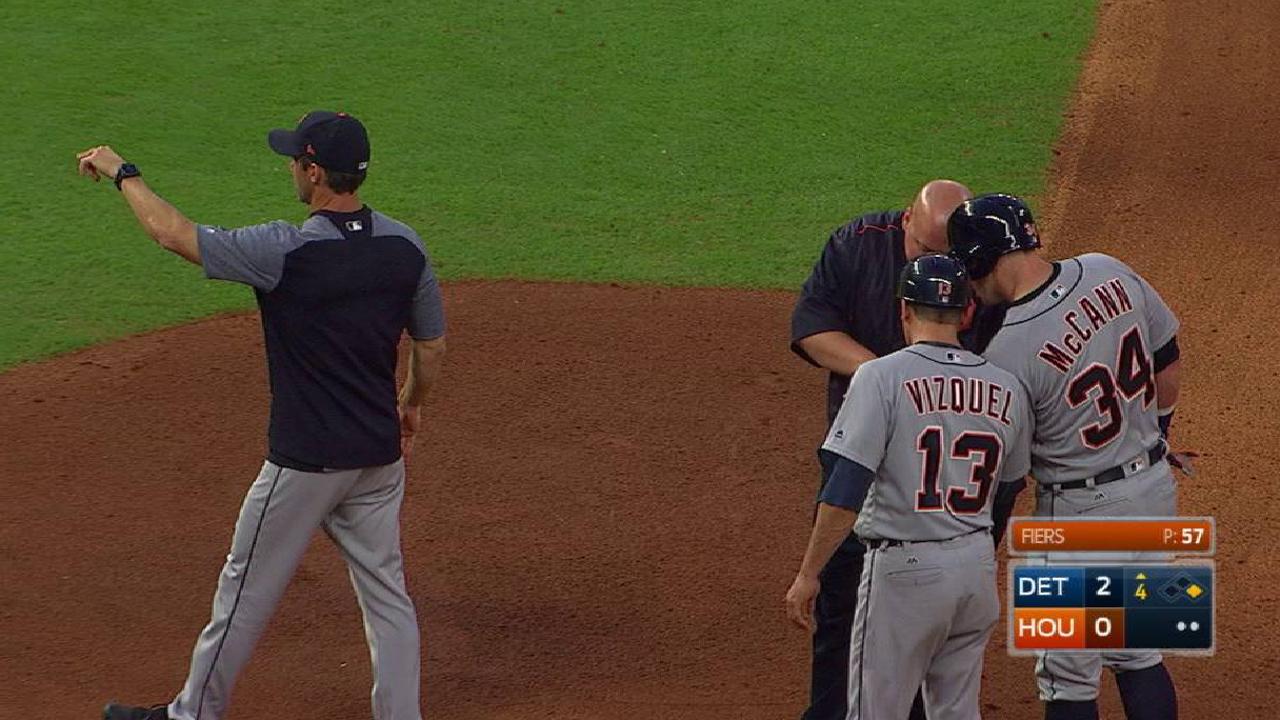 KANSAS CITY -- The large black spot on the side of Tigers catcher James McCann's left palm was the first sign that his lacerated hand might be a tougher heal than initially hoped. Though McCann has received treatment on it and aired it out, he still has stitches in there, with no timetable for removal.
Add to that the location of the laceration, right where McCann needs to grip a bat to swing, and it's far from automatic that he will be ready when he's eligible to return from the 10-day disabled list next week.
"When I squeeze a bat or squeeze my glove, it's exactly where it would open and just split," McCann said before Monday's series opener against the Royals. "It's obviously frustrating, but the good news is once it's healed, there shouldn't be any limitations."
McCann sustained the injury when he was hit by a pitch in Thursday's series finale at Houston, the ball pinching the skin at the base of his hand against the bat. It's a recurrence of an injury he sustained by a similar hit-by-pitch at the end of Spring Training, though that just resulted in a blister. It's a freak injury, but the fact that it has happened twice in about two months has the Tigers looking for ways to prevent another one.
"We're kind of exploring ideas," McCann said. "Maybe put some tape to widen the knob at the end of my bat, something just to -- if it does get hit there -- maybe prevent such a bad pinch."
This was the first day McCann was doing any activity. He took it easy over the weekend in Chicago because the medical staff didn't want him raising his blood pressure and potentially popping the wound. On Monday, he was cleared to run and throw, but he can't do any hitting or catching until the wound has healed.
Worth noting
Outfielder Jim Adduci has been throwing and started light running as he works his way back from a right oblique strain. Adduci went on the 10-day DL on May 12. He said he's trying to get to a point where he can rotate pain-free before he can swing a bat.
Jason Beck has covered the Tigers for MLB.com since 2002. Read Beck's Blog, follow him on Twitter @beckjason and Facebook. This story was not subject to the approval of Major League Baseball or its clubs.