Cutch hits walk-off HR in wild win vs. D-backs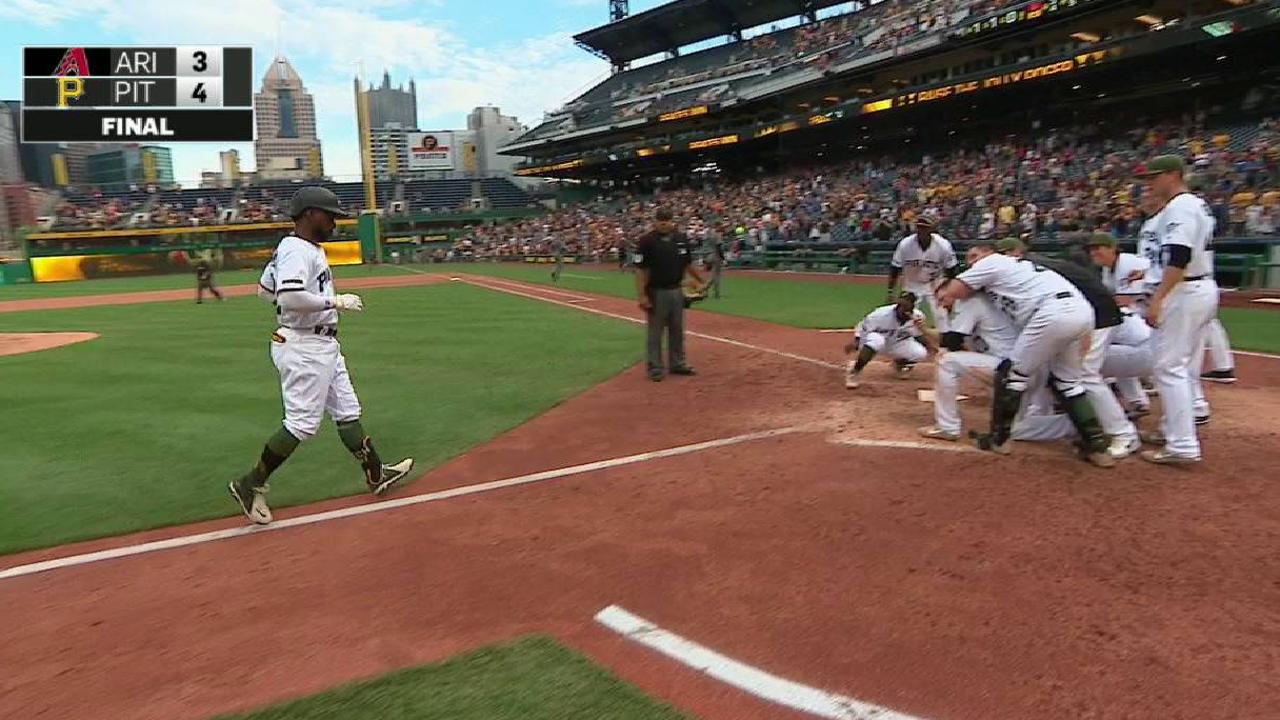 PITTSBURGH -- Minutes after Chris Iannetta launched a two-out, full-count pitch from Tony Watson into the left-field seats for a game-tying home run, Pirates catcher Francisco Cervelli was emptying a cooler over Andrew McCutchen's head. Three pitches into the bottom of the ninth, McCutchen ripped a walk-off home run into the right-field seats off Archie Bradley to give the Pirates a 4-3 win on Memorial Day at PNC Park.
Last week, McCutchen might have pulled that pitch -- a 97.3 mph fastball up and away -- to the left side of the infield. But the work he put in while he was benched in Atlanta last Wednesday and Thursday, and the lessened pressure of batting sixth instead of third, has paid off for Pittsburgh's struggling superstar.
"For me to be in a spot and position where I can get a fastball out over the plate and drive it out to right field, it shows that I'm in a good spot. A week ago, I probably wouldn't have been able to do that," McCutchen said. "I'm in a better spot than I was in a week ago, a better spot than I was yesterday. Continue just to keep working in that fashion. Hopefully it can get hot really soon."
It was a quick turnaround after a disappointing turn of events for the Pirates. One strike away from securing a 3-1 win, Watson blew his third save of the season. But McCutchen picked up the Pirates' closer, hitting Bradley's fastball a Statcast-projected 359 feet to right.
• Iannetta is D-backs' man in ninth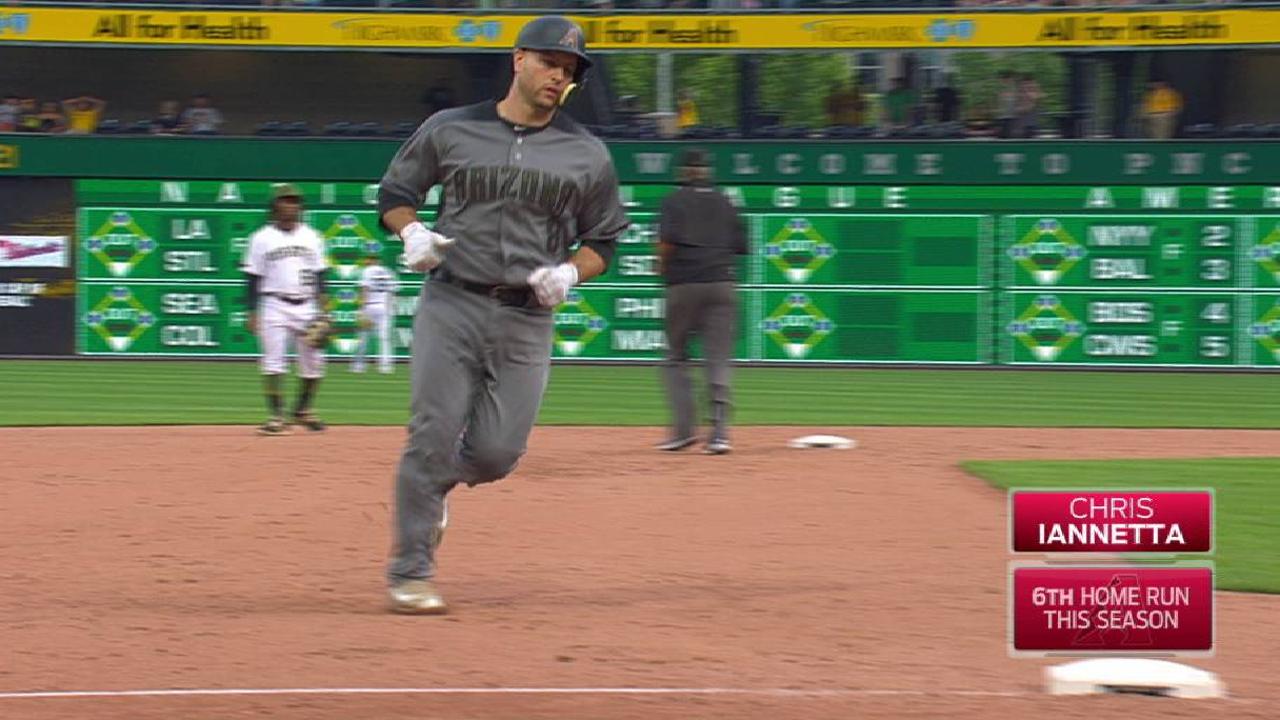 "I saw the ball leave the bat and I knew right away it was gone," Bradley said. "I'm more frustrated for my team. [Iannetta] had a big homer like that, and then to come in and lose the ballgame for us. But we've got a good group, we're going to bounce back."
That is a trait the Pirates, who are four games under .500 but only 3 1/2 games behind the National League Central-leading Brewers, have displayed throughout this frustrating season. With two of their top position players (Jung Ho Kang and Starling Marte) on the restricted list, and one of their top starters (Jameson Taillon) returning from surgery for testicular cancer, the Bucs have had to figure it out as they go. The trend continued Monday, when right fielder Gregory Polanco (right ankle) and catcher Chris Stewart (left leg) left the game due to injuries.
• Polanco exits after collision with wall
Arizona right-hander Randall Delgado struck out eight and allowed just one run on five hits over 5 2/3 innings in his second start of the season. But Pirates right-hander Trevor Williams, taking Taillon's spot in the rotation, kept his team in the game as well. Williams spun the first quality start of his young career by holding the D-backs to one run on four hits over six efficient innings.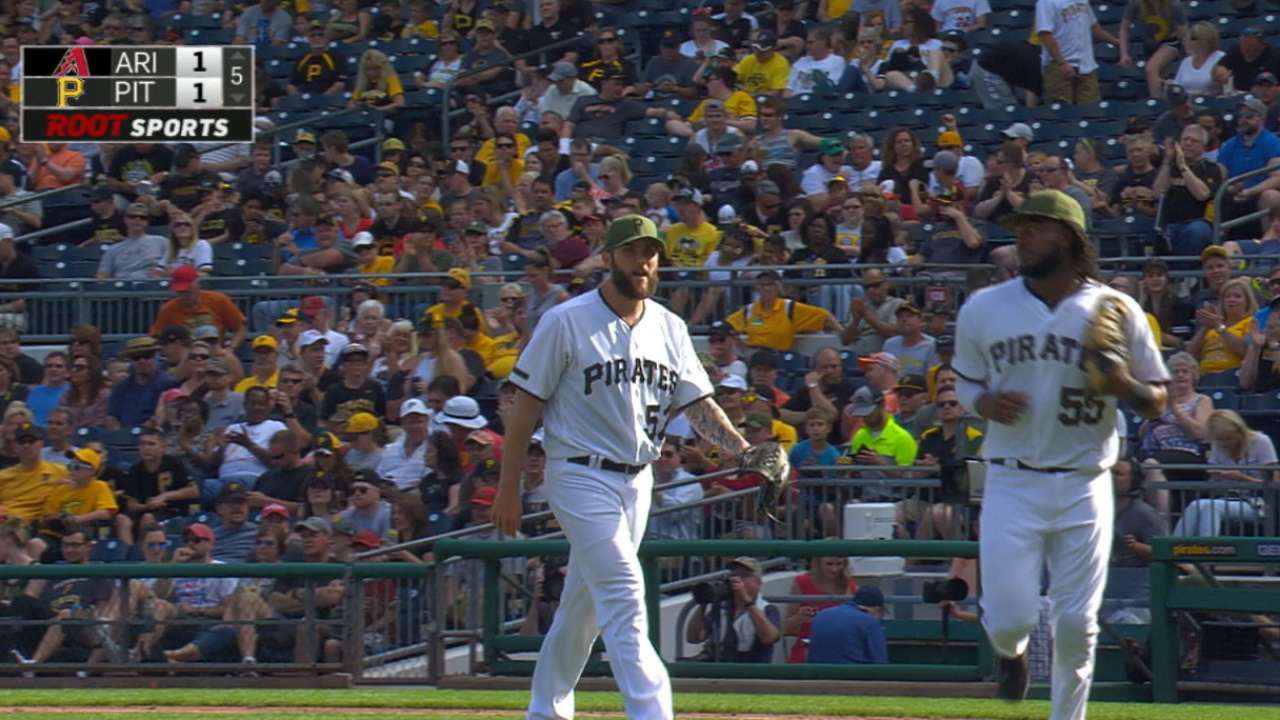 "It's next guy up. It's always next guy up in this game," McCutchen said. "You hate for guys to go down, but that happens in this game. We've got guys that can pick up the slack when someone's down. They can pick them up. ... It shows the type of team we have. Just scratch away and keep going."
MOMENTS THAT MATTERED
See Stew run: With two on and two outs in the seventh, Stewart hit a high fly ball to left-center off reliever J.J. Hoover. The ball found grass between Chris Herrmann and Gregor Blanco, giving Jose Osuna and McCutchen enough time to score. Stewart wheeled around the bases, slid into third and immediately left the game with a left leg injury. Stewart said he felt something pull in his lower hamstring/upper calf as he rounded second, and initial tests revealed "nothing major."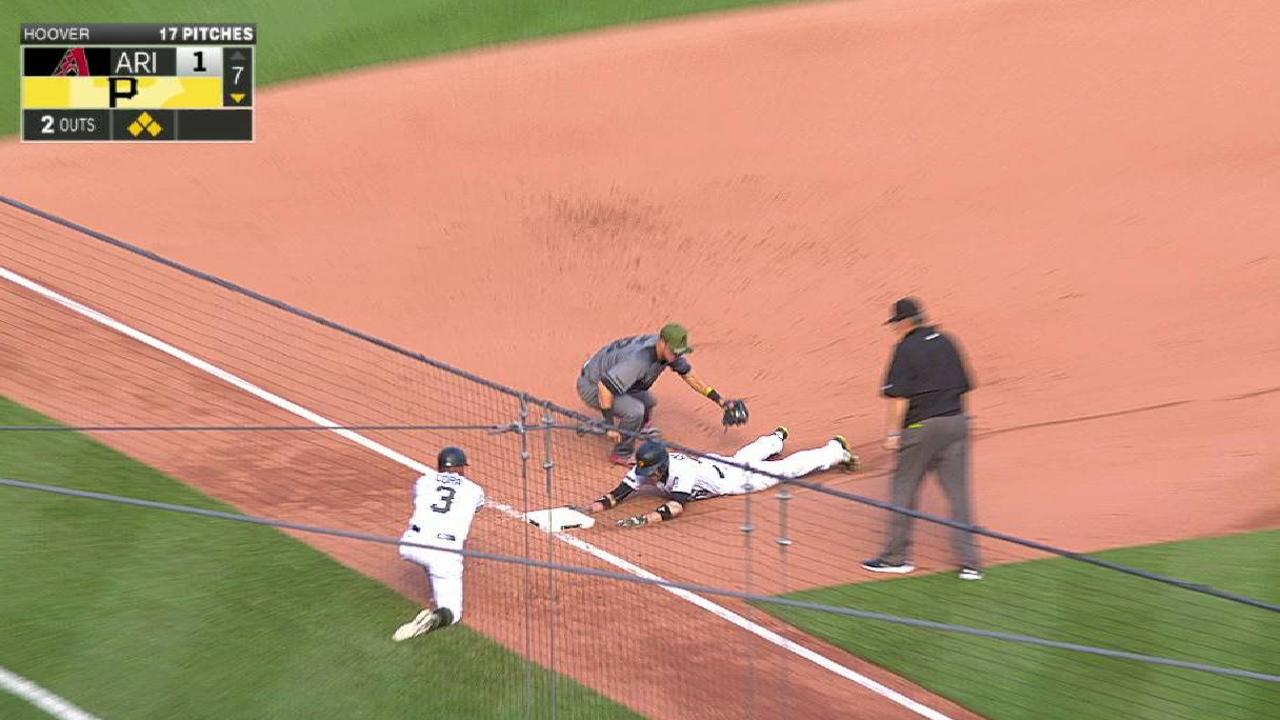 But Stewart's game-untying triple -- the second of his 11-year career, with both coming this season -- did draw a reaction from manager Clint Hurdle.
"He doesn't need to hit any more triples the rest of his career," Hurdle said. "We've put a limit at two bases unless it leaves the yard."
Added Stewart: "I proved that the first one wasn't a fluke, so I can stop at second base from now on."
Upon further review: With one out in the first inning, D-backs right fielder David Peralta was hit in the right foot by Williams' pitch in the dirt. It was initially called a ball by home-plate umpire Adrian Johnson. Arizona challenged the call, however, and it was overturned after a one-minute, 51-second replay review. The D-backs retained their challenge, and Peralta went to first base. Jake Lamb singled with two outs, moving Peralta to third base, and Yasmany Tomas plated Peralta with a single to left.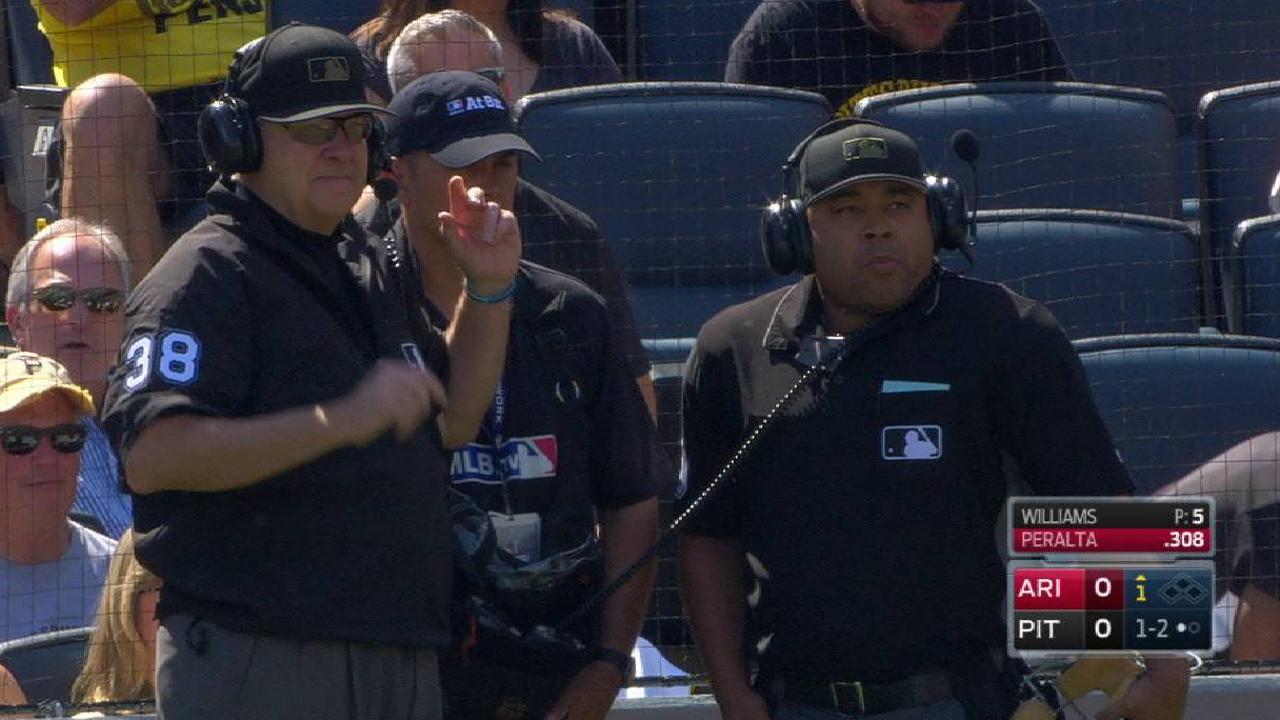 QUOTABLE
"It's part of the game that makes it so great. You experience such a high, and then five minutes later the game is over and you come crawling back up here." -- D-backs manager Torey Lovullo
"It's a good swing on a pitch that's out there. It's good to see. We'll keep penciling him in, let him play, get his swings. Some good things are happening. You're looking for consistency. We'll see where it goes." -- Hurdle, on McCutchen
SOUND SMART WITH YOUR FRIENDS
McCutchen's solo shot was the sixth walk-off home run of his career, tying him with Ralph Kiner and Willie Stargell for the franchise record. McCutchen's last walk-off homer came on July 11, 2015, just before the All-Star break, when he finished a 14-inning game with a two-run blast off Cardinals reliever Nick Greenwood.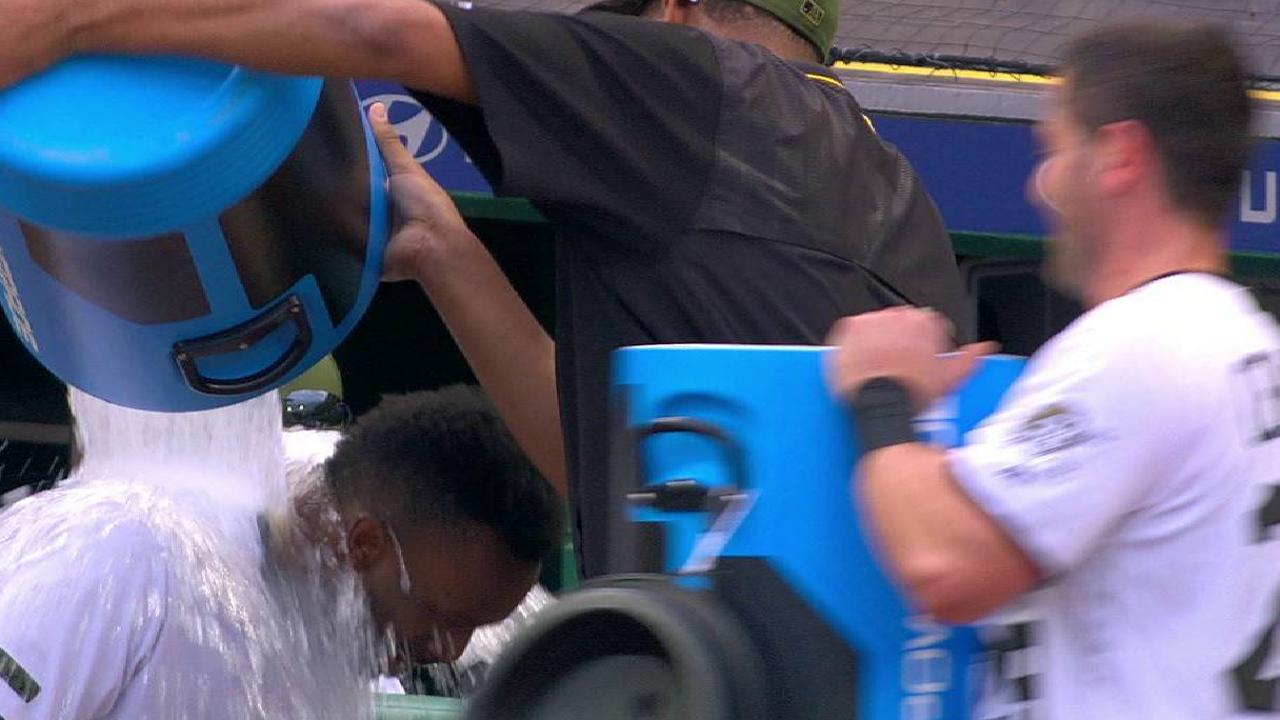 WHAT'S NEXT
D-backs: Robbie Ray will start for the D-backs on Tuesday at 4:05 p.m. MST in the second game of the three-game set with the Pirates. Ray is riding a career-long 15 2/3 scoreless innings streak. He has been dominant on the road this year, compiling a 0.81 ERA away from Chase Field.
Pirates: After falling two outs short of a complete game Thursday in Atlanta, right-hander Ivan Nova will start against the D-backs at 7:05 p.m. ET on Tuesday at PNC Park. Nova has pitched at least six innings in each of his 10 starts this season. He allowed three runs on nine hits in Arizona on May 14. Adam Frazier, Francisco Cervelli and David Freese should return to the lineup after beginning Monday's game on the bench.
Watch every out-of-market regular-season game live on MLB.TV.
Adam Berry has covered the Pirates for MLB.com since 2015. Follow him on Twitter and Facebook, read his blog and listen to his podcast.
Steve Gilbert has covered the D-backs for MLB.com since 2001. Follow him on Twitter @SteveGilbertMLB.
This story was not subject to the approval of Major League Baseball or its clubs.