MLB.com Columnist
Jim Callis
Rockies' Rodgers, White Sox duo lead Prospect Team of Week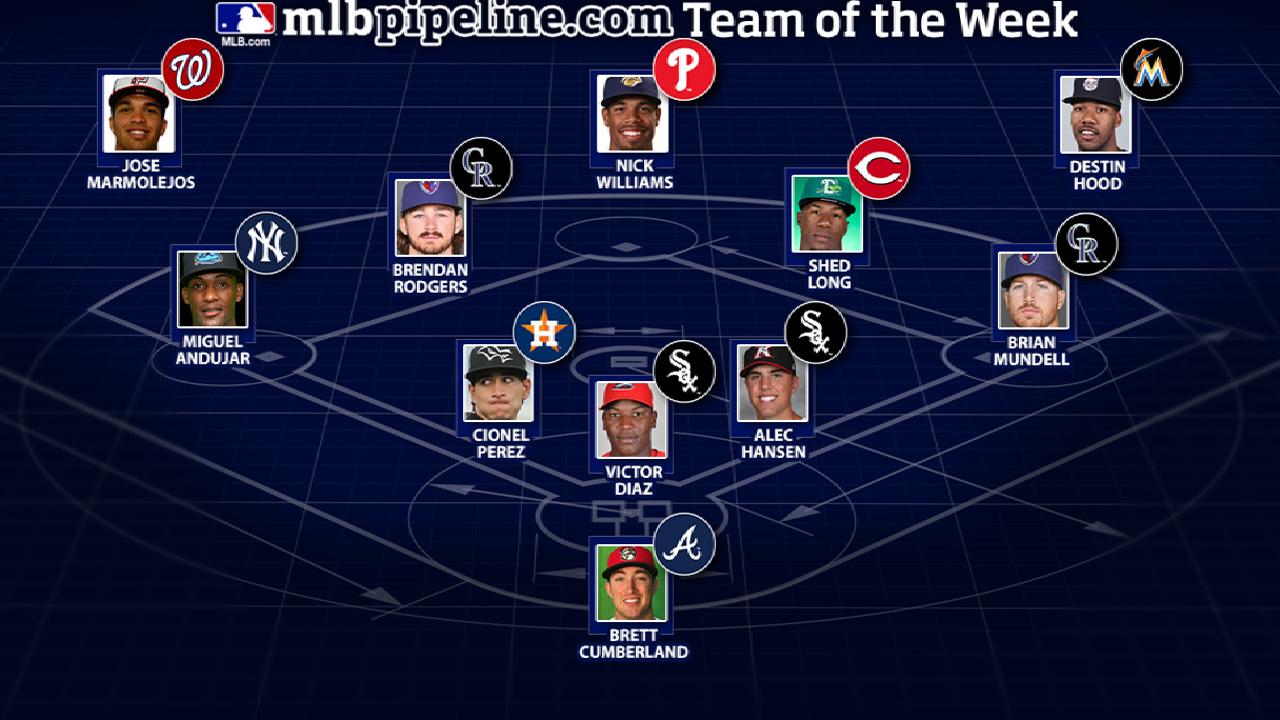 MLBPipeline.com's Prospect Team of the Week honors the best performances from the previous seven days. Any player currently on an organization Top 30 Prospects list on our Prospect Watch is eligible.
Brendan Rodgers was MLB.com's top-rated prospect in the 2015 Draft and went third overall to the Rockies, right behind fellow shortstops Dansby Swanson and Alex Bregman. Lancaster's The Hangar may be the best place to hit anywhere in the Minor Leagues. So sending the 20-year-old Rodgers there this season created the potential for some monster numbers.
Rodgers, who has more power potential than most middle infielders, has delivered. He's batting .389/.414/.687, ranking second in the Minors in hitting and third in slugging. He's riding a streak of five consecutive multihit games, including a two-homer performance on Friday, and topped all Minor Leaguers last week with 15 hits, seven extra-base knocks and 30 total bases in seven games.
That earned Rodgers his second Prospect Team of the Week mention of 2017. He highlights our list of standouts for games from May 22-28:
C: Brett Cumberland, Rome Braves (Class A)
(Braves No. 29 prospect)
7 G, .429/.500/.964, 8 R, 12 H, 3 2B, 4 HR, 15 RBI, 2 BB, 6 SO, 1 SB
A 2016 supplemental second-rounder in his first full pro season, Cumberland has rebounded from a .170/.371/.321 April to rake at a .351/.519/.737 clip in May. He tied for the Minor League lead in extra-base hits (seven) and RBIs last week, and he tops the Minors with 16 hit-by-pitches and ranks fourth in on-base percentage (.450) for the season. He had four games with at least three RBIs last week, highlighted by two homers and five RBIs on Monday.
1B: Brian Mundell, Lancaster JetHawks (Class A Advanced)
(Rockies No. 20 prospect)
6 G, .400/.464/.840, 4 R, 10 H, 2 2B, 3 HR, 8 RBI, 3 BB, 4 SO
Mundell took advantage of low Class A Asheville's short right-field approach to set a modern Minor League record with 59 doubles last season, and he's also enjoying the hitter-friendly environment at Lancaster. He's batting .304/.374/.546 and topping the high Class A California League in homers (11), extra-base hits (24) and RBIs (44). Interestingly, he's doing more damage on the road (.991 OPS, seven homers) than at home (.862 OPS, four homers).
2B: Shed Long, Daytona Tortugas (Class A Advanced)
(Reds No. 13 prospect)
6 G, .391/.462/.826, 8 R, 9 H, 1 2B, 3 HR, 5 RBI, 3 BB, 4 SO
Drafted as a catcher in the 12th round in 2013, Long took off offensively when he moved to second base two years later. He has uncommon power for a 5-foot-8 middle infielder, which he showed off with three homers last week (two on Saturday), and he's batting .324/.379/.524 with eight homers. He's one of four players to merit PTOW accolades twice this season, joining Cubs catcher Victor Caratini and D-backs left-hander Cody Reed and Rodgers.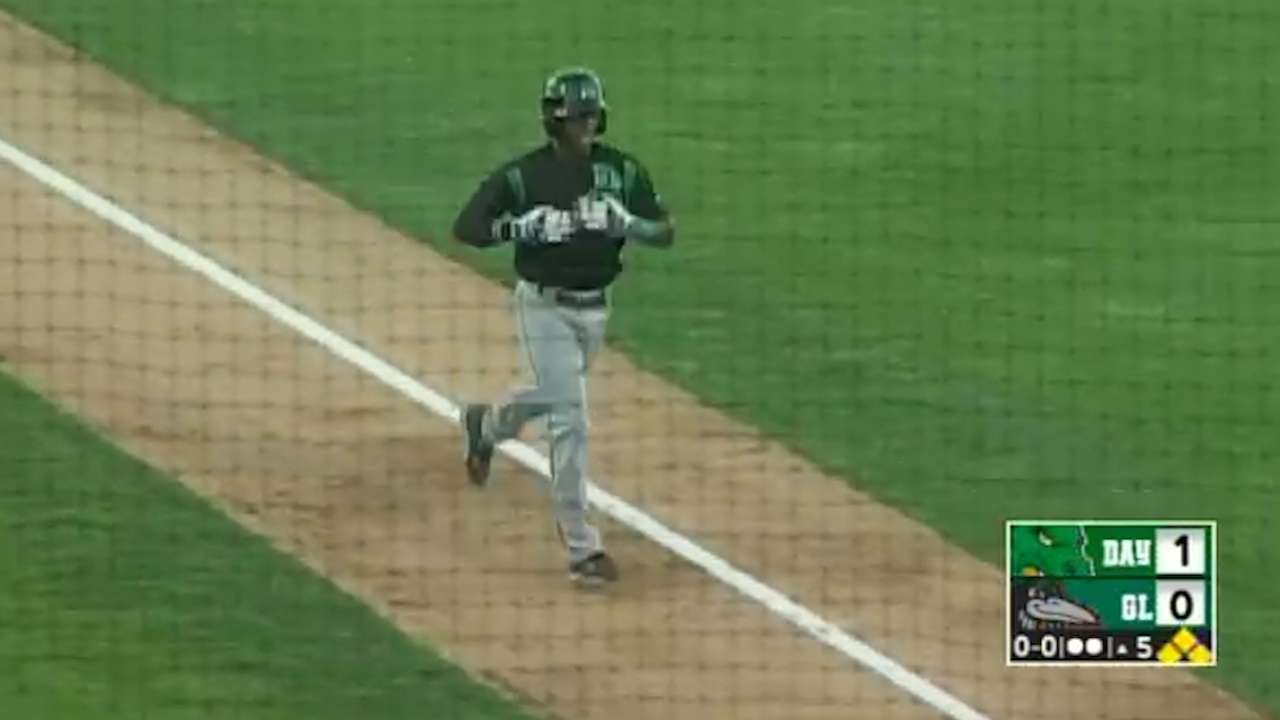 3B: Miguel Andujar, Trenton Thunder (Double-A)
(Yankees No. 9 prospect)
7 G, .542/.571/.833, 6 R, 13 H, 4 2B, 1 HR, 9 RBI, 2 BB, 3 SO, 1 SB
Though he gets overshadowed in a deep Yankees system, Andujar is one of the best third-base prospects in the game. Brought to Double-A in mid-2016 as a 21-year-old, he's making a case for another midseason promotion by hitting .284/.311/.460. He hit safely in all seven games last week, including four multihit efforts, and slammed his fifth homer of the season on Sunday.
SS: Brendan Rodgers, Lancaster JetHawks (Class A Advanced)
(Rockies No. 1 prospect/MLB No. 11)
7 G, .500/.545/1.000, 6 R, 15 H, 3 2B, 4 HR, 10 RBI, 1 BB, 3 SO
Rodgers, who leads the California League in hitting (.389) and slugging (.687), is unquestionably talented but also has received a boost from The Hangar. He's batting .508/.535/.984 with six homers in Lancaster and .279/.290/.412 with one homer away from home.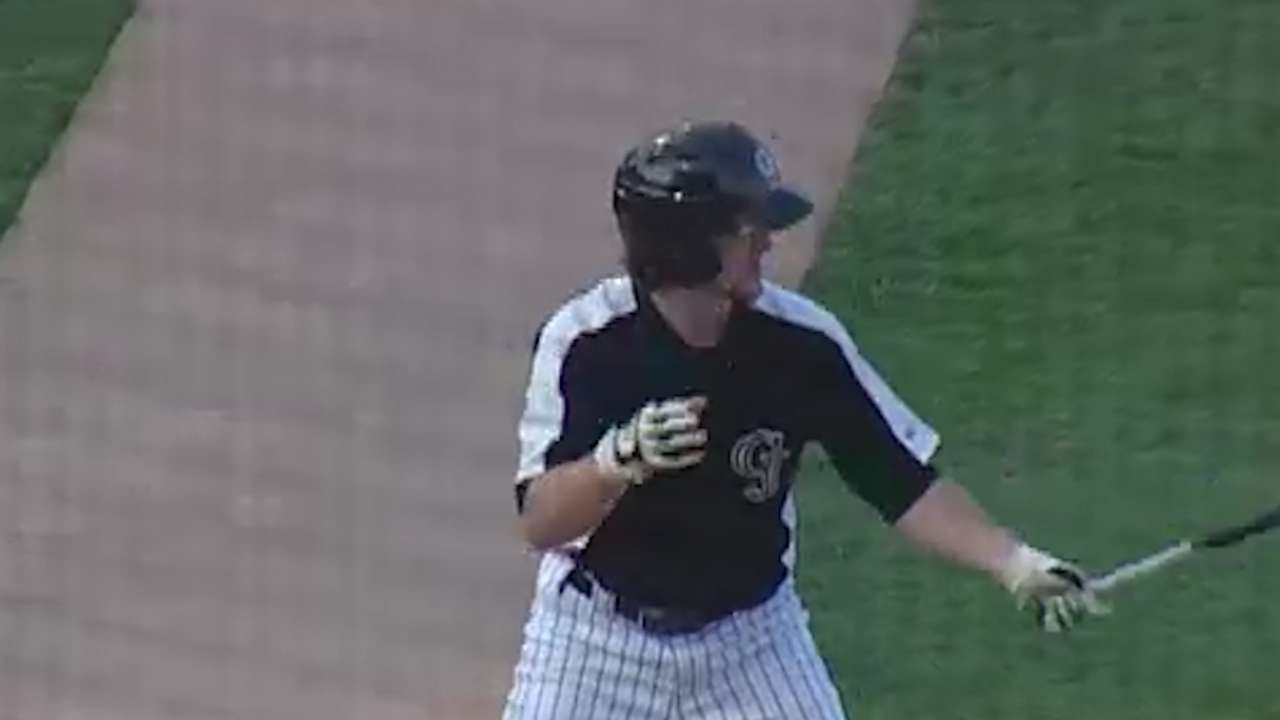 OF: Destin Hood, New Orleans Baby Cakes (Triple-A)
(Marlins No. 29 prospect)
6 G, .333/.346/1.000, 6 R, 8 H, 1 2B, 5 HR, 11 RBI, 1 BB, 6 SO, 1 CS
Eight years after declining the opportunity to play wide receiver at Alabama to sign for $1.1 million with the Nationals as a second-rounder, Hood finally reached the big leagues with the Marlins in 2016, when he hit a career-high 15 homers in Triple-A. He almost has matched that total in two months this season, with his 13 homers ranking fourth in the Minors and his five last week tying for the lead. He's batting .260/.340/.532 overall.
OF: Jose Marmolejos, Harrisburg Senators (Double-A)
(Nationals No. 25 prospect)
6 G, .500/.571/.792, 7 R, 12 H, 1 2B, 2 HR, 7 RBI, 4 BB, 2 SO
Marmolejos went from undrafted high school free agent in 2011 to the Nationals' Minor League player of the year in 2015 and 2016. He missed the first month of this season with a left forearm strain but has hit safely in 12 of 14 Double-A games since returning, including a five-hit effort with five RBIs last Monday. He's hitting .386/.438/.614 with three homers.
OF: Nick Williams, Lehigh Valley IronPigs (Triple-A)
(Phillies No. 4 prospect )
6 G, .435/.435/1.130, 8 R, 10 H, 1 2B, 5 HR, 15 RBI, 6 SO, 1 SB
Williams continues to combine a penchant for making hard contact with a hyperaggressive approach. He hasn't walked since May 17 and has drawn just six free passes in 47 games, but he still tied for the Minor League lead in homers and RBIs last week and has gone deep in six of his last eight contests. He's hitting .282/.315/.518 with 10 homers after producing 13 homers in Triple-A last year.
LHP: Cionel Perez, Quad Cities River Bandits (Class A)
(Astros No. 16 prospect)
1-0, 1.50 ERA, 2 GS, 12 IP, 4 H, 2 R, 2 ER, 1 HR, 4 BB, 17 SO, 0.67 WHIP
Shelled in two of his first three pro starts after signing for $2 million in December, Perez seems to be finding his stride. The polished Cuban spun seven no-hit innings with 10 strikeouts last Monday, then fanned seven in five innings on Saturday. He's 3-2, 5.88 with a 29/9 K/BB ratio in 26 innings.
RHP: Alec Hansen, Kannapolis Intimidators (Class A)
(White Sox No. 10 prospect)
2-0, 3.00 ERA, 2 GS, 12 IP, 11 H, 4 R, 4 ER, 1 HR, 3 BB, 25 SO, 1.17 WHIP
Severe control issues caused Hansen to slide from a No. 1 overall pick candidate to the second round in last year's Draft, but some simple mechanical adjustments have allowed him to dominate in pro ball. He recorded a pair of double-digit-strikeout efforts last week, whiffing 10 in five innings on Monday and a career-high 15 in seven frames on Sunday. He has allowed just nine earned runs over his last six starts and is 5-3, 2.96 with a 67/19 K/BB ratio in 54 2/3 innings.
RP: Victor Diaz, Kannapolis Intimidators (Class A)
(White Sox No. 23 prospect)
0-0, 0.00 ERA, 2 G, 3 IP, 0 H, 0 R, 0 ER, 0 BB, 6 SO, 0.00 WHIP
The fourth-best prospect the White Sox received in the Chris Sale trade with the Red Sox at the Winter Meetings, Diaz can reach triple digits with his fastball. He finished Hansen's Sunday gem with five strikeouts in two innings and retired all nine batters he faced last week in his first two outings of the season after being sidelined with shoulder soreness.
Jim Callis is a reporter for MLB.com. Follow @jimcallisMLB on Twitter and listen to him on the weekly Pipeline Podcast. This story was not subject to the approval of Major League Baseball or its clubs.