Lovullo appreciates D-backs' fight late in loss
Arizona scores four in eighth, cutting Brewers lead to three runs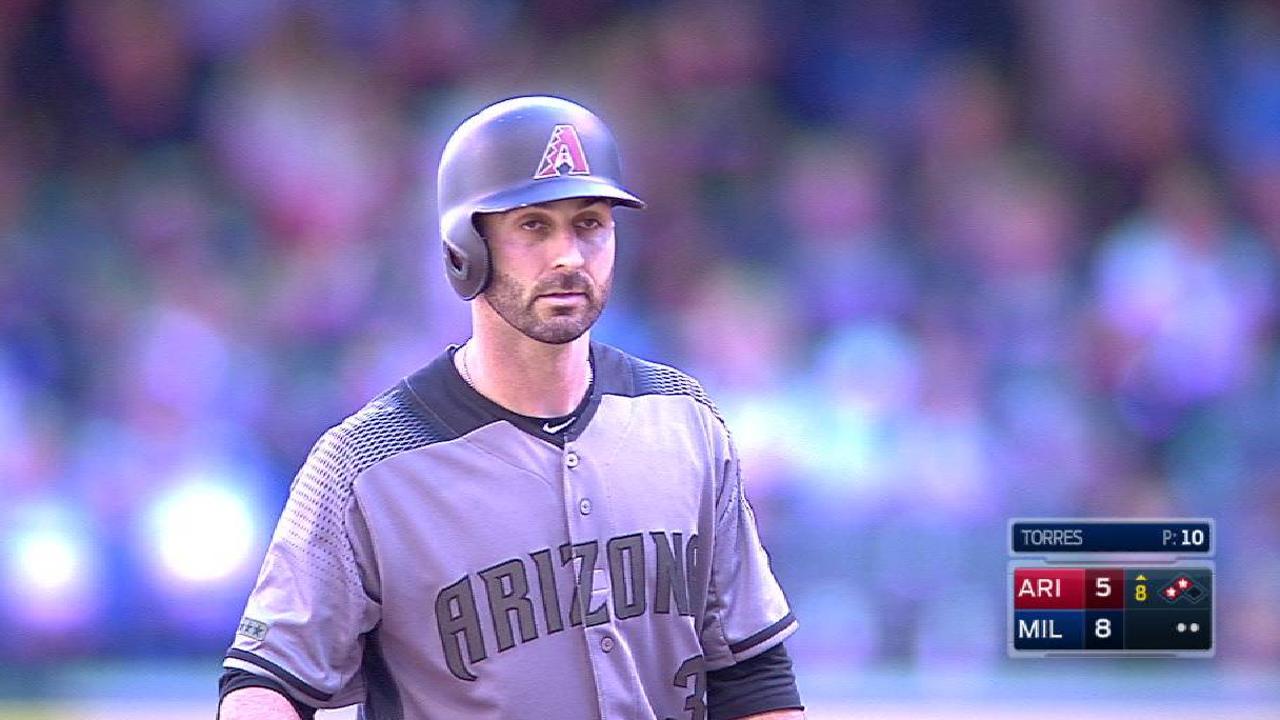 MILWAUKEE -- While they dropped their second straight game to the Brewers on Sunday, the D-backs showed they're not ones to back down without a fight in a 9-5 loss.
Trailing 8-1 through seven innings, the D-backs put together a four-run eighth inning off relievers Oliver Drake and Carlos Torres to pull within three with the potential tying run at the plate.
"I liked the way we grinded our at-bats out. We took advantage of mistakes. We let their pitcher pitch a little bit, and we had base runners on and that was the key to the whole equation us scoring four runs," D-backs manager Torey Lovullo said.
The inning started with Gregor Blanco drawing a leadoff walk and Nick Ahmed following with an RBI double to left field. David Peralta and Jake Lamb hit back-to-back singles, adding another run and cutting the Brewers' lead to five. Chris Herrmann drew a walk in the next at-bat, and Brandon Drury's long sacrifice fly scored Peralta from third.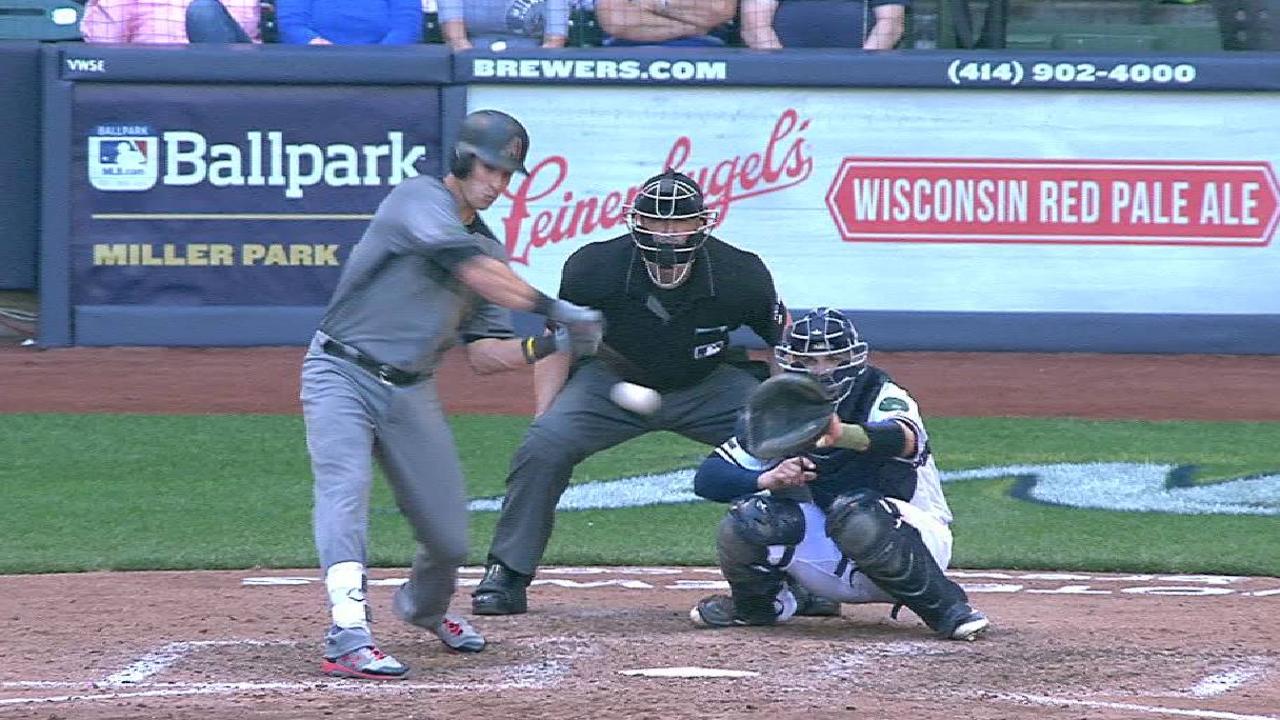 But the turning point of the inning came through Daniel Descalso, who was starting at first base in place of a resting Paul Goldschmidt. With runners on the corners, Descalso delivered a two-out, run-scoring double, pulling the D-backs within three.
"I think he is known for that," Lovullo said of Descalso. "That's what he's brought in for, to have quality at-bats despite limited playing time. Not showing frustration. Going up there and doing what he can to help the team in any situation. He's just a quality guy, and he's going to give us quality at-bats no matter what the circumstances are."
The D-backs had two runners in scoring position following Descalso's double when Brewers manager Craig Counsell called upon a third reliever, Jacob Barnes, to face a pinch-hitting Goldschmidt. Barnes won the battle by inducing a lineout to center field. Goldschmidt's streak of reaching safely in 25 games against the Brewers was snapped.
"In that situation, where they kind of had the momentum going their way and they had scored a couple that inning, I think it was a big situation. I had to get probably their best hitter out," Barnes said. "You don't really know what his approach is going to be as a pinch-hitter, so that was kind of the question mark going into it. In my previous outing, I had faced him, so I kind of knew what I could get him out with."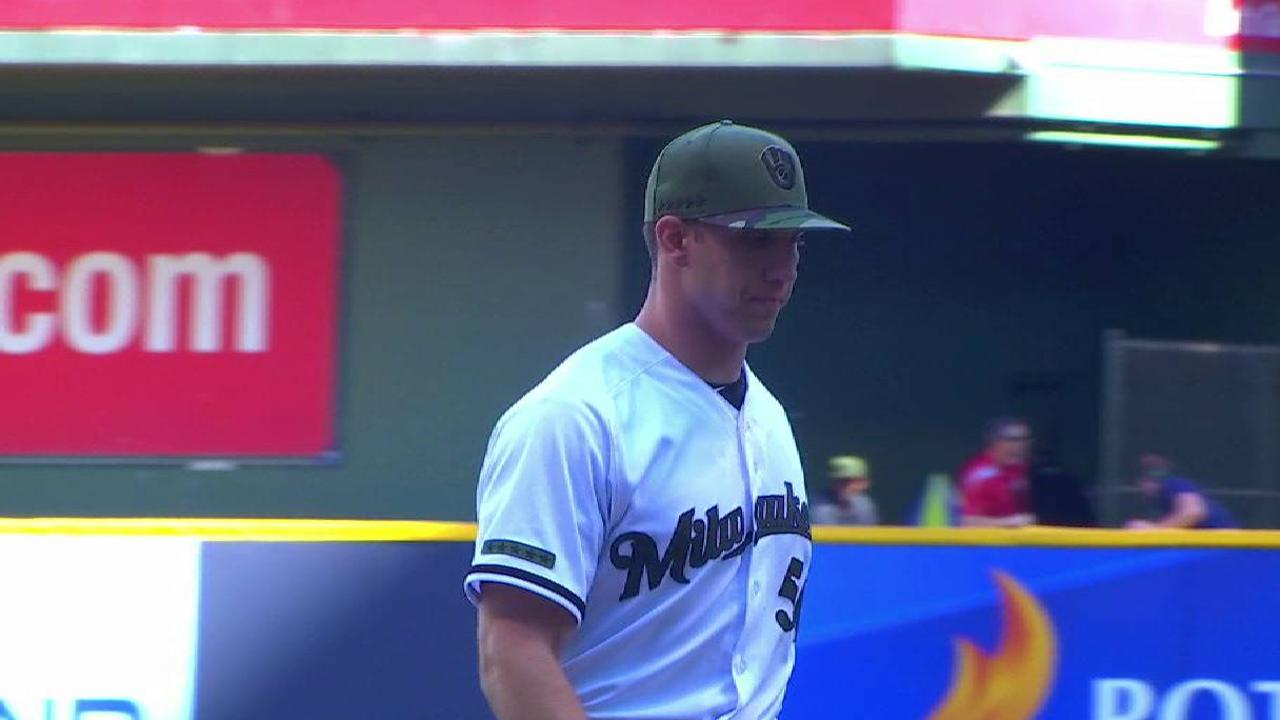 Similar to Sunday's four-run eighth inning, the D-backs showed some late life in the ninth inning of Saturday's 6-1 loss, scoring a run on Goldschmidt's RBI single.
"I think that's a quality that this team shares. It was still 8-1 in the seventh inning and our guys were saying, 'Hey let's just get something started. Let's not shut down.' Those are great rallying moments," Lovullo said. "I think they all kind of rely on each other in those key situations, and it really just shows the character of this team.
"So when we do it, it doesn't surprise me. I know this team does not have a shut-down mentality."
The D-backs came up with 11 hits and five runs -- the most they scored during the four-game series at Miller Park. Drury believes that's something the D-backs can capitalize on, as they continue their 11-game road trip against the Pirates and Marlins.
"We've got some momentum now going into the series with Pittsburgh tomorrow, scored some runs. We've been doing that all year," Drury said. "We've been fighting for nine innings and when it's over, it's over, so we've been doing a good job of that."
Carson Mason is a reporter for MLB.com based in Milwaukee. This story was not subject to the approval of Major League Baseball or its clubs.