Without feel for slider, Zimmermann at a loss
Unable to keep hitters off fastball, Tigers righty allows 3 HRs, 7 runs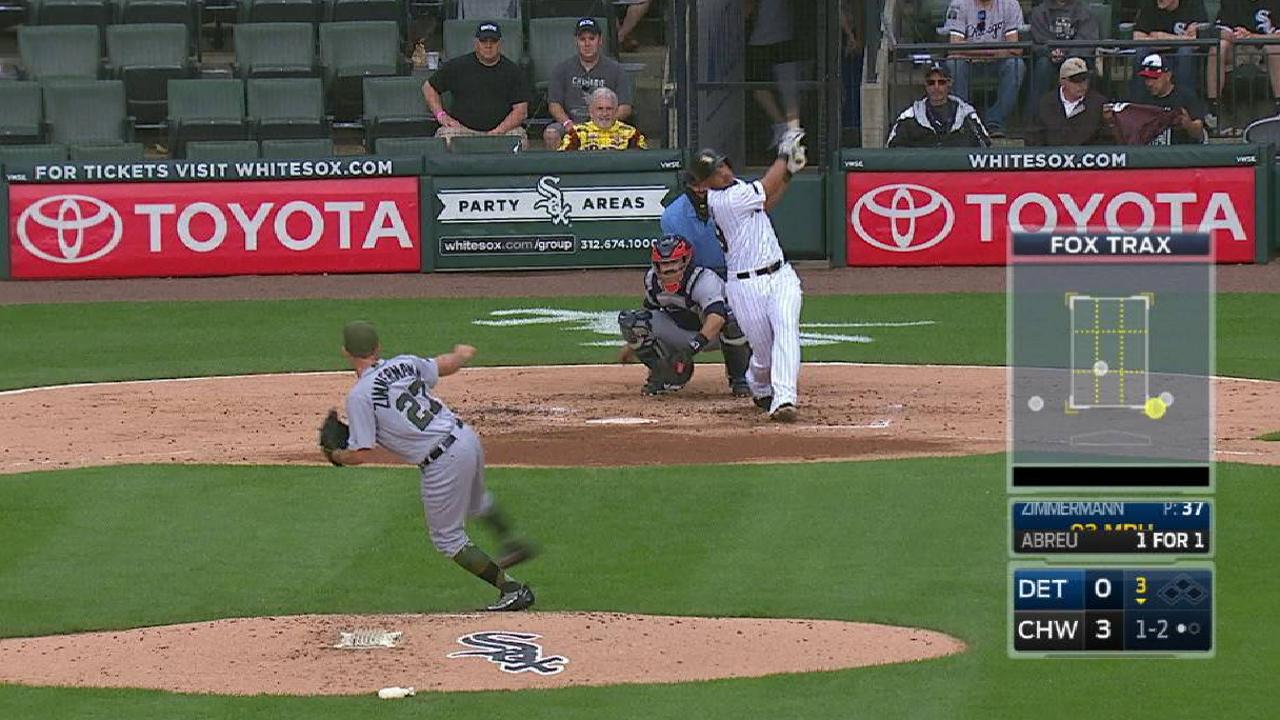 CHICAGO -- Tigers right-hander Jordan Zimmermann hasn't been the pitcher he was when he signed a five-year, $110-million free agent deal two offseasons ago, largely because he hasn't had the pitch he said made him so effective.
Zimmermann's slider once again evaded him Sunday afternoon as he allowed seven runs, four of which came off three homers, over five innings in a 7-3 loss to the White Sox.
The outing inflated Zimmermann's ERA to 6.47 and brought his season total for home runs allowed to 16 -- tied for the third-highest mark in the Majors.
"He's got to stay away from the home run ball," Tigers manager Brad Ausmus said. "The home run ball is killing him. You can't continue to pitch and give up home runs like that, so we've got to find a way to minimize that and keep him on the mound longer."
Zimmermann called his outing "terrible," saying he didn't have a feel for his slider, which he considers to be his best pitch. Zimmermann has often used his slider most among his offspeed pitches, including throwing the pitch a career-high 30.93 percent of the time in 2016. He's been effective with it, too, but has seen his opponents' batting average against the pitch rise each year since holding batters to .174 against it in 2013. That year, he won a career-high 19 games and made his first of two All-Star appearances with Washington.
Entering Sunday's start, opponents were hitting .266 against the pitch this year.
"I feel like my fastball's good, my curveball's good, my changeup's good and my slider is absolutely terrible right now," Zimmermann said. "Over my career, my slider has been my best pitch. It's the pitch I can throw when I'm ahead in the count for strikes and right now -- this whole year -- it's been backing up, it's been middle, I've been spiking it and haven't been anywhere close."
Zimmermann said he essentially threw fastballs through the first two innings, but ran into trouble when he began working in his offspeed stuff the second time through the order. He gave up an RBI triple to Willy Garcia and a solo homer to Melky Cabrera in the third, and homers to Matt Davidson and Todd Frazier in the fourth and fifth, respectively.
Each came when Zimmermann was behind in the count, where he typically would use his slider. Instead, the four key hits came on a trio of fastballs and a changeup.
"It's the only pitch [in my career] I've been able to throw consistently for strikes and keep hitters off the fastball," Zimmermann said. "I'm not able to do that right now, and they're smashing the fastball."
The key, Zimmermann said, is in "figuring it out" with that slider.
"It's super frustrating, and I have to go over it the next bullpen and throw it and throw it and throw it until I can figure it out," he said. "I don't understand how it became like this or got this way, but I just need to figure it out.
"They brought me over here to be a big-time pitcher, and I'm not doing that right now. I need to focus in and get back on track."
Fabian Ardaya is a reporter for MLB.com based in Chicago. This story was not subject to the approval of Major League Baseball or its clubs.