Biagini has a day of firsts on the mound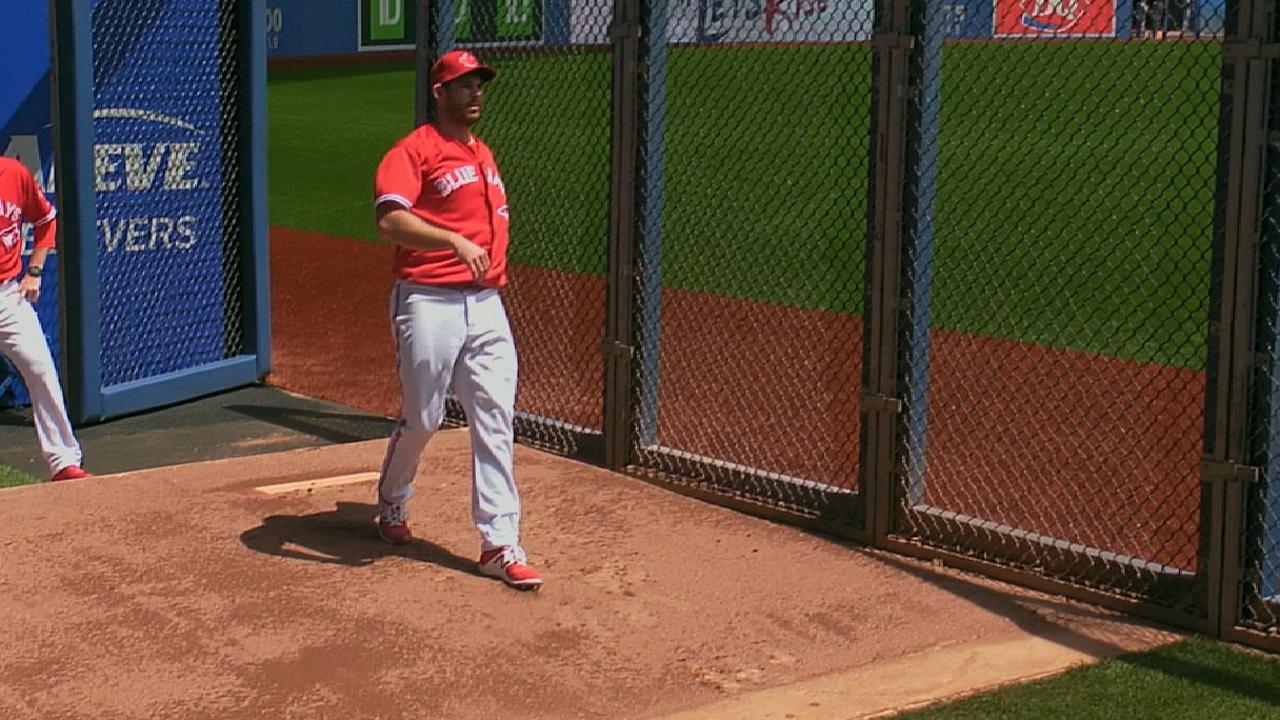 TORONTO -- Joe Biagini might have been making the fifth start of his career on Sunday afternoon, but it was still a day of firsts.
First time he pitched into the sixth inning. First time he threw more than 80 pitches. First time he could really be considered a full-fledged member of the starting rotation. It wasn't enough to avoid a 3-1 loss to the Rangers, but in the grand scheme of things, Biagini's performance was a major development.
Biagini proved that he has enough endurance to make it as a starter, and with the quality of his pitches holding up late into the game, the reins are off, according to Blue Jays manager John Gibbons.
When the Blue Jays moved Biagini into the rotation earlier this month, they really had no viable alternatives. Mat Latos and Casey Lawrence received opportunities to start, but could not capitalize. Toronto was trying to survive with three-fifths of its rotation on the disabled list, and with the options dwindling, the call went to Biagini.
There were some tentative plans for this in Spring Training. He was stretched out a little bit and there were plenty of people inside the organization who thought he could do the job, but after more than a year as a full-time reliever, stamina was a major question mark.
Toronto slowly built him up. Biagini joined the rotation on May 7 and got his pitch count up to 52. In the next start it was 68, then 67 and 77. Sunday afternoon marked the completion of that process as he completed six innings for the first time in his career and tossed 95 pitches.
"It was important for me, to see myself be able to handle the workload, continuing to expand," Biagini said. "I was kind of surprised when I asked how many pitches I had after the sixth. Felt like my arm was better conditioned for it and didn't feel quite as much of a tanking, dropoff, where you start to go, 'OK, the ball is starting to take off a little bit on me and I have to really try to be disciplined.'"
Biagini's spot in the rotation is safe for now, but there are still some question marks about how long he will remain there. J.A. Happ likely will return from the disabled list on Tuesday, while Francisco Liriano should follow suit later in the week. One of the two spots is currently vacant while Mike Bolsinger likely loses his starting job for the other.
That leaves Biagini's fate tied directly to Aaron Sanchez, who is on the DL with a blister on his right middle finger and does not have a definitive timetable for a return.
"I've always thought of myself as a starter," Biagini said. "But the situation with this team is that there's a lot of guys who are really good and have been doing this for a while and have their roles. I'm not going to feel like I deserve to have a spot over any of those guys. I just know the situation and know that when one of them comes back, that's their job, and I'm just happy to be a guy that's thought of."
Gregor Chisholm has covered the Blue Jays for MLB.com since 2011. Follow him on Twitter @gregorMLB and Facebook, and listen to his podcast. This story was not subject to the approval of Major League Baseball or its clubs.