Melvin: Shaky D has been A's 'Achilles' heel'
Errors, miscues contribute to 5 unearned runs in loss to Yankees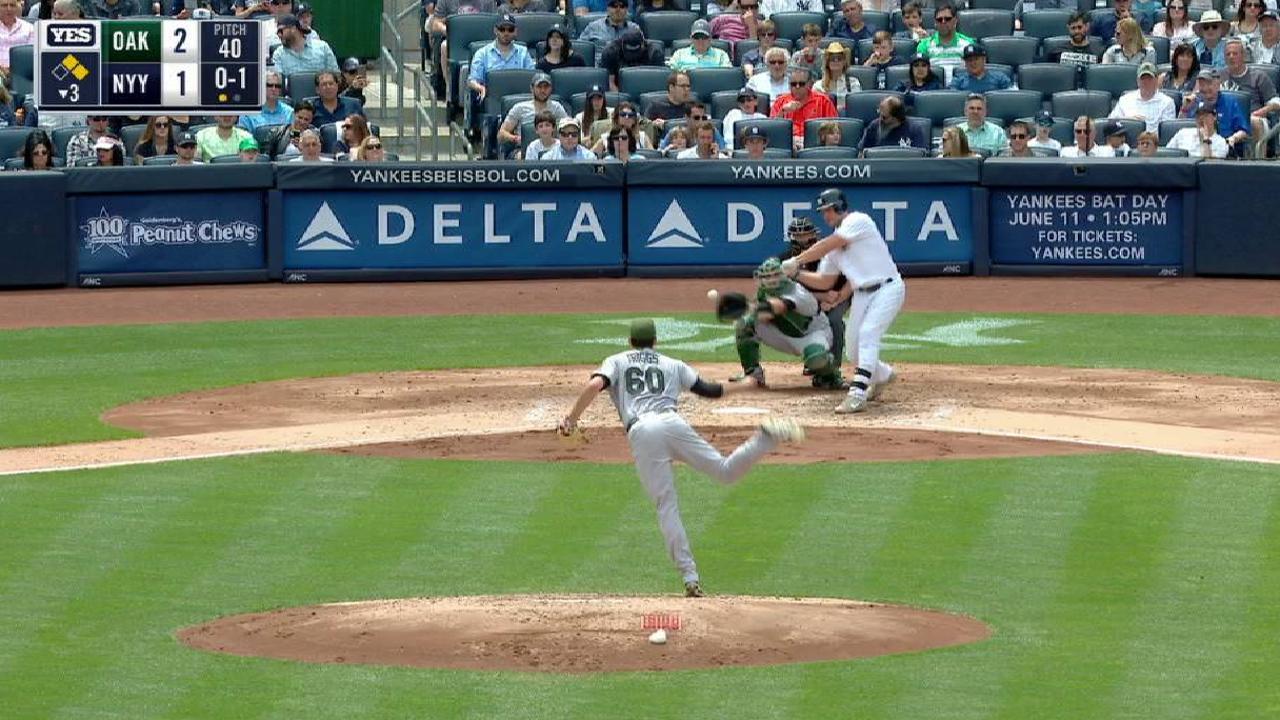 NEW YORK -- The A's defense has routinely hurt them this season, perhaps no more so than in Sunday's series finale with the Yankees, who capitalized with every opportunity.
Five of the six runs scored under starter Andrew Triggs' watch in the 9-5 loss were unearned, bringing their total to 35 unearned runs on the season, the most in the Majors.
"That's been the Achilles' heel for us all year," A's manager Bob Melvin said. "I've said often, there's a psychology to it. You feel like you have a chance to battle and come back and score some runs, and when your defense is poor, mentally, it's sometimes tough to overcome that or get past it. We just have to keep working on it."
The club's error total sits at a Major League-leading 49, which matches the number of games played. And the two errors recorded Sunday hardly told the whole story; other misplays went unaccounted for on paper, but still proved costly.
"It was another game where, if we tighten up the defense," Melvin said, "at least it's a different game."
The biggest blunder of them all was a missed catch by Matt Joyce in right field on Matt Holliday's fly ball, loading the bases with one out in the third inning. Triggs struck out Starlin Castro for what should have been the third out; but, with just two outs, Aaron Judge came to the plate and belted a grand slam.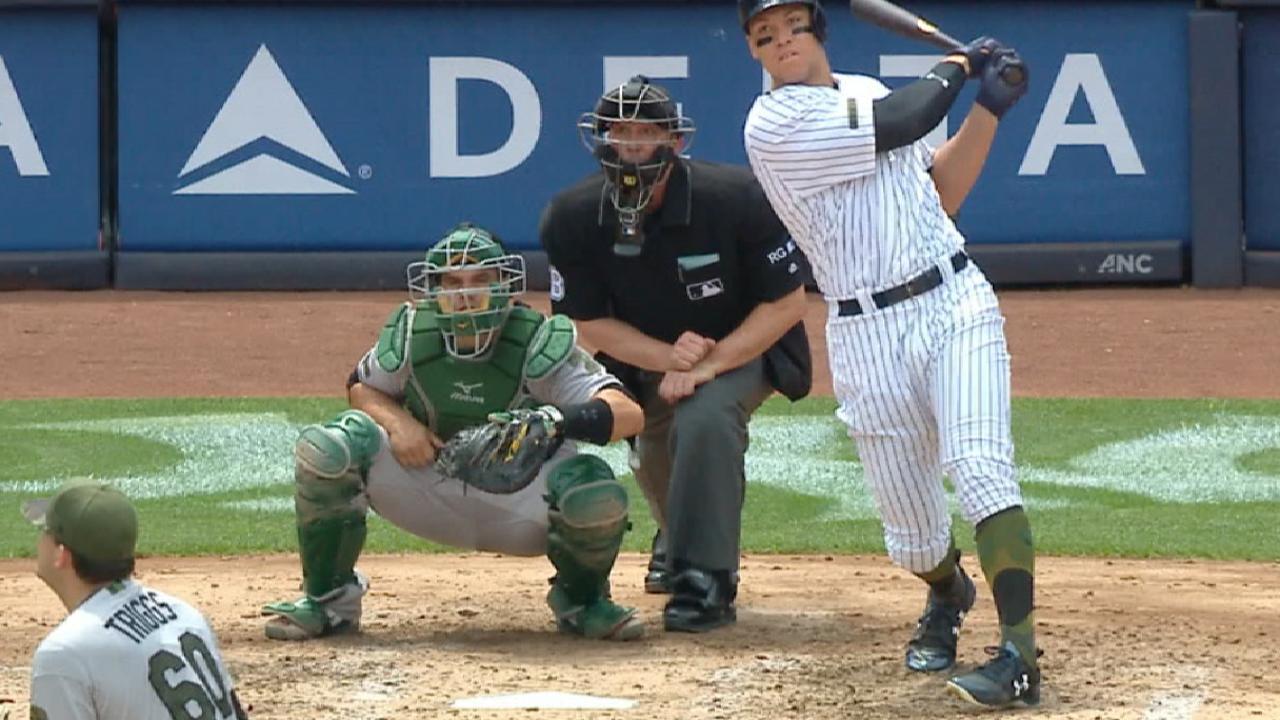 "I didn't really get a chance to watch the replay, and I don't really want to watch the replay," Joyce said. "It was obviously a ball down the line and it just kept fading and fading in the corner. Just hit my glove, and I dropped it. Obviously, that's pretty tough to swallow for me in that situation. For me, I think that's an easy play, but a little embarrassing. It's obviously really frustrating, especially with what it led to."
All four of the runs were thus unearned, and Triggs, already forced to throw more pitches than necessary, finally appeared to be out of the inning when Didi Gregorius popped a ball up in foul territory in front of the visitors' dugout. But third baseman Ryon Healy, who appeared to lose his balance under the sun, couldn't come up with the catch, continuing the inning.
Another unearned run scored in the fourth, when Josh Phegley's throwing error to second allowed Aaron Hicks to advance to third, setting up Chris Carter's sacrifice fly.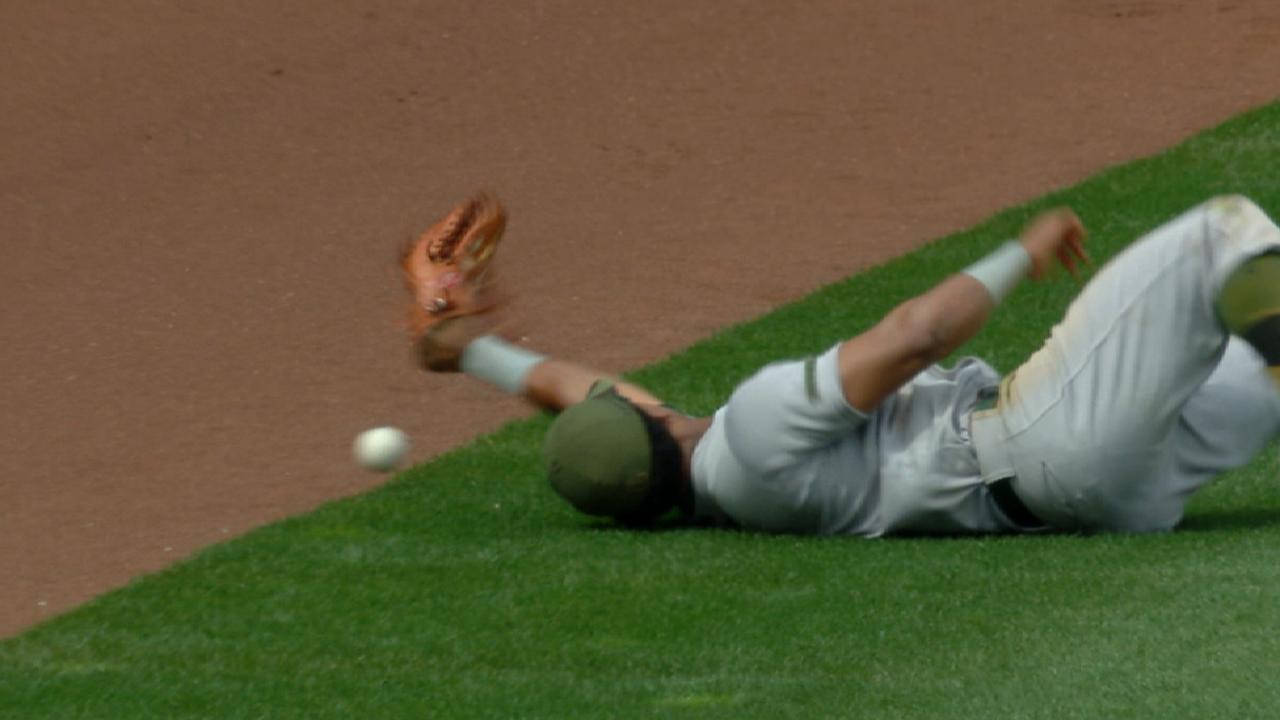 "It was just one of those days we needed to focus harder on our defense and minimize mistakes," said Khris Davis, whose wayward throw on Gregorius' single in the second inning allowed the Yankees' shortstop to advance to second. "I think that's kind of been hurting us. We need to concentrate harder on defense."
"KD said it right there, just minimize the mistakes," Joyce echoed. "We have to do a better job on defense, and obviously I'm right there in that mix.
"Whether it be taking some more fly balls or focusing a little bit harder, you can't really do anything about the mistakes in the past, but you try to learn from them and try to make the necessary adjustments."
Jane Lee has covered the A's for MLB.com since 2010. This story was not subject to the approval of Major League Baseball or its clubs.