Trout to undergo MRI on left thumb sprain
Center fielder exits after stealing base; Angels hope injury isn't serious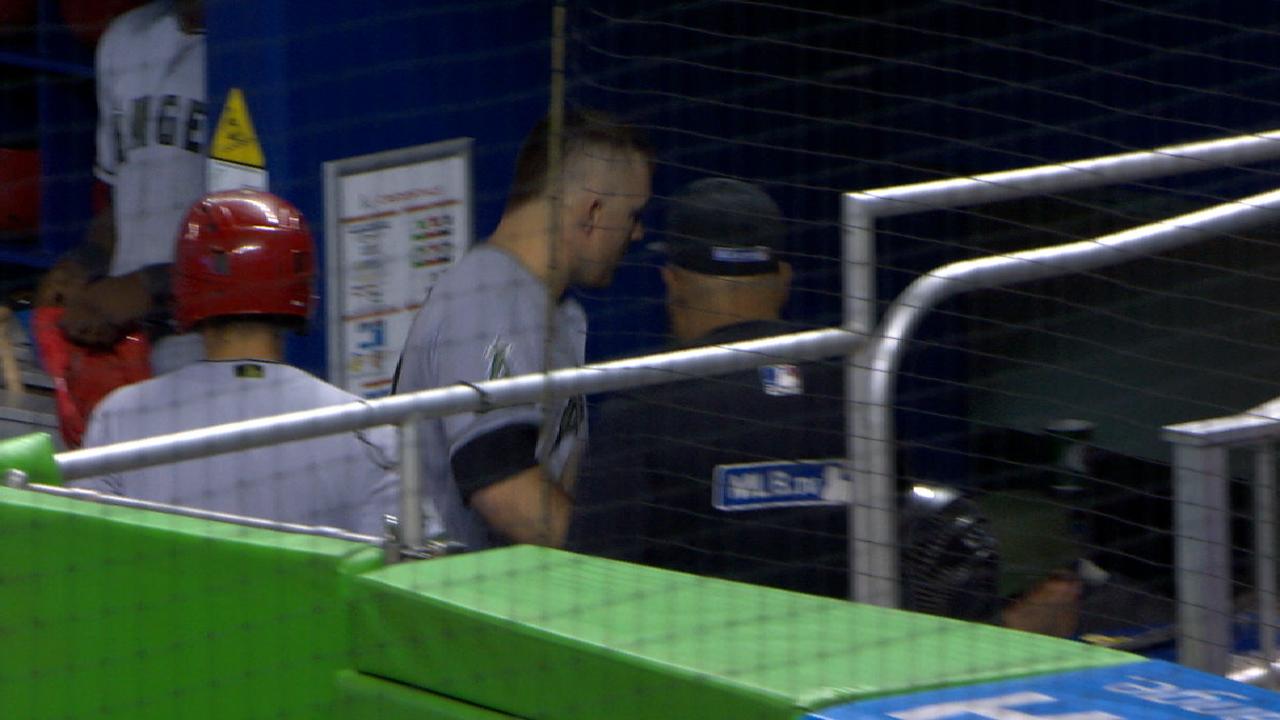 MIAMI -- The Angels' 9-2 loss at Marlins Park on Sunday could prove to be more painful than simply dropping a series to the Marlins.
Mike Trout sprained his left thumb in the fifth inning while stealing his 10th base of the season in the final game of a 10-game road trip in which the Halos won just four. Sliding headfirst into second base, Trout came up flexing his left hand. He remained in the game, but he was taken out in the bottom of the sixth. He immediately went to the clubhouse for further evaluation.
X-rays were negative for any fracture, but it remains to be seen if the injury keeps the Angels' star out of the lineup for any amount of time.
"It's just sore," Trout said after the game. "It's a scary thing. The X-rays showed no fracture, so that's relieving. We'll come into tomorrow and see how it feels."
Trout said he sustained the injury jamming his thumb on the bag. He walked in the fifth to reach base safely in 45 of his 47 games this year before bolting for second.
"It's definitely sore for sure," said Trout, who added that he would ice it and see how it feels on Monday. "Hopefully it's just sore, just a bad jam. I don't have any other information. I'm obviously bummed out. But if I wake up tomorrow and it feels a little better, then we'll see how it goes."
Angels manager Mike Scioscia remained concerned about the status of his top hitter.
"He's sore," Scioscia said. "X-rays were negative here. Obviously any time you take an X-ray and it's negative, that's one hurdle you've cleared. And then we'll let the doctors evaluate him and get some more information [Monday]."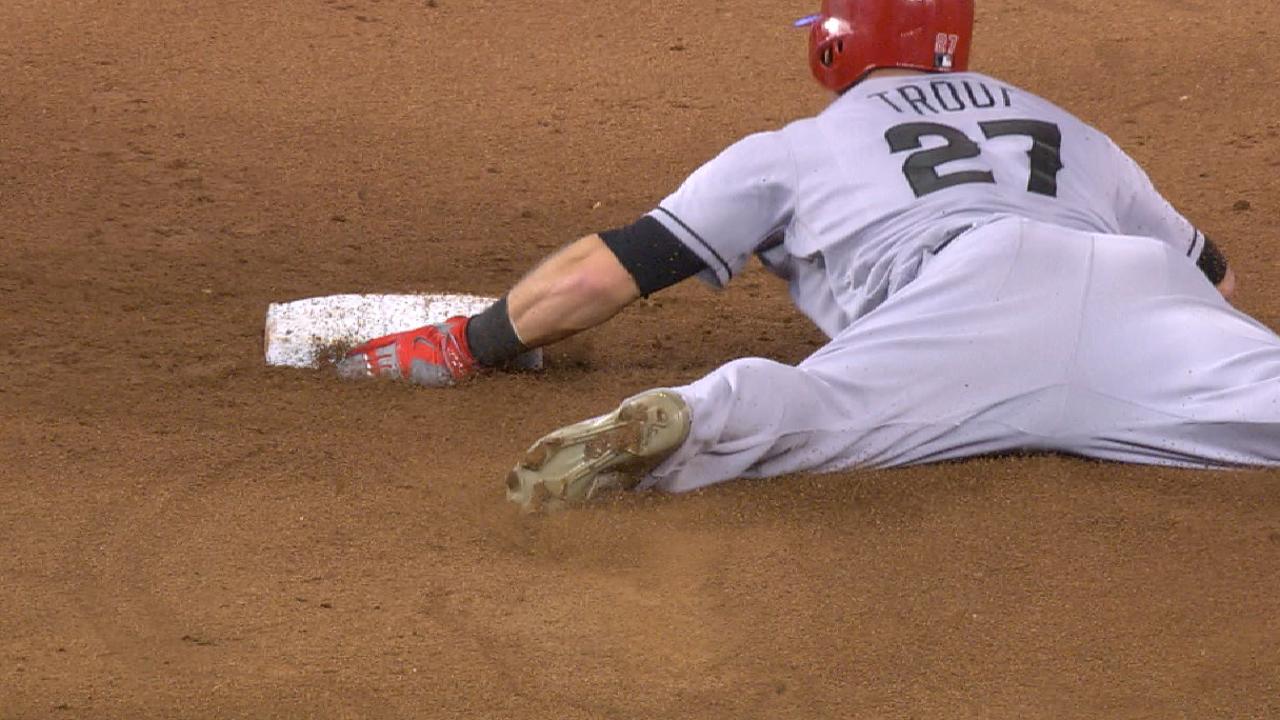 Scioscia remains hopeful that the injury is a minor one.
"Looks like just a sprain right now," Scioscia said. "But we'll take a look [Monday], get an MRI and just see how it sets up. But first indication is it just looks like a sprain."
At the time it happened, Scioscia said he talked with Trout and said his star center fielder wanted to remain in the game and see if he could play through the pain.
"He said, 'I jammed my thumb, it's pretty sore.' He moved it around, the trainer checked him," Scioscia said. "He said, 'Let me just try to see [how it feels] out there, squeeze my glove, and if it loosens up I could probably swing the bat.'"
But the decision was made an inning later that Trout would come out of the game.
"After the inning, when he came in, it was pretty stiff," Scioscia said.
Glenn Sattell is a contributor to MLB.com based in Miami. This story was not subject to the approval of Major League Baseball or its clubs.