Rizzo leads #ASGWorthy power display
Cubs hit 3 homers; Maddon calls for more versatility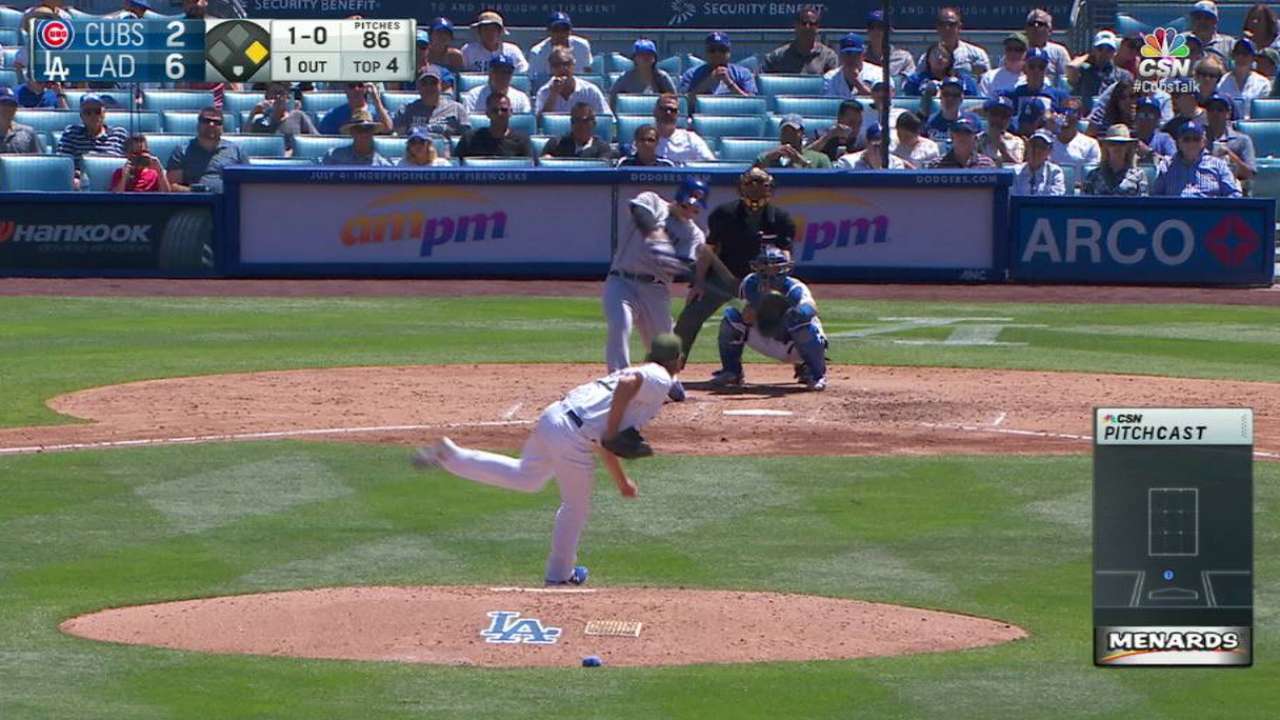 LOS ANGELES -- It's been home runs or nothing for the Cubs over the last week, and they continued that trend on Sunday. Anthony Rizzo, Willson Contreras and Javier Baez each went deep off Clayton Kershaw, of all pitchers, but it wasn't enough as the Dodgers posted a 9-4 win to complete a sweep.
In the Cubs' last seven games, they've scored 22 runs, and 17 of those have come on home runs. The other five have been because of a wild pitch, error or sacrifice fly. No RBI doubles, no clutch singles, no run-producing hits other than homers.
A perfect example came in the fifth inning on Sunday. The Cubs trailed, 6-4, and Addison Russell and Albert Almora Jr. both singled with no outs, then advanced on Mike Montgomery's sacrifice bunt. But Baez and Kris Bryant both struck out on 96- and 97-mph fastballs, respectively, from Josh Fields to end the threat.
• Cast your Esurance All-Star ballot for Rizzo and other #ASGWorthy players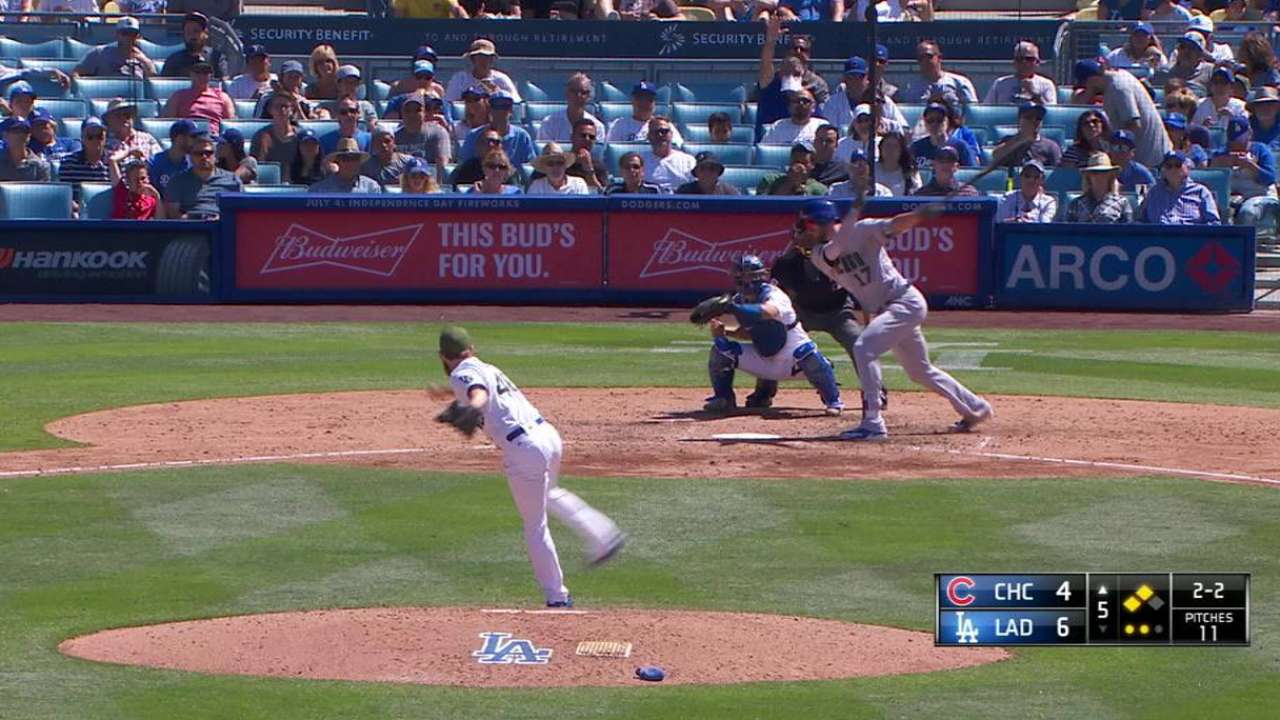 "We have to score the runner from third with less than two outs with something other than a home run," manager Joe Maddon said. "We're just hitting home runs to score runs. We have to become more efficient moving the baseball. That's a malady that not only affects us but other teams' young hitters.
"You have to get to the point where you just move the baseball, make adjustments, middle of the field, opposite field. Get the home run out of your head and if it happens, it happens. We just got too big there."
The Cubs were happy to make any kind of contact after being shut out in the first two games of the series, mustering five hits total. On Sunday, Rizzo's blast -- a two-run shot in the fourth -- was the third homer of his career off Kershaw, including one in Game 6 of the National League Championship Series. He's now tied for the second-most home runs off the Dodgers ace, one behind Adam Dunn (four). According to Statcast™, Rizzo's blast also was the hardest hit off Kershaw this season (108.7 mph).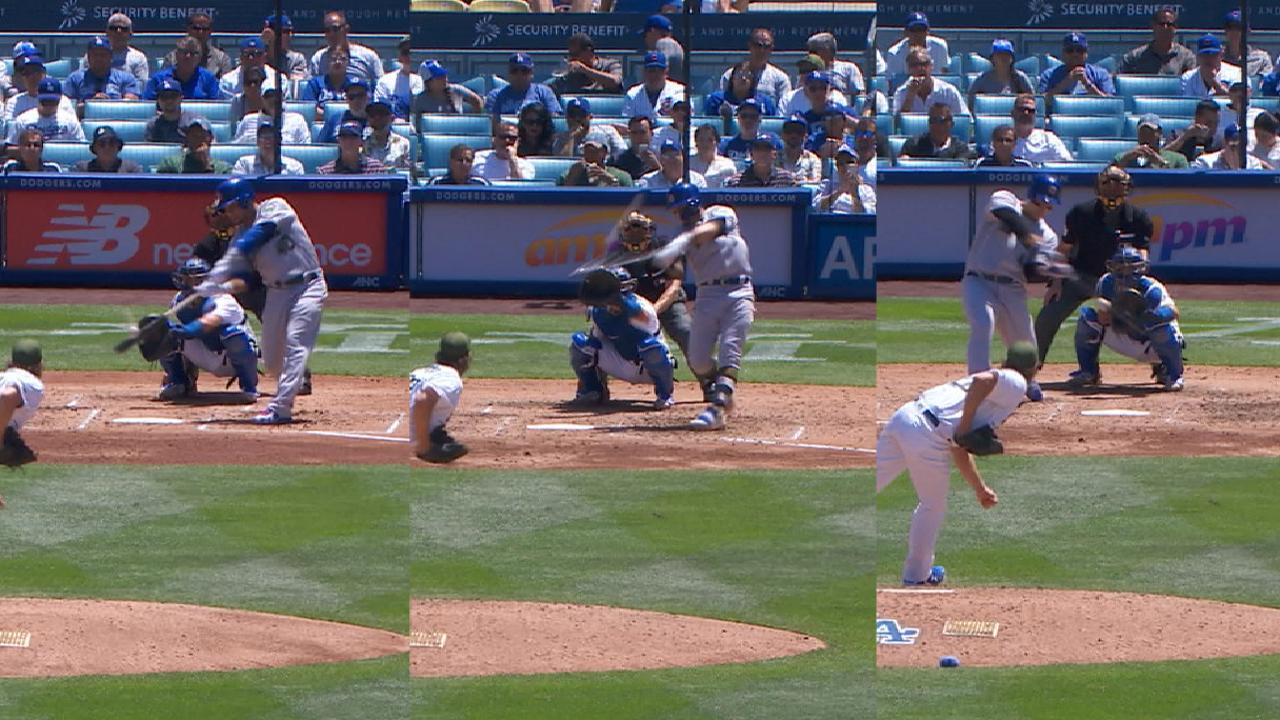 Contreras battled Kershaw in a 12-pitch at-bat in the second, which ended with a homer to right center. Baez hit a solo shot leading off the fourth. Those were three of the 11 hits off Kershaw, which tied a career high.
Once Kershaw exited, it wasn't any easier, as the Dodgers' bullpen turned in a scoreless effort for the third straight game.
"From our perspective, we have to learn to lay off certain pitches," Maddon said. "They're not strikes; they're balls. We have to get to the next pitch more in our zone. I really anticipate we'll make those adjustments by the end of the season."
So, don't panic. That was Bryant's message.
"We're not panicking," Bryant said. "Everybody has their thoughts and I guess it's just natural as humans that when something bad happens, sometimes you speed it up and that ends up compiling on things and it gets even worse. There's none of that here. I don't see any reason to worry, especially given what we did last year. You can't really take anything for granted I guess."
If you flash back to Game 3 of the NLCS at Dodger Stadium last October, which the Cubs lost to fall behind, 2-1, in the best of seven series, Bryant said something very similar. As most Cubs fans know, the team rallied and eventually won the World Series.
"You're going to have your good years, your bad years, your good starts, your bad starts," Bryant said. "This is obviously a pretty average start, it's not a terrible start. We've spoiled ourselves with last year and that start, but I guess it's a good thing to have those expectations because we all do, too."
Carrie Muskat has covered the Cubs since 1987, and for MLB.com since 2001. She writes a blog, Muskat Ramblings. You can follow her on Twitter @CarrieMuskat and listen to her podcast. This story was not subject to the approval of Major League Baseball or its clubs.