D-backs won't rush Walker's return to mound
Right-hander gets advice from Blue Jays' Sanchez on dealing with blister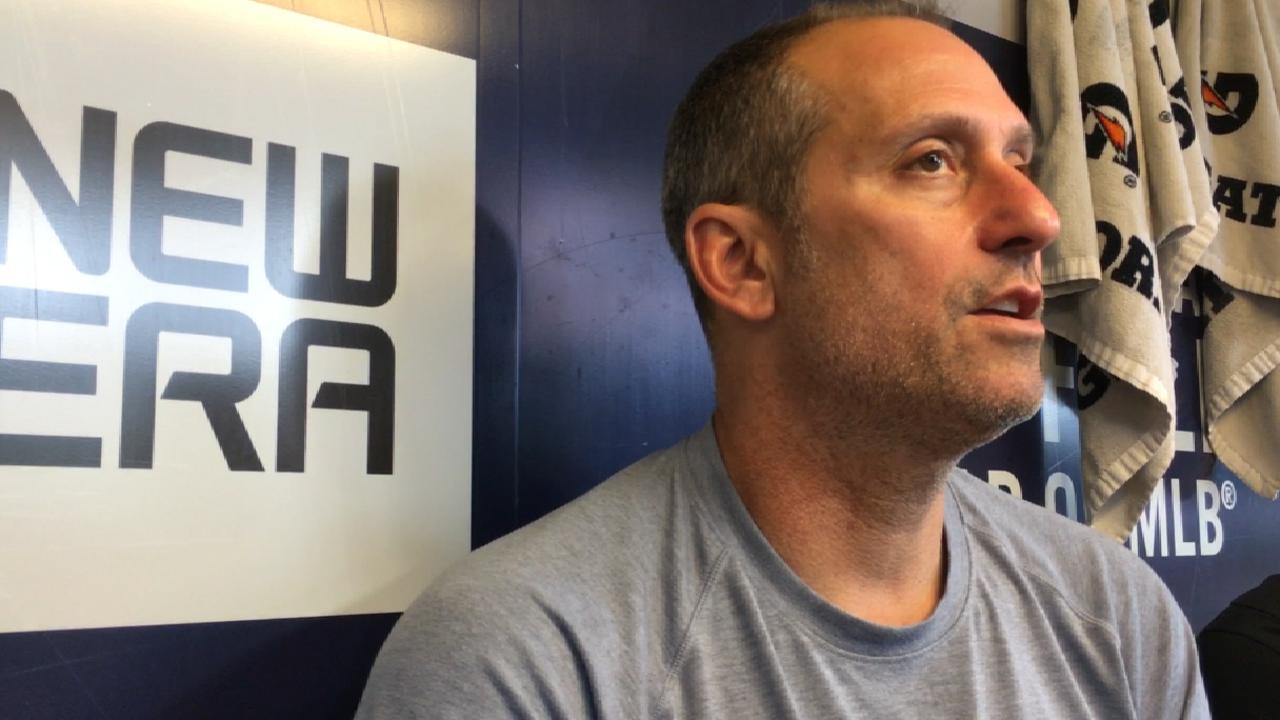 MILWAUKEE -- D-backs starter Taijuan Walker has nearly recovered from a blister on his right index finger, but manager Torey Lovullo said the club is being cautious in rushing his return to the mound.
"We're right in the middle of determining what the next part of this game plan is," Lovullo said Sunday. "We're close to be able to saying it's all systems go, so if we have to wait a little bit longer to make sure it doesn't go longer, we're going to take that time. Those things are tough, because you're going to use it for 90 to 100 pitches, you can irritate it very quickly."
Walker was placed on the 10-day disablied list on May 21, after the blister hindered his bullpen session in San Diego. Reliever Randall Delgado started in his place against the White Sox on Wednesday and will start against the Pirates on Monday.
According to Lovullo, Walker threw a successful bullpen session Saturday and is slated for a simulated game on Tuesday.
When Walker was placed on the DL, Blue Jays' pitcher Aaron Sanchez, who is also on the 10-day DL with a split nail and blister, reached out to him with some precautionary advice.
"He was preaching to me like, 'Hey, don't come back unless you're 100 percent ready to go,' because you know, he doesn't want me to go through what he's going through right now, so I don't think any of us want to have this," Walker said.
Sanchez and Walker are friends, having lived in California and playing on the same travel team in high school. Walker is hoping to avoid re-aggravating the blister and returning to the DL. Sanchez has been on the disablied list three times already this season.
"He sent me a picture of it. It looked pretty gross," Walker said of Sanchez's blister. "When I was in Seattle, James Paxton, he had that two years ago, like the same thing."
The good news for Walker is he has been able to throw and catch with the blister covered, and he can leave his finger uncovered when he's not active.
"I wrap it pretty good and put some stuff on it so I'm able to play catch and keep the arm moving," Walker said. "I think the biggest thing is getting as [little] friction as possible so I don't get another blister in between my starts and stuff, so that's pretty much what we're doing right now."
Per MLB rules, Walker will not be able to cover the blister with any type of foreign substance when he returns to the mound, making it crucial the blister is fully healed.
"You can't put any type of foreign substance on his finger, so we're going to stay away from being tempted by that," Lovullo said. "First of all, it's illegal and sneaky and we don't want to play that game. On the back half of it, we want to make sure it doesn't turn into the Rich Hill situation and he's out for the entire year. He's too valuable to us."
Carson Mason is a reporter for MLB.com based in Milwaukee." This story was not subject to the approval of Major League Baseball or its clubs.