Wong lands on disabled list with elbow strain
Cards promote infielder DeJong from Triple-A Memphis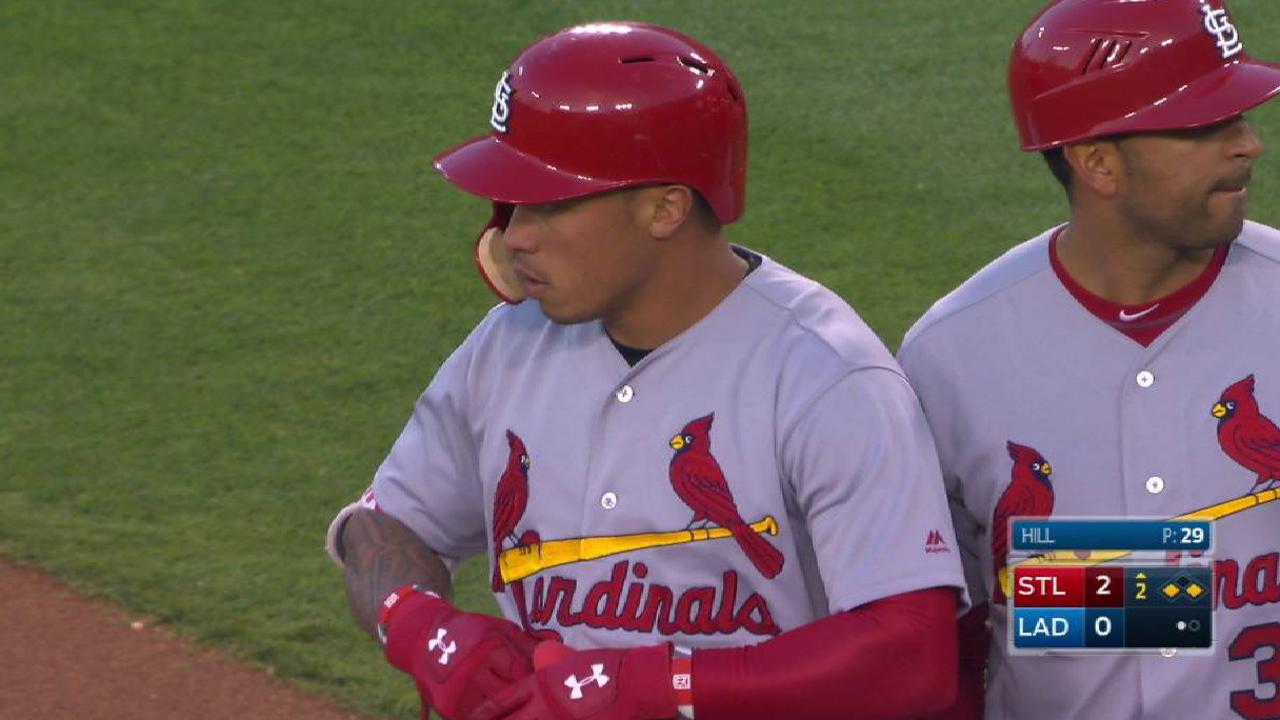 DENVER -- Kolten Wong has been dealing with lingering tightness in his left elbow for a week, and on Saturday night it finally landed him on the disabled list with an elbow strain.
Wong was scratched from the lineup immediately before Saturday's game, and by the time he left Coors Field, the Cardinals had made the decision to put him on the disabled list and call up infielder Paul DeJong from Triple-A Memphis.
DeJong didn't waste any time in making an impact, as he hit a solo home run in the ninth inning of a 8-4 loss to the Rockies, off closer Greg Holland. The home run came in his first big league at-bat.
The roster move was made official before Sunday's series finale.
"I was fine the whole day [Saturday]," Wong said. "It was fine during BP. Got stretched and everything. Went back down to take a few swings before the game, and took one swing and felt it tightened up right away. I went to the training room and tried to loosen it up, threw some tape on to see if that would work. Nothing helped."
Wong initially encountered the problem in a game on May 20 against the Giants. He left the game early and missed the next two games while resting the elbow.
"This thing keeps popping up," said Cardinals manager Mike Matheny. "You have something that knocks him out for a couple days, and then you take a break and it comes back, that's a red flag. We got to figure out what's going on, or else he'll be dealing with it for a long time."
Wong will see doctors Monday and expects to get a thorough assessment before taking any further action.
"If I'm going on the DL, I want to check off all the boxes and make sure that nothing's hidden or something that we don't know," Wong said." I want to make sure everything's clear before I start my rehab and then make my way back here."
Wong said the tightness keeps him from being able to extend his left arm fully, and noted that it has been affecting his swing.
"It just comes from the amount of hitting I've been doing and the drills I've been putting in," Wong explained. "I've been doing a lot of work with [hitting coach John Mabry] and the guys, trying to get my swing to where I want it. When you change things up, sometimes muscles that aren't usually worked as much as they are, they just react in different ways."
Though he argued against the DL move initially, Wong was at peace with the decision by Sunday morning.
"I was definitely mad last night about the situation," Wong admitted. "I've been working tirelessly trying to be consistent with my game, and it's been there. But just to get this out of the way and be able to come back and help these guys 100 percent instead of playing at 70 [percent], where I was, it's going to be huge."
The Cardinals played with a two-man bench Saturday, with Stephen Piscotty away while dealing with a personal matter, but still on the roster.
DeJong hit .294 with 11 homers and 31 RBIs in 46 games with Memphis this spring, playing 37 games at shortstop, four at second base and three at third. He's the Cardinals' No. 11 prospect according to MLBPipeline.com.
"Paulie's made a positive impression since he was drafted [in 2015], Matheny said. "The way he goes about his business, matched with the kind of production that he has, he just seems like he's ready."
Owen Perkins is a contributor to MLB.com based in Denver. He covered the Cardinals on Sunday. This story was not subject to the approval of Major League Baseball or its clubs.