Paxton 'ready to roll' after rehab outing
Lefty set to return to Mariners' rotation Wednesday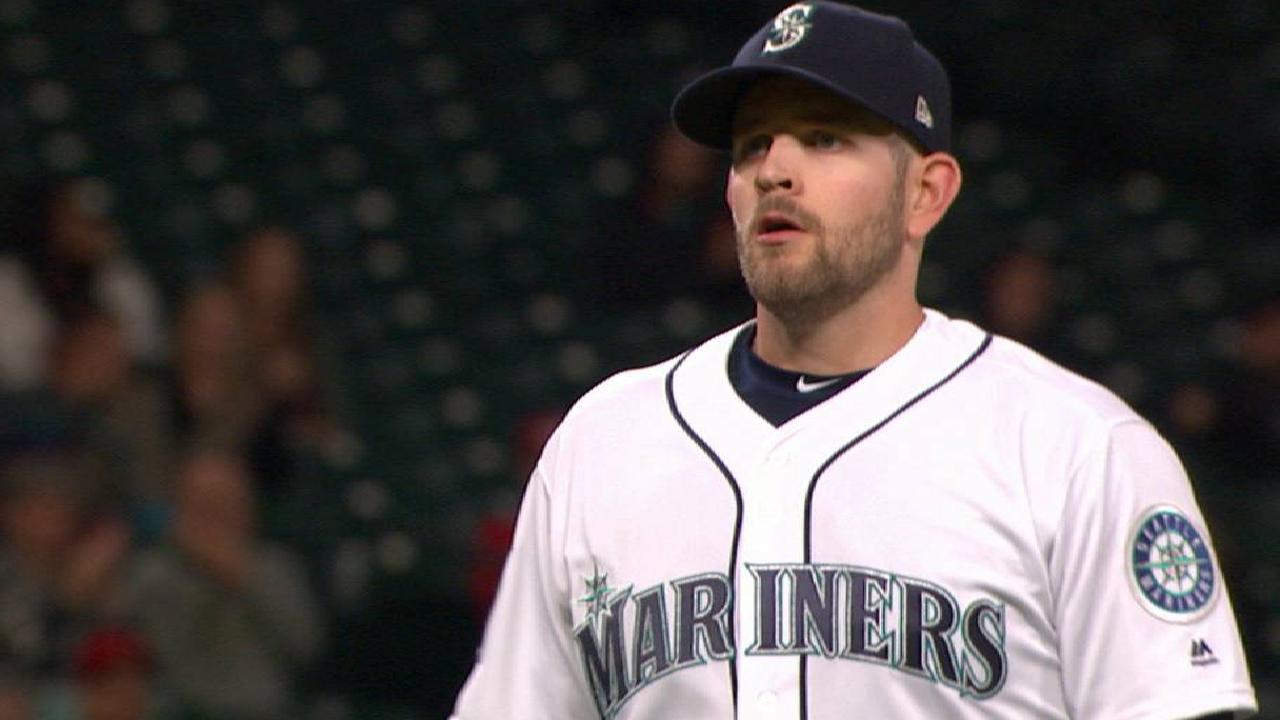 BOSTON -- Injured lefty James Paxton rejoined the Mariners on Sunday after making a rehab outing with Double-A Arkansas, and he said he's "on target and ready to roll" for Wednesday, when he'll be back in the rotation against the Rockies at Safeco Field.
Paxton will be the first of Seattle's four injured starters to return after missing four weeks with a strained left forearm. He gave up two runs in a four-inning outing Friday for Arkansas and then threw a bullpen session on Sunday at Fenway Park.
"It felt good," Paxton said of his 55-pitch rehab appearance. "No issues. I moved the ball around a little bit, threw some breaking balls for strikes, recovered really well, which was great, and played catch yesterday and had no problems. My bullpen just now felt really good, so I'm ready to go."
Paxton was 3-0 with a 1.43 ERA in six starts before getting injured. He'll slide back into the rotation for the first game of Seattle's upcoming 11-game homestand, with Yovani Gallardo being pushed back a day to Thursday in the series finale against the Rockies.
Hernandez, Iwakuma moving forward
Felix Hernandez and Hisashi Iwakuma, two more of Seattle's missing starters, both played catch on Sunday as they continued advancing their throwing programs while recovering from shoulder issues. Both veterans threw 25-pitch bullpen sessions Saturday, then followed up with easy sessions Sunday.
Iwakuma, who said he didn't feel great in his bullpen outing, was out in the Fenway bullpen early Sunday with assistant trainer Matt Toth.
"I know he wasn't real happy with how things went yesterday, so knowing Kuma, I'm not surprised he's out here today trying to find it and go from there," manager Scott Servais said prior to Sunday's series finale with the Red Sox. "But it's real early for those guys, just getting off the mound and seeing where they're at."
Both right-handers will throw another bullpen session or two next week before determining when they might go out on a Minor League rehab assignment, with neither expected back with the Mariners for several more weeks.
Cruz facing the Coors decision
Seattle has another Interleague series in a National League park on Monday and Tuesday with its visit to Coors Field in Denver, which means designated hitter Nelson Cruz will need to play in the spacious outfield if he's going to be in the starting lineup.
Cruz played two of three games at Nationals Park in Washington at the start of the road trip in his first outfield action of the season, but Servais said that he'd made no decision yet on Cruz's situation against the Rockies.
"We need him in the lineup, there's no doubt," Servais said. "Coors Field certainly has its challenges. I've played for the Rockies. I worked for the Rockies. I've seen a lot of games there. We'll talk to Nelly and see how things work out.
"It's just a matter of the defense, or more the area to cover out there. It's one thing if you're playing left field here [at Fenway], but it's the extreme opposite playing in the outfield at Coors. So no decisions yet on when he's out there, what game or how we go with that."
Greg Johns has covered the Mariners since 1997, and for MLB.com since 2011. Follow him on Twitter @GregJohnsMLB. This story was not subject to the approval of Major League Baseball or its clubs.