After Betts robs HR, JBJ shows off OF skills
Red Sox stars make great catches to help preserve Johnson's shutout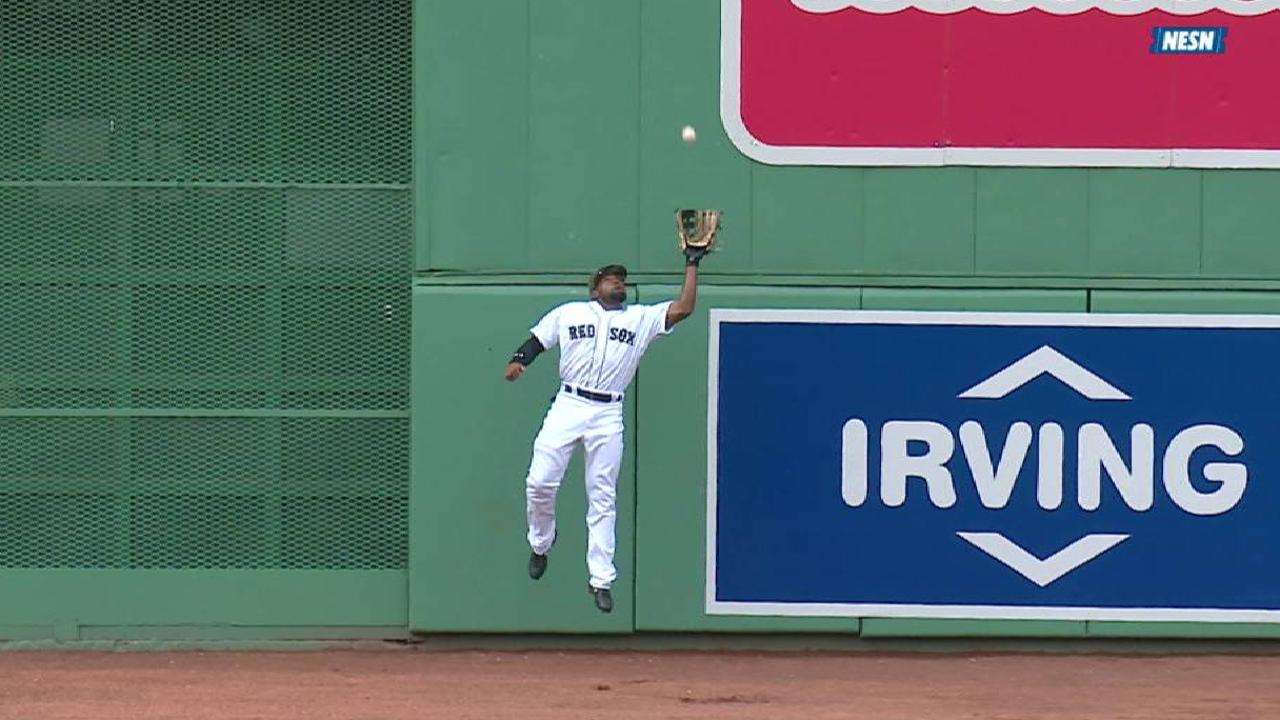 BOSTON -- Without the help of Jackie Bradley Jr. and Mookie Betts, Brian Johnson wouldn't have earned his shutout over the Mariners on Saturday.
Luckily for the lefty, the outfielders were up to the task in the 6-0 Red Sox win. The matchup saw a game of one-upmanship take place, as the young stars took turns creating highlight grabs to aid their pitcher.
Betts' moment came in the fourth inning, as he was tasked with tracking down an opposite-field shot from Seattle's Nelson Cruz. The right fielder started the play 297 feet from home plate -- nine feet more than his average starting position, according to Statcast™ -- to accommodate for the power of Seattle's slugger. Betts made the catch right at the 5-foot-high right-field wall, smacking off a barrier at the last second to take away the home run and preserve the shutout.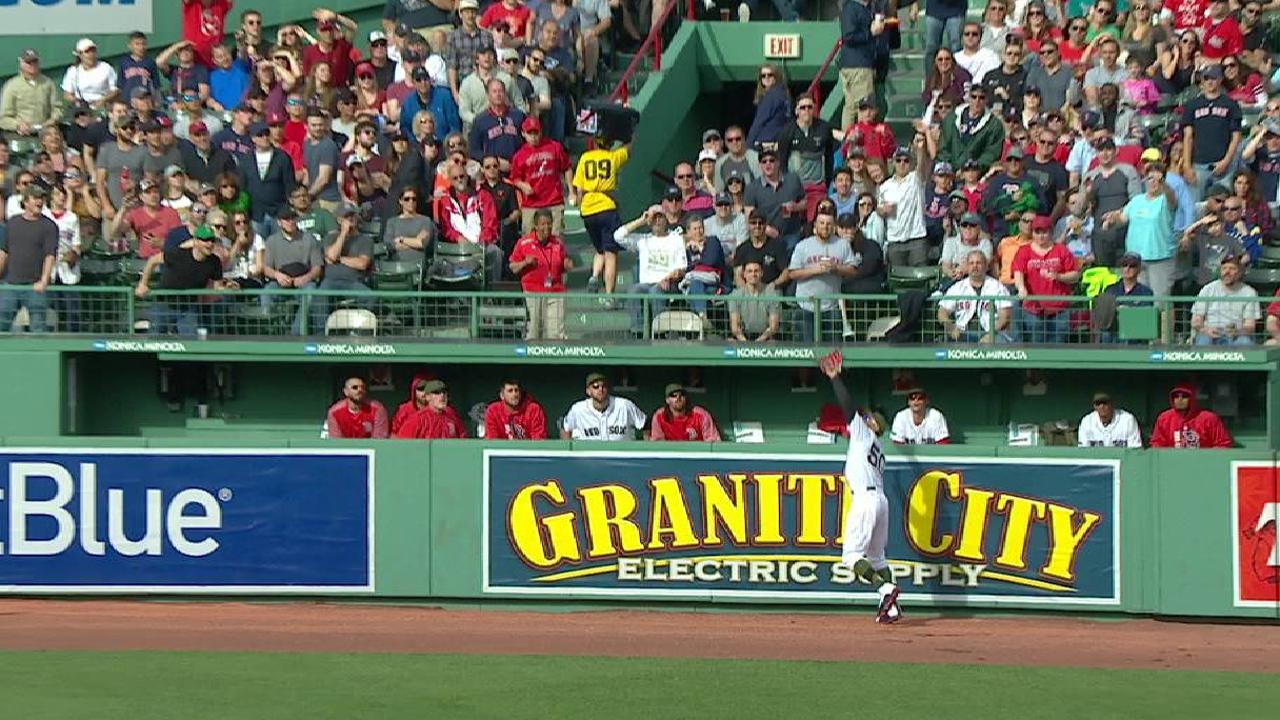 Per Statcast™, Betts' play was a three-star catch with a 75-percent catch probability.
Bradley did his best to direct traffic so Betts knew exactly where he was.
"We talk while the ball is in the air," Betts said. "We have some type of chemistry that goes on. He was talking to me, letting me know that I had room and let me know that I can go ahead and catch it."
Two innings later, Bradley made an impeccable grab of his own. With one out in the sixth, Mariners second baseman Robinson Cano drove a Johnson curveball deep to the center-field wall. The ball was hit with a 105.4-mph exit velocity at a 26-degree launch angle, according to Statcast™. Nine out of 10 times that's a home run.
It wasn't on this day with Bradley in the outfield, though. He sprinted toward the center-field wall and contorted his body enough to make the grab as he bounced off the wall.
Both plays should have been hits; Betts' catch had a hit probability of 94 percent, while Bradley's had one of 92 percent.
"We love to compete, both of us," Bradley said. "I'm not sure if it's a one-upping-type thing, but it is a challenge. We're all readily able to accept that challenge and give it our all. We want to be playmakers and game changers, and whether it's offensively, defensively or on the basepaths, we want to try and impact the game any way we possibly can."
To top off what was already an acrobatic defensive performance, Bradley robbed Cruz of another base hit with one out in the ninth inning. Cruz whipped a line drive into center field, but Bradley raced it down and dove, putting his wrist at risk, to make the catch.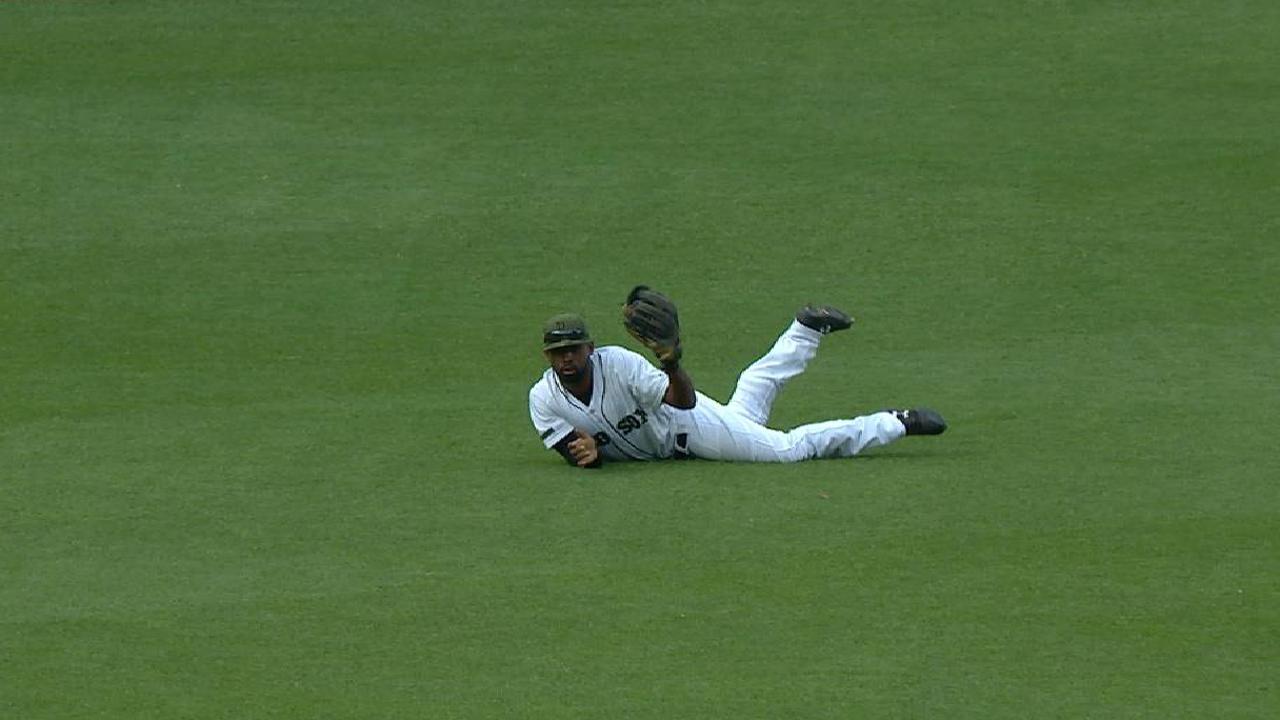 "I didn't know it was going to go that far, and it was hit so low, and once I saw it out of the corner of my eye, I thought he might have a chance," said Betts. "I just didn't want him to get hurt with his wrist."
Bradley then finished things off with a running grab for the final out of the game.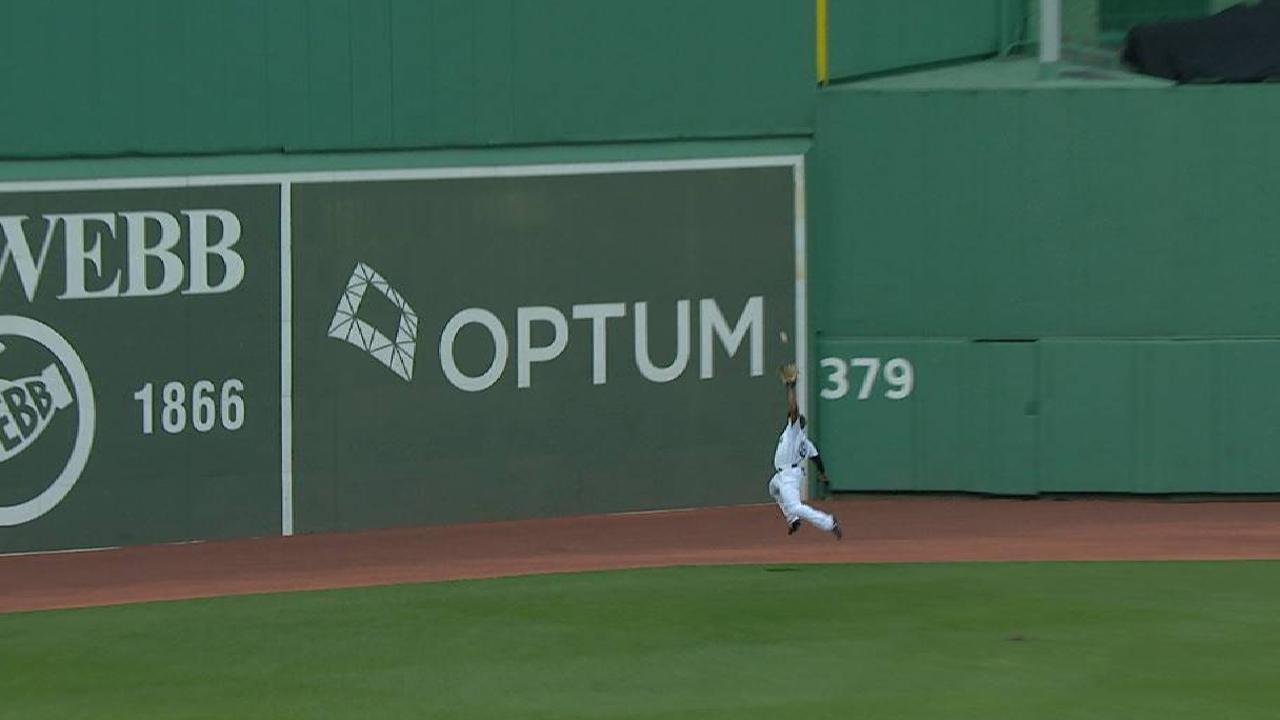 Afterward, Red Sox manager John Farrell attributed the defensive performance to Johnson's quick pitching pace while on the mound.
"I think a lot has to do with the defense knowing that Brian is moving along pretty quick," Farrell said. "There was no deep counts. There was no delays in between. We just had a really good rhythm from the first pitch today. It shows up in quality defense."
As for Johnson, he was just glad to have the outfield duo behind him.
"[It's] awesome, especially when they hit it, your heart kind of sinks, and they make that catch, it's a great feeling," Johnson said.
Evan Chronis is a reporter for MLB.com based in Boston. This story was not subject to the approval of Major League Baseball or its clubs.