Pickoff perfectionist Richard utilizing move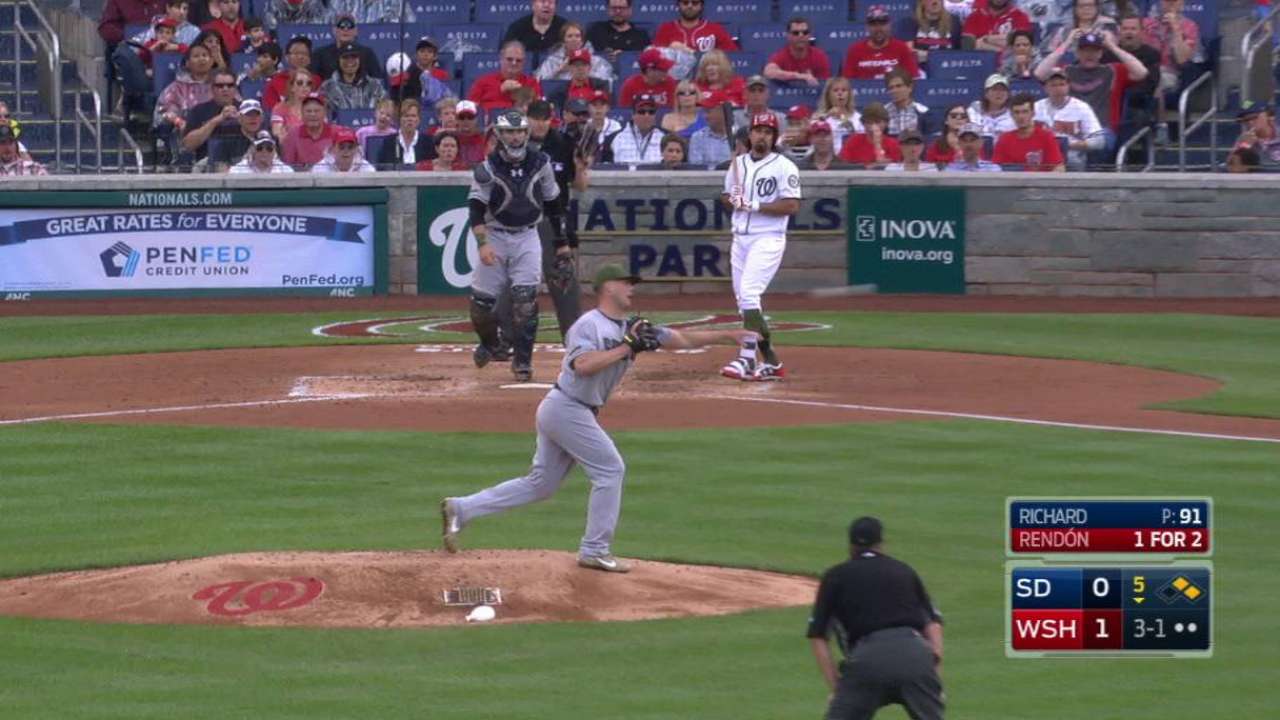 WASHINGTON -- On the mound, Clayton Richard is a perfectionist. That much holds true, even when he isn't throwing to the plate.
The owner of one of the best pickoff moves in baseball, Richard again put it on full display Saturday afternoon, nabbing two over-aggressive Nationals baserunners in the bottom of the fifth inning in Saturday's 3-0 loss in D.C.
As a sinkerballer who pitches to contact, Richard knows he's going to have traffic on the bases often -- in fact, no pitcher has allowed more singles this season. Richard also knows it's especially important that those runners stay where they are, keeping the double play in order.
"Typically, I get a lot of balls put in play on the ground," said Richard, who allowed three runs over six innings Saturday. "If we're able to keep guys at first and not let them get out of the way, it helps us, keeps us at a competitive advantage."
With his two pickoffs on Saturday, Richard now has 31 over his nine-year career. He's especially adept at varying his move to first base against speedier runners.
Trea Turner opened the fifth by singling to left field, a perilous situation for any hurler. Twice, Richard lifted his leg high and slowly before throwing over. The third time, Turner broke for second on Richard's first move and likely would have been safe had Richard repeated the first two throws.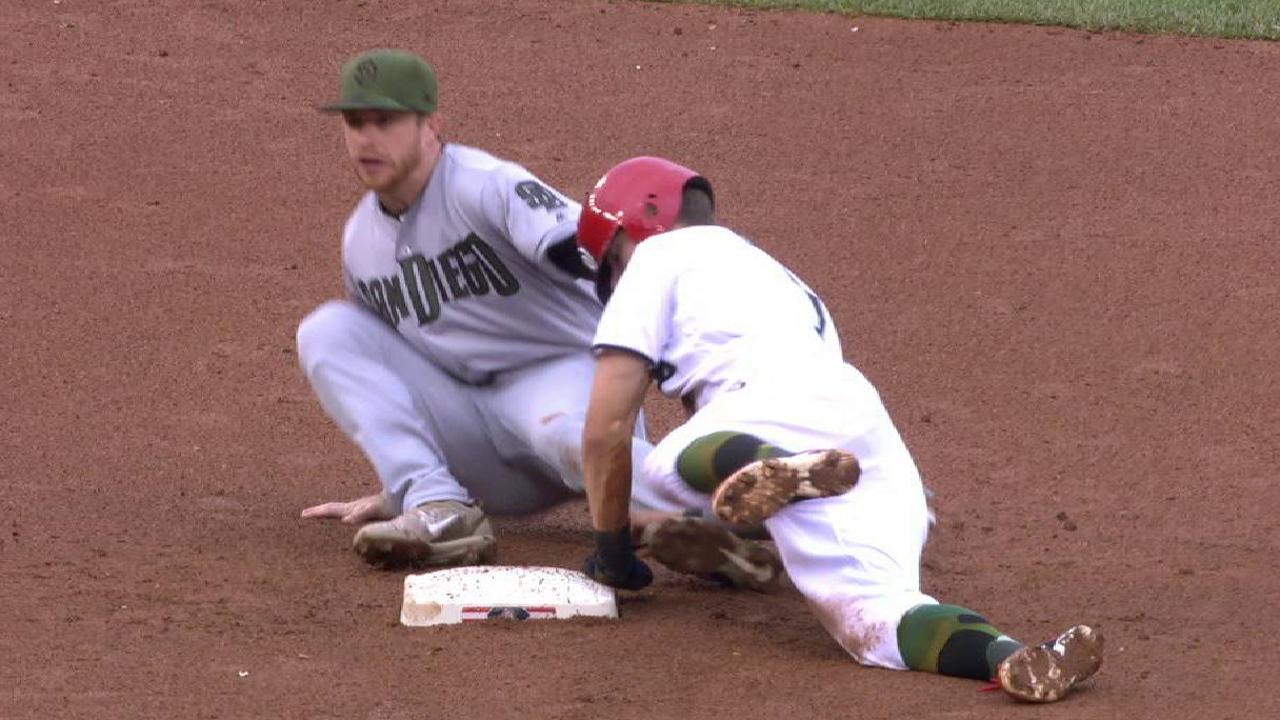 "If he goes the slow leg kick with Turner over there, he'll be standing on second base on the pickoff," said Padres manager Andy Green. "He was cognizant of that and did a good job of getting it over there quickly."
With his third throw over, Richard executed more of a slide step, getting the ball out of his hand just quickly enough for first baseman Yangervis Solarte and second baseman Cory Spangenberg to play catch.
"It's just about mixing up the looks to keep them off-balance," said Richard. "He's an extremely good baserunner. You can't do the same thing and expect to keep him at a base. You just mix it up, keep him from being comfortable."
Richard was even more pleased with his second pick of the frame, which came at an especially opportune moment. With runners on first and second, he made a subtle inside move toward second base. Jayson Werth had already broken for third and was caught in no-man's land.
"It's something I've taken a point to work on, because that changes so many things," Richard said. "When a guy moves from second to third, it changes the dynamic of our defense. We might have to move guys in. It puts us out of position. I've definitely taken note of that and tried to get better with that."
By no means was Richard at his best on Saturday. He allowed a third-inning run on a fielder's choice and two in the sixth on Michael Taylor's second homer in as many nights.
But his perfectionist mindset paid dividends once again, as he managed to limit the damage and keep his team within striking distance.
"I don't think it was his best stuff out there, but he kept the ball down, got a lot of ground balls, got above barrels with his fastball a few times," Green said. "Through the whole day, he got out of some dicey situations. Just the pitch up to Taylor got hit out of the ballpark -- outside of that, he was pretty good."
AJ Cassavell covers the Padres for MLB.com. Follow him on Twitter @ajcassavell. This story was not subject to the approval of Major League Baseball or its clubs.