Happ gets first look at 2B with Zo hurting
Rookie had only played outfield since joining Cubs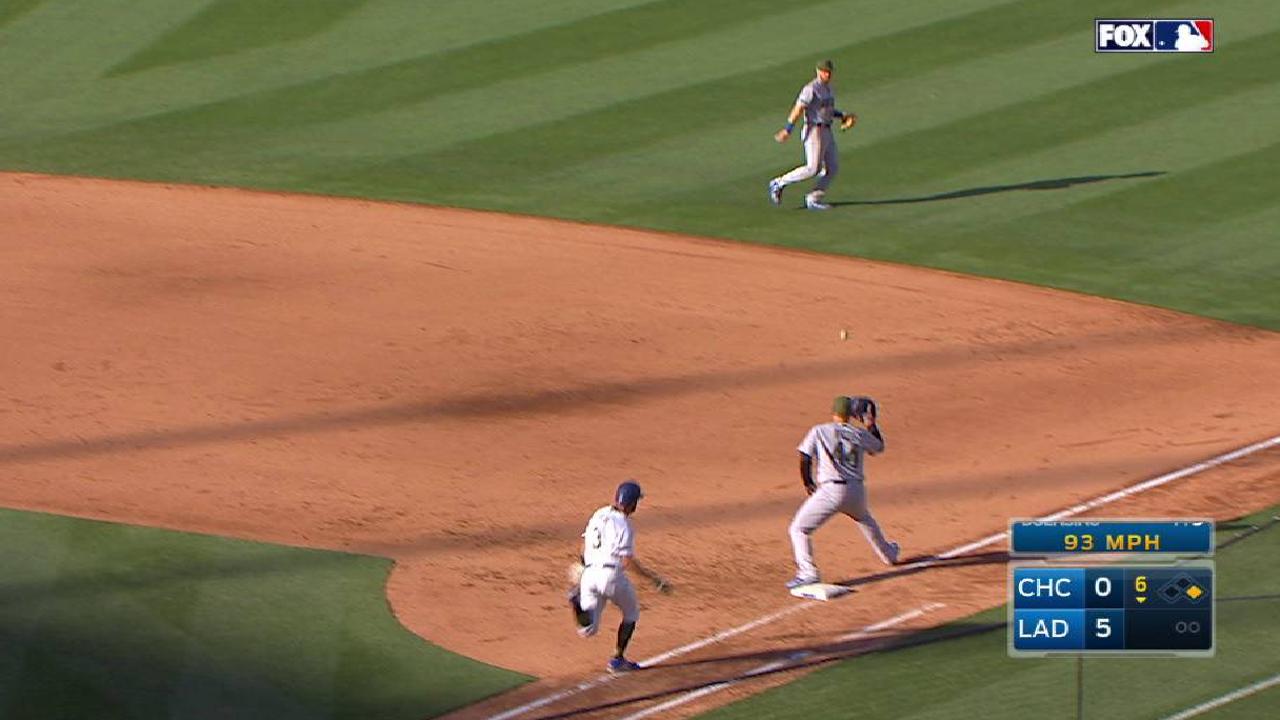 LOS ANGELES -- Ian Happ had only started in the outfield since he was promoted to the Cubs two weeks ago, but on Saturday the rookie was back at his more natural position of second base, filling in for Ben Zobrist, who has a sore left wrist and was not available.
Cubs manager Joe Maddon expected to be able to use Zobrist off the bench on Saturday but was told prior to the game that the veteran infielder wasn't available. Zobrist's status for Sunday's series finale was uncertain.
Maddon did want another lefty in the lineup on Saturday against Dodgers righty Brandon McCarthy, which is why he went with Happ at second over Javier Baez.
Happ went 1-for-3, with his single the Cubs' first hit and one of only three they had in a 5-0 loss. It looked like he had a double, but the Dodgers challenged the safe call and a review determined that Happ momentarily came off the bag on his popup slide as shortstop Corey Seager's tag remained on his leg.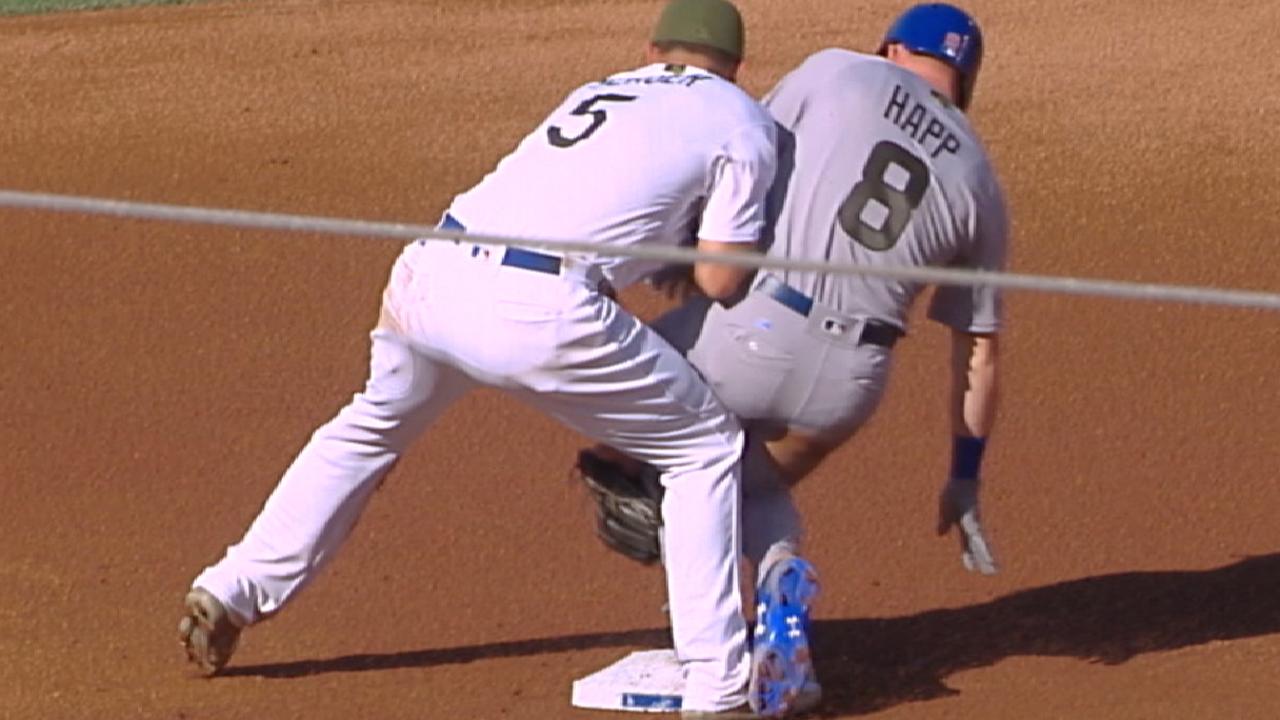 "Ian Happ is more of a second baseman than an outfielder with [the organization] to this point," Maddon said. "I'm pretty certain Zo is available today, but I didn't want to start him and then have to take him out."
Happ found out when he got the text message with the lineup.
"I've been taking ground balls, so I've been prepped for it since I got here," he said. "It's pretty natural to just go back in there and enjoy it."
Happ made 107 starts at second base in the Minor Leagues.
"I've been ready for any position," he said. "I think that's part of it, to be ready for any scenario."
In Spring Training, Happ talked to Zobrist about the prep work needed to play multiple positions. The rookie also has been spending time with hitting coach John Mallee. In his first six games with the Cubs, Happ batted .333 with two home runs, two doubles and four RBIs. In his last six games, Happ was batting .200 with two doubles, one triple and one RBI.
"With all the information that's disseminated these days, the league adjusts to you quickly and it's your job to adjust back," Happ said. "It's my job now to make adjustments. That's baseball, that's the game, that's the fun part."
Worth noting
• Maddon and several of the players were wearing his "Embrace the Suck" Army green-colored T-shirts on Saturday to honor Memorial Day. Half of the proceeds from sales of the tees will go to the Armed Forces, and the other half to Maddon's Respect 90 Foundation.
• Shop for official Cubs Memorial Day gear
• Cubs lefty Jon Lester, who will start against the Dodgers' Clayton Kershaw on Sunday in the series finale, has a reputation for not being able to throw to first base. But Maddon said Lester actually throws better than his critics say.
"Honestly, there's so many more guys who it's so much easier to run against and he gets all the publicity on this," Maddon said. "It's something that drives me nuts."
Maddon said the plan is to emphasize what Lester does well, which is pitch.
"I think sometimes when you're trying to fix a problem, you take away from their strengths," Maddon said. "The one thing Jonny does really well is he throws the ball to home plate well."
• On Saturday, Hall of Fame pitcher Jim Bunning died at the age of 85.
"He's a gentleman," Maddon said of Bunning, who pitched for 17 seasons, mostly with the Tigers and Phillies. "When I hear his his name, I think of a gentleman."
Maddon also was saddened at the news that Gregg Allman died on Saturday. He was 69. Maddon saw Allman perform in Los Angeles a few years ago and said he often played the Allman Brothers Band "Eat a Peach" record while in college.
Carrie Muskat has covered the Cubs since 1987, and for MLB.com since 2001. She writes a blog, Muskat Ramblings. You can follow her on Twitter @CarrieMuskat and listen to her podcast. This story was not subject to the approval of Major League Baseball or its clubs.